IN THIS ISSUE:
The Warm & Sunny Southeast:
~ The Mimosa Route & Mardi Gras
by Anita Rieu-Sicart
Paris Enigmas
Ici et Là
Rue du Moulin
by Corey Amaro
The Bookshelf:
~ 26 Gorgeous Hikes on the
Western Côte d'Azur
a book by Florence Chatzigianis
Revisiting Good Old Avignon
by Arthur Gillette
Mimosas in the Var of Provence
FEATURING
The Savoie
Where to Stay
~ in the southeast
. Château de Méouilles
. Château de Seillans
~ in Savoie
. Château des Allues
French Wine Report:
~ Champagne dinner features Ruinart
by Panos Kakaviatos
It is the deep of winter in some parts of the northern hemisphere, so we will be
off to the lovely and, hopefully, warmer sunny southeast corner of France ~
the Côte d'Azur and its environs. We hope we can tempt you to visit there!
You could be forgiven for thinking February is totally yellow in the Var, just up from the Riviera, for the Mimosa will shortly be flowering along the autoroute to Nice and from Bormes Les Mimosa the entire length of the special Mimosa Trail, which winds along the coast from there via Rayol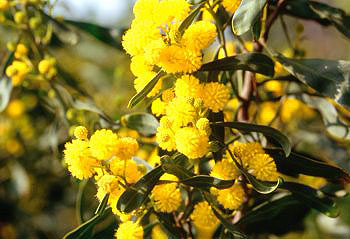 Canadel, Ste-Maxime, St-Raphael, and Tanneron to Cannes Mandelieu, winding up finally in Grasse, the perfume town in the hills.
And, if that were not enough lemon yellow ~ together with orange ~ it will be the predominant color at Menton's celebrated Lemon Festival on the border with Italy. From February on colors break out in zeitgeist explosion in all the Mardi Gras Carnival parades, from small village events to the gigantic Mardi Gras celebrations in Nice!
Mimosa Fests ~ Bormes to Grasse
The Mimosa Fests really start in mid-January with the elections of Miss Mimosa in Ste-Maxime and Pégomas, and from then on a huge program stretches on throughout January, February and right into March, involving guided walks, tours, coach excursions, and beautiful flower-laden parades.
Mimosa, part of the acacia family, was originally brought to Europe from Australia by the explorer Captain Cook, and eventually around 1850, when it had became fashionable for some wealthy English to spend their winters in Riviera resorts, finally arrived in this region. Queen Victoria was a great fan of the Riviera, and in her latter years visited regularly taking pleasure in the local carnivals! These expatriate part-time residents, several of them passionate gardeners, brought over several varieties of mimosa, doubtless from places like Kew where it had been cultured, to decorate their gardens and delighting in the region's gentle climate took to creating magnificent gardens. Several of these survive to this day and can be visited. Chief among them is the Serre de la Madonne garden, created by Lawrence Johnston, designer of Hidcote Manor Garden in the UK.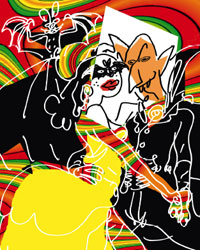 Several Mimosa varieties acclimated perfectly in the region due to the similarities with the climate from which they had originally come, including 'Acacia dealbata' which little by little adapted to the sandy soil of Cannes and Golfe-Juan, forming large enclaves. This chain has since stretched out towards the south to the Maures, the Esterel, and the Massif de Tanneron to Nice. Due to the exceptionally mild climate on the coast, the plants and flowers grow abundantly, garlanding the open spaces of the Esterel, and making the Autoroute du Soleil a feast of wild yellow flowers in February.

The propagation and culture of Mimosa throughout the region has helped to make the Var and the Alpes-Maritimes major French horticultural départements and a centre for the export of cut flowers all over the
Mardi Gras Poster continued on page 2
---