by Arthur Gillette

FRANCE On Your Own covered the legendary 14th century Papal capital of Avignon in our Volume 2 N° 3 (1998).
Now featured on UNESCO' s World Heritage List and named European Cultural Capital for the year 2000,
Avignon has undergone and continues to make a serious, in-depth and tourism-friendly facelift.
Arthur Gillette recently took another look; here is his update.

Innovation N° 1: Since June 2001, and thanks to the TGV high-speed train, Avignon is now only one hour from Lyon, two hours 40 minutes from Paris' Gare de Lyon, three hours from Roissy Airport if you want to go there just off the plane, and as little as four hours 55 minutes via Paris (yes, the TGV is almost always on time down to the minute!) from London's new St Pancras Station. More good news: if reserved well in advance, a first-class TGV seat from Roissy to Avignon will cost you about the same as a taxi from Roissy into… central Paris!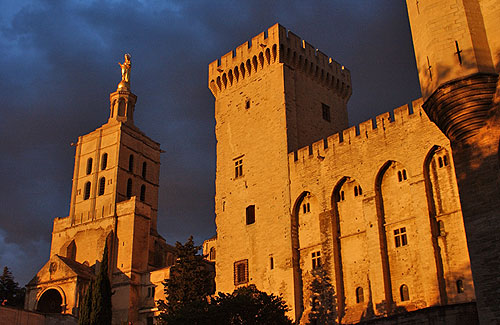 Once you're in the city where the Popes resided (because of Guelf/Ghibeline feuding in Rome) for most of the 14th century, you musn't miss its blockbuster attraction, le Palais des Papes. With 15,000 square meters of floor space that accommodated some 600 priests and Papal officials (70% were prelate 'immigrants' from Poland, Ireland, etc.) at its Medieval heyday, the Popes' Palace is still the largest palace/fortress in Europe. But back in 1998, visitors tended to wander about in its huge, complicated and vaulted halls rather at a loss to comprehend the what/where/when/why/how of it all. Then, in 2005 (700th anniversary of the election of the first Avignon Pope) the Musée de l'Oeuvre opened ~ six intelligent museographical rooms that present and explain the Palais' origin, development and meaning. When you emerge from the vast monument today you have a sense of understanding it.
Back outside, you can turn right and go to the nearby Musée du Petit Palais, not all that petit by the way, but somewhat dwarfed by the Popes' monster. Once Avignon's Archbishopric, the 14th century 'Little Palace' is an artistic double-header. First are rooms of medieval statuary and bas-reliefs fancifully portraying seasons, hunting, biblical stories and one particularly gruesome tombstone of a recumbent cardinal, whose grimacing skull suggests he died in considerable pain (or sin?). Then comes the Campana collection of some 300 mainly Italian Renaissance paintings, including work by Boticelli, Carpaccio and Giovanni di Paolo. The collection ended up here about a century ago after a tortuous journey that began much earlier when the Signore Campana in question had his property seized. Director of an important pawning operation, he was found guilty of illegally loaning himself vast gobs of cash!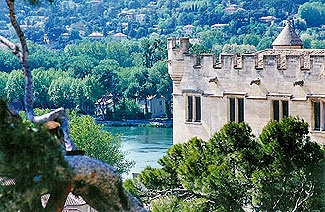 Le Petit Palais and Villeneuve-lès-Avignon across the Rhône
Hocking and… Silk
Speaking of pawning, the little Avignon museum located in France's very first charitable pawnshop is well worth a visit. It was founded in 1610 by the Notre Dame de Lorette religious order to help the needy avoid being gouged by unscrupulous money-lenders. Deconsecrated by the French Revolution, which obliged it to return hocked articles free of charge, it was soon financially ruined. But the need for loans-against-collateral increased exponentially and wealthy patrons made donations, attested by plaques here, including such nuggets as: 9 June 1819, one Mathieu Cassa died having willed 38,226 Francs and 40 centimes. Napoleon III was a cheapskate by comparison since, on 8 September 1860, he and Empress Eugenie are recorded as only having forked over a measly 1,500 Francs.
The secular pawnshop was still in dire financial straits, however, and so took on a profit-making function: processing the silk that was produced around Avignon. That's why this little, somewhat do-it-yourself (an info sheet is available in English) museum's main exhibits include equipment for drying and weighing raw silk at a time when industrialization and thus standardization were taking off.
---
Play Avignon…by ear:
In addition to the audio-guides you can rent at many Avignon museums and sites, the city boasts
a cell phone info system with a three- to four-minute French/English commentary
(more in-depth info available) on each stop of a seven point itinerary.
Information available at the Office de Tourisme, 41 cours Jean Jaurès, in the city center.
---
New and… Green
Since autumn 2005, the Halles (Municipal Market) of Avignon has been graced by a vast vertical 'hanging garden'. Thirty meters high and 11.5 meters wide, this vegetal robe is composed of no less than 400 varieties of flowers, plants and shrubs, and irrigated by an ingenious felt-pad system. It certainly beats the surrounding dominant gray concrete tones!
Beginning in 2000, a major environmental effort has also been made to refit mid-Rhône Île Barthelasse ~ the largest river island in France, facing the Popes' Palace ~ with hiking paths, bike routes, gymnastic facilities, and more. To get there and back (about seven minutes each way), you just hop on the free ferry shuttle near the famous Pont d'Avignon (Pont Saint-Bénézet).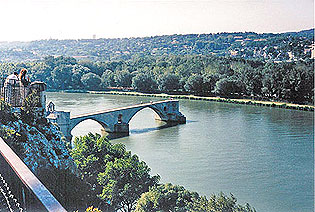 Pont Saint-Bénézet and the River Rhône
Speaking of which, I discovered that, contrary to the old song I learned about age eight, people did not dance sur ('on') le Pont d'Avignon, but at open-air riverside taverns on the embankment below it. This is one fact presented in the brand new Espace Chanson located at the pedestrian entry to the long-since-amputated bridge, from which the view of the Rhône River and Popes' Palace is well worth a visit. That 'Song Space' offers different versions of the ditty, with technical information on the construction and re-re-construction over the centuries of what for a long time was the only span across the Rhône between Lyon and the Mediterranean. You even have the possibility to record your own voice rendition of the song.
---
For a sample of Conga, Moorish, 5-string banjo, hip-hop, etc., versions
of Sur le Pont d'Avignon, check www.ot-avignon.fr/e-card/index-public.html
and pop up the volume.
---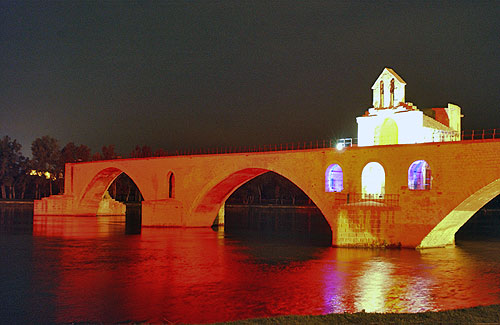 You can no longer cross the Rhône by the Pont d'Avignon, but a short bus ride takes you over to Villeneuve-lès-Avignon, from which the French crown long kept an anxious eye on Avignon's not-always-friendly Papal territory. The massive twin-towered entrance to the Fort Saint André recalls how impressively foreboding the Paris Bastille ~ built by the same 14th century king, Charles V ~ must have seemed before being dismantled by the Revolution.
The 14th century Carthusian Monastery at Villeneuve once housed about 40 monks in none-too-spartan conditions. All had a 50 square meter single-occupancy apartment with three rooms: one each for sleeping, praying, and manual work. A curiosity here is the punishment section ~ several tiny well-bolted cells on two stories. What's curious? The fact that each cell was ingeniously equipped with a tiny opening slanted so as to enable its inmate to see a priest celebrating mass in the tiny punishment section chapel. This was two-way observation since, at any time, each inmate's behavior could also be watched from the chapel. Tele-surveillance is nothing new!
An excursion further afield (about an hour's drive) takes you to the Camargue Regional Natural Park with its horses and cattle roaming freely through lovely countryside. If timed right, the visit can enable you to observe la ferrade – festive branding of calves with their owners' symbol. And don't miss une corride, running of the bulls in small arenas where young men avoid the charging animals' horns (padded but still dangerous) by incredible leaps and other breathtaking acrobatics accompanied by local music and, to salute a particularly successful jump, the fanfare from Carmen.
If you're into wine, another side trip can take you to Côtes du Rhône vineyards including those at Châteauneuf du Pape, whose name needs no explanation here.
---
Scheduling can be a problem since Avignon has several overlapping seasons
(annual Drama Festival, other events, summer, winter… ) and different monuments,
museums, sites and other attractions have not-always-harmonized opening times.
For more information, including guided strolls in English, check www.avignon.fr/en/
and don't hesitate to ask questions via: www.avignon.fr/en/contact
---
Before or after touring Avignon, you might want to take one of
the 16 strictly personal (a party of family or friends) strolls
Arthur guides to discover "Paris Through The Ages."
For more info: Armedv@aol.com and see a complete descriptive list
on our web site's MARKETPLACE page. Just click!
[Photos of le Palais des Papes and Pont d'Avignon (Saint-Bénézet) at night © by J.P. Campomar - Ville d'Avignon;
small photos of le Petit Palais and Pont Saint-Bénézet (daytime) © Cold Spring Press. All rights reserved.]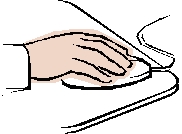 Looking for a phone number, address or business in France?
Let your mouse do the work, and try this helpful web site:
The French 'Yellow Pages' online!