Rue du Moulin
by Corey Amaro

Our street was narrow, unpaved and fenced in by two large stone walls. This was before the jolies maisons sprang up like mushrooms all around, eating up the vineyards and olive trees. This was before the new families arrived. This was before we had to say good-bye to those who had lived on Rue du Moulin all their lives and made it a street that took you back in time.

Since the construction trucks couldn't pass on our narrow street, those stone walls that had been there longer than anyone living in the village, had to come down. The tumbling of those walls brought an end to the life that used to trespass on either side...

Often upon a time, I strolled down the unpaved rue with my two children. I encountered the local color of our village
every step of the way. How I loved those afternoon walks where it felt like I slipped back in time, seeing the France of my dreams...
"Monsieur Gaston!", I waved and called. In his strong Provençal accent he hollered for us, "Come see!"
There in the vineyard, at the foot of the mountain, he was gathering wild asperges.
"Here taste it, you can eat it raw," he said with a big smile as his weathered hands gave us the asperges. We sat in the vineyard eating from his basket, while my baby son pulled on the vines and made Monsieur Gaston laugh!
"This asperges is my secret! I've picked them for years; aren't they delicious?" Mr. Gaston winked and added a few more wrinkles to his already aged face.
After, our impromptu picnic, we continued on our way where we met a woman who rode a bicyclette. That day a large cardboard box was attached to her bicyclette. As we grew closer we could see the purpose of that box. Ylonde was collecting twigs. She shyly smiled, "I can never be too early; little by little, I need to collect firewood for the winter. I can only carry so much at a time."
My children scurried about making a game out of collecting a few dry twigs and eventually handed them to her, and we were on our way.
Michel limps from a childhood illness and hides his left hand in his pocket at all times. Though that has never stopped him from collecting fennel in the fields to sell at the local marché.
Michel pulls me aside and says, "Do you think we should dig up all the wild tulips bulbs? The new houses will stand right on top of them!" He is right, I hadn't thought about that. I glance out into the open field and realize that instead of seeing wild red tulips with yellow stripes, next year I would be seeing paved driveways.
Not very long after, we saw Anny who was tenderly picking sage. After kissing the children 'bonjour', she said, "Il vaut mieux avoir la sauge dans son jardin, qu'un frère médecin. (It is better to have sage growing in your garden then to have a brother as a doctor.) This is my garden as you spread out her arms!" Anny invited us to her house where she prepared fresh sage tea that we ate with dry bread and black olives cured by her from the olives she picked on the famous rue du Moulin!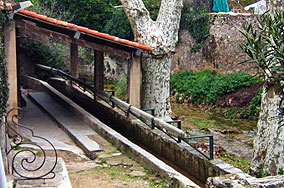 Flanking both sides of the river are ancient plantain trees. Crossing the river was always a highlight of our promenade. First we had to find our footing; if too deep, piggyback rides were in order. Next to the river was a laverie, le nettoyage à l'ancienne ~ long ago the community gathered to wash clothes at such a place. Sure enough, there is Marie washing her clothes and scrubbing them on the washboard made of stone.
"Bonjour Madame!" She nervously adds, "I know! I know! I'm crazy! But the clothes smell so good afterwards, and I have time at my age I can do what I want! Non?" Looking at this 85 year-old lady I had to agree, but I doubted I could be on my knees that long.
This daily walk down our street was real, and happened just like I said...but when the walls came down, and the houses sprang up like mushrooms, this way of life went back in time.
And now, those who shared France of another generation rest inside.
An expat who has lived in France for over twenty years, Corey Amaro has a French husband
and two teen-age children, and she writes a daily blog to share her stories and photography
of the things she has collected along the way. Corey's articles and photographs
are featured in VICTORIA, SOMERSET and ROMANTIC HOME magazines.
Visit Corey Amaro's blog, Tongue in Cheek, at
http://www.willows95988.typepad.com
for frequent glimpses of her interesting life experiences.

---
SPONSORING THIS ISSUE

For that perfect stay in Paris, enjoy your own elegantly furnished, modern
Paris apartment in a great neighborhood. Be greeted by English speaking staff
who will take you to your apartment. Click on the banner above to visit their web site
or send an email with inquiries to Glenn Cooper at coopergl@wanadoo.fr
---
THE BOOKSHELF:
26 Gorgeous Hikes on the Western Côte d'Azur
a book by Florence Chatzigianis
In keeping with our theme of the Côte d'Azur, we are happy to bring this brand new book to you, available for purchase February 2008, which will guide you to some of the most breathtaking and pleasant hikes in this part of France.
Simplified for any level of hiking, the book begins by telling the reader what to expect and answering the questions "Why should I hike?", "Who are hikes for?", and "When should I go?", among other things to be considered. The author knows that some people who want to hike perhaps never have, so she outlines what you should bring for comfort and safety, what unique and special experiences hikers enjoy that the average tourist may very well not, and she gives you a clear picture of the climate at various times of year ~ expressing her preferences for the months with good, comfortable weather conditions.
The book, first of all, is a slim volume easily carried while hiking or traveling, but it doesn't lack information because of its size. Each of the 26 hikes is outlined clearly, emphasizing the local attractions, nearby towns, and topography. It further describes the actual hiking conditions, with a handy table for each guide providing the Distance, Time (in hours and minutes), Elevations, Difficulty (from Easy to Medium), and where to find the location on the IGN map.
Each hike's section in the book has at least one good color photo (but most often several) and a color map showing the trail itself. The author also provides directions to reach the hiking destination by car ~ and occasionally by train, bus or even boat! The text is not overly 'wordy', but to the point. Some historic information is provided, with substantial descriptive text about what you will see during each hike.
We especially appreciated the comments entitled, 'A Word about Responsible Hiking', which emphasized, among other points, the necessity of leaving nature as you found it, carrying a plastic bag to collect your trash and the trash others may have left behind, to respect the quietness of the region, and to stay on trails so as not to disturb natural habitats.
Perhaps our favorite hike in this book is number 22 ~ Porquerolles: East Hike ~ as it brought back our own memories of walking up the road to the Ste-Agathe Tower from the Plage de la Courtade and enjoying the magnificent view of the Mediterranean below us. Although we didn't follow the trail indicated in this guide, we certainly can appreciate how enjoyable it must be.
The book concludes with a very useful appendix listing sporting goods stores in the region, useful contacts in case of emergencies, tourist office information, public transportation details, clubs and organizations, and other handy information.
Finally, the author asks that those who hike in the Côte d'Azur keep in touch with her to relate their own experiences, ask questions or find out more about the hiking paths of the region. We believe this is an excellent hiking guide for anyone who wants to explore the great outdoors of the Côte d'Azur and that it is an encouragement for those who have never done so before. It makes it clear than anyone can really hike the Côte d'Azur safely and easily to get the most out of their time there.
26 Gorgeous Hikes on the Western Côte d'Azur ~ published February 2008
by Azur Alive, 751 Laurel Street, Suite 808, San Carlos, CA USA 94070
ISBN 13: 978-0-9792796-2-1
Visit their web site at http://www.azuralive.com
Order your copy of the book with just a click!