This column is intended to advise you about cultural events, news and happenings
in France or France-related events taking place in the United States
between now and the publication of our next issue.
In France. . .
o Exceptional French Gourmet Products. . . a visit to www.delices-de-loire.com will introduce you to a small company that sells Loire Valley wines and regional gourmet specialty foods. They have selected only the very best products from the Loire Valley, including sunflower oil, colza oil, classic French apéritifs such as crème de cassis, fish paté from the River Loire, pork and duck terrines and patés. They also have the unique poires tapées found only in the Touraine. All are hand made by local artisans using local ingredients from fully traceable sources. These are the people and the products you may find during your French holiday' and are of course difficult or impossible to find when you return home. At this time, they can only ship to France and the United Kingdom.
o The passing of Louis de Cazehave. . . at the age of 110 has great significance in France. He was one of two living World War I veterans who fought in the Battle of the Somme. His death on January 20th leaves one remaining soldier, Lazare Ponticelli, who is also 110 years old. de Cazehave, who died in his sleep at his home in central France, fought in the Battle of the Somme in 1916 ~ a battle in which over one million soldiers died. He served in the artillery until 1918 when he participated in the liberation of France.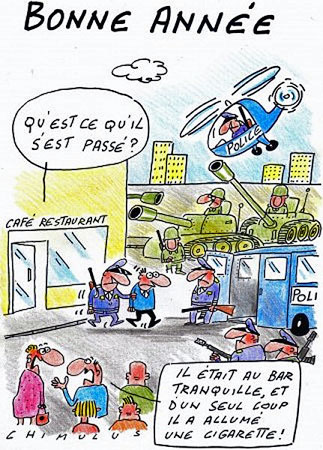 o Officially. . . the smoking ban in all indoor public places in France has begun ~ its final phase going into effect on January 1st. The ban includes bars, clubs, and cafés. It will be interesting to see how it goes! Someone in France just sent us this cartoon regarding the ban. We would like to give credit to the source (newspaper, magazine, or ?) but we were not given than information by the sender.
o Winter is the time for Sales in France. . . those in the know scurry to France come January 9th, for this is when the sales begin. "Soldes by Paris" is what brings people to Paris, to its boutiques, department stores, designers, and more. "Soldes by Paris" also means discounts! Hotels and restaurants tempt visitors with special package offers and discount prices. But it isn't only in Paris where the bargains can be found. Here is the schedule courtesy of the French Government Tourist Office well into February:
Sales throughout France's Regions (and départements): January 9 - February 9 / Nord Pas de Calais, Burgundy (Saône et Loire, Côte d'Or). January 9 - February 12 / Aquitaine (Landes). January 9 – February 16 / Riviera Côte d'Azur, Picardie (Oise et Aisne), Languedoc Roussillon (Pyrénées Orientales), Alsace, Franche Comté, Limousin (Creuse, Haute Vienne, Corrèze, Poitou Charentes (Vienne, Deux-Sèvres), Basse Normandy (Calvados), Haute Normandy (Seine Maritime, Eure), Centre (Loir et Cher, Indre, Indre-et-Loire, Cher), PACA (Alpes maritimes, Hautes-Alpes, Alpes de Hautes Provence, Var). January 9 – February 19 / Midi-Pyrénées, Auvergne, Rhône Alpes, Picardie (Somme), Languedoc Roussillon (Aude, Hérault, Lozère, Gard), Aquitaine (Gironde, Lot et Garonne, Pyrénées Atlantique, Dordogne), Poitou Charentes (Charentes Maritime, Charente), Pays de La Loire (Loire Atlantique, Mayenne, Maine et Loire, Vendée, Sarthe), Brittany (Finistère, Morbihan, Ille et Vilaine, Côtes d'Armor), Basse Normandy (Orne, Manche), Champagne Ardenne (Ardennes, Marne, Aube, Haute-Marne), Burgundy (Yonne, Nièvre), Centre (Loiret), PACA (Bouches du Rhône). January 9 – February 20 / Lorraine.
o Carnaval de Granville. . . Annual Carnival held in the city of Granville from February 1st through 5th. This event in Normandy takes place in this historic seaside town. For more information visit www.ville-granville.fr (French only)
o Bobigny in the Île-de-France. . .will be the venue from February 8 to 24 of Le Standard Ideal, the 5th Edition of this theater festival at Maison de la Culture de la Seine-Saint-Denis. For details visit their web site (in French only) at http://www.mc93.com/public/artistik/saison/stand_id.
o Eurostar . . . becomes carbon neutral. On the 14th of November 2007, Eurostar became carbon neutral. Tread Lightly. Two words. One commitment. A whole new approach to European travel. Global warming is a real issue. Travelers are worried about it, and the travel industry is talking about it. But action speaks louder than words. Last year, Eurostar carried out an independent research study which proved Eurostar to be 10 times greener than aircraft traveling the London to Paris and London to Brussels routes. Eurostar believes they can do more. From November 14, 2007, the day Eurostar officially opened service from St. Pancras International station in London, Eurostar changed the way they operate as a business. They launched Tread Lightly, an initiative designed to further reduce their impact on the environment (what scientists call our 'footprint') and to help their travelers do the same. As part of this initiative, Eurostar has made a commitment to reduce carbon dioxide emissions by an additional 25% per traveler by 2012. Consequently, they will be making changes across all areas of their business, from the big things like energy efficiency, paperless ticketing and waste management, through supply chain selection to smaller cultural changes like recycling in their offices. Any remaining emissions will be offset, at no cost to the traveler, meaning that from November 14, 2007, Eurostar is proud to offer carbon neutral journeys. [courtesy the Rail Europe web site / http://www.raileurope.com]
o Nice Carnival. . .as mentioned in our first page feature, takes place February 16 to March 2 in Nice with parades, flower-floats, confetti-filled outdoor dances and concerts, and ends with King Carnival's ceremonial burning and fireworks. The theme will be 'The King of the Ratapignatas', inspired by a local story on bats and rats. For information please visit http://www.nicecarnaval.com or http://www.nicetourism.com.
o Menton . . .was also mentioned in our feature article, and its 75th Annual Fête du Citron will take place from February 16 to March 5 in this interesting little city near the Italian border. From a golden parade of floats created from citrus fruit to citrus decorations in the city's Biovèes gardens, it is a feast for the eyes and a riot of color. For information you can visit one of these web sites: http://www.feteducitron.com, http://www.villedementon.com or send an email to the tourist office at ot@villedementon.com
o Paris' Salon de l'Agriculture. . . the international agricultural show, will take place at Porte de Versailles from February 23 to March 2. For information please visit their web site at http://www.salon-agriculture.com
o Paris. . . the 16th half marathon (Semi Marathon de Paris) will take place on March 9th, about one month prior to the Paris Marathon. If you are interested, you can read more at http://www.parismarathon.com/semi.
o Wine Auction . . . Nuits-Saint-Georges hosts the 47th wine auction to benefit the Hospitals of Nuits-Saint-Georges (Burgundy) on March 15 and 16. Visit http://www.nuits-saint-georges.com for more information.
o Lyon, the gastronomy capital . . . hosts its annual fair, Foire de Lyon, from March 21 to March 31. Details can be found at http://www.foiredelyon.com/2008 (French only).
o Come to Strasbourg . . . in Alsace for Les Giboulées de la Marionnette, March 28 to April 5 ~ the 19th edition of the puppetry festival with performers from all over Europe. French only information at http://www.tourisme-alsace.com.
o Football (or soccer?). . . on March 29 see the final game, Finale de la coupe de la Ligue, of the French Professional Soccer League's season at Stade de France in Paris. For details go to http://www.fff.fr (French only).
o Easter Weekend . . . in Cabriès-Calas (Provence) is the Benediction des chevaux, the annual blessing of the horses. It takes place on the esplanade of the fifth century chapel of Notre-Dame de la Salette atop the Calas hill. Feature events include the blessing of more than 600 horses, bull races, games, riding exhibitions and a street ball. This event has been held every Easter since 1958 in the small village of Cabriès, ten miles south of Aix-en-Provence. For information visit the French web site http://www.cabries.fr.
o Sacred Music in Lourdes . . . in early April in the Midi-Pyrénées city of Lourdes, there will be the 21st Festival of Sacred Music held in several different locations including the Basilique du Rosaire, the Saint-Savin Abbey, and Tarbes Cathedral. Visit http://www.lourdes-france.com/festival/festival_1.htm for details.
o Grandes Eaux Musicales de Versailles. . . Early April to late September (every Saturday & Sunday ~ 11:15 AM and 3:30 PM ~ and on National holidays) in Versailles. July /August/September Saturdays only. Grand display set to music of the 50 fountains of the Versailles gardens. Fêtes de Nuit, historical scenes and tableaux at the grand Bassin de Neptune: Saturday nights, August 24 & 31 and September 23 at 9:30 PM. Info at http://www.chateauversaillesspectacles.fr/gem.htm
o Europa Jazz Festival . . . in the city of Le Mans from April 1 to May 11 (Western Loire) http://www.europajazz.fr.
o 32nd Paris Marathon . . . starts at 9 AM on April 6 on the Champs-Elysées, via Bastille, Nation, Vincennes, the Tuileries to the finish on Avenue Foch. Visit http://www.parismarathon.com.
o Festival des Jardins . . . is the 17th annual gardens festival in Chaumont-sur-Loire (Loire Valley) from April 30 to late October. Every year international landscapers design and create on a special theme thirty gardens on the grounds of the Château de Chaumont. Information at http://www.chaumont-jardins.com (French only).
o April 30 to May 12 . . . are the dates to mark on your calendar for the Foire de Paris, Paris' big market fair featuring home furnishings, leisure and well-being, and world culture exhibitors. At the Porte de Versailles. For details visit their web site at http://www.foiredeparis.fr (French only).
o Visit France with Catherine Dignam . . . small, personal tours, currently organized for May and June of 2008, for people who want to meet others with similar values and interests, have a home away from home, a chance to meet local producers of specialized products, and an opportunity for people to get to know the French through a personal guide and interpreter. All inclusive weekly tour of Provence. Guests will be met at Marseilles airport or at the TGV station at Avignon and escorted to their villa above the twin towns of Beaucaire/Tarascon. Each day visit an historic village or town, go market shopping, or cook with regional products. Visit the asylum at St Rémy de Provence where van Gogh spent his last days, and see some of the countryside Cezanne painted. Art lessons can be arranged; for groups which may have specialized interests such as food and wine, or aspects of history and culture, Catherine will tailor the tour for these groups. All accommodation, meals, excursions, entrances into museums and other attractions are included in the price. (Transportation to and from France is excluded.) Guests will only need to buy those local delicacies they can't do without, and gifts for those at home! The minimum number of guests is 5 per tour, and there will be a price reduction for couples or friends who share a room or those who want a 2-week tour. The maximum number of guests is 10, with all guests sharing rooms. The dates for 2008 tours are May 31 - June 7 / June 7 - June 14 / June 14 - June 21. There will also be a tour from May 24 - May 31 if there are sufficient numbers. The cost for each person for the week is: USD $3,300, Canadian $3,400, British pound 1,700, AU $3,600 and NZ $4,200. Contact publisher@franceonyourown.com to be put in touch with the tour organizer.
In the US. . .
o Buy French Products . . . in the US or elsewhere by visiting www.palazzo-ub.com/. Advertised as an artful selection of French and Italian goods, handmade gifts, tabletop, home and garden décor items, Palazzo Interiors and Gardens located in Monterey, California, may just have that wonderful or unique item you are seeking. You can find chandeliers, antiques, fine French reproduction furniture, fine art, tableware, linens, garden ornaments, stationery, books, journals, handmade gifts, jewelry, fragrances, and more. When in the neighborhood, visit their shop in historic downtown Monterey at 631B Cass Street ~ they are open Tuesday through Friday from 10:30 AM to 6:00 PM and Saturday from 10:30 AM to 4:30 PM. Or phone them at 831-641-0575.
o 'Masterpiece Replayed . . . Monet, Matisse and More', an exploration of multiple versions of the same image by various artists. It encourages the viewer to find the subtle differences. Through May 4 at the Phoenix Art Museum. www.phxart.org.
o End of 19th century Paris. . . is explored with The Dancer: Degas, Forain, and Toulouse-Lautrec, in some 110 paintings, sculptures and other works by three artists who were drawn to the lives of dancers, both personal and professional. From February 2 through May 11, Portland Art Museum, Oregon. Visit www.portlandartmuseum.org.
o Impressionists by the Sea . . . is an exhibit of the works of Boudin, Monet and others who chronicled the life along Normandy's seacoast as it reshaped their artistic vision. Until May 11 at the Wadsworth Atheneum, Hartford, Connecticut. Please visit www.wadsworthatheneum.org. for more information.
o The Metropolitan Museum of Art . . . in New York is the venue for an exhibit entitled Poussin and Nature: Arcadian Visions through May 11, 2008. Joined by another exhibit, In the Light of Poussin: The Classical Landscape Tradition (through April 13), the 17th century artist's work is deeply explored through over 100 paintings and drawings. He is credited with a great contribution to landscape art, and had a huge influence on later artists in France, Italy and elsewhere. Visit www.metmuseum.org.
o Seattle will host . . . Roman Art from the Louvre at the Seattle Art Museum through May 11. This show examines Roman civilization from the first century BC to the early fourth century AD. Details can be had at www.seattleartmuseum.org.
o Philadelphia's Opera Company . . . presents Cyrano by American composer David De Chiera and French librettist Bernard Uzan February 8 through 17 at the Academy of Music. For program details www.operaphilly.org.
o French Film Festival . . . the 16th annual VCU French Film Festival will present 30 of the latest short and feature films from France, subtitle and presented by their producers, March 28 through 30 at the Byrd Theatre, Richmond, Virginia. For schedules and other information contact www.frenchfilm.vcu.edu.


The Mimosa Route & Mardi Gras in the South of France continued . . .

world. The professional cultivation of mimosa for export is now concentrated in hothouses around the villages of Tanneron, Mandelieu and Pégomas. Come February, the slopes, valleys, hills and gardens of the region are covered in these fluffy yellow balls of flower, and the Mimosa Route ~ all 130 kms of it ~ takes you through a world of color and perfume, blue from the sky and sea, rusty red from the soil, into an explosion of yellow and green. However, do remember that picking is strictly forbidden!
Bormes Les Mimosas, the start of the Mimosa Route, will be holding its major Carnival over the weekend of the 23 and 24 February, with flower floats and parades. From there one moves along the coast to Rayol Canadel, a 20-hectare domaine created in the 1930s, seven hectares of which are devoted to superb gardens nurturing and displaying a fantastic collection of plants and shrubs native to Mediterranean climates around the world ~ Chile, Australia, South Africa, the Canary Islands, and California. One can visit the gardens and also attend workshops held on a number of connected themes ~for example: The Mediterranean Garden, landscaping and gardening techniques; Plants suitable for the Mediterranean climate; Garden art on the Mediterranean; Botanical, ethno-botanical, medicinal and aromatised plants; Phyto and aromatherapy; Cooking with herbs and flowers.
Then the route winds onto the coastal town of Ste-Maxime, where the Flower Parades start 3 February. One can take coach excursions, from either Ste-Maxime or St-Raphael, along the coast to the Nice Mardi Gras Carnaval and the Menton Lemon Festival. St-Raphael's Mimosa Festival runs from 9 to 17 February encompassing flower floats and parades, the election of Miss St-Raphael, guided walks, excursions to the Esterel, visits to mimosa nurseries, and exhibitions. If that were not enough, the shopkeepers of St-Raphael are enterprising enough to devote Thursday, February 14, St. Valentines' Day, to a special Clearance Sale ~ most unusual in France ~ under the banner of 'Shopkeepers in Love!'
Kilometer 108 on the route is occupied by Mandelieu La Napoule, just outside the coastal resort of Cannes. Mandelieu, calling itself the Capital of the Mimosa Route, will be celebrating from 15 to 14 February with concerts, a Mimosa Queen, guided tours, exhibitions and of course flower parades.
At kilometer 112, one moves into the hills to Tanneron, the major center, together with the town of Pégomas, for the mimosa nurseries, many of which can be visited. The route finishes up with in the perfume town of Grasse (at kilometer 130 of the route) where quantities of mimosa flowers are made into perfume.
Nice Carnaval / Mardi Gras: 16 February – 2 March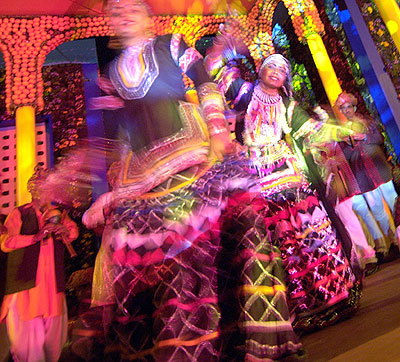 For those adventurous enough to carry on along the coast to Nice, they can attend, and even take part in all the fun of the Nice Mardi Gras 'CARNAVAL' and Carnival it is. This year the theme is the 'Roi des Ratapignatas' or 'The King is dead, long live the King! The king of bats, rats and other legendary creatures', and runs from 16 February through 2 March. The theme of the Ratapignatas also manages to embrace the Chinese New Year of the Rat! The Carnaval parade of floats is all constructed very wittily around this theme, floats of gigantic cartoon figures alternating with wonderful flower floats and parades. It is a huge event attracting crowds from all over, and one can get details of the times of parades plus buy tickets for the stands online. If you are on broadband have fun looking at the web site, which since last year, when the theme of the Nice Carnaval was Politics and Rugby, (France had a National Election May 2007 and also were hosting the World Cup Rugby Championship) whacks you abruptly to attention with a vibrant, gut-shaking New Zealand Haka.
For those unfamiliar with the sport of Rugby, the New Zealand team known as the 'All Blacks' traditionally starts a match with a Maori 'Haka' to intimidate their opponents. In the 2007 World Cup Championship they were quite overshadowed by other teams from their hemisphere ~ Tonga, Fiji and Samoa ~ whose Hakas were even more fearsome, even if these teams got knocked out in the first rounds. The Haka on the web site then devolves into equally forceful excerpts from Carl Orff's medieval orgy fest ''Carmina Burana' which gives you an idea of how the Nice Carnival offered wonderful opportunities for French cartoonists to lampoon the race for the Elysées Palace. It made for an interesting parade, all those political figures ripe for derision, with Chirac heading up the crowd. Political cartoonists had a heyday and managed to draw some wonderfully amusing parallels between rugby and politics.
If you plan to go, try to do so by either by train or bus to avoid all the parking problems. And, beware of pickpockets who tend to be rife at this event.
Menton Lemon Festival ~ 16 February– 5 March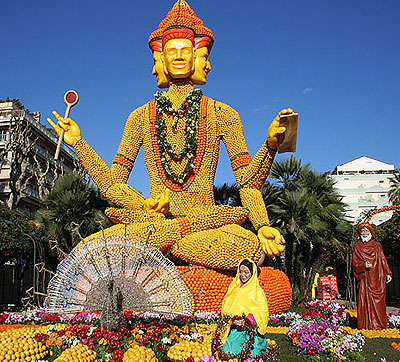 And the fun need not stop at Nice. Why not carry on and enjoy the spectacular displays of the Menton Lemon Festival where Mardi Gras is celebrated in a totally different way, with floats and figures entirely made of the citrus fruits that grow in such abundance in this climate.
The theme for this event the past few years has been Les Iles du Monde. Last year the floats concentrated on India with Indian dancers performing all along the route ~ this year who knows? Plus, don't miss a tour of the Jardins de Lumière after dark for a spellbinding, moonlit perspective (16, 23 and 23 February, 4 March). Menton also offers the Orchid Festival organized by the Association Orchidophiles et Épiphytophiles de France, at the Palais de l'Europe.
*Gardens to visit in Menton include: Serre de la Madonne, Clos du Peyronnet, Val Rahmeh, Parc du Pan,
Fontana Rosa, Les Colombières, and Maria Serena. These gardens are at their prime in late spring,
late April through to June, rather than February, but will still be of immense interest to gardeners.
Just over the border in Italy one can also visit the garden created by Sir John Hanbury.
** Anita Rieu-Sicart's VAR VILLAGE VOICE, English language monthly newsletter,
circulates throughout the Var and elsewhere in the world to English speaking expatriates.
To subscribe, please visit the web site at - www.varvillagevoice.com
Mention you heard about it from FRANCE On Your Own!