---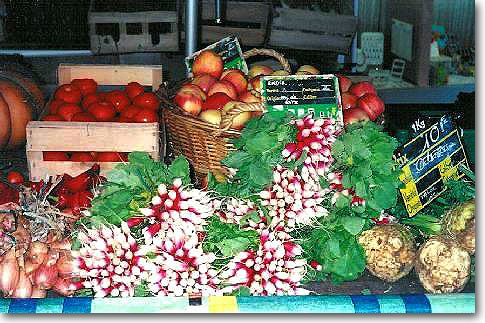 [Photo: © Cold Spring Press 2000-2010]

FRANCE On Your Own © is pleased to offer this page of interesting offerings that may be of help when you are planning your next visit to France. We hope you find just what you are looking for in our MARKETPLACE!
Although we are very selective about the offerings we accept for this page, we regret that
we cannot guarantee satisfaction nor be held responsible for any transactions between parties to these ads.
To place an ad in MARKETPLACE, click to email us: advertise@franceonyourown.com
---
MAKE YOUR RESERVATIONS ONLINE. . .
with EasyToBook.com
EasyToBook.com would like you to visit their web site. EasyToBook is the booking service for hotels that offers the best discounts making online hotel reservations simple, easy and secure giving the traveler access to a vast choice of carefully-selected and superb discounted hotels. The site offers thousands of discounted rooms, all of which may be booked (and canceled) instantly. No waiting!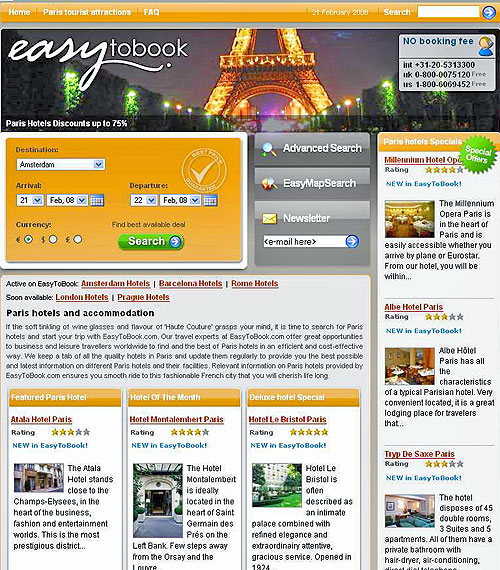 Save money because every hotel room offered is guaranteed to have the best rate available on the Internet; you pay no reservation fee and have a wide choice of fine hotels in Paris as well as throughout France and elsewhere in Europe and the world ~ at all price levels from 1 to 5 stars! And, because there are no 3rd and 4th parties involved in your reservation, the hotels can provide the lowest rates through EasyToBook.com.
What makes EasyToBook.com your best choice for online booking? One thing might be the Dutch approach of high quality customer service. Your satisfaction is their goal. They designed their web site to be easy to find on the Internet, easy to use and to contain accurate information about hotels, their surroundings and local tourist attractions.
For example, EasyToBook was one of the first companies to use Google Maps and provides customers with 360 degree pictures to give a total view of the hotel and the room. This avoids customer disappointment later. Since the founding of the company in 2004, it has expanded yearly, moved the head office to Switzerland in 2006, and it has plans to cover the world very soon.
Just because you can receive the best discounted rate doesn't mean the hotels on EasyToBook.com aren't high quality accommodations. Here are two examples:
The Millennium Hôtel Opéra Paris on boulevard Haussmann is a 4-star hotel: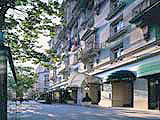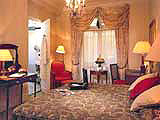 The Hôtel Château Les Crayères just east of Paris in the Marne is a 5-star property: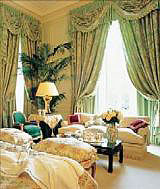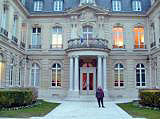 Please be sure to visit EasyToBook's France hotels pages using the following links:
and tell them FRANCE On Your Own sent you!
P122012

---
FRENCH CHÂTEAU NOTE CARDS
These luxurious, ivory-colored classical note cards present our exclusive pen and ink drawings of magnificent château chambres d'hôtes in France. An assortment of twelve with matching envelopes will provide you with a unique and elegant
way to drop a few lines to friends or to express yourself with a distinctive thank you message. Our cards also make very thoughtful and original gifts. See our prices below which include postage and handling.
Three of the twelve cards (châteaus Canisy, Motte and Foulon) are shown above.
The actual size of each card when folded is 5 1/2" wide by 4 1/4" high
(14 cms wide by 10 3/4 cms high), printed on beautiful matte finish card stock.
They are blank inside, and the name of the château
represented on the face of the card is indicated on the back.
$15.50 to the United States / packet of 12 assorted cards includes first class postage and handling.
$16.00 to Canada or Mexico / packet of 12 assorted cards includes first class postage and handling.
$19.50 to Europe / packet of 12 assorted cards includes air mail postage and handling.
(Please inquire about cost to other destinations by email to watercolors@franceonyourown.com)
Check payments: Mail your check payable to Cold Spring Press with a note providing your full mailing address to the Post Office Box indicated at the bottom of this page. For payments by non-US dollar check, please add 5% to the total amount.
Credit card payments: click on the PayPal icon below. Please provide your full mailing address.




Make payments with PayPal. It's fast, asy and secure!
Currently, please allow for 2 weeks to receive your cards from the date your order is received by FRANCE On Your Own. If you need the cards in less time, please contact us at watercolors@franceonyourown.com for availability and express shipping costs.
If your complete mailing address is not provided and we do not receive an email address to contact you, we will not be able to ship your cards. Thank you in advance for remembering!
CSP1231

---
4 Fine Châteaux for Sale!
Elegant Château in Gascony on 290 acres of land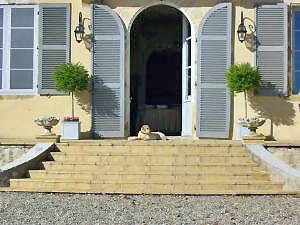 Completely restored with spacious modern kitchen and heated swimming pool
In the département of Gers in southwestern France, this fine château has spacious en suite bedrooms, true French style and lots of character.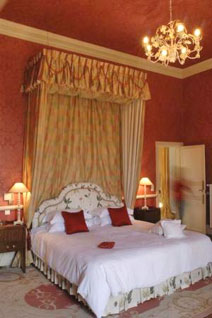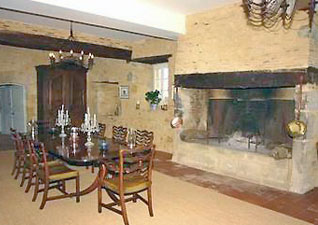 Distant views of the Pyrénées mountains, the mild climate and proximity to Bordeaux wine country, music festivals, and the Armagnac region make the location of this château ideal for living in France or operating a luxury bed and breakfast.
For more information or to contact the owners, please send an email to us at info@franceonyourown.com with Gascony Château in the subject line.
---
ELEVENTH CENTURY FRENCH CHÂTEAU FOR SALE
with Gîtes and Bed & Breakfast accommodations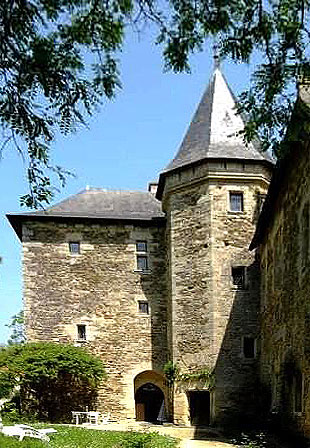 In the tourist-rich Loire Valley, on the banks of a tributary of the Loire, is this amazing Medieval château with four self-catering gîtes and a lovely bed and breakfast, too! For those interested in living in luxury while operating a successful and enjoyable business, this château is perfect! Currently, a French/English speaking couple are the very capable on site managers.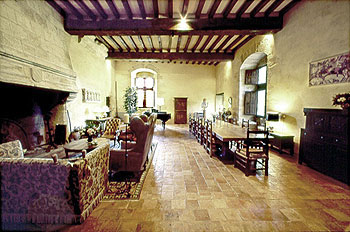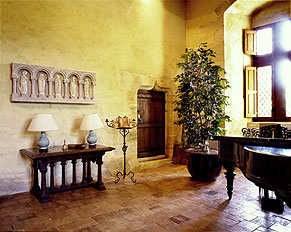 THE GRAND FIREPLACE AND DINING HALL
The 11th century château, gîtes and B&B sit on over 5 hectares of beautiful property, complete with gardens and a heated swimming pool open from May to October. The château can accommodate up to 14 people in its five spacious guest rooms, and has a dining hall fit for a king! In fact, Kind Henri IV was a guest here in 1576!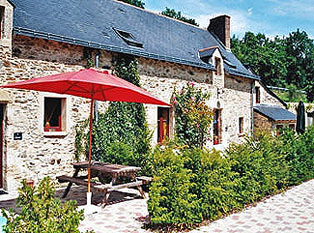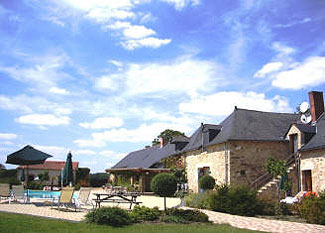 COTTAGES AND SWIMMING POOL
Guests of the château will find the area abundant in things to do and see. They will enjoy late medieval and Renaissance art and culture at the nearby Château d'Angers which is famous for its tapestries of the Apocalypse and Mille Fleurs gobelin tapestries. The amazing Abbaye de Fontevraud is not far away, nor is the wonderful Château de Saumur and nearby riding center. Wine lovers will enjoy the appellations and vineyards of Anjou as well as visiting the grand castles of the Loire.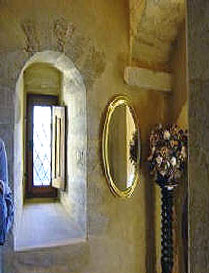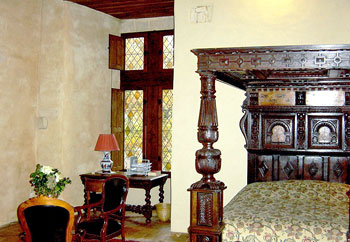 SUITE HENRI IV
In addition to the château itself accommodating ten adults and four children in 5 guest rooms, the bed and breakfast lodges ten+ people in 4 suites and 1 double guest room; and the four holiday cottages/gîtes will accommodate up to a total of 20 people who are looking for self-catering holidays on the grounds of a magnificent château. The cottages and bed & breakfast are elegant and comfortable with parquet and stone floors, beamed ceilings and spaciousness and include underfloor heating, air conditioning, satellite television, telephones, and, upon request, Internet connections. All modern comforts are provided.
Guests can come for rejuvenation and wellness treatments at the château as well. There is an infra-red sauna, a Jacuzzi, and massage showers. Currently operating to full capacity, groups can take the entire property for special celebrations, friend and family reunions or group wine tasting visits.
For those interested in learning more about purchasing this property, serious inquiries should be sent to info@franceonyourown.com, please put 'Loire Château' in the subject line. We can provide further photos, more details about the property, and sale price. We look forward to hearing from you!
[Copyrighted photos courtesy of the château owner. All rights reserved.]
CX2-1231
---
An Exquisite Château near Aubusson
*** Substantial Price Reduction !! ***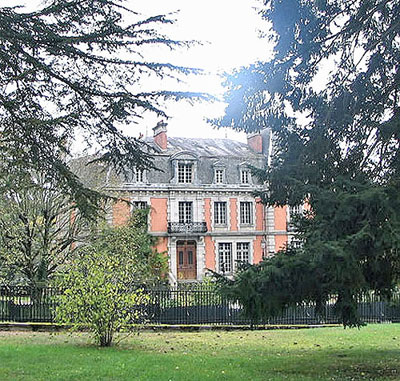 The Creuse département of France's Limousin region draws those seeking fine porcelain in Limoges, exquisite tapestries in Aubusson, and, as it is a land of natural beauty and tranquility, the ideal locale for a relaxing and memorable holiday. Set in the scenic foothills of the Massif Central, the Creuse is hilly and wooded with lakes and rivers in abundance ~ and, it is an angler's paradise. Lac de Vassivière is one of Europe's largest man-made water sports complexes offering 1100 hectares for swimming, snorkeling, wind-surfing, sailing, speed boating, water skiing and fishing.
In 2008 this exquisite château opened its doors to guests following three years of extensive restoration, and it was renamed after a prominent Aubusson family who kept the tapestry manufacture alive during the trying times of the Empire and Restoration periods.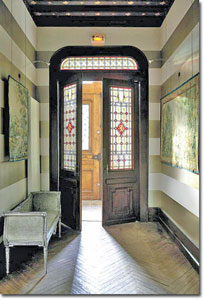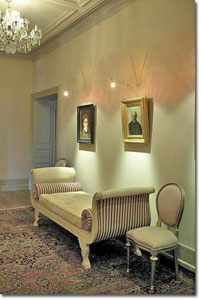 The welcoming entry hall, restaurant with magnificent fireplace, château passageway
The château has been painstakingly renovated, and all efforts were made to retain the period features of the residence. The basement houses the kitchen, banquet hall and wine cellars. The ground floor features the Grand Salon with a stunning period fireplace and high ceilings, the Conservatory for breakfast, the Petit Salon for quiet times and reading, a Billiards room, and the Restaurant for the enjoyment of gourmet cuisine in a classical setting.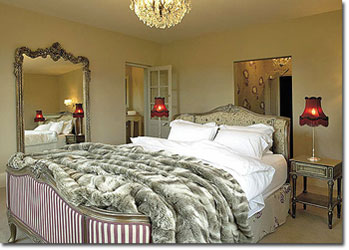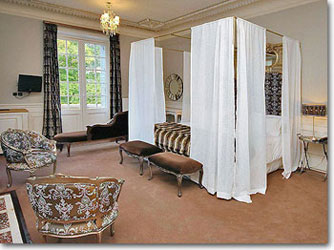 Two of the ten en suite bedrooms at the château
A château such as this with ten large suites, all with en suite bathrooms, five of which are on the first floor - luxurious rooms with high ceilings, and five more spacious and refined guest suites on the second floor - is the perfect château for renting, chambres d'hôtes, or as the private residence of a large and active family. [Furnishings not included.]
Today, the château is being offered for sale. As you will see in these photographs, it is a truly unique and inviting. This sophisticated and elegant residence needs nothing more than for a new owner to move in.
For information please send an email to publisher@franceonyourown.com and put 'Creuse Château' in the subject line. Merci!
CX3-1231

---
XIX CENTURY FRENCH CHÂTEAU FOR SALE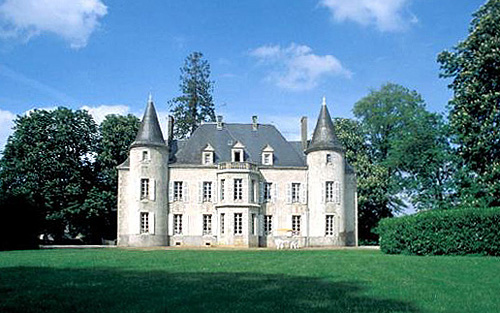 In the département of the Vendée in western France, with easy access to the Atlantic shore, a beautiful 19th century château is now for sale. Currently used as a family residence and bed & breakfast, the château shares its 13 hectares of parkland (32.5 acres) with three small rental cottages, a longère recently completely renovated as a 'dortoir' with facilities for conferences, seminars, weddings and other large gatherings, a heated swimming pool, horse stables and a SwinGolf course.

The château not only provides private accommodations for its resident owners, but it offers two double guest rooms, one twin guest room and two suites, all with en suite bathrooms, for guests, as well as a formal dining room, finely-detailed classical French interiors, exquisite stained glass and other unique attributes. The château is in excellent, move-in condition. The total capacity of the château, cottages and longère is 40 persons.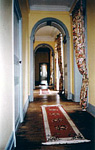 STAINED GLASS, HEATED POOL, CLASSICAL ARCHITECTURE
Nearby are many tourist attractions, including the historic city of Nantes (a half hour drive from the Château and two hours from Paris via TGV), Le Logis de la Chabotterie (historic castle of the Vendéen War) fishing, hunting, museums, son et lumière spectacle at Puy de Fou, the seaside resort of St Jean-de-Monts, La Roche-sur-Yon, the Île de Noirmoutier, and the Marais de Challans.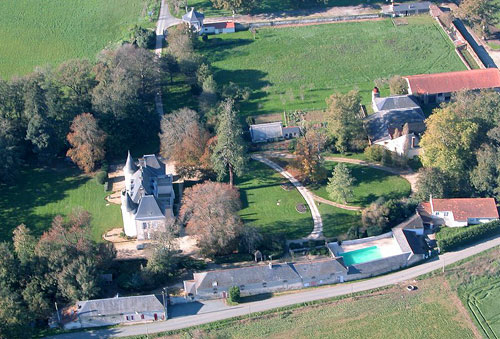 AERIAL VIEW OF CHÂTEAU AND DEPENDENCIES
[Entrance road to estate is at top left center of photo]
The château and its dependencies generate a very substantial annual income for its owners, while maintenance costs and taxes are very low.
Those with a serious interest in the possible purchase of this château can contact us at info@franceonyourown.com, (please indicate Vendée Château in the subject line) and we will be happy to provide more details, photos and price information. We promise a prompt response to all inquiries.
CX4-1231

---
PARIS FRACTIONAL OWNERSHIP &
BEAUTIFUL PARIS APARTMENT RENTALS
Glenn Cooper of Rentals in Paris, your expert on Paris real estate, can help you find the perfect Paris apartment. Glenn has lived in Paris for 22 years and worked with many clients to buy their own Paris pied-a-terre worry free. His inside knowledge of Paris real estate and how one gets things done in Paris has helped him to grow his apartment hunting service over a number of years.
FRACTIONAL OWNERSHIP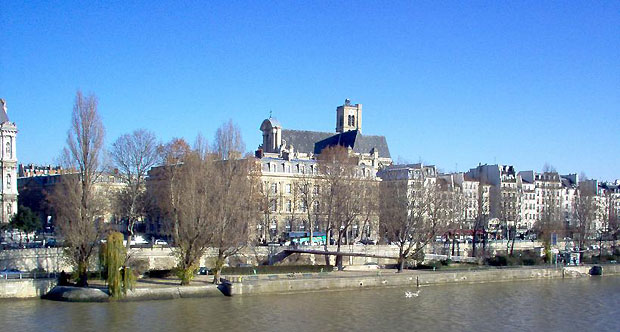 Glenn is now offering buyers the opportunity to own a fixed yearly period of one of his beautiful ideally-located Paris apartments. His Fractional Ownership properties are located on the Île de la Cité and in the Marais. You can view his web site which presents his fractional ownership properties at: http://www.paris-fractional-ownership.com . PLEASE MENTION FRANCE On Your Own WHEN CONTACTING GLENN.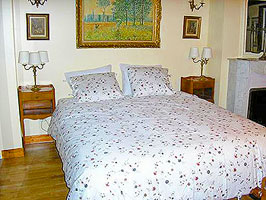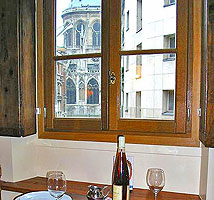 Fractional Ownership is still available for this
Paris Apartment with a view of Notre Dame Cathedral
For a small fraction of what a Paris apartment would cost if you purchased the entire property outright, you can own a lifetime share of a beautiful, perfectly-located Paris apartment with complete maintenance in place so that you will enjoy the property in a truly care-free manner. This new concept is perfect for first time buyers in Paris who really want to go ahead but don't want to be bothered with all of the day-to-day concerns that property ownership requires.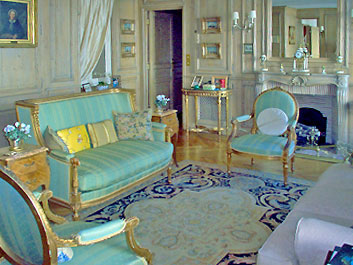 A Paris apartment is a very solid investment since the housing market is so limited. It will certainly increase in value over time, and you will reap the benefit of enjoying your property and spending timne in Paris annually. As time goes on, you can give the share of the apartment to your children, or sell it to another buyer if you should decide that this suits you. The value of your share of the given apartment will certainly increase, so you can always be confient that you can sell it for the same amount you paid or even make a profit. So, for the years you use your property and enjoy Paris, you will be doing so at a very small cost.

---
For complete details, locations, and more photos, visit the web site or email your American contact in Paris, Glenn Cooper, at coopergl@gmail.com. You can also phone him from the US at 1.516.977.3318. PLEASE MENTION FRANCE On Your Own WHEN CONTACTING GLENN.
P-022813
---
HISTORIC STROLLS IN PARIS
Paris Through the Ages offers a series of seventeen strolls to help you discover little-known facts about the City of Light (and two guided tours outside the city) which will be revealed to you in a most entertaining and enlightening manner by Arthur Gillette. He knows Paris. Arthur is an American graduate of Harvard (Magna Cum Laude in French language and literature) with a doctorate from the University of Massachusetts. He has lived in Paris since 1958 and for many years was an official at the United Nations Educational, Scientific and Cultural Organization (UNESCO) head quartered in Paris. At UNESCO he was Editor-in-Chief of Museum International magazine.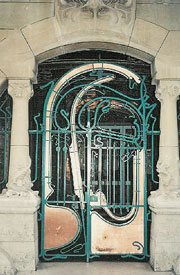 You can just imagine what a stroll with Arthur Gillette will offer you! As the author of the Paris Through the Ages series of nine pocket map-guides, and an expert on Paris and her monuments, your time could not be better spent. Strolls are organized for small groups (and almost always for a party of family and/or friends) to allow people to interact and ask questions along the way, focusing on the vestiges of a single historical period -- in some cases on a single monument. Each stroll takes from two to two and a half hours and is done at a comfortable and leisurely pace. The themes of sixteen currently offered strolls are:
1 Lutetia: Roman Paris (its arena, baths and more)
2 A Medieval Sampler (Saint Germain de Prés church, the 13th century Cordeliers monastery refectory, the Cluny abbots' "townhouse")
3 Learning in Paris (university and student life in the Latin Quarter between the 12th and 16th centuries)
4 The Wall Route Right Bank (follow the 12th century rampart from the Louvre to the eastern extremity of the Medieval city)
5 The Wall Route Left Bank (follow the 13th century rampart as it wends its way through courtyards, mews and an underground parking lot!)
6 Notre Dame Cathedral (hear about some unsolved mysteries surrounding the Grand Old Lady)
7 Cradle of the Capital: Île de la Cité (a sampling of events that marked Parisian history through 2300 years of uninterrupted habitation)
8 Around rue de la Huchette: Heart of the Latin Quarter (architectural reminiscences of Renaissance King François Ier, 19th century poet Charles Baudelaire, a 16th century Royal Prosecutor, and Napoleon Bonaparte, as well as the oldest tree in Paris, the intimate 12th-13th century St. Julien le Pauvre church and other medieval memories)
9 The "Grand Century" on the Île St. Louis (an intimate round-island look at the architecture and history of some of Paris's grandest 17th century mansions, including where author James Jones lived for many years)
10 The Naughty Marais (feats of derring-do whose ghosts haunt what was once THE place to live in the French capital)
11 Atmosphère Along The Canal St-Martin - (A look at what's left of the Bastille's story and reality, the handsome (!) early 17th century St. Louis plague hospital, and Paris' main 'inland waterway' – a strollers' delight)
12 The Mouffetard Quarter: "Quaint" PLUS (a highway leaving Paris for Rome 2,000 years ago, rue Mouffetard still boasts a street market that has functioned since about 1350, not to forget a public fountain erected by Marie de Medici, the house where Ernest Hemingway lived in the 1930s and segments of the Medieval city rampart)
13 Smiling Architecture: Parisian Art Nouveau (visit some of the masterpieces of Guimard, Chédanne, Sauvage and other Belle Epoque builders) see photo
14 Meet the Marne - (Along the weeping willow-bordered Marne River banks you'll discover famed 1900s guinguette dance halls, the Ile of Beauty (where 14th century Bastille-builder King Charles V loved and died), some crazy turn-of-the-century houses worthy of Charles Addams, the capital of France's rowing champions and one of the original Paris Halles (central market) Baltard pavilions, dismantled and reassembled as a cultural center in the early 1970s.
15 Cool, Clean and Angular – Art Deco Architecture in Paris (some of the best Parisian samples – Samaritaine department store, Théâtre des Champs Elysées, Palais de Chaillot, La Coupole Café etc. - of the movement that inspired such great American creations as New York's Chrysler Building, with memories of F. Scott Fitzgerald and Josephine Baker, among other American luminaries)
16 19 - 25 August 1944: The Liberation of Paris (military and political highlights of the "glorious week" -- some grave and others humorous - pinpointing aspects of American involvement)
17 USA sur Seine – major Parisian roots of the American Revolution.
18 Vaux-le-Vicomte & Senlis: Day-long visits to historical high spots near Paris such as the 'predecessor to Versailles', Château de Vaux-le-Vicomte, and Senlis, whose layered vestiges stretch back 17 centuries, can usually be arranged by prior request. Car transportation provided as needed.
Reservations are necessary, so to schedule your stroll and to obtain prices, contact Arthur Gillette by Email at arthurlgillette@gmail.com or phone him at 33.1.45.34.51.67. Ask how you can obtain Arthur's Pocket Guides including maps, too!

FX1231

---
DISCLAIMER: Neither FRANCE On Your Own nor Cold Spring Press accept any liability, financially or otherwise, or assume any responsibility for the contents or offerings in the ads on this web site. Any purchases of goods or services are made between the buyer and the advertiser, and any differences or disagreements that may result because of said purchases will be resolved between them. Cold Spring Press and FRANCE On Your Own are not a party to any transactions between buyers and sellers unless specifically agreed to in writing by Cold Spring Press, P O Box 26098, San Diego, California 92196-009892 USA prior to a transaction taking place.

Home | Newsletter | Classifieds | Style de Vie | Carte Postale | Marketplace | Galerie | Archives | Links | Contact Us | Search

©1998-2013 Cold Spring Press All Rights Reserved