by Panos Kakaviatos

Ruinart ~a great Champagne house ~ was established in 1729. Unlike most Champagnes, it makes premium vintages using only one grape: Chardonnay. Coming from the grand cru vineyards of Côte de Blancs and Montagne de Reims, the Chardonnay can yield a structure akin to a Pinot Noir according to Frederic Panayotis, Ruinart's Chef de Caves. Along with Ruinart assistant brand manager, Roch Hennessy, he hosted a wonderful vertical tasting of great Ruinart wines, some from magnum bottles, at an elegant Washington D.C. based hotel restaurant, City Zen.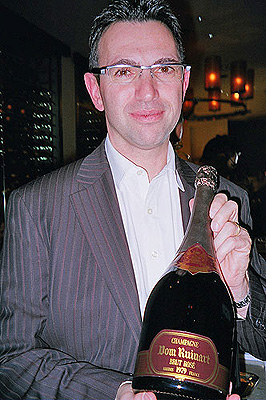 Frederic Panayotis with magnum of Dom Ruinart Brut Rosé 1979
The vertical tasting ~ verticals are tastings of one winery or domain but several vintages ~ was prepared for wine aficionados based in the Washington D.C. area. The Ruinart team, like those from other top châteaux and domains, often travels to the United States to host special tastings for key clients. It proved to be a magical evening featuring such mythical vintages as 1996, 1990 and 1988. Also tasted were vintage rosés, including a fabulous 1979 and a smooth 1990.
Standing around before seating we enjoyed a serving of Blanc de Blancs, a non vintage Ruinart I have regularly enjoyed in Strasbourg. It proved itself again tonight. The wine was quite iodine-flavored, and I could see raw oysters with lemon beckoning. The palate was fresh yet easy going. A smooth drink, with a certain lushness coming from the Chardonnay (mostly coming from premier cru vineyards but also non-premier cru vineyards which perform well, too).
Upon seating, we started with a series of Dom Ruinart, a cuvée made from all grand cru Chardonnay. The Dom Ruinart 1998 possessed at first a far more open nose than the 1996 with notions of buttered apple. A smooth attack preceded a palate of apple/pear chalkiness, giving a warmer feel /~ a tad light on its feet with time in glass, certainly lacking the intensity of the 1996, but a decent glass of Champagne.
The Dom Ruinart 1996 began tasting of roasted hazelnut but not in any way oxidized, rather inviting. A subtle nose at first, then the attack on the palate was fresh, crisp and iodine infused. Certainly fuller bodied than the 1998, a superior wine in terms of power and intensity, and displaying a fine balance between almost zingy acidity ~ focused mind you ~ and richness. Wow! I could have enjoyed that one almost all night.
For the first two wines, we enjoyed a zesty mushroom fritter. . .mushroom purée with truffle. Warm, animal like flavors seemed to mesh better with the 1998, although the 1996 is a far superior wine. The 1996 worked better with a delicious sashimi of Atlantic fluke, with puffed rice, persimmon, lemon and pomegranate vinaigrette ~ the dish's bright tangy elements finding their match in the 96s richness and the soft lush fluke also getting a balance from the wine's fine acidity.
Then came a lovely trio: 1988, 1990 and 1993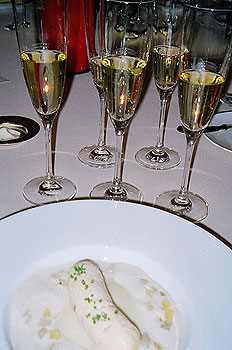 The noticeably darker-colored Dom Ruinart 1988 displayed slightly oxidized aromas of nuts, but also much finesse on the nose and later on the palate with a smooth entry. I enjoyed a certain 'escargot earthiness' in the palate ~ sans the garlic of course ~ balanced by a dollop of sweetness. The tasting showed the importance of having the optimal wine-food match.
In that sense, the Dom Ruinart 1990 reigned supreme. Far lighter color suggesting slower evolution compared to the 1988. Subtle aromas of buttered pear and mineral. A full-bodied palate feel without ever getting heavy or out of balance. Soft, given the 100% Chardonnay. But complexity too, because it showed an appealing mix of mineral and lemon drop, and I even got a slight hint of champignon. Exquisite marriage with a delicious Maine lobster boudin, the first I had ever tried. The creamy Maine lobster broth, with bits of poached York apple found their match in the wine's delicate buttered pear notes.
The Dom Ruinart 1993 smelled and tasted of apple biscuits. At first a slightly rough entry ~ when compared to the very smooth 1998. Indeed, like a more rustic version of the 1990 ~ but later softened its edges to reveal a pleasing buttery feel on the palate. But I feel that the 1993 lacks the finesse found in the previous vintages, especially the 1990, 1996 and 1988.

The next trio came from magnum bottles of vintage Ruinart Rosé: 1979, 1985, 1986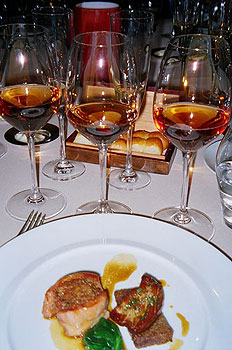 The Domain Ruinart Rosé 1979 showed a complex and rich aroma, with strawberry and some earthy truffle – the rosés contain less than 20% Pinot Noir I was told, from vines in the Montagne de Reims. At first, the palate was slightly musty ~ and I worried that this wine was going to be far too old for its own good, also showing a veering towards a rusty hue, color-wise. I was wrong because time in glass revealed a rich complex and creamy wine, still showing fruit, yet just a perfect match for the sautéed moulard duck foie gras. I remember during a Paris tasting when Champagne foie gras pairings were suggested. This was on target ~ the richness, Pinot Noir-influenced earthiness was a perfect match.
Both the 1985 and 1986 showed less giving aromas than the 1979, but the 1985 proved to be warmer, more open than the 1986. The Dom Ruinart Rosé 1985, already a younger color, showed distinct cherry notes and the palate was vinous, also finishing on a crisp red apple flavor. At first it did not display tertiary elements but its vinous quality also made it quite a good match for the foie gras. Long after the foie gras was consumed, however, I did get some butterscotch, champignon and a hint of smokiness. This was getting rather complex and interesting with time in glass.
The Dom Ruinart Rosé 1986 was by far the most closed of the three. It showed subtle strawberry and then even somewhat apricot flavors, rather sprightly on the palate. An austere, slightly acid-infused feel at first. But with time in glass ~ I checked about 40 minutes later ~ it grew in richness, suggesting a fine life span, and tasting of strawberry shortcake. Indeed, it was the wine that best stood up to one of the hardest food-wine elements: the spinach that came with the foie gras. And its acidity cut through the richness of the foie gras and the accompanying carrot bread pudding.
We then inched forward to a younger duo of roses: 1996 and 1990
As with the 1990 Dom Ruinart, the Dom Ruinart Rosé 1990 was tremendous. A rather pale peach color with aromas of red/green apples and subtle hint of cherry. Very youthful with a rich sumptuous feel on the palate, but polished and elegant. The texture was all cream and softness, but an underlying power that gives this wine lots of future. Not as spectacular as the 1979, but a runner-up.
The 1996 Rosé was far less giving. A more youthful shade of pink, the nose was subtle showing hints of mineral and red berries. The palate was tight, far more structured than the domain's white counterpart. The palate feel was precise, linear and in that sense impressive, but not that pleasurable now. And it pretty much stayed that way throughout the end of the dinner.
[Editor's note: The January 31-February 29, 2008 issue of the Wine Spectator
gave Ruinart's Brut Rosé Champagne Dom Ruinart 1996 a 93 rating.]
For more information about Ruinart's Champagnes,
do visit their web site at http://www.ruinart.com
Panos Kakaviatos is an American who lives in both Europe and the United States and has worked as a congressional reporter,
for UPI and the Council of Europe in Strasbourg. Fluent in four languages and holding both Bachelors and Masters degrees,
Panos is now focused on his passion: French wine. He has written for Wine Citizen, World Wine Report, France Today,
as well as FRANCE On Your Own ~ our good fortune. If you would like to contact Panos, his email address is:
panos_kakaviatos@yahoo.com. His web site is: http://www.connectionstowine.com
[Photo credits: Panos Kakaviatos ©2008. All rights reserved.
Please pass your mouse over the photos to read descriptions.]

---
DISCLAIMER: You have received this newsletter because your email address is on our Opt-In mailing list, i.e., you have requested to receive FRANCE On Your Own ©. If you would like to discontinue receipt of this newsletter, please send an email to publisher@franceonyourown.com with "unsubscribe" on the Subject line.
Unless indicated otherwise, photos, graphics, artwork and text in the FRANCE On Your Own © newsletter are all the property of Cold Spring Press and FRANCE On Your Own © and cannot be copied, duplicated or used in any manner by anyone without the express written permission of Cold Spring Press. FRANCE On Your Own © is published online by Cold Spring Press, P O Box 26098, San Diego, California 92196-0098. This publication is copyrighted and no portions of the text, artwork, graphics or photographs may be reproduced or distributed in any form or by any means or stored in a database or retrieval system without the written permission of the Publisher. For more information about FRANCE On Your Own ©, visit our web site at http://www.franceonyourown.com.
Recommendations made in this newsletter are based upon the personal experiences of the Publishers or contributing writers solely to provide information to subscribers. Cold Spring Press and FRANCE On Your Own © make no endorsements nor are any guarantees or promises of satisfaction given or implied. Any and all information is correct to the best of our knowledge, and the Publishers accept no responsibility for errors and/or omissions. The responsibility lies entirely with the traveler to obtain current information regarding accommodations, availability, schedules, prices, reservations, or any other pertinent details. We do not guarantee the historical accuracy of the contents of articles in this newsletter. Historical accuracy is dependent upon one's sources of information -- and contradictions often exist among those sources. Links to other web sites or email addresses are provided for informational purposes only and do not imply any guarantees of service or endorsement of any organization or their business practices.
FRANCE On Your Own © is electronically transmitted via email. To add your email address to our database for this FREE newsletter, send an email to info@franceonyourown.com, and please put Subscribe in the subject line. We do not share email addresses with any other organization.
BACK ISSUES of the print version of FRANCE On Your Own © are available on our web site at http://www.franceonyourown.com/Archives.htm.
©1998-2008 Cold Spring Press All Rights Reserved

---

previous page