IN THIS ISSUE:
Cézanne in Provence
Paris Enigmas
by Arthur Gillette
Ici et Là
The Kind and Helpful French
Romanesque Tournus & Fontenay
~ Two Burgundian Bijoux
by Arthur Gillette
Safer Driving in France
Paris with Children: Sing & Play
by Eliane Delage, Ph.D.
FEATURE: A Wine-centric Holiday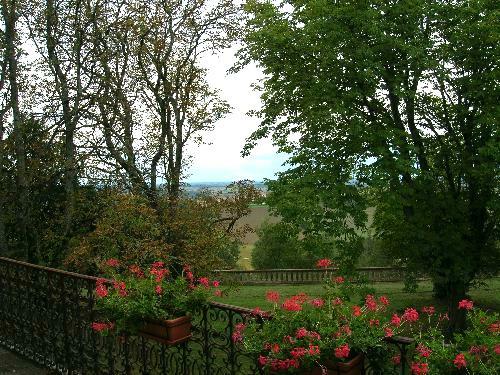 Château de Séguenville
elegant rooms & marvelous views
The Bookshelf:
~ Mektoub / Nicole Solignac O'Connor
~ Wine & War - Don & Petie Kladstrup
Franco-American Portraits:
~ An Interview with Catherine McLean
French Wine Report:
France Wine Travel ~
Part One of Three: Burgundy
by Panos Kakaviatos

I didn't know Paul Cézanne very well before I moved from California to Aix-en-Provence in 1993. There was just a college class in modern art where I learned that he was one of the leaders of post-Impressionism and, perhaps, even the father of modern art. There were so many artists at work in France at the same time that I didn't pay enough attention to what he was trying to say.

It didn't take long, however, after my arrival in Aix to begin to feel that Cézanne was a close friend. After all, we now shared the ever-changing view of la Montagne Sainte Victoire as well as the beautiful, clear light that one finds in Provence. The first time I actually climbed that sacred mountain was almost a religious experience, since Mont Sainte Victoire was one of Cézanne's favorite subjects ~ it appeared in more than eighty of his canvasses between 1870 and 1906.

The year 2006 will give everyone a chance to get to know Cézanne thanks to an international exhibition in Aix marking the 100th anniversary of his death. Cézannne in Provence will bring together approximately thirty watercolors and eighty of his greatest oil paintings (including the monumental Bathers from the National Gallery in London) at the renovated Musée Granet in Aix-en-Provence ~ an appropriate location since Cézanne was once an art student in that very building! The paintings include locales in and near Aix, making the event a real celebration of Cézanne's Provence and proof that his universal genius (which anticipated Cubism, Fauvism and abstract art) was firmly rooted in his native land. This exhibit begins at the National Gallery of Art in Washington DC on January 29, 2006, and then moves to Aix on the 9th of June, remaining there until September 18th. During the time of the exhibition, there will be numerous international events, live performances, exhibitions, street theater, music and dance.

There is surely no better place to appreciate Cézanne's talent than to see for oneself the town and countryside that inspired him. Although he tried briefly to succeed as an artist in Paris and elsewhere, he returned to Aix and stayed in the area for the remainder of his life. He was convinced that it was the only place where he could find what he was seeking in his art. This land of intense sensations captured his imagination in a way that nothing else had, and the result was an astonishingly powerful body of work. Cézanne's pictures, steeped in the light and atmosphere of the Provençal landscape around Aix, put the city on the international map. Aix-en-Provence and Cézanne have become inseparable, and both deserve a visit.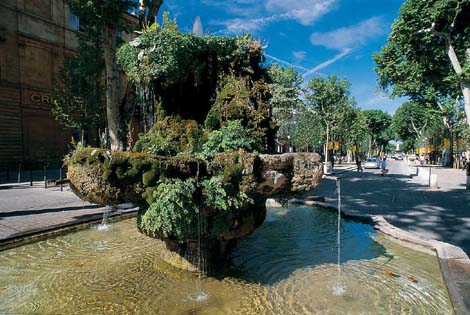 Cézanne is everywhere in Aix. You can still see the fading name of his father's hat shop gracing a building on the Cours Mirabeau, Aix's little 'Champs Elysées' of a main street. There's an effigy of him on a fountain a few steps away and a plaque on the building where he died. His last atelier has been turned into an intimate museum thanks to some American benefactors. And, I'm sure he'd love to know that the town has placed brass studs, in the form of a 'C', in all the streets that lead to places that marked his life there.
CONTINUED ON PAGE 2