"The best laid plans plans of mice and men often go awry," to quote Robert Burns. That was the case in September when we were unable, because of time restrictions or other inconveniences, to do several of the things we had hoped to do. One was to visit St-Jean-de-Luz in France's southwest corner ~ but not going there was by choice as we opted to spend two full days enjoying the marvelous city and shoreline of Biarritz instead. Another was the intention (not quite a plan) to try horseback riding at Château de Sombrun ~ an idea that seemed less appealing when we realized that western saddles were not available, and an English saddle did not seem sufficient to keep our inexperienced bodies mounted on those very large horses. (When the château's groom fell from her horse, we were convinced!). Our final aborted plan was to spend at least one night on a houseboat on the Seine, but problems with other hotel reservations (problems of our own making) meant we had to pass on that much-anticipated experience. For any of these missed adventures, we must believe that there is always next time!
Our travels took us by train from the Île de France (Paris) to the Centre, through the Limousin, and into Aquitaine, the Midi-Pyrénées and back into Aquitaine again. A comfortable three-hour TGV ride returned us to Paris.
As with all our visits to France, wonderful and unusual experiences occurred frequently that more than made up for those things we planned to do but didn't. This year our trip focused on wine ~ not because we planned it but because, like Mount Everest, it was there!
We had the pleasure of staying in many of the au Château members' remarkable homes, visiting the attractions and villages near each, and discovering many out-of-the-way places in France that we hadn't seen before. Traveling by train from Paris' Gare Austerlitz for the Loire Valley city of Blois made our transition to the French countryside very easy.
Château du Breuil, an easy drive from Blois and well sign-posted, was an incredible experience. After a cheery welcome from our host, Bernard Gattolliat, and settling into our sunny corner room overlooking the little chapel and the parkland, we were soon to discover great food and excellent wines.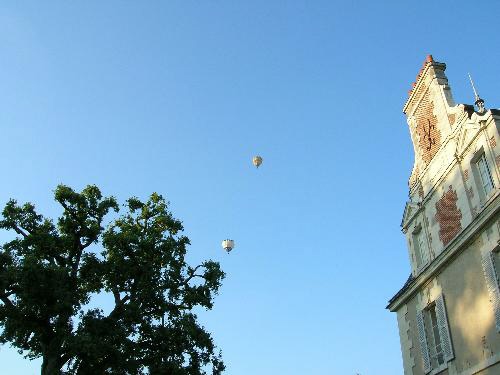 Dinner both evenings was a culinary experience we will not soon forget, accompanied by incredible Cheverny and Cour-Cheverny wines from a nearby vineyard. We enjoyed entrées such as salmon terrine on toast and fois gras with a fig purée; main courses of duck with a soufflé of gratin potatoes and sea bass covered in tapenade; and cheese plates and dessert choices of tiramisu, chocolate and raspberry tarts or crème brulée. Château du Breuil is a luxurious experience, and the hot air balloons floating overhead in the afternoons served to remind us that it was in France where the Montgolfier brothers pioneered hot-air ballooning centuries ago. [For reservations and information, visit the web site: http://www.france-montgolfier.com or send an email to reservations@france-montgolfier.com. They are located at 24, rue Nationale in Montrichard.]

The vineyard next door (literally) is Domaine de la Plante d'Or owned and operated by Philippe Loquineau who kindly gave us a tour one morning. His AOC Cheverny and Cour-Cheverny wines that we enjoyed at dinner at Château du Breuil both evenings had been so superb, we were anxious to learn more. His home and the vineyards had been a family farm for generations, but he decided that he was more interested in becoming a vintner. With an advanced education in the sciences, he was well suited to this vocation. His wines will attest to that. We learned that Cour-Cheverny wines are produced by eleven communes with vines originally introduced by François I in 1519, planted near the château of Romorantin where his mother lived. The late maturing vines produce white wines with a complex aroma of honey and acacia, and we can assure you that they are marvelous. These white wines are primarily dry wines. Cour-Cheverny wines age well and can be surprisingly good even after ten years! Cheverny Rouge wines are also produced from the Pinot Noir grape with a touch of Gamay, Côt and Cabernet. Specialties are both a rosé wine and a Crémant de Loire. [For visits to Domaine de la Plante d'Or, you can reach M. Locquineau at 33.2.54.44.23.09 from outside France. It is best if you speak some French.]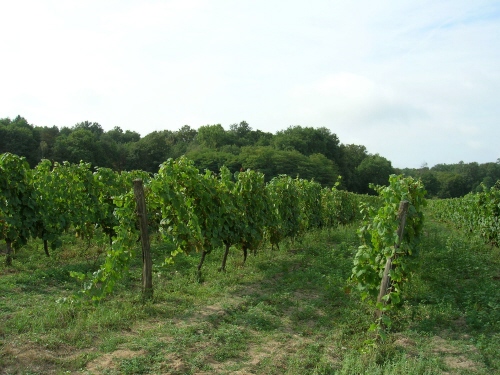 Domaine de la Plante d'Or Winery and Vineyards
About one week later we spent two nights at Mas de Bastide in the département of the Lot. Sadly, the property is being sold, so we may have been one of Elfi Griffith's last guests. Nonetheless, we enjoyed dinner with our host and hostess and caught up on all the world news on their satellite TV each morning during breakfast. What we discovered during our stay was that we were in the heart of Cahors wine country ~ that incredible 'black wine' that still hasn't reached its deserved recognition outside of that region. At Mas de Bastide, it was served with our dinner, and in the days that followed we found ourselves driving through an incredible countryside ~ a peaceful landscape dotted with an occasional vintner's home and surrounded in every direction by thousands of hectares of vineyards. Upon closer examination, we discovered the grape that is the jewel of the Lot: the Cahors Malbec, also known as Côt.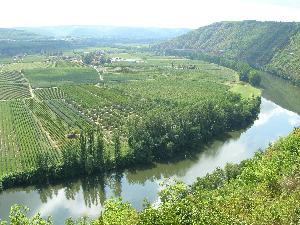 Vineyards Along the River Lot Cahors 'Malbec' Grapes
Grown in limestone 'terroir' in a very pleasant climate in the Lot River basin, the regional Cahors wine can also contain Merlot or Tannat grapes, but the primary grape is Malbec. Cahors is truly a robust red wine (only red wines are made in this region) and some 30 million bottles are produced annually on 4,200 hectares of vineyards. If you enjoy a rich red wine, do try to find Cahors at your favorite wine merchant's establishment.
The next stop was in the département of the Haute-Garonne and the delightful Château de Séguenville. Restored over the last several years by Jean-Paul and Marie Lareng, the château has been in his family since the 1930s. Each guest room is superbly decorated, breakfast each morning in the dining room is delightful, and Marie is a superb chef evidenced by the incredible dinner we had the night of our arrival. She was awarded 'Best Regional Chef' by a well-respected German magazine. Surrounding this hilltop château is rolling, peaceful countryside dotted with little villages and the region is really quite special. Dinner began with an apéritif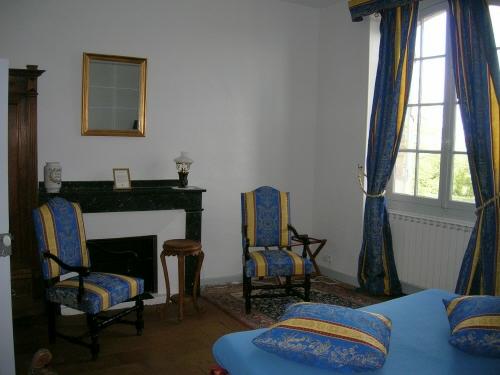 that was a blend of Armagnac, sparkling wine and orange liqueur (we were in Armagnac country!) and various appetizers, one of which was little puff pastries filled with a creamy golden goat cheese that we had never had before.
The main course was a crusted cod with creamed leeks accompanied by a rich red Gaillac wine, our choice despite the fact that we were given the option of red or white. The wine and food actually complimented each other, so experimentation with wine can often be a good thing! White Gaillac wines are made from Mauzac and Len de l'El grapes for the most part, although Sauvignon, Muscadelle, Ondenc and Semillon can also be used. The red Gaillac wines are primarily Duras, Braucal and Syrah. The Duras grape, found only in Gaillac in the Tarn département, produces a wine that is peppery and rich in color, while the Braucal produces wines with aromas of berries and pepper, and Syrah a fruitier wine. So, Gaillac wines can vary quite a bit from one another.
Five days later, after incredible stays in Château du Sombrun in the Hautes Pyrénées where we enjoyed fine cuisine prepared by our host and horseman, Jeffrey Quirk, and several exceptional nights in Biarritz at Villa le Goëland where our charming and enthusiastic host, Paul Daraignez, gave us a room overlooking the bay, marina and much of Biarritz, we reached Bordeaux.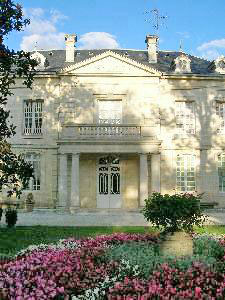 We were guests at a luxurious and stately home amid the vineyards ~ our final countryside hideaway: Château Coulon Laurensac. In the evening we joined our host and hostess, Ronald and Margaret Rens and other guests at dinner. Madame Rens is an incredible cook, so the meal was elegant and delicious. Monsieur Rens presented several wines with the different courses, explaining each to us as we tasted them. We found ourselves enjoying fine wines at dinner after having driven past hectares and hectares of vines earlier in the day. Although our hosts are Dutch, Monsieur would describe the wines to us in English and in French for the Swiss and French couples at the table. It was quite interesting and enjoyable for us all.
Following an entrée of a terrine of aubergine, we were delighted with a main course of salmon wrapped in a paper-thin slice of prosciutto ham served with potatoes and vegetables. But, wine was certainly the centerpiece of the evening. Both Monsieur and Madame Rens are certified wine experts in their native Holland, and are certainly happily at home in Bordeaux. They were even invited to attend the lavish dinner at Château d'Yquem for Vinexpo in June of this year. [They appear in the photo in the September issue of this newsletter on page five.]
Before leaving Château Coulon Laurensac, we had the distinct honor of visiting the owner's chai to see Monsieur's fine collection of wines. Among the treasured older bottles was one bottle of Graves wine, with barely enough label to read the word. The rest of any identification was gone, so nothing more is known about it. The condition of the bottle came about as it had been buried in the ground with many others years ago. It seems that during the second world war, Monsieur Rens grandfather in Holland knew he would have to bury his wines in the garden if they were to survive the occupation. After doing so, his home was taken over for use by the German army. Their heavy tanks and cars were parked on his hidden treasure. Following the end of the war, Americans parked their heavy vehicles there as well. When he finally returned home, he expected to find everything destroyed, but the buried wine survived! Only the bottle of Graves remained following the death of his grandparents, and Monsieur Rens treasures it above all the others in his collection.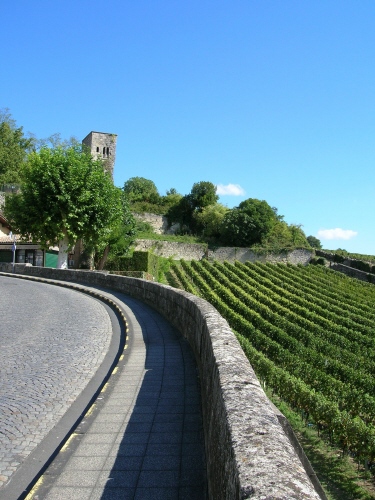 The next day we traveled eastward to medieval Saint-Émilion. It was a pleasant drive on a perfect day through small towns and always surrounded by vineyards. Saint-Émilion itself lives and breathes wine. We learned that UNESCO has classified the Saint-Émilion wine growing district as a World Heritage Site, and it is the first time that UNESCO has classified a wine growing region. We quote, "ICOMOS believes that Saint-Émilion is an exceptional site, combining extremely beautiful monuments, which have remained largely intact through the centuries, with a very beautiful and unchanging landscape. Saint-Émilion's inclusion on the World Heritage List is fully justified".
We visited a wine shop, ETS MARTIN Marchand de Vins at 25, rue Guadet, recommended by Monsieur Rens, where we enjoyed a free wine tasting. (Some shops, we were told, charge a fee for wine tasting, so beware.) We then purchased a half dozen bottles of a 1997 Saint-Émilion Grand Cru that were shipped to our home in October. Shipping went smoothly, and the wine, carefully packed, arrived in perfect order. The shop's phone number is 33 (0) 5 57 74 43 44, and English is spoken.
The terroir in the eight communes of Saint-Émilion is very diverse. The four primary growing zones are a limestone plateau, clay and limestone slopes, clay and gravel terraces and a sand and gravel plain, each with their own soils, sub-soils and microclimates. Although the Merlot grape dominates Saint-Émilion wines (60%), Cabernet Franc and Cabernet Sauvignon also play a large part.
In addition to the lovely cobbled (and often very steep) streets of Saint-Émilion, there is much to see and do. A restaurant that is fairly well known and appears in paintings of the village is Le Tertre at 5, rue du Tertre da le Tente. Their phone is 33 (0) 5 57 74 46 33. Saint-Émilion is a fortified walled town with seven gateways. If you visit for the medieval treasures, you will certainly find them. Romanesque monuments and vestiges are hidden away down winding back streets. The stone of the town is limestone of a soft ochre color, and the roofs are Roman tiles. On a sunny day, the whole village seems to glow.
We hope you've enjoyed our wine-centric holiday in France. We appreciated the opportunity to learn more about the little-known wines such as Cheverny, Gaillac and Cahors, and, of course, enjoyed the the great variety of Bordeaux wines we tasted at Château Coulon Laurensac. À votre bonne santé.
[Photos © Cold Spring Press 2005. All Rights Reserved.]