Mektoub - A Young Woman's War Journal
a book by Nicole Solignac O'Connor
It isn't often that we have the opportunity to read accounts of war written by a woman, especially a woman soldier. This slim paperback, Mektoub ~ A Young Woman's War Journal, was offered to us to review by its publisher. It seems that her story had never really been told with the exception of the bits and pieces she recalled to her grandchildren as they were growing up. At grandson Michael's insistence, Nicole Solignac O'Connor spent two years at her computer putting into writing memories from 60 years ago...memories that had never been put to paper before. Although she admits that some names from the past just couldn't be recalled, she was surprised at how much came back to her. The result is a well-written and intriguing book that couldn't be put down!
Nicole, now 82 years old, was born in Tunisia of French parents, and she thought she had her life plan well organized. Because war was raging in Europe in 1942, she decided that her best chance at a good education was to travel on her own to Algiers to attend the University. Her major would be English, a language that she had already studied for seven years and her knowledge of which would shape her life for the years that followed. Nowhere in her wildest imaginings did she expect that her first night in Algiers would be greeted by Allied bombings of the city. Her plans had changed forever.
It was the autumn of 1942. The author tells of terror, loneliness and uncertainty ~ all the emotions that filled her life in Algiers. She speaks of happy, although brief, encounters with her grandmother who lived in Algeria and of her deep concern for her parents and family under siege in Tunis immediately following her departure. She recounts the unwanted attentions of an old acquaintance who sleeps in a drunken stupor on her apartment doorstep and then one day reveals his clandestine occupation asking her to become an accomplice in a mysterious spy ring. She takes the reader into her own daily difficulties of maintaining a place to live and finding employment, she recalls the lighter moments of socializing with friends from work, and she describes in spline tingling detail the near misses when the enemy attacked Algiers.
Finally, able to return to Tunisia because a friend finds her a seat on a truck leaving Algiers ~ a ride that nearly kills her as it crosses a makeshift bridge ~ she returns home, a home that has changed. Her family has endured much that has embittered them, and her parents are against her plans to marry a British soldier with whom she has fallen in love. The war, they tell her, makes life too uncertain for marriage. Instead, she is encouraged by her father to enlist in the French military in a safe, clerical position. Little did they suspect that her life in the French military would take her into one very dangerous situation after another.
Mektoub, the reader learns, is Arabic for "It is written ~ it is God's will", and is a philosophy that without a doubt helped to get Nicole though some of the most difficult and compelling moments of the two years that followed. Her occupation from her first days in Algiers was as a translator because of her knowledge of both French and English. She moves from job to job until, as a lieutenant in the military, she finds her skills even more vital.
Eventually, as she enters Italy and then France with the Allied invasion in Provence, Nicole is exposed to the ravages of war. There are very sad and tragic moments, there are moments of happiness and reunion. She makes fast friends with people all along the way, but loses some that mean the most to her.
Her eventual marriage takes her to a new country, away from North Africa and her parents, away from the only home she has ever known. Nicole's story is one worth reading as it gives an entirely different perspective on World War II ~ a view of one individual's experiences, successes, and losses ~ a female perspective that we seldom see. It also shows how quickly an idealistic teenager becomes a mature woman who experiences more in two years than many of us have in a lifetime.
We highly recommend this book which you can find at Barnes and Noble, Politics and Prose, and at a discount at amazon.com.
Mektoub ~ A Young Woman's War Journal
published by Neurofame, 2502 Maplewood Street, Anchorage, AK 99508
http://www.neurofame.com
ISBN 0-9725518-1-6 in paperback, $12.99

Wine & War ~ The French, the Nazis & the Battle for France's Greatest Treasure
a book by Don and Petie Kladstrup
In keeping with the historical timeframe of the 1940s, we want to tell you about another book that you are certain to find interesting . . . you'll discover that there is more to French wine than meets the eye! Although published in 2001, we were reminded of this book by a recent experience when visiting the chai of the proprietor of a private château in Bordeaux. The owner, from Holland, proudly showed us a bottle of Graves wine that his father had buried when German forces came into the Netherlands and occupied his home and land during World War II. [See our Wine-centric Holiday article for more details.] His story made more real for us the activities that are recounted in Wine & War.
While we have all heard of the artwork, jewelry and other valuables the occupiers accumulated in Europe during the war, it is not necessarily common knowledge that French wines were also desirable booty. This book provides rare insight into a story seldom told and describes to what great lengths vintners in France would go to protect their wines, just as other Frenchmen struggled to protect the treasures of the Louvre. To quote Claude Terrail, owner of the restaurant La Tour d' Argent, from the book's jacket, "To be a Frenchman means to fight for your country and its wine."
The book, inspired by a story told to the authors by the Loire Valley's Gaston Huet, Wine & War takes us from Huet's capture and five-year internment as a prisoner of war through the daily struggles of many wine makers to protect their valuable vintages from being confiscated ~ so they would at least have some stock on hand at war's end. Their livelihoods depended upon it, but the deep desire to protect a symbol of France also had a part to play. The authors began to interview wine makers to collect their stories. Although some didn't want to recall a time when there were those who collaborated with the enemy, others were more than willing to tell of heroic, sometimes funny, tales about wine and its relationship to the war. And, there were obstacles for the authors as some records about collaborators are sealed under French law to protect the privacy of individuals, other information was destroyed by the German high command, people they planned to interview passed away, and still others had fading memories and didn't feel they could contribute anything.
Burying wines seemed to be a solution to which many resorted, even for vintners with large estates such as the Vouvray's Prince Philippe Poniatowski. We learn that they used recycled glass for bottles, produced wines without copper sulfate which protects the vines because the Germans had requisitioned all metals, including copper, for their industrial war machine, and hid wine in cellars and caves in secret, freshly walled-in rooms. There was the ever-present belief, to quote a French government study, that "Wine is a part of our history; it's what defines us."
The occupying forces were most pleased with French food, wine and champagne. They frequented fine restaurants and, as one French restaurateur said, they paid for everything they ordered and they conducted themselves well. But there was more to French wine than a drink to accompany a good meal. The German government wanted to bring French wine back to Germany to resell on the international marketplace at enormous profit to fund the Reich. The men sent to France for wine were those who had worked with the French wine makers before the war, and many had long-standing close relationships. One such person, Heinz Bömers, was sent to Bordeaux. Although he could have insisted the Bordelais sell him their best wines, he instead bought over a million bottles of poor-quality wines to ship back to Germany. He and a French négociant, Descas, knew that if wine was sold too cheaply the French wine producers would be enraged, and if it was priced too high, inflation would result or, worse, the Germans would retaliate. They staged a disagreement at the German economic offices in Paris and arrived at prices that they had secretly agreed upon at dinner the evening before. The others who were present during the angry argument thought Bömers had 'won' as opposed to compromising with the French.
There is the story of Jean Miaihle of Bordeaux who, at his father's request, built a lab near the châteaux and secretly experimented with chemicals until he created the necessary copper sulfate from copper smuggled in from Belgium. And the one of Gaston Huet in the POW camp convincing the camp commander to allow them wine which evolved into tastings, parties and other activities to keep up the prisoners' (many of whom were wine makers) morale. There is the story of a 17-year old boy who had to run the family champagne vineyard with four German soldiers occupying part of the family home ~ and how he became a spy for the Resistance and even helped hide four downed American airmen, one in his own bedroom! And, following the war, there were trials of collaborators, including Louis Eschenauer who had worked closely with Bömers. Found guilty of profiteering, he was jailed for two years, fined heavily, and lost all his rights as a French citizen. In 1952 an amnesty law, designed by deGaulle to unify the country, allowed him to return to his châteaux near Bordeaux.
Wine & War is a compilation of so many interesting stories, interwoven into a clear portrait of French wine producers, small and large, and how their efforts during the most trying times protected one of France's most valuable assets.
[Wine & War - The French, the Nazis & the Battle for France's Greatest Treasure by Don and Petie Kladstrup
is published by Broadway Books, a division of Random House ISBN 0-7679-0447-8 US $24 / CAN $35

---
FRANCO-AMERICAN PORTRAITS:
An Interview with Catherine McLean by Arthur Gillette




When French Haute Couture is a One-Woman Show
Catherine McLean lives and works in Oyex, a hamlet of the village of Anterrieux
in the southern French département of Cantal. Rather than a farmer, however,
she is a one-woman haute couture enterprise ~ designing, making and selling such
creations as the robe she models in the second photo.
Arthur Gillette recently interviewed her for FRANCE On Your Own.
AG: Did the year you studied as a 19-year-old at Antioch College in the USA influence the choice of your present profession in any way?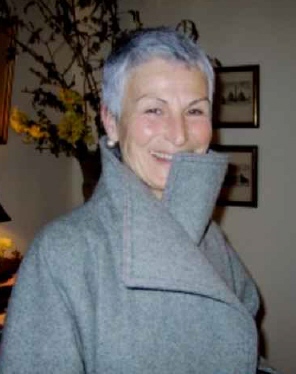 CM: Not at all. I think the choice came later; again experiencing American academia made me feel a need for the unforeseeable and action. I think I felt ~ and let bloom within me ~ a personality more inclined to action than speculation, and wished for a lifestyle that balanced thinking with doing. I'd rather live with an uncertain future and risk a home-made destiny than file for advancement and wait for holidays.
AG: You began your professional life as an academic, an ethnographer, prehistorian and archeologist. When and how did you switch to needle and thread?
CM: I began to earn my bread by making and selling my own handiwork (knitware and sewing) on returning to France after three years spent in the USA as the wife of a visiting professor of semiotics at the University of Illinois at Champaign-Urbana. My husband was American (I'd met him while studying anthropology at the Sorbonne) with a Masters of Fine Arts from the University of California at Berkeley. He had lived and painted in a New York loft during the period of Abstract Expressionism, and some good financial luck enabled him to wish realistically to explore the world and even continue his studies in Europe. Then he successfully defended a troisième cycle thesis supervised by Roland Barthes, a study on graphics and symbolism later published by Maisonneuve & Larose. Across-the-board semiological interpretations were then becoming fashionable ~ it was a kind of effervescent dawn similar to that driven earlier by Structuralism. This was the mid-70s, and his temporary post at Champaign-Urbana wasn't renewed. So we had to find alternative jobs and decided to return to France.
A "Dynasty" of Industrious Women
AG: How and where did you learn the art of fine needlework?
CM: I come from what you could call a « dynasty » of industrious women, for whom know-how was nothing if not accompanied by knowing how…to live. I can remember a time in my family when we didn't buy desired objects, we made them ourselves. What did a little girl of the time want? A pretty dress beneath her school uniform jacket. Well, take a look at the elegance of my great grandmother (on my mother's side, dressed in black) with her two daughters on a visit. The girls are ravishing and home-made adorned!
CM: Then too, exercising my trade I've always liked the ability to take stock of the quality of my output. There's immediate feedback: the reaction of the client, who's not forced to buy!
AG: Who were your first clients, and how did you find each other?
CM: The Massif Central is a volcanic region, and we are here 8 km from Chaudes-Aigues, renowned for its hot springs, as its name indicates, in fact one of the hottest in Europe (82° F). Well-known suckers for hot baths, the Romans settled here. Although not easily accessible, the region thus was quickly Romanized, then Christianized around the ninth century, as is attested by the many little Romanesque churches in the area. The warm baths help rheumatism sufferers and have always attracted not just curious tourists. So spa patients were my earliest clients. First, I distributed hand-lettered prospectuses in shops and hotels, then I had printed four pretty posters I was authorized to put along the roads.
AG: And then?
CM: Well, the first years brought me more curiosity than clientele! I aimed to attract repeat orders, and took the risk each year of improving an ever-more-select range of models and materials while broadening the choice of precious fabrics, of rare skins, and exclusive hand-woven cloths
AG: Who are your main clients today?
CM: Often people from when I started out and who have stayed in touch as I've evolved over the years. The renewal has always happened thanks to people seeing my posters by chance. Many wonder what in heaven's name a couturière can be doing on our thousand-meter-high plateau mainly frequented by cows. Some are won over by the products offered: fabric quality, personalized tailoring and post-sales follow-up. Most important for me, my long-term clients have become friends ~ I've now known some for 30 years !
Function + Esthetics
AG: From where comes your inspiration in terms of patterns, materials and so on ?
CM: My ethnographic « dive » into pre-industrial societies showed me that observation and invention enabled even poverty-stricken people to make a living and create beauty ~ I mean that function and esthetics can form a happy couple. It's the way of life that interests me, and it can be enhanced by fashion. For example, a very active person doesn't want to feel constrained by a garment, does want to be able to forget the garment is being worn. In such a case, clothes must be created to ensure that the tailoring and fabric are correctly designed. A garment is a means of personal expression with tons of parameters to combine accurately: colors, accessories and so on. Finding the right equation for each case makes my trade thrilling and ever-renewed.
AG: French haute couture's heart beats in Paris. How do you manage to live and work mainly in the boondocks, several train hours from the capital?
CM: Light infrastructure, small investment, minimal commercial scale, modest personal needs.
AG: Haute couture can be a dog-eat-dog circus ~ how have you survived as a one-woman creator-manager-marketer-publicist?
CM: Precisely because I'm a one-woman operation. I'm not about to devour myself!
AG: If you could do it over, what would you do differently?
CM: If I were born now, I would see a much different world from the one in which I grew up. I'd have different aspirations. A wartime birth in an occupied motherland provided me with a nineteenth-century education through loving grandparents, the immersion in nature, early home-learning of reading/writing/arithmetic, and late going to school. Today, learning about the world in an urban setting, and children's acquisition of knowledge there, takes place in ways unimaginable half a century ago. Then too, do I have enough real leeway to imagine I could have acted differently? I'd have found other activities to allow me to stay at home, enjoy the space of a rural setting, choose my friends, take part in the life of my "commune" and help found there a little museum to commemorate the destructions it suffered in June 1944.
(For more information: c.mclean@worldonline.fr )
Arthur is a self-admitted ignoramus about haute couture. So that theme doesn't figure among
the 16 two-hour personalized cultural strolls he guides to help discover Paris Through The Ages.
If interested in taking one, the contact for more information is: Armedv@aol.com.
[Photos courtesy of Catherine McLean. All rights reserved.]
---

previous page next page