Part One of Three on Burgundy, the Rhône Valley, and Provence
by Panos Kakaviatos

As a wine writer and wine lover, the best thing to do is hit the road and taste the vines. This past August, I did just that and am happy to report on this page about the places I visited in Burgundy and in the northern Rhône.

The trip began with a lovely reception at the Villa Louise in Aloxe Corton – in between the two famous Burgundy regions of the Côte de Nuits (mostly red wine) and the Côte de Beaune (mostly white wine), offering easy access to Burgundy's great vineyards. The owner, Véronique Perrin, is charming and takes much time to describe Burgundy. Her grandmother was born in the cottage-like inn located at the foot of the famous Corton Charlemagne vineyard. Rooms are elegant, spacious, simple – and affordable. The small cottage ambiance includes a mini pool and sauna – not without French provincial charm: the translation for pool opening hours reads 8 p.m. to 8:30 a.m.! One of the best treats was the elaborate breakfast for only 13 euros: fresh croissants, bread, cooked apricot in a very light cherry sauce, mint leaf, charcuterie including rosette and jambon cru, comté cheese with freshly baked spiced gingerbread and cornbread madeleines, plus fresh coffee and freshly squeezed orange juice. One can eat outside near the vines in the homey garden space or, if it is too cold, in the equally comfortable indoor dining area.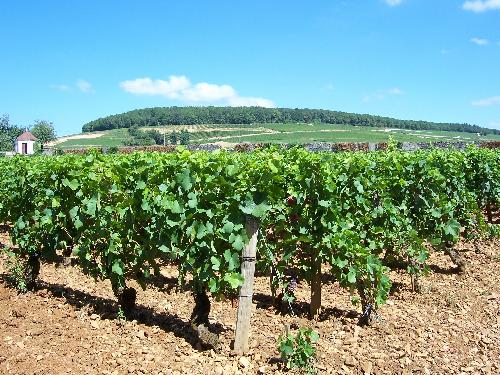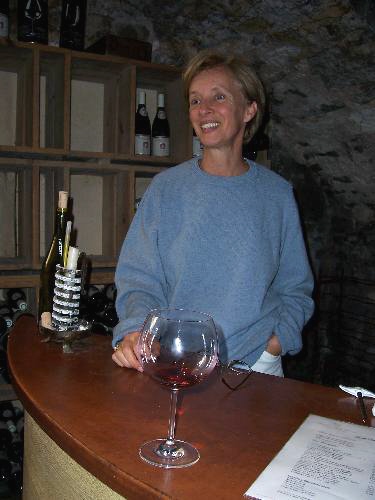 To eat a good meal in Burgundy, try to find out where the locals eat. Perrin told me to try La Regalade just outside Beaune – and not far from the hotel. As I found out later, many who live in Beaune will tell you to go there for "the real deal." They are not mistaken. It looks like a highway diner from the outside, indeed not far from the highway intersection between Beaune and Aloxe-Corton, but owner and chef, Maria Gonçalvez, knows how to make savory cuisine, fresh and in season. I just missed the beginning of the frog leg season, she told me, but she prepared a truffle-focused series of dishes to sample, including an oeuf brouille of scrambled eggs with pepper and truffles, a cassoulet of escargots – wild and big – in a delectably light cream sauce with citron confît, estragon and white Burgundy wine... plus a plate of thin goose liver slices marinated in Meursault wine, and, finally, a plate of rich morilles [morel] mushrooms with truffles, all delicious.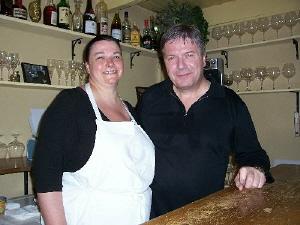 Of Portuguese origin, Gonçalvez told me that actress Brooke Shields had dined at the restaurant just eight days before; as she is a good friend of a local wine maker (she could not remember which!). Before leaving, I also tried a genuine Charolais steak, in a light cream sauce with bits of scallion, which lent the sauce a zesty lemon-like flavor. The beef was sliced like butter; it was that tender. If in Burgundy, try the culinary magic of La Regalade.
Now it was time to visit some vineyards and taste some wines. The well-known Maison Louis Jadot in Beaune invited me to a barrel tasting of its 2004 wines, followed by older vintages at its chilly underground cellars (always bring a sweater, even if it is hot outside). Founded in 1859, Louis Jadot owns some 70 hectares of vines in Burgundy, but is most famous for buying grapes from private producers and then undertaking their vinification. Wine making director, Jacques Lardière, has been with Louis Jadot since 1970 – since he was 22 – and proved a most informative and passionate host. Some of my favorites include those tasted below, but you can read my complete tasting notes on http://www.connectionstowine.com.
Whites
Puligny Montrachet Folatières (1er cru): White flower and black pepper aromas with mineral. Has a focused palate, with good acidity and an overall supple feel.
Meursault Genevrières: Wow, talk about grapefruit and lemon: this was very much so on the nose and on the palate, though with some buttery overtones. I liked this wine a lot.
Corton Charlemagne (grand cru): Wild rose aroma with a long and intense palate. Some heat on the back end of the palate that I did not like that much but remained intense and had very nice length, with an almond echo on the finish!
Meursault Blagny 2002: At this point, Lardiere pulled out some whites already in bottle. This 2002 is made from vines grown at 400 meters in altitude. The wine is aged 14 months and it has a green apple nose, with a tight and structured palate and very good length.
Reds
Volnay Clos des Chênes: Very fine leather aromas with ripe red cherry and a hint of pepper. Palate is open and pleasant. This is a real pleaser!
Echezeaux (grand cru): This smelled of brand new leather with smoky, mineral notes as well. Tasted like fine salami with herbs and nuts. Quite a nice animal-like wine.
Chapelle Chambertin (grand cru): Aromas are subdued but with coaxing, out comes some almond and cherry. The palate is very rich, with a tongue-coating tannic presence and laser sharp intensity and finish. A serious – and seriously good – wine.
Vosne Romanée Grands Echezeaux 2002 (grand cru): From the bottle, oh my goodness, what an intense tobacco-like aroma! A very well-structured palate, with much tannin and richness. The finish is long and pleasing, though this wine is far too young.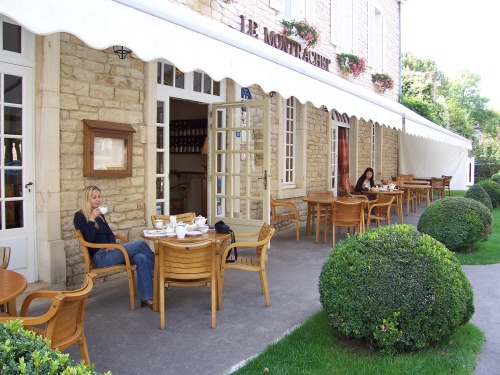 Heading further south the next day, I chose to stay in the heart of white Burgundy country in Puligny Montrachet, at the hotel and one-star Michelin restaurant Le Montrachet. One should simply take a walk or ride a bike between Puligny and Chassagne to see the vineyards sometimes indicated with elegant stone portals – and I spent most of the day doing just that! In the evening, it was time for dinner, and newly arrived chef, Thierry Berger, prepared a special meal. He had worked before at the illustrious Hôtel du Palais in Biarritz and the Hôtel Vernet in Paris, before preparing such creatively tasty concoctions as avocado with a chorizo mousse, one of the most refreshing salads I have yet tried (thinly sliced carrots, orange, red peppers, fennel and mushrooms with rose petals and dandelions), and a very generous serving of Côte du Boeuf with rosemary and peppercorns, accompanied by three small stuffed vegetables. The presentation matched the taste, and this restaurant deserves every bit of its Michelin star… and more!
Rooms at Le Montrachet have high ceilings and are spacious (I also had a balcony), in the lovely classic-styled limestone hotel facing the restaurant. Owner Thierry Gazagnes proved a gracious host and took his time over breakfast to explain why Burgundy wines can be so hard to find. Though he has been in Montrachet for some 20 years, he still is on a waiting list for some top wines – even though he has a Michelin-rated restaurant. Some wines are simply that rare! Just a few steps away, his wife Suzanne runs a comfortable inn, La Chouette, perfect for groups as it includes a kitchen if you choose to cook "at home."
Day three included visits to two more great Beaune-based wine producers. Maison Champy is one of the oldest Burgundy wine companies, founded in 1720. Current owner, Henri Meurgey, has to be one of the most welcoming hosts I have ever come across – he prepared not only a tasting of 26 wines but also a delicious lunch in an enormous 350-liter sized barrel! His charming assistant, Marion Robert, poured wines in the laboratory-like tasting room, and I remember tasting some real stunners, such as the white Corton Charlemagne grand cru 2000, aged 12 to 14 months in almost 100% new oak with very stony mineral aromas and a hint of honey and lime. Favorite reds included the affordable Savigny Les Beaune "Aux Fourches" 2003. In Burgundy, wines are differentiated by categories: grand crus, premier crus, village wines and regional wines. Though the Savigny included a place name on its label, it was not a premier cru – rather just named after a vineyard and still considered a village wine. It possessed a very red cherry liqueur flavor, was ripe and rich on the nose and on the full-bodied palate. Another fine wine was the Clos de Vougeot grand cru 2001, whose cherry, strawberry and mentholated notes on the nose preceded a lovely palate with great flavor intensity – the most of all the reds at this tasting.
After the tasting, Henri and Marion invited me to a lunch of salad, chicken and cold cuts with two exceptional wines in a great space called the La Cuve 17, literally a 350-liter oak vat converted into a dining area, decorated with photos of famous actors and personalities who had visited the château, including Pierre Richard and Gérard Jugnot. Even more surprising were the wines served for my companion who was born in 1961: a Corton Charlemagne dating from…1961! This old yet still very vibrant white possessed aromas of nuts and caramel, with clove flavors on the palate and went very well with the spicy jambon en croute. As the tasting of this almost half-century old white continued, we noted hints of tobacco on the nose. Then came another 1961, the red Beaune Bressandes (premier cru) whose color was far from brown with an initial nose of mushroom, but turning to truffle and leather. It was able to counter the powerful camembert and epoisse cheeses that we enjoyed at the end of the lunch.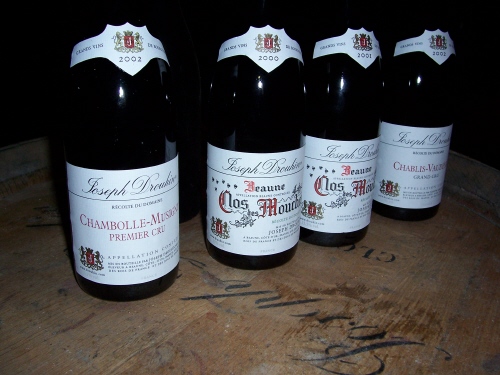 Following lunch, I visited another legendary producer, Joseph Drouhin, founded in 1880. A very jovial host, the 50-year-old Jean-Pierre Cropsal has been working with Joseph Drouhin as a public relations representative since 1979. From Dijon on his grandmother's side of the family and from Nancy on his grandfather's, he said that Bourgogne is best known as "a crossroads that necessitates diplomacy."
Joseph Drouhin is based in the oldest Beaune building, dating from the 9th century – and the site of meetings of Beaune's medieval parliament. We went underneath the some 1 ½ hectares of cellar space and entered what was once the parliament room, now employed to organize meetings with producers who sell grapes to Drouhin. It is an impressively elegant white-walled space: a Spartan style decorated with bottles and maps of Burgundy.
"Burgundy is 14 times smaller than Bordeaux – and 14 times more complicated," Jean-Pierre told me. He took the example of Clos Vougeot, which, as an appellation, includes some 50 hectares (about half if not one-third the size of a single chateau in Bordeaux) – but with about… 80 producers!
Some of the best wines I tasted included the white Clos des Mouches 2001 with intense nougat, mineral and red apple flavors and aromas and a very pleasing anise finish. Coming from some 15 hectares of vines majority owned by Drouhin, this wine also has a red version! Jean-Pierre explained that the whites come from vines planted on rockier soils, as the rocks "sharpen" or focus the white wine, whereas the Pinot Noir's tannin does not need sharpening, so reds tend to come from vines on more clay-like soil… which rounds out the tannins. Indeed, the red Clos des Mouches 2000 possessed a peppery nose with raspberry and cherry flavors. We ended our tasting with a marvelous Mazis Chambertin grand cru 1996 with truffle, leather and cherry liqueur flavors and a beautiful peppery intensity on the palate and a grainy texture and long finish.
Fact: Almost all Burgundy wine worth its weight is named after places, not the grape:
Almost all white Burgundy – whether Montrachet, Chablis, Meursault
or St. Aubin – is made from the Chardonnay grape.
Almost all red Burgundy, with the notable exception of Beaujolais
(also a Burgundy wine) is made from the Pinot Noir grape.
What makes the difference in flavor is the terroir of each place!
That night, I stayed in a convenient hotel in the center of Beaune called Hôtel de la Poste – in a beautiful 19th century building (actually restored from the 17th century) – once used as a post office. Each of its 27 rooms and nine suites (I stayed in a suite) offers a unique ambiance. If hungry, a 1930s style brasserie provides hearty Burgundy cuisine!
The hotel is a nice way to stay centrally located for further visits in Burgundy, such as my return to Puligny Montrachet and lunch at La Table d'Olivier Leflaive, of the wine making house of the same name. What makes lunch there so special is how you can taste wines along with the food in a certain order – while charismatic host Pascal Wagner guides you through the flight of wines with very good food: paté and foie gras followed by a Blanquette de Blancs de Volaille de Bresse au Miel (tender chicken filets with honey and carrots) accompanied with perfectly cooked rice (firm and just a hint of crispiness). As you eat, Wagner employs two large maps of the Côte de Beaune to explain where some of the best wines come from there. The first wines tasted during the lunch (all white) are basic Burgundy wines, but then are followed by village and premier crus, such as a truly fine Meursault premier cru Les Poruzots 2002.
In the afternoon, I drove north to meet Jean de Surrel of Domaine Henri Rebourseau in Gevrey Chambertin – the heart of the red wine region Côtes de Nuits. Driving along the wine route, it is impressive to see the hilly wine fields that seem endless, but one should understand Burgundy from the right perspective: not all wine is of the highest quality. Burgundy produces "only" 1,800,000 hectoliters of wine… out of the 58 million produced in France each year on average. That is, just about 3 percent of French wine. But the grand cru vineyards of Burgundy produce on average only 2 to 3 percent of that produced in all of Burgundy: at most about 60,000 hectoliters.
De Surrel had me taste samplings of the still-in-barrel 2004 vintage. Two of my favorites were the Chambertin (grand cru) with full-bodied and savory nougat, violet and licorice flavors and the Clos Vougeot (grand cru), with mentholated aromas and flavors and intense black cherry.
Next stop: A visit to the great wines of the northern Rhône including Hermitage and Côte Rotie plus culinary delights from Vienne and Lyon! [Editor's note: This series will continue in our March 2006 issue.]
Wine addresses
Maison Louis Jadot http://www.louisjadot.com
Domaine Henri Rebourseau http://www.rebourseau.com
Maison Champy http://www.champy.com
Maison Joseph Drouhin http://www.drouhin.com
Restaurants
La Table d'Olivier Leflaive http://www.olivier-leflaive.com
La Regalade Telephone: 33 3 80 22 45 95 (from outside France; from France replace 33 with zero)
Le Montrachet http://www.le-montrachet.com
Hotels
Hotel de la Poste http://www.hoteldelapostebeaune.com
Villa Louise http://www.villalouise.com
Le Montrachet http://www.le-montrachet.com



Panos Kakaviatos is an American who lives in both Europe and the United States
and has worked as a congressional reporter, for UPI and the Council of Europe in Strasbourg.
Fluent in four languages and holding both Bachelors and Masters degrees, Panos is now focused on his passion: French wine.
He has written for Wine Citizen, World Wine Report, France Today, as well as FRANCE On Your Own ~ our good fortune.
If you would like to contact Panos, his email address is: panos_kakaviatos@yahoo.com
[Photos copyrighted property of Panos Kakaviatos. All rights reserved. Mouse over each for description.]


---
DISCLAIMER: You have received this newsletter because your email address is on our Opt-In mailing list, i.e., you have requested to receive FRANCE On Your Own ©. If you would like to discontinue receipt of this newsletter, please send an email to publisher@franceonyourown.com with "unsubscribe" on the Subject line.
Unless indicated otherwise, photos, graphics and text in the FRANCE On Your Own © newsletter are the property of Cold Spring Press and FRANCE On Your Own © and cannot be copied, duplicated or used in any manner by anyone without the express written permission of Cold Spring Press. FRANCE On Your Own © is published on line by Cold Spring Press, P O Box 26098, San Diego, California 92196-0098. This publication is copyrighted and no portions of the text, artwork, graphics or photographs may be reproduced or distributed in any form or by any means or stored in a database or retrieval system without the written permission of the Publisher. For more information about FRANCE On Your Own ©, visit our web site at http://www.franceonyourown.com.
Recommendations made in this newsletter are based upon the personal experiences of the Publishers or contributing writers solely to provide information to subscribers. Cold Spring Press and FRANCE On Your Own © make no endorsements nor are any guarantees or promises of satisfaction given or implied. Any and all information is correct to the best of our knowledge, and the Publishers accept no responsibility for errors and/or omissions. The responsibility lies entirely with the traveler to obtain current information regarding accommodations, availability, schedules, prices, reservations, or any other pertinent details. We do not guarantee the historical accuracy of the contents of articles in this newsletter. Historical accuracy is dependent upon one's sources of information -- and contradictions often exist among those sources.
FRANCE On Your Own © is electronically transmitted via email. To add your email address to our database for this FREE newsletter, send an email to info@franceonyourown.com, and please put Subscribe in the subject line. We do not share email addresses with any other organization.
BACK ISSUES of the print version of FRANCE On Your Own © are available on our web site at http://www.franceonyourown.com/Archives.htm.
©1998-2005 Cold Spring Press All Rights Reserved
---

previous page