by Arthur Gillette

I love France's high-speed TGV trains. But "faster" is not necessarily "better." When heading from Paris to the Riviera, for example, it's a pity to whisk non-stop through Burgundy, once a convenient slow-train stopover, without taking in some of the region's extraordinary wealth of Romanesque architecture that makes its rare Parisian cousins seem like mere paupers. Autun, Beaune, Cluny, Vezelay... to choose is daunting. Let me, however, suggest a couple of perhaps less-well-known (and thus generally less-crowded) sites: the town of Tournus and the Abbey at Fontenay.

Tournus was located gracefully (and for commercial reasons) on the Saône River. The twists and turns of the town's two-millenia-plus of human habitation would make even a history buff's head spin. A Gallic capital until Roman conquest ca. 52 B.C., it then became an imperial castrum and soon the target of Christian evangelization. An early evangelist, originally from Asia Minor, was Valerian. Apparently intensely single minded in seeking conversions, he was martyred in 178 A.D. on a hill overlooking the Saône.

Two Saints for the Price of One

The oldest church in Tournus is St. Valerian, dating from the 10th century. It can be visited during business hours because it now houses... an antique shop! Curiously, it is not sited where Valerian was executed. That spot early drew probably still clandestine worshipers and a small monastery was formed above the saint's tomb as early as the 4th century. It expanded and, in 875, was granted by King Charles the Bald to St. Philibert monks, chased from their original home in Normandy (they didn't forget to bring their patron's relics with them) by Viking marauders. Since, the abbey has been dedicated to St. Philibert. So visitors get two saints for the price of one - just joking: entry is free.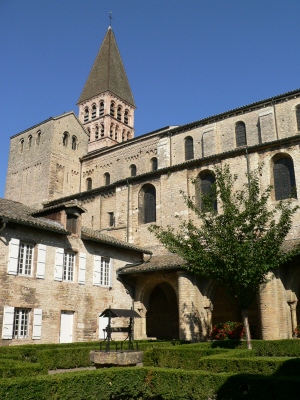 Over the years, St. Philibert Abbey suffered repeated destruction due to invasions and fire, not forget additions ranging from Gothic to Baroque. But the main church structure extant today dates from the 10th through 12th centuries, thus being more or less finished when construction of Notre Dame de Paris was just starting. Flanked by a cloister from the first half of the 11th century and a 12th century refectory (used as a "real tennis" court in the 17th century), St. Philibert stands as an engaging monument to Burgundian Romanesque architecture. Among my favorite elements:
* The 11th century St. Michael Chapel, one floor above the church's main (western) portal: a bit gloomy and equipped with archers' slits, it was a place of refuge in often violent times, and today offers superb views of the nave.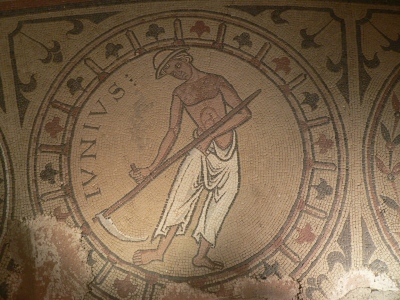 * The lively sculpture of column capitals near the main altar, some showing humor. Not all are whimsical, however: one portrays two scary devils inflicting the damnation punishment to which a sinner has been condemned.
* The recently revealed 12th century mosaic flooring of the ambulatory behind the main altar: expressively colorful medallions alternate month by month peasants' activities (such as falcon hunting and scything crops) with the signs of the zodiac.
* The crypt from the late 900s with what is presumed to be St. Valerian's sarcophagus.
The abbey was circled in the 13th century with a rampart of which four vast round towers with walls over a meter thick still stand guard. For more on Tournus: www.perso.wanadoo.fr/tournus/
Austere Austerity
About two hours' drive from Tournus, alone in rolling verdant countryside, is the Abbaye de Fontenay. Founded by St. Bernard de Clairvaux in the early 12th century, its architecture and the simple lives of the up to 100 monks there were a prime expression of the Cistercian criticism of, and alternative to, those of the Cluny Abbey, judged opulent, lax and thus in contradiction to basic Christian precepts.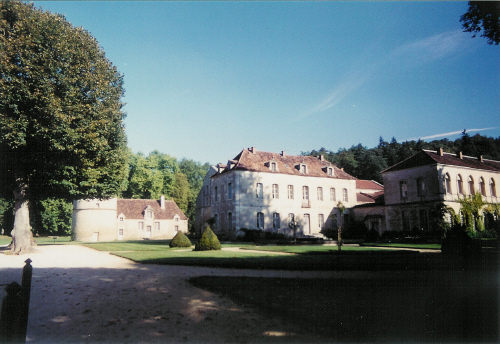 Opulent and lax life at Fontenay was not. The monks' day was divided into three eight-hour shares: eight for prayer and meditation, eight for work and study, and eight for rest. Prayer took place in the austere abbey church, consecrated in 1147, and meditation in the adjoining and contemporary cloister. Here, "austere" is something of an understatement. Contrary to St. Philibert in Tournus, there was almost no decoration at Fontenay: no statuary (the sole exception - a smiling Virgin and Child in the church nave - dates from the late 1200s), no frescoes and no colorful mosaic flooring. Instead of grimacing devils, the nave's column capitals evoke, without realistically portraying, simple flowers.
The work part of the ora et labora (pray and work) injunction the monks obeyed largely focussed on copying manuscripts in the scriptorium, the only heated room at the abbey aside from the kitchen - and Burgundy can be bitterly cold in winter. Words alone were copied, by the way, and no illuminations embellished the manuscripts. The monks also supervised lay brothers in such tasks as agriculture, leather work (for belts and sandals) and... metalwork. A paddle wheel powered by an adjacent stream rotated a kind of crankshaft from which, in turn, hammers banged down on sheets of iron. This is said to have been the first mechanical forge in Europe. Water also flowed from a fountain and cascaded into a trout pond - refusing to eat meat, the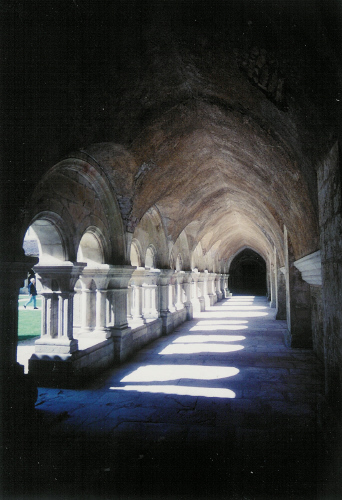 Cistercians did dine on fish and fowl (nearby is a dovecote). Gurgling is a predominant sound at the Fontenay complex still today.
And rest? That eight-hour slice included breaks from work and mealtimes as well as sleep. The latter was reduced to something like five or six hours, took place on straw mattresses placed on the floor of the unheated common dormitory and was regularly interrupted (e.g. at 2 a.m.) for prayer.
Deconsecrated by the Revolution, Fontenay became a paper mill in the 19th century before being acquired by private owners who restored the abbey as closely as possible to its pristine original condition of almost nine centuries ago and now manage it as a museum.
Despite ~ or perhaps because of ~ its intended austere austerity, Fontenay exudes and communicates a sense of peace. For more on Fontenay: www.abbayedefontenay.com (English)
Some Gothic Relief?
A few kilometers before arriving at Fontenay from Tournus is the hilltop fortified town of Semur en Auxois. Search as I might, I found no significant Romanesque architecture there. This lack doesn't prevent the place from epitomizing the Middle Ages. It was walled in the 14th century, becoming the major Burgundian stronghold. Of the 18 towers that originally punctuated the ramparts four - truly massive - still dominate the town of some 4,500 inhabitants.
And for a little Gothic relief from Romanesque and medieval military architecture, try the Notre Dame Collegiate Church. Although badly disfigured by the Revolution, and much added to over the centuries, it still clearly recalls its 13th and 14th century origins. For more on Semur: www.ville-semur-en-auxois.fr
Although enamored of Burgundy, Arthur is based in Paris.
He guides 16 personalized stroll itineraries there to discover "Paris Through The Ages."
For more information, contact him on Armedv@aol.com
[Photos of St Philibert © Clara Liegeon-Dudezert;
Photo of Abbaye de Fontenay © Cold Spring Press. All rights reserved.
Mouse over each photo for a description.]



SPONSORING THIS ISSUE:
Beautiful original pen and ink drawings of a dozen French château chambres d'hôtes
can be yours in the form of quality note cards with matching envelopes.
Simply click on any butterfly above to view them and see how to order yours.
The holidays are coming and our note cards make excellent, original gifts.
We will be happy to gift wrap them and mail them directly those on your gift list!



Safer Driving in France
We've been driving in France for a very long time, and, quite honestly, we've never found it all that difficult. We always admired the French for their amazing skills behind the wheel, and did not admire them for their tailgating skills behind us! True, they drove very fast back in the old days, but we never came upon an accident or saw battered vehicles on the roads. In reality, their accident rate was high (on a par with that in the United States, although not horrible like the tales we hear about some other European countries), and the government decided that something needed to be done. As tourists, we just never noticed the problems that were apparently there.
Today, after only a few years of new regulations and better enforcement, driving in France for us is a totally changed experience. Once again, this is the tourist's viewpoint, but statistics seem to bear us out. People really have slowed down and don't seem so anxious when driving. In 2004 the French recorded the third straight year of reduced highway fatalities, down nearly nine percent over 2003 when highway deaths fell by 20 percent from the previous year. In 2005, radar speed traps have been increased with a goal of having 1000 in place by the beginning of 2006. New and more stringent penalties exist for speeding, drunk driving, using a mobile phone while driving and not wearing a seat belt. We saw little, if any, highway aggression during our visit in September. We can't swear to similar conditions during July and August when more tourists and French alike are on the roads, but, if driving conditions are more unpleasant during the summer, that just makes traveling to France more sensible in other months of the year.
One complaint we did have, however, was about the motorcyclists who were most annoying when they disregarded the rules applying to traffic circles. They would weave in and out of traffic and several times prevented us from exiting the circle! We imagine their accident and death rate on the highways of France is not much lower than in the past!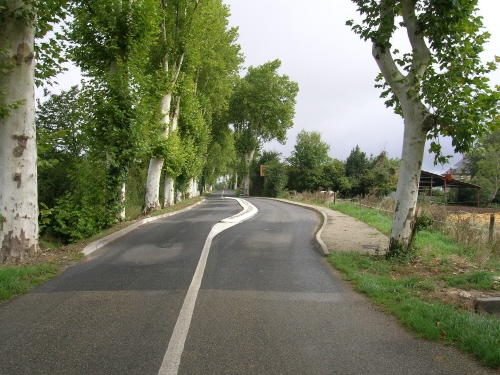 We found some interesting changes from past years, most notably in smaller country towns where residents have had enough of cars speeding through with total disregard for safety. A straight highway suddenly has a curve for a very short distance and then the road almost immediately becomes straight again. This photo taken near Faudoas in the département of the Tarn-et-Garonne, is an example of this system of traffic speed control, and it is quite successful. Although it may not seem very much from this vantage point, the curve in the road (and the accompanying sign indicating it is a school crossing) serves to slow traffic down considerably.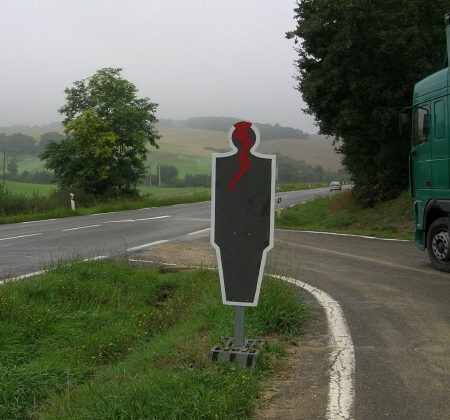 A grim reminder of a highway death, once only noted by a bouquet of flowers set at the roadside, is this sign indicating that someone died here in a car crash. There are no words accompanying the panel, but the highway authorities must assume it is self-explanatory. This one, photographed at a rest area in the southwest, was one of several we saw on our drive in the region.
Signage in general is very good and easy to understand. Anyone who has driven in France will recognize the familiar signs indicating what town or village one is entering, while even more helpful are those indicating what place one is leaving...if a driver didn't pay attention when he or she was approaching it, he or she will now know where they've just been! Speed limits are indicated in the same manner...the number posted on a round sign to warn drivers, and the number with a diagonal line through it to indicate you can resume your former speed. The sign 'Rappel' means that you should keep in mind the speed you are expected to drive.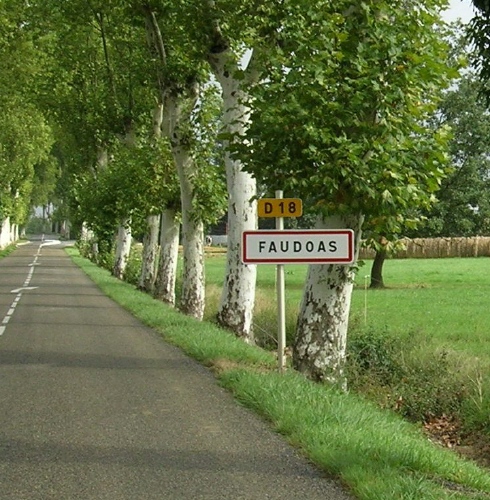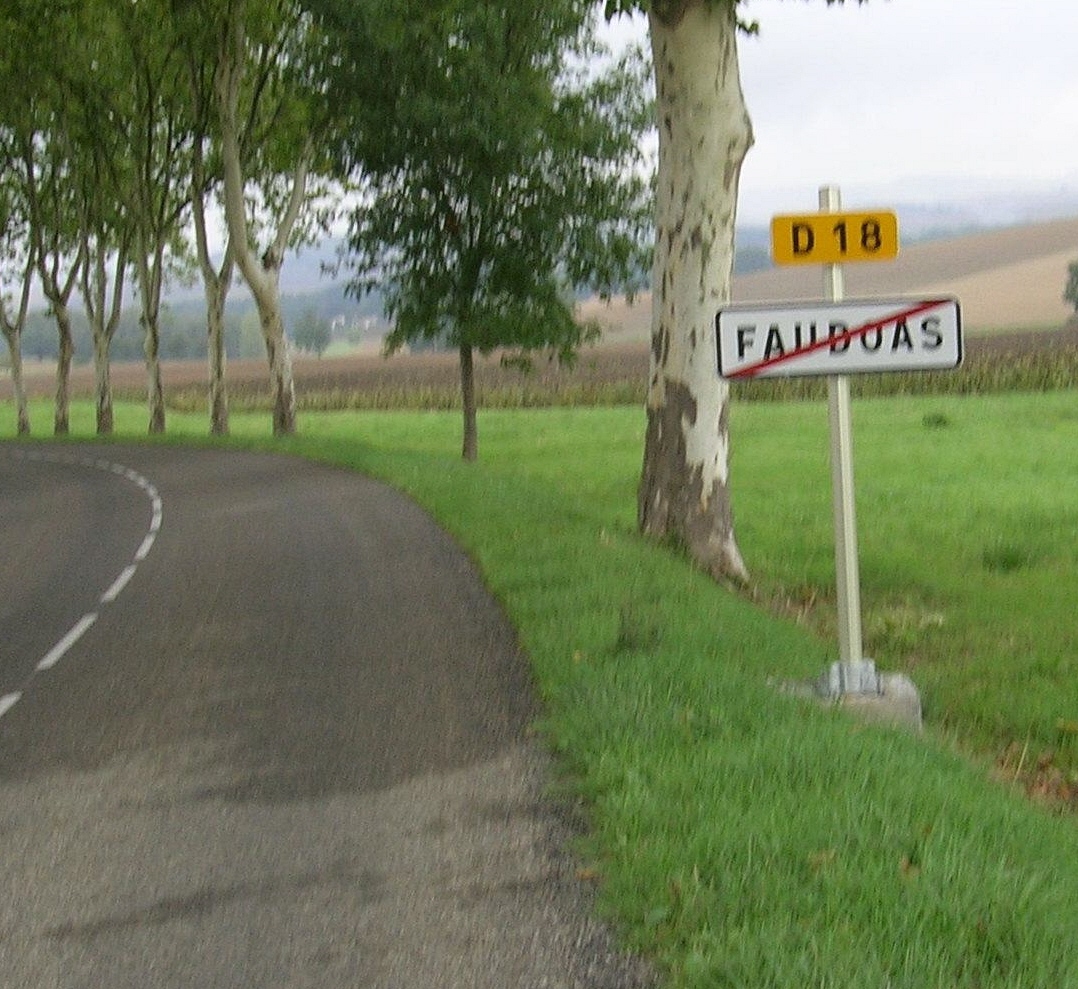 Although we know of a web site that will provide drivers with the current radar locations, we cannot stress enough the importance of being a careful and defensive driver whether at home or in France. Granted, there will always be speeders or those who have decided to drive even though they have been drinking, but the delightful open roads and light traffic will still allow British and American travelers to find driving a pleasure again after the traffic congestion they face at home. It is important to stay alert, know exactly where you are and where you're going (take a Michelin map along!), and you will find driving in France is the perfect way to see the country.
[Photos used in this feature © Cold Spring Press. All rights reserved.]


« Sing and Play » in French or in English
Traveling with children? Often, parents are concerned that the sights and attractions
that appeal to them will leave their children bored and unimpressed. Also, the experience of traveling to
a foreign land where another language is spoken is often something a parent sees as an
opportunity for their children to come away with something learned ~ something special.
This article will introduce you to a unique experience in Paris that you might
want to consider the next time you take the kids to France.
Sing and Play is a non-profit association founded in 1999 by Eliane Delage, Ph.D.. Its aim is to teach different languages to children as well as teach a variety of artistic activities in different languages. The youngest students are 18 months old, but adults can also participate. Children under the age of three attend the workshops with a parent or a nanny.
The groups are small (5 to 8 children), and they are organized in many places in Paris (or in the nearby suburbs) in schools, cultural centers in the 6th and 7th arrondissements, and at people's homes. Dr Delage creates workshops all year long according to the demand. A group can begin when there are five participants interested in doing the same thing, but classes can be organized for smaller groups.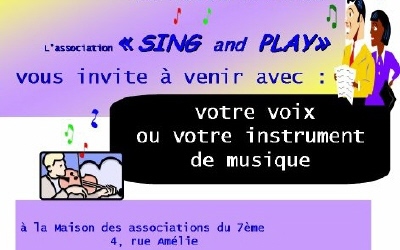 Most of Sing and Play's workshops are for French children learning English through games and songs, but the association is developing classes for the English-speaking community in Paris. For example, the association is hoping to find two more participants in order to start a second drama class for native speakers aged 6 to 9, while a ten-year old girl would like to do some written activities in English with at least four other bilingual children.
There is room in several classes such as the musical movement class in English for children ages 4 to 6, or the bilingual art class (in English and French) for children ages 5 to 8, the art class in English for children ages 3 to 5, and the drama class in English for adults.
French courses can be set for children and adults, sometimes with parents and children together. Believe it or not, children help the parents learn!
Sing and Play's team includes seven friendly, experienced teachers who meet regularly. On November 27th there was a musical evening from 7 to 9 p.m at La Maison des Associations, 4 rue Amélie, Paris 75007. Classes and programs involve vocals or music played on instruments, and people are encouraged to bring their musical instruments along. Of course, people are always welcome to come just to listen.
For further details, please phone 01 45 56 96 09 in France (dial 33.1.45.56.96.09 from outside France) or send an email to sing21st@aol.com.
---

previous page next page