IN THIS ISSUE:
Off the Beaten Path ~
life in the 12th arrondissement
by Rosemary Bell
Paris Enigmas
Ici et Là
Franco-American Portraits:
~ An Interview with Patrick Dumont
Petite Pleasures
by Maxine Schur
The Bookshelf:
~ Paris by Métro - An Underground History
a book by Arnold Delaney
Letters from Occupied France
~ Our newest series for history buffs
by Arthur Gillette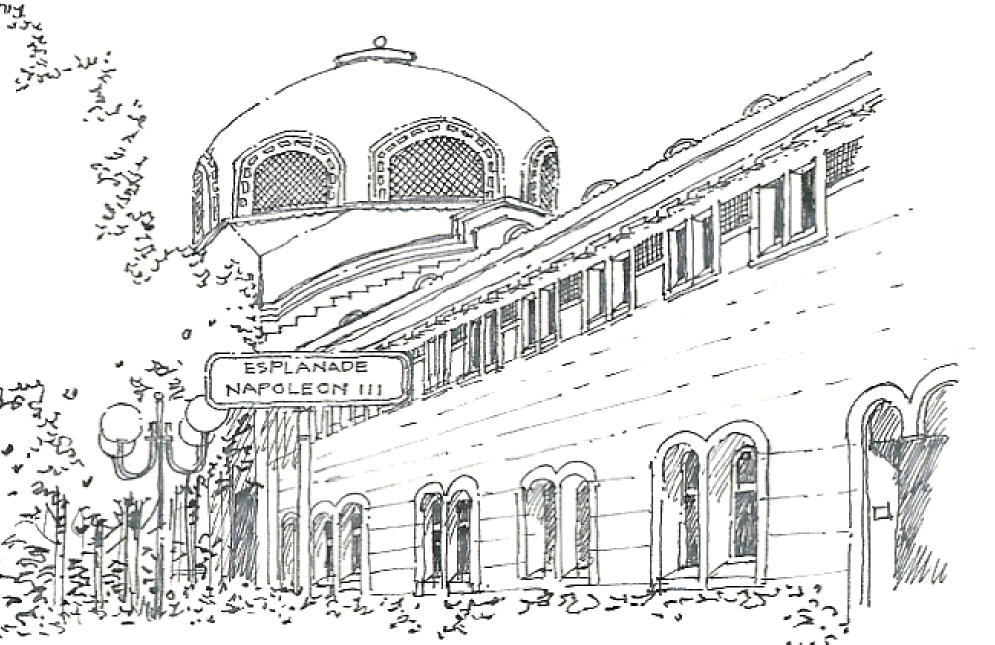 Esplanade Napoléon III, Vichy
FEATURE: Auvergne Revisited

Our first page sponsor for this issue is a group organizing a tour of France in 2007 in commemoration of the 250th birthday of the Général Marquis de La Fayette, hero of the American Revolution and close friend of George Washington.
For that reason, we decided it would be fitting to revisit the Auvergne, a region where the group will tour and where there is a museum in the Général's former home.
We also take you to Château de Vollore, now owned and operated as a bed & breakfast by direct ancestors of La Fayette.
We hope you enjoy this regional feature.

French Wine Report:
~ The Bordeaux Wine Experience
Wine & Culinary Tours
by Ronald Rens


Paris can be overwhelming with all its twists and turns, arrondissements, and grand boulevards. When I see locals on the métro looking at a city map I feel much better. Everyone has heard of the Eiffel Tower, Notre Dame, and the Louvre. I am awestruck that you can find these beloved treasures in one city, and I haven't even begun to scratch the surface. But, let us take a look at an area of Paris that isn't on the "top ten attractions in Paris" list.

I am fortunate to be on sabbatical from my teaching responsibilities and spending seven weeks in Paris. My colleague and I needed to rent an apartment that wasn't too expensive yet close to her teaching assignment. Tucked in the southeastern corner of Paris, lies the 12th arrondissement of which there are twenty in Paris. Each arrondissement is divided into four quartiers. The 12th is considered one of the largest and one of the most affordable. It has been my home for these past weeks.

The easternmost part of the arrondissement is called Bercy; the western part, which backs up against the 4th and 13th arrondissements, is called Reuilly. Historically, Bercy was a major wine-producing area. Since the late '60s, Bercy has been a pet project of the city and is enjoying a major face lift. New, affordable housing, shops, bars and restaurants are built on the site of warehouses where wine being shipped up the Seine by barge was once housed. Bercy is presently home to Le Parc de Bercy and the Bercy Exposition where major music and sporting events take place.

Although on the map it may look far away from the pulse of Paris, the 12th is a thriving neighborhood that is centrally located to all major Paris attractions. A ride of the efficient métro and you'll be walking the Champs de Elysées in less than twenty minutes.

I am an historian, so it is only natural for me to wonder about my surroundings. Why is that street named Voltaire? What does that statue in the middle of the Place de Nation represent? Who is Diderot? I wonder who or what Picpus means? What does this have to do with the 12th arrondissement? Plenty.
Shops in former wine warehouses of Bercy
The 12th is rich in history. Who would have thought that the Enlightenment would be represented in the 12th? Who have thought that this relatively quiet, unobtrusive neighborhood would be a catalyst for revolution? Who would have thought that what became the 12th arrondissement was a place were heads rolled. Yes. The guillotine did its work in this area in the 1790s since it was outside the city center. Those living in the city center were fed up with the smell of death and blood wafting up from the streets, and the area around the Bastille was tired of the all the gore and the crowds. Remember, this was a time when executions by guillotine were popular entertainment. There were programs listing the names of those who were going to die on any given day, tickets were sometimes sold for the best seats, and these events were considered a family outing.
CONTINUED ON PAGE 2

---