The best place to begin is with the Age of Reason. The Age of Reason was an 18th century intellectual movement in Europe that reached its zenith in the Salons of Paris. Men and some women debated new scientific theories, the concept of natural rights versus divine right and the triumph of reason over blind faith.

Voltaire and Diderot are considered two of the most important enlightenment thinkers. Voltaire, known for his witty repertoire and disdain for authority ~ whether it be a monarch or the Catholic Church ~ was an avid writer. He was a strong advocate of civil liberties and we have him to thank for the immortal words, "I may not agree with what you say, but I will defend to the death your right to say it." If you want more information on Voltaire look him up on the Internet and let some modern technology, as Voltaire would muse, enlighten you.

Diderot, like Voltaire was suspicious of divine right and the Church. This quote leaves little to the imagination, "Man will never be free until the last king is strangled with the entrails of the last priest." Radical thoughts for a radical time. Today, the boulevards Voltaire and Diderot are chock full of restaurants, computer and technology stores. And, yes, the radical spirit still vibrates through the area.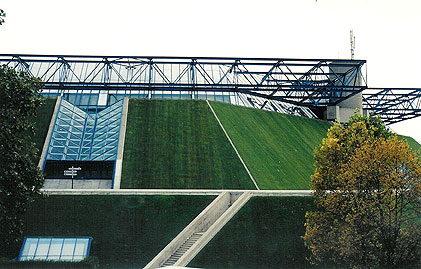 Place de la Nation is the heart of the 12th. This is where nine streets converge at the rond-point. Guarding the Place are two tall towers: one holds a statue of Saint Louis IX (1215-1270), the only king of France ever to become a saint; the other statue is of King Philippe August III, Louis' son who reigned from 1270-1285.
One of the things I noticed during my stay in Paris is that the French have a passion for commemorating important cultural and historical events. This is in no way a criticism, but you do need a scorecard to keep track of all the steeples, palaces, and monuments throughout the city. If you're nosy like I am, you'll wonder 'what does this monument represent?' Let us look at the monument that stands in the middle of Place de la Nation. Titled Le Triomphe de la République it weighs in at 38 tons and stands 36 feet high. It was dedicated in 1899.
Palais Omnisports de Paris-Bercy

Lions are a favorite in Paris monuments and the Le Triomphe is no exception. Lions have historically symbolized strength and royalty, yet this monument represents the victory of liberty over tyranny. The lions pulling the cart represent democracy and the vote for all. The woman symbolizes liberty, while the shirtless chiseled man with the anvil and wearing a worker's apron represents the importance of work. The value of education is symbolized by the young child who has in its arms books and scrolls.
My apartment was at 54 rue de Picpus. Who or what is a picpus, I wondered. The Picpus Fathers took the name to honor Picpus street where they established the Congregation of the Sacred Hearts of Jesus and Mary on Christmas night, 1800. This was no small feat, as this group of brave priests, brothers and nuns began this congregation during one of the most dangerous times in French history. Knowing they could face the guillotine, Father Coudrin and his followers bought up a few dilapidated houses on Rue Picpus and established a seminary and a college. A cemetery was built which is home to victims of the French Revolution. [Ed. The General Marquis de La Fayette is buried in Cimetière de Picpus.] The Congregation's mission was to perpetually pray for the souls of those murdered by the guillotine, all 1700 of them. Supposedly, they did this religiously without interruption. One morning I noticed a few sisters dressed in their gray outfits peeking out of the door from the building that was directly across from my apartment. While the congregation may have dwindled, it is apparent that the Picpus Order is still a vibrant member of the community.
Often, we feel that we must put aside or do without some of the basic necessities that we have at home when we settle into a new community. It really doesn't matter how long you are going to stay ~ you never know when you will need a chiropractor or a dentist. As I settled into the 12th, I not only wanted to find a chiropractor who spoke just a tad of English, but I also wanted to find the best patisserie and the most knowledgeable wine merchant. Boy, I hit the jackpot!
First, I needed a chiropractor. I was fortunate to find Patrick Levy located just two blocks from my apartment. He spoke English, and I felt much relieved. Monsieur Levy is a Masseur Kinesitherapeute D.E., and his office offers massage and a host of other natural healing remedies.
There was a Nicolas Wine Shop within two blocks from the apartment. They are well stocked, inexpensive and the clerks spoke English.
I grew up in a German neighborhood in Ridgewood, New York, where the German bakeries, or konditorei's, were plentiful. The éclairs and beehive cakes were sinful. However, you haven't really tasted an éclair until you try Saffer's Patisserie in the 12th. Everything is homemade in the shop, the staff is very friendly, and all you have to do is point to what you want.
For a tasty, reasonably priced meal, the Irish Corner is the place to go. They do a delicious lamb tagine, and their drinks are very reasonable. Miss Chinese take-out? Stop by Fringale Charcuterie Traiteur, which serves up delicious, fresh Chinese food. We had shrimp, pot stickers, and chicken curry which was creamy and not too spicy.
I'm back in San Francisco now, daydreaming, and plotting how to buy an apartment in the 12th! I am hoping to write another Post Card from Paris soon. For more information please contact me at bklynbrn@earthlink.net.
Au revoir,
Rosie Bell
For information on the Picpus Fathers and Father Coudrin go to http://www.newadvent.org/cathen/13308a.htm
For a more intimate view of the 12th check out http://lindamathieu.com/2005/06/27/poshless-in-france-chapter-7
For general information try http://manstouch.com/travel/sights12th.html
To see the apartment that I called home go to http://sublet.lodgis.com/en/paris/description/2125041-rue-de-picpus-Apartment/


[Photos ©2006 by Cold Spring Press. All rights reserved.]