~ Patrick Dumont : He Was Even Kissed By A Dolphin
With a piercing blue glance just above a ready smile, 45-year-old Patrick Dumont writes film music.
And, he is making quite a reputation by doing so. In 2006 alone, his score for Sita, A Girl From Jambu
was selected for three international film festivals, and he walked (well, probably hummed) off with the Gaia Award (Best Film Score) at a fourth, the Moondance International at Raleigh Studio, Hollywood.
Although seen at such high-flying events as the Grammy Awards and occasionally traveling in a stretch-limo, Patrick is not a product of Hollywood hype. In fact, he has even been known to turn up at fairly formal weddings minus a necktie and dressed in a colorful shirt. And, he teaches a subject simply called 'Soundtrack' at the University of Colorado. Based in Boulder, Patrick happens to be French, from Normandy more precisely. Arthur Gillette* interviewed him for FRANCE On Your Own's series 'Franco-American Portraits'.

Arthur Gillette: Why, when and how did you move to the USA?
Patrick Dumont: I moved to the States twelve years ago. I was invited to a conference on "Angels" – yes, with the wings! After that fascinating weekend, I decided to stay and travel from the east coast to Malibu. I wanted to connect with studios and musicians and, so to speak, join the 'American Dream'.
AG: Tell us a bit about your music. Judging by what I've heard of it, you work in quite varied styles. Your song Caffè Latte, for example, has a real eardrum-pounding blues beat to it. But others of your sounds are like gentle chanting, and have been called 'soothing', which is not exactly the purpose or style of blues.
PD: I love different kinds of music; I am always interested to be challenged by new cultures, new rhythms. My main instrument is my voice, and I like to copy as many voices as I can. It's a pretty new approach to composition and gives a unique touch. I love world beat, classical and New-Agey music. Music can be a powerful curative tool; that's why I choose to create soft and harmonic soundtracks to help heal our Blue Planet. I feel that too much violence is produced by Hollywood and symphonic orchestras are used there for the wrong reasons. Hey, the time has come to be more Holy…Wood!
AG: In addition to your film work, you've written the music for a kind of video game called Journey to the Wild Divine – Wisdom Quest, featuring Deepak Chopra. It's been described as "allowing people to get in intimate touch with the innermost core of their being and go into deeper relaxation and meditation."
PD: This is a biofeedback game developed by Corwin Bell, a Colorado-based genius and visionary artist. It uses the most advanced gaming industry, but injecting also unique biofeedback techniques.
AG: What are they?
PD: Well, you can move objects and so on just by the power of your mind and breath - quite amazing! I was very proud to participate in creating this soundtrack and one of my songs on it, 'New Time For A Book of Secrets', will be entered for the 2007 Grammy Awards.


. . . just who I am.
AG: Don't take this question amiss, but are you into Hari Krishna or Buddhism?
PD: No, I am a musician. I think this labeling stuff divides us all. I try to be conscious and see in everyone light and harmony, and so, of course, respect other people's beliefs. But for myself, well… I prefer to be just who I am.
AG: Out here in the beautiful Colorado Rockies, do you miss France and Normandy? Do you go back sometimes? What's the chemistry there?
PD: I like Colorado; it's a very peaceful place and powerful. A lot of artists live here, such as Kitaro, and others. I think it attracts artists and more conscious people who want to be closer to nature Zen rather than the fast pace of big cities.
Yes, I do go sometimes back to France. But just now, with my Green Card application being processed, I've had to stay here. And, I've met some other French people in Boulder at a restaurant called L'Absynthe. It's one of the best restaurants in the whole state of Colorado, and the owner – Maurice – just happens to be from Normandy! So, I feel at home.
AG: Is it true that you traded a kiss with a dolphin? And if so, how? And, what did that make you feel?
PD: Well, I was once in Cuba on holiday, and I signed up to go on a sailboat cruise. That's how I met a happy friend. At one point, I jumped into the turquoise water and was immediately surrounded by two dolphins. They are much bigger than on TV! Boy, was I scared for a few minutes! But their energy was so full of love that I naturally connected to them. I could actually feel their minds! One came over to me, looked at me and… kissed me! I was in a state of happy shock; that kiss was really like a mega dose of joy. After that amazing experience, I was smiling for days.
AG: Did that affect your music?
PD: Oh, yes! I recently did a song for a Franco-American friend who lives here and was expecting her first baby. I put in some dolphin sounds and their squealy laughs.
[Photo courtesy of Patrick Dumont]
---
* Arthur has never been kissed by a dolphin. Despite this defect, he can guide you on one or more
of the 16 strictly personal strolls he has developed to help visitors discover Paris Through the Ages.
And, don't pass up the opportunity to take advantage of number 17: his newest outings
to Vaux le Vicomte and Senlis just outside of Paris. His knowledge of these wonderful places,
as with his knowledge of Paris, will astound you!

Petite Pleasures
by Maxine Rose Schur
We hope you enjoy our newest feature, Petite Pleasures ~ little snapshots of Paris
by contributing writer Maxine Rose Schur. We believe that her insight and writing style
will add a unique and personal perspective to your view of the City of Light.
The Artisans of the Marais
When I lived in Paris, the Marais became not only my temporary home but my spiritual home. This may sound strange to anyone who has ever visited the Marais. This charming 17th-century quarter it is not only graced with elegant mansions, beautiful fountains and the loveliest of public squares ~ the Place des Vosges ~ it is also one of the prime shopping destinations for Parisians and tourists alike. In fact, it is the only part of Paris where the shops are open on Sunday and thus the Marais, whose very meaning is 'swamp', is today swamped with shoppers.
So, why did I find it spiritual?
Living in the Marais I had an opportunity to discover a blessing of artistic activity. Here along narrow cobblestone streets can be found so many highly independent artisans, designers, and stylists of all sorts that it makes the heart skip just to walk outside. I experienced the joy of discovering not merely another seductive thing for sale but more importantly, discovering some of the most visionary, original individuals to be found.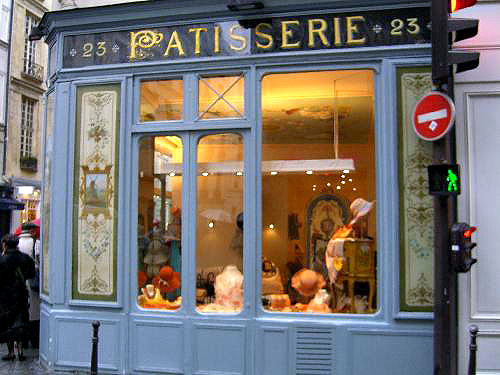 This is a new boutique that opened up in April at the corner of rue des francs bourgeois and rue de
Sevigne in a former patisserie. It is the most lovely boutique with very pretty, highly feminine
scarves, umbrellas, purses and shoes, all very frou frou but elegant and with a bit of old-world grace.
I am very garrulous when I'm in Paris because I'm just so happy to be there, and I like to practice my French and hear the language spoken. It is such a beautiful language ~ listening to a few words, softly modulated, can be like a whiff of fragrance. I make a point to talk to just about anybody who looks as if they are doing something interesting or different. In the Marais this means I could be talking all day long!
Many of my 'discoveries' worked in ateliers not much bigger than broom closets, and they came from all over the world. The very density of these interesting people and the art they created made the Marais for me a magical place.
I first met Djossou when I walked to into his studio/shop, Lotto and Djossou, on rue Duval. I was intrigued by the bronze and silver square rings topped with Swarovski crystals of every color. Djossou is a quiet man from Togo who has developed a method of wrapping a ring with fine silver thread giving it a woven texture that is very lovely. He will make a ring tailored just for you with the colors of fused glass, crystal, gemstones and freshwater pearls that you like and of the materials bronze, silver or gold. He and his Swedish wife, Lotto, whom he met in Japan, now design together, and one of their specialties is jewelry for the bride from chandelier crystal earrings to gold and diamond wedding rings. Inspiration from their world travels is evidenced in their designs. The rings of fused glass remind me of the stained-glass of Notre Dame in their deep jewel tones. I bought one, and it was wonderful to watch Djossou make it, teaching his apprentice quietly as he worked.
Another discovery is Celis, at 72 rue Vielle du Temple. How could I not stop before the whimsical wall of handmade finger puppets? Little Red Riding Hood, Pinocchio, Tinkerbell ~ one wall of this shop was covered in dozens of these little handmade toys, each one different from the next. When I went inside I found the creatrice knitting a sweater for the other wall which boasted her handmade children's sweaters with every imaginable image including space ships, soccer balls, and stars. Celis makes everything herself by hand, and if you just describe the child to her, she will help you select the perfect gift.
And then there's Inge Lex, the delightful German I met as she was fashioning one of her black and red jewelry pieces. That's all Inge does ~ work with black and red beads. She stitches them into pendants of dragonflies and hearts and creates funky brooches depicting lips or lipstick or bugs and butterflies of every sort. It's tedious work but she loves it and has been doing it for years simply for its own pleasure and for the joy of working in the Marais.
No matter what I did in Paris, when I walked home I passed these artists and took pleasure in knowing that I was surrounded by visionaries, and it made for sweet dreams.
Lotto and Djessou ~ 11 rue Ferdinand Duval 75004/ Tel +33(0)1 42 71 79 61
Celis ~ 72 rue Vielle-du-Temple, 75003, Tel/01.48.87.52.73
Inge Lex ~ 7, rue du Pas de la Mule, 75004, Tel/01.48.04.58.63
[Maxine recently returned from several months in Paris, so we are fortunate to
share in her first-hand experiences through Petite Pleasures. Her book, Places in Time,
recounts a long ago journey around the world and how it changed her life.
It blends gentle insight with delicious surprise to make for highly
entertaining and memorable reading pleasure. She can be reached and
you can learn more about her at her web site http://www.maxineroseschur.com.
Photo credit and copyright Maxine Rose Schur 2006]


SPONSORING THIS ISSUE:

Become a 'native' for a week or more during your next stay in Paris.
Beautifully furnished apartments in only the best locations are available at a
great savings over the cost of hotel accommodations. Make yourself at home in your
adopted neighborhood and live like a Parisian! Click the banner above to visit the Rentals in Paris web site.