PARIS by Métro ~ An Underground History

a book by Arnold Delaney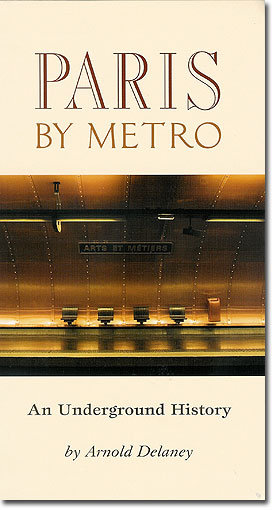 For anyone ~ Parisian or French native, first-time vistor, avid Francophile and lover of Paris ~ who ever wondered how the métro stations got their fascinating names, this book is for you! From the detailed history lessons provided to explain métro stop Crimée (named for the war involving the British, French and Russians and involving the Caucasus and the Turkish possession of Romania) to the simple explanation for station Maisons Alfort-Stade ("Stade refers to the municipality's' stadium"), the book covers it all.
The 'chapters' of this little (7 3/4" x 4 1/4"' x 5/8" thick book) are based upon the 14 lines of Paris' Métropolitan transportation system, one of the easiest to use in the world. The author, who has resided with his family in Paris since 1991, has provided some basic statistics of interest as well: there are 296 stations (58 of which serve two or more lines); there are stations above ground on lines 1, 2, 5 and 6; there are 211,300 kilometers of track; the system carries 1.2 billion people per year; the busiest stations are St Lazare, Gare du Nord and Gare de Montparnasse; and there are more than 3,500 métro carriages.
An up-to-date métro map is in the front of the book along with the author's choice of 25 places to visit in Paris with their métro stops and a short note highlighting something about the site. An example that caught our eye was "Madeleine / Lines 8 and 14 / Station Madeleine / The century-old coffee shop Ladurée is on the rue Royale not far from the church of la Madeleine", since our last newsletter featured the art of Jill Butler who began her illustrating career at Ladurée!
No doubt a great deal of research went into the compilation of the information for this guide book, but we don't view it as a heavy historic work. It is, instead, a handy guide to the Paris métro system peppered with historic information, providing interesting notes about the stations ~ probably as much as anyone visiting the city for a few days or even a few weeks would want to know. Because it is well-organized and easy reading, we suggest that you get a copy before your next visit to Paris. It will certainly be of help in getting around Paris and provide insight into what is behind grand station names such as La Courneuve-8 mai 1945 or Aubervilliers-Pantin-Quatre Chemins or Bobigny-Pablo Picasso.
Paris by Métro - An Underground History
by Arnold Delaney with photographs by Geoffrey Smith
published by Interlink Publishing Group, Inc., 46 Crosby Street, Northampton, Massachusetts 01060
http://www.interlinkbooks.com
ISBN 1-56656-646-0 in paperback, $12.95 US / $16.95 Canada 2006

LETTERS FROM OCCUPIED FRANCE ~ 1940 : Some Eyewitness Glimpses
presented by Arthur Gillette
One of the FRANCE On Your Own team, Arthur Gillette, recently stumbled upon All Gaul Is Divided -
Letters From Occupied France. Almost two thousand years after Caesar found Gaul's tribes at each other's throats
(the book's title is from his Gallic War commentaries), on June 15, 1940 Pétain signed an armistice that was really
a surrender to Nazi Germany. France again found herself split down the middle between collaborateurs and those who,
if not yet Résistants, were not happy to be ruled by Fascists. Published by New York's Greystone Press in early 1941,
All Gaul Is Divided contains a series of letters written during 1940 by an anonymous correspondent
in southwest France to an American friend in New Jersey. This was before Pearl Harbor
and the United State's entry into World War II, so the mail still got through.
FRANCE On Your Own will publish excerpts in the next several issues;
they illuminate the daily reality of France in what were some of her darkest hours.
Invader Moves In
By four o'clock a stream of swift vehicles, lead-colored, solid-tired, was purring and rumbling toward XYZ, our nearest port; slender-nosed artillery, trailed by trucks of ammunition; motorcycles with sidecars, plastered with spare wheels; three-seated open cars, four soldiers to a seat, each with a short rifle between his knees. Many of the men, armed folded and sitting erect, were sunk in a sleep of exhaustion...
An officer's car pulled into the alley behind the pork store. While the officer made his rounds, the driver slipped into the store, bought a boudin (blood sausage), concealed it under his arm, retired to the closed court in the rear. I was in the back room…and watched him through a crack in the door. Throwing a glance to right and left, to make sure he was not observed, he tore into the dripping meat like a wild animal, swallowed the whole two pounds without apparent mastication, wiped his lips on his sleeve, and regained his chauffeur's seat...
It is obvious that the invaders wish to accomplish their task with a minimum of friction. To date they are pulling their punches… They are treading French soil with velvet-shod boots…
As to the future, our village is holding its breath, with its fingers crossed. Now and again there is a stray straw in the wind. The soldiers who occupy our pink guest room find the color effeminate. They say that if I will buy the paint and wallpaper they themselves will do the manual work of redecoration…
"But, do you think it will be worth the trouble for so short a time?" I question.
"Oh yes, they say that we are to be with you for five years."
---
Catherine McLean, the subject of a Franco-American Portrait in a recent issue, discovered
this postcard which, although not directly related to the All Gaul is Divided, provides an example of the difficulties
and intrigue surrounding correspondence sent within France during the early years of the occupation.
Arthur Gillette has kindly translated the text of the card, indicating in italics the handwritten portions.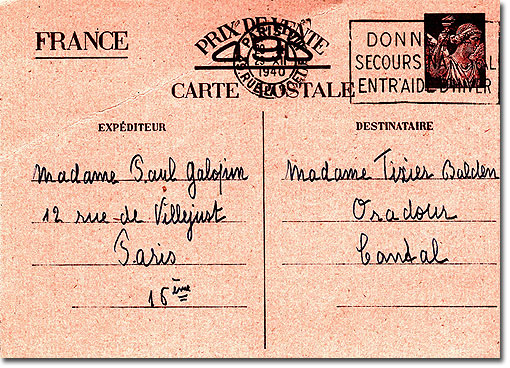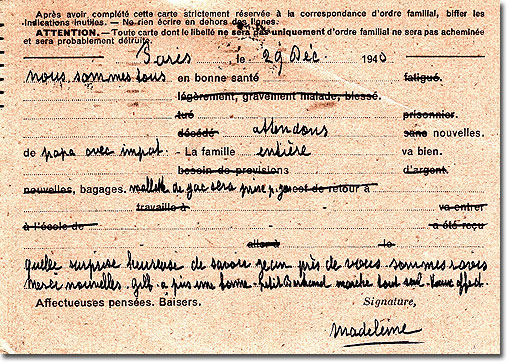 Translation:
Having filled out this card, strictly limited to correspondence of a family nature, cross out the the unnecessary text.
Do not write anything outside these lines.
ATTENTION. Any card that is not solely limited to family matters will not be forwarded and will probably be destroyed.
____________________________
Paris 29 Dec. 1940
we are all in good health tired
slightly, seriously sick, wounded
killed, prisoner, deceased
expecting news from Papa impatiently.
The whole family is well.
needs supplies ... money
baggage Jacques' briefcase was picked up by Jean
works at ... will enter school ... passed ... go to
What a happy surprise to know that Jean is near you. We're delighted.
Thanks for news. Gilberte has hired a maid. Baby Bertrand is
now walking all alone. Affectionate wishes.
Signature
Madeleine
This comment from Arthur Gillette accompanied his translation:
"I can't help wondering whether Jacques' briefcase contained a tract (or bomb) or two,
and whether Gilberte's maid was Jewish and thus saved from deportation."
[Postcard courtesy of C. McLean and l'Association Musée de la Résistance d'Anterrieux]

---