Ronald and Margaret Rens own and operate a lovely château bed and breakfast in Bordeaux,
Château Coulon Laurensac. And, as certified wine experts, the Rens offer a bit more:
The Bordeaux Wine Experience ~ Wine & Culinary Tours in the Bordeaux Region.
Ronald's free newsletter for wine lovers keeps everyone in touch with the latest
news from Bordeaux and provides information about upcoming wine tours.
We offer the following excerpt from their July / August newsletter.
We just finished a very successful Bordeaux Grand Cru Tour. You can read more about the record breaking number of wines we tasted on this tour. Among them many of the super vintage 2005. Given the temperatures. . .2006 will be of the same quality or might even be better. And, of course, I just have to tell you about a very special visit I had at Château Mouton Rothschild.
Record number of wines tasted on July tour
A record-breaking number of 82 wines were tasted on our July Bordeaux Grand Cru Wine Tour. And, if this weren't enough, 50 of them were Classified Growths. And, to throw in a last statistic: we tasted 27 wines from the Dream Vintage 2005!!!
Just before the start of this tour, we had some professionals over at Château Coulon Laurensac for a tasting of the exceptional vintage 2005. As a result, we were able to offer our guests a unique tasting of this great vintage on the first evening of this tour. Therefore, the number of wines tasted on this tour exceeds the number we will normally taste on a tour by at least 18 wines. . .the number of wines tasted may vary per tour.
Although Bordeaux is famous for its red wines we started with a few whites. The white wine from Château Talbot was followed by the Laville Haut Brion and after that by the magnificent impressive Haut Brion Blanc 2005. People who have toured with me know that I am not a big white wine lover, but this Haut Brion 2005 was extraordinary.
After the whites, we returned to the wines Bordeaux is famous for: the reds. And the verdict on 2005 remained the same ~ great.
The color of most of the wines was inky black, the wines had a marvelous concentration and were thick and opulent ~ rich, ripe and full aromas of black currant and raspberry. But, the most remarkable [aspect] of these wines for me is something I hadn't experienced before. These wines are almost drinkable like a 'modern' wine but clearly have an exceptional aging potential. There are of course a lot of tannins, but they are not aggressive at all. There is a beautiful balance and the quality of the fruit is so impressive. You can see the list of wines we tasted on this tour by clicking here.
Mouton Rothschild behind the scenes: A unique experience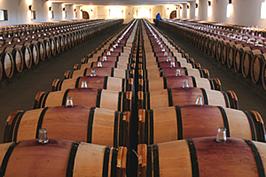 The many guests that visited Mouton Rothschild with me all agree ~ a visit there is very special. There is a beautiful winery with its impressive wooden vats and the Great Barrel Hall designed in 1924 so that Baron Philippe de Rothschild could see his entire harvest in one room. But, there is more.
Visitors to the chateau are, without exception, impressed by the tour of Mouton's private wine museum with its priceless art collection. And there are the famous labels each with a work of art by a contemporary artist. But, as interesting as each of these aspects of a visit to Mouton is, this is not what I want to tell you about.
On every tour at Mouton we are shown the Private Cellar of the Baronesse ~ shown from behind bars that is, as these 60,000 bottles are well protected. The Chateau Haut Brion 1891 is the oldest bottle in the collection. And, we are shown the 'vinotèque', the library collection of Mouton Rothschild starting in 1859. No visitors are normally allowed to enter into this sanctuary.
In June, with one of our guests, an American MW student from the London Wine Academy, I had a unique visit behind the scenes at Mouton. We had the privilege to be shown around by Philippe Dhalluin, the Technical Director of the estate in a private tour. Not only were we allowed to enter the private cellar, but we actually approached the Haut Brion 1891 while the guide held a candle to show us these 115 year old bottles!
Mouton Rothschild has the unique library collection 'le Vinotèque' to which Monsieur Dhalluin had the keys as well. Here we wandered through the 'memory' cellar of Mouton. Each year Mouton enters into this part of the cellar 24 bottles, 6 magnums and 3 jeroboams. We fondly caressed the eldest bottle of Mouton the Mouton Rothschild 1859 with our eyes.
The tour of the Château was concluded by a private barrel tasting of the d'Armailhac 2005, the Clerc Milon 2005 and, of course, the Mouton Rothschild 2005.
After this experience the charming Monsieur Dhalluin took us in his car for a private tour around the Mouton vineyards ~ a truly memorable experience.
2006 vintage notes: A little early?
The 2006 vintage in Bordeaux is heading for a second version of the blockbuster 2005.
Official reports indicate very similar harvest patterns and projected yields. Harvest patterns such as bud-break and fruit set are very similar to those of 2005. Twenty years ago we had the excellent vintage 1985 followed by an even better 1986.
What will happen to the prices nobody knows. Château Petrus (Pomerol) came out 'en primeur' (on futures) for a staggering $2940 USD per bottle. That is $92 USD per sip. For me that is a bit too serious drinking…
If everything turns out as the predictions Bordeaux will produce 400,000 hl more wine than last year. Of course, there are still two months to go but, so far so good. We will keep you posted in our newsletter.
Join a September Tour!
September 18 - September 23, 2006 (6 days, 5 nights)
Last 2 spots remaining (just one couple or two singles!). This excellent wine tour for wine lovers will get you into four First Growths! This is your chance to get an insider's view of Bordeaux and its most famous appellations. Most probably you will see the harvesters at work and taste the grapes of the 2006 right from the vines. And, you will taste the dream vintage 2005 with us in Bordeaux.
The Bordeaux Wine Experience is a Dutch company specializing in wine and culinary tours
in the Bordeaux region for an English-speaking international clientele.
To subscribe to the newsletter (four issues per year) please click here.
For anyone seeking a wonderful bed & breakfast accommodation in the Bordeaux region,
please visit the château by clicking the link below. Spacious en suite rooms by the
night or weekly, as well as gîtes are available at very reasonable rates.
The Bordeaux Wine Experience
Chateau Coulon Laurensac
1, chemin de Meydieu
33360 Latresne (BORDEAUX), France
Tel: +33 (0)556 20 64 12
Fax: +33(0)556 21 79 44
Email : info@BXWINEX.com
Web : www.BXWINEX.com
---
Coming in December:
More tantalizing lodging and restaurant reviews by our inveterate traveler, 'KB'

Perhaps Part Three of France Wine Travel in Provence (?)

Additional Petite Pleasures from Maxine Rose Schur

Our regional feature takes you back to the Auvergne

More of our newest feature: Letters from Occupied France *
and so much more!
---
DISCLAIMER: You have received this newsletter because your email address is on our Opt-In mailing list, i.e., you have requested to receive FRANCE On Your Own ©. If you would like to discontinue receipt of this newsletter, please send an email to publisher@franceonyourown.com with "unsubscribe" on the Subject line.
Unless indicated otherwise, photos, graphics, artwork and text in the FRANCE On Your Own © newsletter are all the property of Cold Spring Press and FRANCE On Your Own © and cannot be copied, duplicated or used in any manner by anyone without the express written permission of Cold Spring Press. FRANCE On Your Own © is published online by Cold Spring Press, P O Box 26098, San Diego, California 92196-0098. This publication is copyrighted and no portions of the text, artwork, graphics or photographs may be reproduced or distributed in any form or by any means or stored in a database or retrieval system without the written permission of the Publisher. For more information about FRANCE On Your Own ©, visit our web site at http://www.franceonyourown.com.
Recommendations made in this newsletter are based upon the personal experiences of the Publishers or contributing writers solely to provide information to subscribers. Cold Spring Press and FRANCE On Your Own © make no endorsements nor are any guarantees or promises of satisfaction given or implied. Any and all information is correct to the best of our knowledge, and the Publishers accept no responsibility for errors and/or omissions. The responsibility lies entirely with the traveler to obtain current information regarding accommodations, availability, schedules, prices, reservations, or any other pertinent details. We do not guarantee the historical accuracy of the contents of articles in this newsletter. Historical accuracy is dependent upon one's sources of information -- and contradictions often exist among those sources. Links to other web sites or email addresses are provided for informational purposes only and do not imply any guarantees of service or endorsement of any organization or their business practices.
FRANCE On Your Own © is electronically transmitted via email. To add your email address to our database for this FREE newsletter, send an email to info@franceonyourown.com, and please put Subscribe in the subject line. We do not share email addresses with any other organization.
BACK ISSUES of the print version of FRANCE On Your Own © are available on our web site at http://www.franceonyourown.com/Archives.htm.
©1998-2006 Cold Spring Press All Rights Reserved

---

previous page