IN THIS ISSUE:
PHOTO ESSAY:
Art Déco at Golfe Juan
~ A Hidden Treasure Trove
by Arthur Gillette
Paris Enigmas
Ici et Là
Le Verger
~ Classic Handmade Furniture
by Julie Thirkettle
Law and Order
by Christel Detsch
The Bookshelf:
~ Walking in France
a book by Gillian and John Souter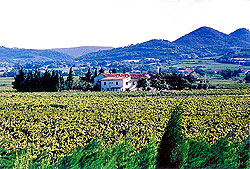 The Vineyards of Vacqueyras
FEATURE: Provence Revisited
Petite Pleasures
by Maxine Schur
Franco-American Portraits:
~ An Interview with Betty Werther
French Wine Report:
France Wine Travel ~
Part Two of Three: Rhône Valley
by Panos Kakaviatos

Squeezed on the French Riviera coast between neighbors Cannes (Film Festival) and Juan les Pins (Jazz Festival), the diminutive town of Golfe Juan tends to get undeservedly short shrift from travel writers and, as a result, travelers alike. The Nice Matin newspaper's authoritative guidebook to the region, Cannes et Ses Îles, doesn't even list Golfe Juan in its otherwise exhaustive index on Cannes and neighboring towns and villages.
Golfe Juan boasts not a single cybercafé, much less a festival. But, it was here on March 1, 1815, that Napoleon I disembarked from his Elba Island exile on the way to a triumphal reconquest of power in Paris; and then, on June 18 of the same year, final defeat at Waterloo.
I'll confess, however, that a major attraction for me at Golfe Juan is not Old Nappie's comeback attempt but its abundant tropical-style, pastel-hued Art Déco architecture. Hey, this is almost Miami-Beach-on-the-Med!
Curiously, the town itself seems to underestimate this enthralling architectural heritage. Its official Web site offers a special page on monuments that range from a 2nd century B.C. Celtic-Ligurian fort to the 1999 tomb of movie actor Jean Marais. But nary a word or image there about Déco!
Middle Class Intimacy
True, none of Golfe Juan's architecture in this style is as grandiosely splendid as the Art Déco Hôtel Martinez on neighboring Cannes' shorefront Croisette. But, at Golfe Juan an enticing intimacy is exuded by the mainly private middle-class dwellings – and at least one market – built in according to the Art Déco trend during the 1920s and 1930s. How did this come about?
Beginning in the 1830s Cannes itself * burgeoned from a sleepy fishing village of some 3000 inhabitants when Napoleon disembarked next door into a high society playground with a permanent population of 10,000 by 1870. Among the rich and aristocratic who traveled there were, to name but a few, Queen Victoria, the Dutch Monarch Sophie and a bevy of English Lords and Russian Grand Dukes. Their opulent peregrinations were greatly facilitated by the opening of the Paris-Lyon-Marseilles railway line around 1850, which put the Riviera in (relatively) easy striking distance from the French capital. For a sense and, literally, a taste of the luxury in which the well-off traveled and dined en route, check the Train Bleu Restaurant still extant at Paris' Gare de Lyon.
Golfe Juan's heyday came after World War I, when rail travel became more accessible to the less fortuned and, for a time at least, economic recovery gave many middle class French a bit more than pin money. Not enough to buy or build at Cannes itself; but sleepy – and cheaper – Golfe Juan was just next door. This period happened to coincide with the rise of Art Déco which, contrary to conventional wisdom, did not begin with the 1925 Paris International Exhibition of Industrial and Modern Decorative Arts. For Art Déco, the latter event was more coronation than kickoff.

CONTINUED ON PAGE 2