Where to Stay
In the Vaucluse there are four lovely properties offering bed & breakfast accommodations that we recommend. All guest rooms have private en suite bathrooms. [Click on property name or the photo for web site access providing more photos, historical background and lots more information.]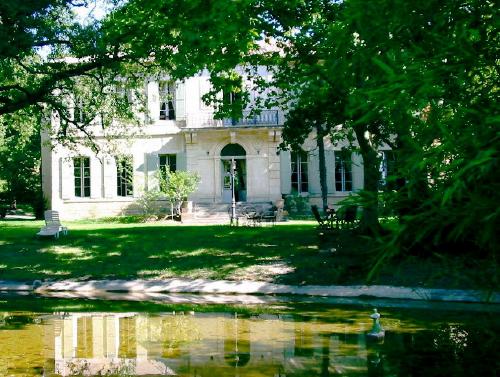 Château Juvenal is an elegant château located between the Dentelles and Mont Ventoux offering doubles, twins and a suite. The property has its own vineyards, olive grove and the proprietors take full advantage of both: they produce exquisite olive oil and hand-harvest Grenache, Syrah and Carignan grapes resulting in a full-bodied aromatic wine. There is a swimming pool and billiards room. Courses offered include wine appreciation, cooking, painting and tango lessons! Prices range from €95 to €160 per night including breakfast. Dinners of regional cuisine are offered by advance reservation at €28 per person, wine and coffee included.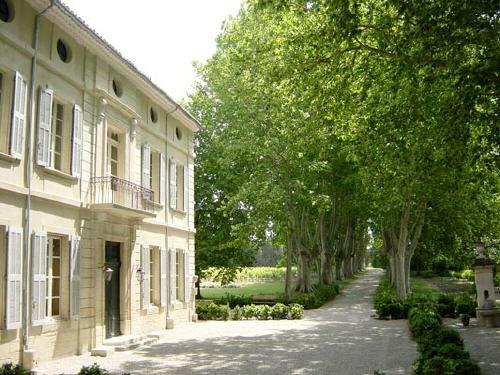 Domaine le Vallon, a stately manor house near the great market town of Carpentras and quite near Avignon, is set among the vineyards of the Vaucluse. Three double rooms are available (two night minimum between May 1 and October 1) at €130 to €150 per night, as well as an apartment with a weekly rental of € 1100. Breakfast is included in the price of the rooms, but not included for the apartment which is self-catering. A swimming pool is provided for the use of guests. Nearby are Isle sur la Sorgue, Vaison-la-Romaine, Vacqueyras and Gigondas, with easy access to towns and attractions throughout the region. Dinner is available by advance request and is €40 per person including wine.


Château Talaud is also a wine producing estate, and is celebrating its tenth year as a chambres d'hôtes. Their Anniversary Special offer is a gift box of 2 bottles of wine for reservations of 3 nights. The château offers three doubles and a suite priced from €175 to €200 per night, including breakfast. Two apartments and a cottage are offered for weekly rental, and prices are €1250, €1350, €1450 per week without breakfast. However, the Anniversary Special offer in this regard provides breakfast except in June, July and August. An unusual spring-fed swimming pool in the park is always enjoyed by guests ~ as is the 30-hectare park, half of which is their vineyard. Talaud is convenient to towns and attractions from Orange to Aix-en-Provence and everything in between. Dinner is occasionally offered at the château for €40 per person including wine. Prior reservation is required.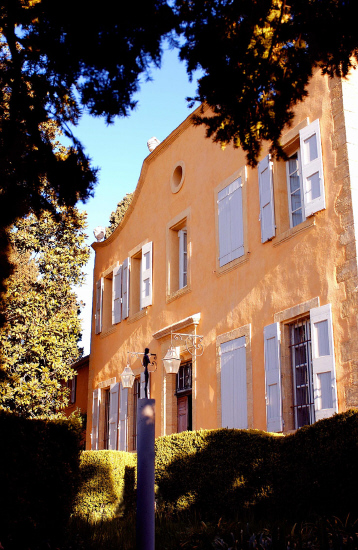 Le Pavillon de Galon is a delightful manoir set dramatically against the Luberon mountains. Here you can enjoy cooking and painting lessons and learning about wines. Two spacious guest rooms, with either king or twin beds, are offered from €130, breakfast included, and the entire house is available to rent in the summer months (5 bedrooms and 4 bathrooms). Exquisite and exceptional gardens, orchards and spring-fed pools offer a soothing and relaxing atmosphere. The swimming bassin has its own beach! With prior reservation, dinner can be enjoyed for €45 per person, wine included.



In the Bouches-du-Rhône, we recommend the following:
Bastide Le Relais de la Magdeleine (4 étoiles)
Rond Point de la Fontaine
13420 Gémenos
Web site: http://www.relais-magdeleine.com
This family-run small hotel in a grand Provençal house, is the epitome of Provence. A sitting area out front under the shade of huge, old trees, a lovely swimming pool, and a fine restaurant all add up to a pleasant retreat in the quiet little village of Gémenos. Service is excellent, and guests can enjoy apéritifs outside and may have views of Saint-Beaume from their rooms as we did. Please visit their web site for details and prices. This lovely little hotel has an excellent restaurant where dining inside or on the terrace under palm trees is possible. It is a member of Logis de France, which always an indication that a certain high standard has been met and that the restaurant serves excellent food. Rooms are not luxurious, but are modern and clean. Although its web site advertises that it is on the Côte d'Azur, it is most definitely in Provence's Bouches-du-Rhône département. A lovely, long walk from this hotel will take you to the marina. Please visit their web site for details and prices.
Château de Vergières
13310 Saint Martin de Crau
Tél : (33) 4 90 47 17 16 Fax : (33) 4 90 47 38 30
E-mail: vergieres@vergieres.com
Web Site: http://english.vergieres.com
Although it has been many years since we stayed at this château chambres d'hôtes, we are confident that the owners are still operating a fine establishment. The buffet style breakfast stays in our minds as one of the most extravagant we have ever experienced in France. The rooms are elegant with en suite bathrooms, the location is excellent near Arles and the Camargue, and the proprietors are friendly and helpful. Please visit their web site for details and prices.
In the Var
Hôtel L'Arena
145, rue Général de Gaulle (3 étoiles)
83600 Fréjus FRANCE
Tel +33 (0)4 94 17 09 40 Fax +33 (0)4 94 52 01 52
Email info@arena-hotel.com Web Site:www.arena-hotel.com/
A pleasant little hotel in old Fréjus, with both indoor and outdoor dining, the latter of which is near the pool and under palm trees and surrounded by other tropical plants. Very good cuisine. Rooms are modern and en suite. Take the half hour walk to the marina for an enjoyable outing.

[Photos © Cold Spring Press 2006. Arles rendering © George Ohanian 2006.
Accommodation photos courtesy of owners.
Map courtesy of France Keys, www.francekeys.com. All Rights Reserved.]


THE BOOKSHELF :
WALKING IN FRANCE ~ Exploring France's Great Towns and Finest Landscapes on Foot
a book by Gillian and John Souter
There always seem to be plenty of guidebooks on the shelves of our favorite book stores, and there have been several, both those written as memoirs and others for serious trekkers, about walking in France. We have at least three about getting from place to place in Paris and in the French countryside. But this new book, written by the authors of Classic Walks in Western Europe and Walking in Italy, is not only beautiful as indicated by the cover (the authors' take well-deserved credit for the wonderful photos in the book), but is equally comprehensive for those who want to walk far into the countryside or those who prefer to explore towns and cities. The latter is a big plus for first time visitors to a city so that they can be sure to capture the essence of a place.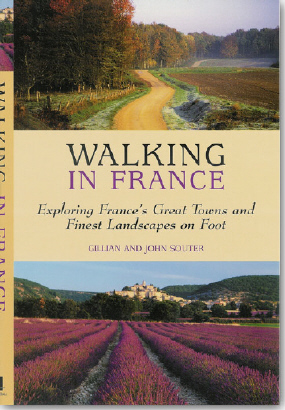 The book's introduction reinforces what those of us who frequently visit France already know: it is a country of walkers! The authors explain the terminology distinct to France for different types of walks, from the casual stroll known as a flânerie, to the balade which is a more serious walk but still without an actual purpose, to the social promenade, and, becoming more purposeful, the marche, petite randonnée, the tour, and the well-planned grande randonnée that is a serious, lengthy outing with a specific route.
The Souters did not fill the book with maps but provided the necessary, simple ones for the more urban areas (you will have to pay attention to street names as you are walking) and easy-to-follow country maps that indicate walking routes along country lanes, rivers and from village to village. All their walks tell the reader how much time to allow and give the distance covered. The walks in the countryside suggest such things as rest stops and overnight accommodations. There truly are walks of every type, duration and distance to benefit anyone who is eager to walk in France.
One of the outstanding features of this book is that the photography makes almost everywhere utterly appealing! You may find an area irresistible (the book is well-divided into cities and countryside regions) and vow to make that your next destination, and then you turn the page! Here you find an equally enchanting locale, which can create a dilemma indeed.
Historical facts are not neglected either. The authors have done their research, and when they take you into a city they provide a chronology of what came before, the history of the place, and they include details about the monuments, cathedrals, the industries that support the people and so much more. The Souters have been able to successfully produce a companion guide for walkers that is also a fine guide book to many regions of France for everyone else!
We were drawn to the chapter on the Loire Valley followed by Tours and A Walk in Tours, as that is our upcoming destination in the autumn. Most appreciated in this regard is the easy-to-understand map of the city with comprehensive notes on the monuments, museums and its flamboyant Gothic cathedral. Nine pages of text on the Loire Valley, with other pages providing maps and photos, highlight such well-known places as Chinon, Saumur and introduces the reader to Trèves, Gennes, and incredible little hamlets whose photos just beg you to visit!
The authors of this book emphasize what FRANCE On Your Own has always endorsed: independent travel! They know that walking holidays are becoming increasingly popular these days and that there are many tour groups offering packages for tourists. But, they hope their book will make it easy and possible to choose your own walks, decide where you want to stay or enjoy a meal, and select walks to suit your abilities and stamina ~ all with more flexibility and less expense. France's incredible network of walking paths reinforces the notion that you can do it on your own!
Walking in France - Exploring France's Great Towns and Finest Landscapes on Foot
published by Interlink Publishing Group, Inc., 46 Crosby Street, Northampton, Massachusetts 01060
http://www.interlinkbooks.com
ISBN 1-56656-619-3 in paperback, $20.00 US / $26.95 Canada

FRANCO-AMERICAN PORTRAITS:
An Interview with Betty Werther by Arthur Gillette




Betty Werther – A 56 Year Paris Veteran
Born in 1927 in Westchester County, New York, Betty Werther has hopscotched
major chunks of the world from Alexandria, Amman, Ankara and Aswan to Zagreb, taking in Baalbek,
Bethlehem, China, Costa Rica, Damascus, Jerusalem, Mexico, Oran and Poland along the way.
But since her first trip to France in 1949, Paris has been her main home base.
Her profile suited France On Your Own's "Franco-American Portraits" series to a T,
and Arthur Gillette* interviewed her for us.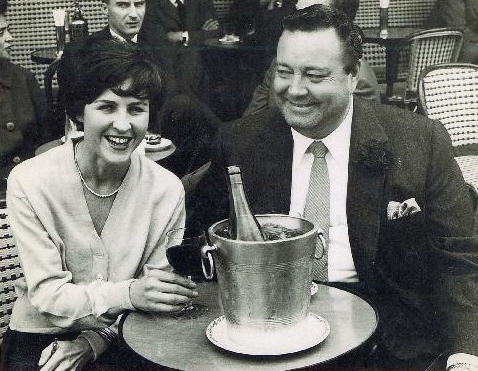 Arthur Gillette: The autumn after after graduating from the University of California at Berkeley, aged 22, you made a beeline for France. What do you remember of your arrival?
Betty Werther: With Harriet, a friend and sister Californian, I crossed from the U.S. on the Île de France. We were tourist class, which, to put it politely, was pretty simple fare. But we managed to find ways to sneak into second class, and even – ready for this? – took tea with the Captain on the first class deck! We disembarked at Plymouth and toured war-devastated England before ferrying a very rough Channel to France. That country was also slowly recovering from World War II. Life was pretty dreary and difficult: milk was still rationed and other products were still in short supply or not even on the market. And yet, we could feel a kind of post-war euphoria; the killing and Nazi occupation were over. Everything seemed possible, even the impossible. And bingo! Shortly after arriving I was standing in line at the cafeteria of the Cité Universitaire Internationale, where Harriet and I had rooms, and struck up a conversation with Gilbert, a French medical student who was later to become...my husband.
At Fouquet's on the Champs Elysées, Betty interviews comedian Jackie Gleason,
(in Paris to shoot the movie "Gigot") for Time Magazine. Spring 1962
AG: What – if I'm not being indiscreet - did you talk about?
BW: (chuckles) Well, he had studied English for seven years and knew all about Byron and Shelley. But his English accent was, shall we say, perfectible, and he wanted to practice. "What," he asked for starters, "do you sink of Berna Show?" "Beg pardon," was my comeback, "but what show?" Turned out he wanted my opinion on Bernard Shaw, and we continued in French although my knowledge of the language was, ahem, far from perfect. In fact, in all these years I've never lost my American accent.
AG: And then?
BW: What was supposed to be a one-year study stint in Paris (a Sorbonne course in French civilization and French classes at the Institut Phonétique) bloomed into a durable contagion. Not just for France. With another gal, a Swede met at the Sorbonne, I hitch-hiked through Spain. That country was then economically and politically under Franco's dictatorship. There were few cars and trucks, and some days we had to walk as much as 25 kilometers. By the time we neared the French border we were pretty weary, physically, but also shocked by the ever-present poverty, the dust and dirt, the flies, the totalitarian atmosphere with El Caudillo's portrait and police everywhere. When we finally crossed the Catalan frontier I remember that I wanted to - or actually did - kiss the ground that was France. I guess it was then I knew I was home.
AG: And then?
BW: In 1953-54 I returned to the States to do an M.A. in political science at Columbia, culminating in a thesis on "The French Mandate in Syria and Lebanon" and marry Gilbert, who was doing a residency at Kings County Hospital in New York City. The summer of 1954 we bought a Plymouth Compact and drove across the U.S. to California and then back East to embark for France in November.
AG: I believe you've had quite a career in journalism since. Your second husband (1963) was Maurice Werther, for many years French TV's answer to Mike Wallace, presenting prime time news.
BW: My first job on returning to Paris was English teaching at – you guessed it! – Berlitz Language School. But then I was hired by the (later International) Herald Tribune to run their morgue (archives/documentation). Those were the days when there was still real type-setting and conviviality – no one at the editorial office was buried in isolation before a computer. From the Trib I moved to Time Magazine. Those were exciting times in France, and I became something of a foreign correspondent, attending DeGaulle's press conferences, moving on the campaign trails of such luminaries as Pierre Mendes France, hobnobbing with Georges Pompidou. My main Time beats for seven years were art/cinema/music/fashion. Wow! I got to view some three thousand models for a couple of weeks twice a year and had enjoyable encounters with the likes of Shirley McLaine, Rod Steiger, Sophia Loren, Dali, Giacometti, Claude Levi-Strauss, Artur Rubinstein, Yves Saint-Laurent. . .I could go on quite a bit!
AG: A favorite anecdote from those encounters?
BW: Covering the filming of Kafka's The Trial by Orson Welles in the cavernous Gare d'Orsay before it was transformed into the Museum of the same name, I had problems from the start when the press attachée (Florence Malraux, the daughter of you-know-who) said Welles would "have nothing to do with Time Magazine" (which had reported on him unfavorably: over-budget, over-time-schedule, etc.). So, I worked around him, interviewing Jeanne Moreau, Tony Perkins, the producers, Akim Tamiroff, etc.). Near the end of that week, Welles came up, put his arm around me and said "I see you have been working hard. Maybe we could have a coffee".
The story dispatched, I went on vacation to my house on the Island of Ouessant in Brittany. Shortly afterwards, a phone call from the office informed me that O.W. was refusing to "cut/edit" the film because of the Time article. What I had done was to quote the producers saying "This is a new Orson Welles. He no longer goes over budget, over time schedule", implying of course that previously he did. So, I had to find a way out. I phoned the film company, told them to get a message to OW: "I was American. My French was rather poor, and I must have misunderstood the producers". Whew! He accepted the explanation.
AG: You left Time in 1971 and then free-lanced, right?
BW: Indeed, and for various magazines including Reader's Digest (for which I worked on a book about Great Cases of Interpol – fascinating!) and then the Paris-based U.N. Educational, Scientific and Cultural Organization. Work there was a daily challenge since UNESCO faces many of the world's major issues: environment, bio-diversity, energy, women's issues, the oceans, Tsunami warning systems, illiteracy, equitable communication, cultural diversity...
AG: Your worst experience in France?
BW: As I look back I think the worst period I have experienced in France was the near civil war towards the end of the Algerian War, notably around April 1961 when a group of avidly pro-Algérie française generals organized a putsch, fortunately aborted. But there were massive demonstrations on both sides, plastic bombings organized by and against the clandestine pro-Algérie française
"terrorist" O.A.S. (Organisation armée secrète), and a general atmosphere of fear and panic. I was sort of in the middle since my
husband, Gilbert, was born and raised in Oran, and considered Algeria an integral part of France. "How would you feel," he asked "if you were forced to give Texas - or California - back to Mexico?"
AG: And your best experience in France?
BW: Multiple! Notably to do with the people I have met. But the most vivid are linked to the beauty and diversity of the French landscape which I regularly criss-cross by car or by train. The "best of the best" have been vacations spent over nearly 40 years tending our stone house, its garden and the family and friends who make it live on the spectacularly beautiful Island of Ouessant, at the very Western tip of France, Finistère, from Latin finis terrae - the End of the Earth.
---
* For information on the walks Arthur guides to help discover Paris Through the Ages,
click on the MARKETPLACE page of this web site, then scroll down to "Historic Strolls in Paris."
If interested in taking one, the contact for more information is: Armedv@aol.com.
[Photo courtesy of Betty Werther. All rights reserved.]
---