Arles as seen from across the Rhône River
The very word 'Provence' evokes thoughts of lavender fields, cafés filled with lovely people sipping pastis on hot sunny days, Peter Mayle's adventures, sunflowers, old houses painted in warm shades of ochre, pink, cinnamon and yellow, and vacations that seem to move in slow motion when they are recalled. Provence is more than a region of France; it is a state of mind!
We remember our rented house in the vineyards of Vacqueyras (see photo taken from our window on the first page of this newsletter), being there during grape harvest to see workers bent in half as they efficiently moved between the rows of vines to handpick grapes, careful to not leave any behind; the little red trucks coming into Vacqueyras brimming with dark grapes on their way to machines for separating the fruit from the stems and to crushers to eke out every drop of juice; the early morning trips into town to buy our breakfast croissants and baguettes; the delightful evenings spent with our traveling companions at wonderful restaurants so easy to find in nearly every village. Nor will we forget our landlady who lived in the other half of the house she rented to us ~ a talented artist who had worked to restore frescoes in Italy and had created an amazing 'painting' out of mosaic tiles at the bottom of her swimming pool. What hotel stay could have given us such pleasure?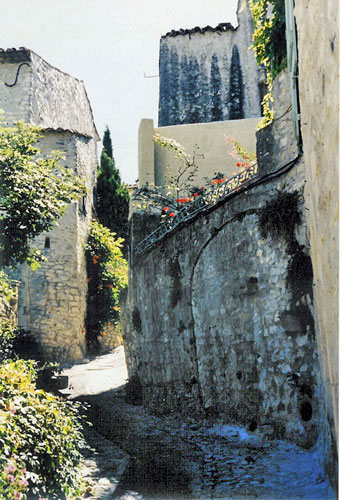 There was that bumpy Jeep ride through the Camargue during a long ago visit to Provence, when we not only saw the black bulls and white horses famous in the region but appreciated the translation into English of our French guide's description by a German gentleman sharing the ride! We remember our first sight of Arles and its massive Roman arena, still in use today for concerts and bullfights (the bull is spared), as well as the rich aroma of garlicky creations emanating from houses and restaurants at meal times. There was that daily drive along a canal bordered on the other side with rice fields as we made our way to a farmhouse we rented (and where we froze at night because the promised central heating was non-existent). Yes, it can become cold in Provence! But we also remember the warm and brightly-colored carousel in Aix-en-Provence and the lovely, bustling Cours Mirabeau. We look back with fond memories upon our times in Avignon, mostly appreciating the city's incredible location on the impressive River Rhône featuring the abruptly-ending Pont St-Bénézet, a bridge no longer reaching the other bank ~ it was the inspiration for the children's song about the Pont d'Avignon.
This issue of our newsletter and the next will explore Provence and that, we hope, entices you to visit there...it's a great place to go off season, by the way. You'll avoid the crowds of tourists, have no difficulty finding lovely places to stay, and, although you might miss the lavender in bloom, you may instead enjoy the slower pace and absorb more of the history and charm than you would otherwise.
Vaison la Romaine
Villages such as Vaison la Romaine, Gigondas, Seguret, Gémenos, Ménerbes and others are now part of our fond recollections...we hope they will soon be on your list of 'not-to-miss' Provençal towns.
---
Getting There
If your entire time in France is to be spent in Provence, but your flight lands in Paris, we suggest you take the TGV to the south. If you can schedule a flight directly into Nice, that would be a good option as well. Either way, once in Provence you can rent a car ~ something you will absolutely need in order to benefit from all there is to see and do.
What and Where is Provence?
Defining Provence is not always easy. Some feel that the true Provence is made up of five départements: the westernmost Bouches-du-Rhône (13), the Vaucluse to its north (84) the large and diverse Var (83) along with the two more mountainous départements, Alpes de Haute-Provence (04) and Hautes-Alpes (05); others include a sixth département, what the world knows as the 'Côte d'Azur', officially the département of the Alpes-Maritimes (06). Michelin combines them into one region they simply call the region of Provence-Alpes-Côte-d'Azur. Some guidebooks go as far west as the Pont du Gard crossing the Rhône River into the region of the Rhône-Alpes and the département of the Gard, but we will not. From the Rhône on the west to Italy on the east, from the Mediterranean on the south to Rhône-Alpes region on the north, we will call this Provence. Because it is a very large region, we will visit all six départements in two issues of FRANCE On Your Own, beginning with the first three in this edition.
---
The Bouches-du-Rhône (13) is clearly the 'mouth of the Rhône' River, and here lie the marshlands between the Grand Rhône and Petit Rhône known as the Camargue. Monitored closely to protect its fragile ecological balance, this wild land still has it herds of black bulls, but the only 'wild' white horses left are those who escaped nearby ranches. The heart of the Camargue is les Saintes Marie-de-la-Mer, a town named for Mary Magdeleine, Mary Jacobe (sister of the Virgin Mary) and St Martha who, it is believed, arrived there from Bethany in 18 AD by boat. Today is the gathering place for the annual gypsy pilgrimage.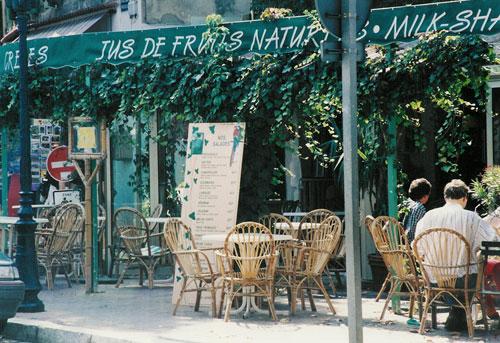 Marseille, the bustling port city founded by the Greeks, is nearby. A mile off the coast from the city is Château d'If, open to visitors who want to see the prison made famous by Alexandre Dumas' Count of Monte Cristo. Nostradamus' birthplace, the fine town of St-Rémy-de-Provence, offers antiques shops, restaurants and tree-lined streets, and just outside of St-Rémy are the Roman ruins at Glanum. A great place to stop, shop and explore is Les Baux de Provence; visitors can enjoy the older town in ruins and the newer town below with its narrow curved streets, ancient doorways and tourist throngs. Finally is the little fishing village of Cassis ~ the coastline known as the Calanques (inlets and rugged cliffs) stretches from here to Marseille and is an area rich in wildlife with over 900 species of plants, some of which are protected.


Dining outdoors at St-Rémy-de-Provence
The highlight of the Bouches-du-Rhône for us, however, is Arles. This sprawling city (the largest in area in France at 293 square miles), is unique in all of France. Perhaps its appeal lies in its Roman history and what remains of their time here. [France boasts more well-preserved Roman ruins than any other country.] The Roman amphitheater (Arènes), completed in 70 AD still has two of its three tiers and seats 23,000 spectators! Bullfights (the bulls are spared), concerts and other public functions are regularly held in the arena. The city has some fine museums including the Musée Lapidaire Chrétien (Museum of Christian Art), with includes an underground chamber, Cryptoporticos; the Musée Arlatèn in a house owned by the poet Frederic Mistral; and the Musée Lapidaire, the art museum behind the Hôtel de Ville and across from l'Eglise St-Trophime. This last museum houses Greek and Roman statues and artifacts brought here from nearby excavations. Arles is a wonderful town for walking, enjoying a slow Provençal pace, tucked away little restaurants with exceptional food, and the warmth of western Provence and its people.
---
The Vaucluse (84) is an inland département brimming with places to see and villages to visit, along with vineyards on the slopes and fine restaurants in little hilltop villages. The photo at the start of this article is of Vaison-la-Romaine, one of those hilltop getaways that pleases all the senses. For more serious wine aficionados there is Châteauneuf-du-Pape along the banks of the Rhône ~ an interesting village, a ruined castle and wine tasting shops 'till you drop! The surrounding vineyards are worth visiting (see our French Wine Report on page six).

Orange Arena / Caesar Wine cave at Châteauneuf-du-Pape
If market days make your visit to Provence perfect, then you won't want to miss Carpentras. A dense large town, Carpentras is shaded by lots of old trees and thrives on its bustling population and those who come to visit (and try to find a parking space!) Every day but Sunday is market day, so you're bound to find one day that fits your travel itinerary. We found beautiful Provençal fabrics, artists selling their paintings, and many stalls filled with olives, cheese, breads, wine, oils, and other delicious treats perfect for a picnic in the nearby countryside.
Little villages such as Vacqueyras, Gigondas and Beaumes de Venise are known elsewhere for wines bearing their names. These local Provençal appellations are superb, and we are pleased that we can find them now in our local wine shop. The Vaucluse is also known for the small limestone foothills of the Ventoux range, the Dentelles de Montmirail ~ so called because they look like lace. And, we mustn't forget Ménerbes, inadvertently made famous by Peter Mayle's long ago book, A Year in Provence ~ so famous, in fact, that he decided to relocate to another place in southern France. But Ménerbes is a joy of a village with steep, hilly, narrow streets which take you past but a few tiny family-run shops and lots of private residences whose value has sharply increased since Ménerbes was 'discovered' in the early- to mid-1990s. Now the home of artists, actors and musicians, it seems to be the place to live, and the high wrought-iron gates providing privacy for most of the larger walled-in houses are proof of that. If you manage to get to Ménerbes, do drive to the top of the hill and visit the Romanesque church and adjoining cemetery. It will prove to be a memorable experience.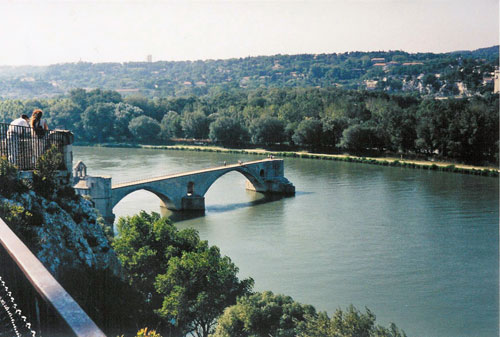 Still in the Vaucluse, Avignon, which we touched upon earlier, is a fine small town and a TGV destination for Parisians heading for western Provence. With car rental agencies at the train station, it is a sensible way to travel south, obtain a car and be off to see Provence. The Popes Palace, of course, is one of the main draws, but Avignon also hosts the International Drama Festival for two weeks each July, has a Célestine monastery open to visitors, and at least three excellent museums: Musée Lapidaire displaying Roman relics, mosaics, reliefs and sculptures, Musée Louis Vouland with Gobelin tapestries, and Musée Requien housing an herbarium and geological and botanical exhibits. Across the Rhône is Villeneuve-le-Avignon designed by Philippe-le-Bel (Philippe the Fair), and by the 14th century cardinals of the church had established themselves there in grand residences. Three are still standing, and other attractions are L'Eglise de Notre Dame completed in 1333, Fort St-André, and Musée de Hospice where several Popes are buried. A Carthusian monastery, Chartreuse du Val le Bénédiction, dating from 1356, can be found behind the fort.
Pont St-Bénézet at Avignon
The city of Orange is also in the Vaucluse, and it is worth a visit if only to see the magnificently preserved Roman amphitheatre with its statue of Augustus Caesar in a niche high above the floor of the arena. Orange is a city we found exceptionally easy to navigate (not something often said of French cities), and it had an easy-to-find Information center. We think that it is sadly neglected in guide books, by the way. Situated on the Roman highway between Arles and Lyon, it lent its name to William the Silent, ruler of the German principality of Nassau. He took the title of Prince of Orange...today the name for the rulers (Prince or Princess) of the Netherlands...the House of Orange. Orange also has its own Arc de Triomphe built between 21 and 26 AD with reliefs depicting the adventures of the Second Legion of Gaul, the triumph over the Gauls by the Romans, and the subsequent Roman domination of the seas after the battle of Actium.
Last, but not least, is Aix-en-Provence, a fine, sophisticated city well-known for its association with Paul Cézanne. As we said in an earlier newsletter about Aix, a walk down the Cours Mirabeau puts you right in the center of an Impressionist painting with people gathered at sidewalk cafés and lovely plane trees reaching across the road to those on the other side. One claim to fame is the confection, calissons, made of preserves and almonds and found at any pastry shop in the city. Enjoy the grand fountains on the Cours Mirabeau, the fine Eglise St-Jean-de-Malte and the Cathédrale St-Sauveur. By the way, the Cours Mirabeau was named for Gabriel Mirabeau, a rather bold character with a reputation as a seducer of woman and critic of the government in Paris, but who for some time was a hero in Aix-en-Provence.
If possible, see the Cézanne in Provence exhibit at the National Gallery of Art in Washington DC until early June and in Aix from June 9 until September 18, 2006. For tickets, hotel reservations, tours, itineraries contact 'Cézanne a la Carte' by email at bbeguilles@wanadoo.fr.
---
The Var (83) is larger than either of the first two départements, and offers both a Mediterranean coastline and the wild hills that made Provence famous. One of our favorite side trips when we were in the Var was our car-free ferry ride to Île de Porquerolles, the largest of the four-island Îles d'Hyères chain. We had been staying in Gémenos (in the Bouches-du-Rhône), an out-of-the-way but convenient little town in a large, comfortable inn, so the drive to Hyères and ferry port at la Tour-Fondue was quite pleasant. The islands include Île de Bagaud (an uninhabited national park with escorted visits only), Île de Port-Cros, a national park owned by the French government with underwater flora and fauna, some found nowhere else in Europe, attracting visitors from the world over, and Île de Levant, a naturist center since the 1930s.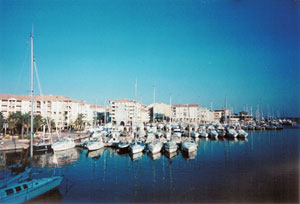 A fine small city to visit is the port of Fréjus, famed as a Roman garrison ~ a town that was spared the scourge of the bubonic plague of 1483, it is said, because of a visit by Saint François de Paule. He promised Fréjus would never experience the plague. In 1720, the plague struck Provence once more, and Fréjus was the only coastal city spared! There is a modern marina district with pedestrian attractions such as shops and restaurants. The marina itself is filled with boats and yachts from the world over. The older part of town is colorful, rich in history and quite an enjoyable place to spend a few days. St-Tropez is also in the Var, as are the Mediterranean ports of Toulon and St-Raphael. Inland, the Var boasts vineyards, sleepy small villages and the larger town of Draguignan which has a wonderful Saturday market. There is a growing English-speaking population in the Var with many British arriving to take up residence over the past decades to enjoy its sunshine and lifestyle.


Marina at Fréjus
Outdoor enthusiasts shouldn't miss the spectacular Gorges du Verdon, considered the Grand Canyon of Europe. It is 782 meters deep and 21 kilometers long. The more adventurous can descend to the canyon floor and navigate the Verdon River by canoe if accompanied by official guides.
CONTINUED ON PAGE 5

---