Part Two of Three on Burgundy, the Rhône Valley, and Provence
by Panos Kakaviatos

[Please pass your mouse over each photo for a description.]

A tour of France's 497-mile Rhône Valley is a study in contrasts. In the cooler north, the gastronomic capitol of Lyon is close to Hermitage and Côte Rôtie where bold red wines are crafted from the famous Syrah grape. To the warmer south, the former residence of the French Popes, Avignon, lies but several miles away from the Rhone's most famous appellation: Châteauneuf du Pape. Rich and succulent, Châteauneuf du Pape wines mix up to … 13 grapes, including Syrah but also Grenache, Mourvèdre, Cinsault and a panoply of others. There are also other great wines to discover in the Rhône Valley, including your basic Côtes du Rhône, Gigondas, and Saint Joseph. Not to be overlooked: the famous whites of Hermitage as well as Condrieu. But this essay will focus on where to stay and what to see as you trek through the Rhône. I will post tasting notes on the wines in the near future on my web site, at http://www.connectionstowine.com.

The heart of Lyon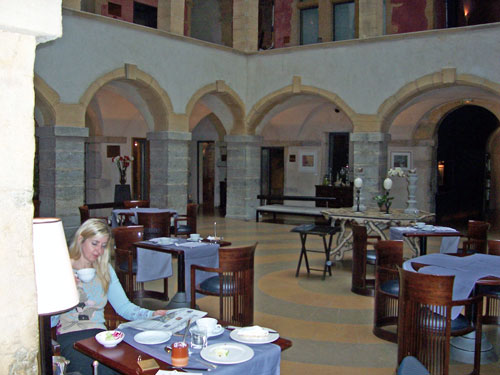 It takes just over two hours to travel to Lyon by train from Paris, or you can rent a car, more useful for visiting the vineyards of the northern Rhône and to travel to the south.
In the north, I first stayed in Lyon – France's second largest metropolitan area after Paris – whose gorgeous original medieval city (Vieux-Lyon), built on the west bank of the Saône river, is recognized a UNESCO World Heritage Site. I stayed at a fabulous hotel in the heart of the old city, with access to all the major sites and museums, including the textile museum, the fashion design museum, the manuscript museum and the Gallo-Roman history museum, just next to the Roman amphitheatres and well worth the detour.
Lyon's richness, both culinary and cultural, is nicely displayed at the colorful Italian Renaissance style hotel Cour des Loges, where guests are treated to a kaleidoscope of colors and designs. Each of the hotel's 62 rooms is decorated differently – and with taste – and discrete passageways permit people to sneak from one part of the hotel to another: what the Lyonais call la traboule or to trabouler, which means literally to sneak through.
It was hard enough to find the hotel entrance, however, which required driving through pedestrian zones. Lost, I asked a waitress at an outdoor café where to go, and she curtly replied, "Toujours la mème question." Inadvertently driving past the hotel entrance, I noticed a well dressed man running after my car. He was none other than a hotel clerk who kindly drove the car into the hotel's garage for me.
As one enters, the hotel has the feel of a Renaissance villa in Venice, with rose-colored interior balconies, still incorporating the modern, such as sleek and thin glass doors that open upon the entrance to the hotel, which also features artist exhibits twice a year. I took a tour of the rooms, including six large "Italian" style rooms as well as smaller more affordable rooms with the bed on the mezzanine. Famous architect and interior designer Philippe Starck designed modern-style bathrooms in all rooms, which mix well with the red color interiors. The hotel's two matching buildings date from the 17th century. I stayed in the 14th century tower. The most expensive room is a suite for 560 euros a night. But, I sampled the 460-euro a night "Piazzetta" room… with zebra like walls. I could not pass up a place chosen by the then G-7 when it held meetings in Lyon, not to mention rock stars like Robbie Williams in 2004. The most memorable rock star to visit was Michael Jackson, who for a one night needed five carts for his baggage. "Not including the baggage for his group and body guards," remarked the concierge.
Grand Cuisine in Vienne
Another great hotel (and two-star Michelin restaurant to boot) is La Pyramide in Vienne, not far from Lyon, but closer to the great vineyards of the northern Rhône. The restaurant is in fact a legend for French cuisine, formerly owned by the great French chef Fernand Point, the inventor of nouvelle cuisine and teacher of such chefs as Paul Bocuse, Jean Troisgrois and Alain Chapel. The yellow-walled restaurant today includes large format paintings of vegetables and fruits that chef Patrick Henriroux installed. Both driven and amiable, Henriroux instills his cuisine with class and inspiration. I sampled some of his seafood and frog legs, which were as delicious as they were originally presented and, well, pretty to look at. Things began with an assortment of amuses bouches, including rillette in a small batter wrap shaped like a … bon bon candy, a daring mousse of… shrimp, which I only kind of liked because it was so odd! I was still very impressed with a chef making a mousse out of shrimp. Various vegetables fried in a light batter proved impressive, too, but the most delicious was a black olive Madeleine fondant ~ almost as sweet as chocolate, but tasted of black olive! The cheese plate was most impressive, as were the wines selected by the head sommelier, Jean-Claude Roset, which were all absolutely delicious.
On the subject of wines, awaiting the first appetizer, I perused the incredibly impressive wine list, which included all the northern Rhônes anyone could possibly desire, including from the most famous (and expensive) producers like Chave, Jaboulet, and Guigal, among many others. Prices seemed good for the wines, however, for a restaurant: a 1999 Chave Hermitage cost 158 euros, a 1999 Jaboulet, 162 euros, though a 1995 Chave Cuvée Catheline cost … 802 euros. But this is rare wine! The restaurant also featured a nice selection of wines from other regions, including more obscure wines from the Jura, for example. My eye was caught by a … 1955 Château Latour in a magnum format, at just under 2000 euros, as well as that most famous of Burgundies, a 1999 Domaine de la Romanée-Conti, for 5,537 euros. The wine list includes four pages of rare collection wines in the cave but not available for dinner ~ wines from the 19th and early- to mid-20th century!
Just a short drive away from the hotel restaurant, are the great vineyards of the northern Rhône. I was lucky enough to be able to visit and samples wines from the producers Jamet in Côte Rôtie, Paul Jaboulet in Hermitage and Chapoutier, also in Hermitage. I received warm welcomes from all three properties and particularly cherished the time that Chapoutier manager, Catherine Lambert, took to guide me through the impressively steep vineyards of the Northern Rhône. Tasting notes will be posted in the near future on my web site: http://www.connectionstowine.com.
Seventh Heaven in Avignon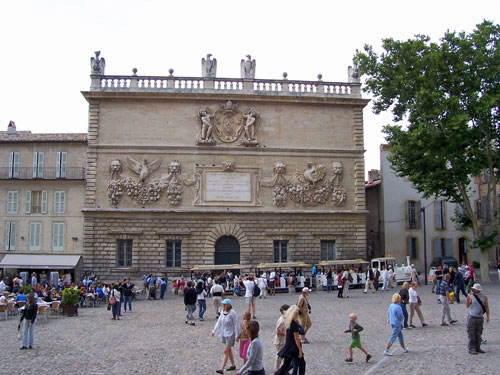 Driving south to Châteauneuf du Pape, I relied on one of the better French hotel chains, Ibis. Indeed, sometimes when you cannot get the right hotel, I have found satisfaction with this mid-range French hotel chain run by Accor and have often found good last minute deals, such as the one in Avignon, just next to the TGV station, which is a find for all tourists. Comfortable rooms, a car rental agency in the hotel reception area, and a large parking garage (10.30 euros per day) which offers free bicycles for anyone using the garage! The free bicycle access is a treasure, because parking in Avignon can cause headaches. For only 68 euros a night in the high season, one gets proximity and comfort. And it is not like being in a hotel near a dicey train station – the fact that it is the high speed train means that the clientele is not n'importe qui!
After visiting the Pope's Palace – and staying in Avignon two nights for little money at the Ibis near the train station - I found myself in front of the luxury hotel where I stayed one night: La Mirande. While Cour des Loges in Lyon is a bath of color and opulence, La Mirande is more classic, but just as sumptuous. German owner, Martin Stein, gave me a book about the hotel, published on the 10th anniversary of its opening in June 1990. I stayed just after the 15th anniversary.
Attention to detail is the right phrase to describe this exemplary hotel; each room is different, down to the curtain fabric and paintings. For 475 euros a night (room 30), I escaped into another world. With a view of the Palace of the Pope, one cannot get a better stay in Avignon. It was once the cardinal's residence before a fire burned it down in the early 15th century. Its main edifice was adorned with a lovely façade in the 17th century, but the interior remained a Gothic labyrinth until 1987, when the Stein family bought it and in only three years created one of the loveliest hotels I have ever been to. Each of the rooms is individually designed in an elegant manner with beautiful and subtle furnishings and wall decorations. Linen covered pillows, soft cotton sheets, a marble floor bathroom, and a lovely bathtub were all part of my room, which included original wall covers modeled after different historical designs. Perhaps the highlight was the restaurant. A Michelin one star, it may soon obtain another. Just this past summer, Alain Ducasse's chef in Paris, Sebastian Aminot, was named head chef at La Mirande, seconded by a brilliant pastry chef, Olivier Lemauviot.
The wine list is exquisite: some 350 wines and about 3000 bottles, including some rarities at competitive prices, such as Dom Perignon 1990 for 386 euros, 1966 Haut Brion for … 268 euros, and the rare Vieilles Vignes Françaises de la Maison Bollinger 1989 for 746 euros. The list includes lots of Châteauneuf du Pape (no surprise) including magnums of the Beaucastel Hommage Jacques Perrin 1995 (546 euros) and 1998 (668 euros) and a long line of Mont Redon, from 1961 to 2001. Not to mention 1959 Cos d'Estournel and 1961 Mouton and Margaux as well as four vintages of DRC (1995, 1984, 1982 and 1981).
All of the above were way beyond my budget, but I still enjoyed a very yummy dinner for … 168 euros, for two! The setting was magnificent, as was the service: 19th century in style, discrete yet present and very polite. I was sitting in actor Ridley Scott's place, a waitress told me, and Jacques Villeneuve, the French race car driver, had also been seated at the table next to mine – he had ordered the restaurant's 1893 ChÂteau d'Arche, a great Sauternes vintage (listed, if I remember correctly, for something like 1400 euros).
Some twelve round tables with fresh roses and lovely candles are encased in a gorgeous interior with mustard colored walls and blue-green colored door and entrance frames. One wall was bedecked with a Renaissance-style tapestry and some paintings hung on other walls resembled Goya or early Manet styles. Truly elegant. We began our meal with a glass of Dom Perignon 1996, which had a subtle truffle like aroma intermixed with lemon/lime flavors. What bubbles! Fast moving and very small. The sommelier explained that the glasses were slightly chiseled at the very bottom center so that the bubbles would rise up perfectly in the middle of the glass. They did. It looked pretty – and the champagne tasted even better.
Our gracious waitress served us a small feuillete with a tomato interior, followed by a zesty gelée of foie gras, chicken and artichoke, topped with white truffles. My, that went well with the Dom Perignon! We each let ourselves be guided by the sommelier who recommended a glass of white Vacqueyras! The Domaine Montirius 2003 was surprisingly good, with aromas of acacia, nut, red apple and ever so slight cinnamon. The palate was not as good as the nose, as the wine was slightly hollow on the mid palate, but overall a very nice wine for five euros a glass! It was interesting to note that this wine was made organically (vin bio) from mostly of Grenache Blanc and some Roussane, from vines on a slope (which is what the sommelier told us) grown high.
It went well with the next appetizer: two small filets of tuna, which were first seared then slow-cooked, on top of a light ratatouille with basil. We stayed with the wine for the main course, which seemed to overpower it, however. In a way, I did not mind, because the main course was…so good. My companion ordered grilled sea bass, which was thick yet tender, served with a rougaille sauce of slightly spicy diced vegetables. I thought that the tomato was laid on a tad too thick in that sauce. But I had no problem with my order: grilled John Dory (a white, somewhat flaky yet tender fish called Saint Pierre in French) atop one of the most subtle taboulets I have ever had with pine nuts, chopped onions, rosemary, mint and with a light coulis of tomato, herb and olive oil.
Dessert was also magnificent. We tried two just for kicks. The first was a tasty and creamy tiramisu served in a glass and topped with a white chocolate leaf, flavored with bits of … violet flower! The second was more impressive and had to be ordered based on its title: After Eight A Ma Façon. In English, After Eight the way I like it… Served in elegant tulip glasses, two cube-like forms of multiple dark chocolate and fresh mint flavored ice cream layers were placed on top of a gelée of mint liqueur and backed with a thick disc of mint-flavored dark chocolate, plus fresh leaves of mint bergamot, which is a very flavorful plant. This dessert was consumed too quickly, but we could not help ourselves.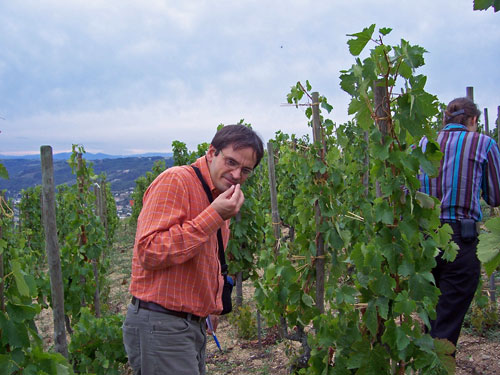 Two fine coffees (smooth and none too bitter, probably made with mineral water) with delicious mignardises (nougat that is not too sweet and packed with nuts) a small cream and raspberry tart and a marscapone chocolate and raspberry jam sandwich ended the meal nicely. All in all, a magnificent dining experience!
Among the vineyards to visit in Châteauneuf du Pape, do not miss Clos des Papes, Vieux Telegraphe, Beaucastel and Rayas. There are many, and most all are very kind to visitors. Châteauneuf du Pape is just a few kilometers away from Avignon, and Nature blessed it with a long line of fine recent vintages, including 1998, 1999, 2000, 2001, 2003, 2004, and 2005 is looking very good, too. You will notice that 2002 is missing, and for good reason: a flood of rain in one day provided more precipitation than the region usually gets in one year. Avoid the 2002 vintage! Tasting notes will be posted in the near future on my web site: http://www.connectionstowine.com.


Hotels:
Cour des Loges
2, 4, 6, 8, rue du Bœuf / Lyon, France
La Pyramide
14, bd Fernand Point / Vienne, France
La Mirande
4, place de la Mirande / Avignon, France
Next Stop: A visit to the vineyards and villages of Provence. [Editor's note: This series will continue in our June 2006 issue.]



Panos Kakaviatos is an American who lives in both Europe and the United States
and has worked as a congressional reporter, for UPI and the Council of Europe in Strasbourg.
Fluent in four languages and holding both Bachelors and Masters degrees, Panos is now focused on his passion: French wine.
He has written for Wine Citizen, World Wine Report, France Today, as well as FRANCE On Your Own ~ our good fortune.
If you would like to contact Panos, his email address is: panos_kakaviatos@yahoo.com
[Photos copyrighted property of Panos Kakaviatos. All rights reserved. Mouse over each for description.]


---
Coming in June:
A review of the delightful and soon-to-be-released book café life Paris

More tantalizing lodging and restaurant reviews by our inveterate traveler, 'KB'

Part Three of France Wine Travel takes us to Provence

Look for another Petite Pleasures from Maxine Rose Schur

Our regional feature continues with more about Provence and the Côte d'Azur
and so much more!
---
DISCLAIMER: You have received this newsletter because your email address is on our Opt-In mailing list, i.e., you have requested to receive FRANCE On Your Own ©. If you would like to discontinue receipt of this newsletter, please send an email to publisher@franceonyourown.com with "unsubscribe" on the Subject line.
Unless indicated otherwise, photos, graphics, artwork and text in the FRANCE On Your Own © newsletter are all the property of Cold Spring Press and FRANCE On Your Own © and cannot be copied, duplicated or used in any manner by anyone without the express written permission of Cold Spring Press. FRANCE On Your Own © is published online by Cold Spring Press, P O Box 26098, San Diego, California 92196-0098. This publication is copyrighted and no portions of the text, artwork, graphics or photographs may be reproduced or distributed in any form or by any means or stored in a database or retrieval system without the written permission of the Publisher. For more information about FRANCE On Your Own ©, visit our web site at http://www.franceonyourown.com.
Recommendations made in this newsletter are based upon the personal experiences of the Publishers or contributing writers solely to provide information to subscribers. Cold Spring Press and FRANCE On Your Own © make no endorsements nor are any guarantees or promises of satisfaction given or implied. Any and all information is correct to the best of our knowledge, and the Publishers accept no responsibility for errors and/or omissions. The responsibility lies entirely with the traveler to obtain current information regarding accommodations, availability, schedules, prices, reservations, or any other pertinent details. We do not guarantee the historical accuracy of the contents of articles in this newsletter. Historical accuracy is dependent upon one's sources of information -- and contradictions often exist among those sources. Links to other web sites or email addresses are provided for informational purposes only and do not imply any guarantees of service or endorsement of any organization or their business practices.
FRANCE On Your Own © is electronically transmitted via email. To add your email address to our database for this FREE newsletter, send an email to info@franceonyourown.com, and please put Subscribe in the subject line. We do not share email addresses with any other organization.
BACK ISSUES of the print version of FRANCE On Your Own © are available on our web site at http://www.franceonyourown.com/Archives.htm.
©1998-2006 Cold Spring Press All Rights Reserved
---

previous page