A Visual Tour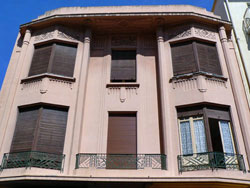 Now, let's take a commented tour to sample some of Golfe Juan's Art Déco heritage. Luxurious they are not; modest, rather. But nonetheless attractive. The façade in this first photo illustrates Art Déco's taste for symmetry and geometric figures. Shutters were down for nap time. In the second photo, another housefront displays the intensely angular sunburst patterns typical of Art Déco, whose zig-zags were a sharp contrast to Art Nouveau's lissome, 'whiplash' movements. (The bedding put out to air suggests that perhaps nap time was now over!) In photo three, notice the door's wrought iron fountain motif, another favorite of Art Déco. The pastel hues (blue and pink) are reminiscent of the 'tropical' Art Déco style found in such places as Miami Beach and Montevideo, Uruguay, but quite absent in most of its northern expression such as Parisian Déco.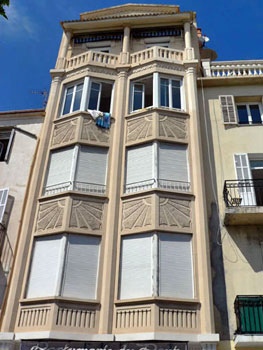 House with Sunburst Design Wrought Iron Grille in Fountain Motif
Another door's angular pillars (photo four) are offset by wrought iron curlicues ~ not zig-zags, but strictly symmetrical. In photo five, note the fruit bowl motif, another Art Déco favorite. In the next photo there are two shades of pink here and a touch of exoticism with the announcement in Arabic, Dar Kebira, telling one that this is a 'big house' which - look closely - it may not be.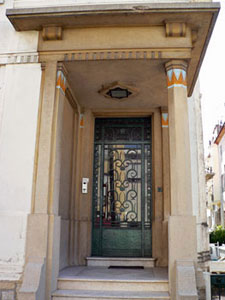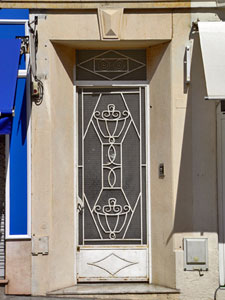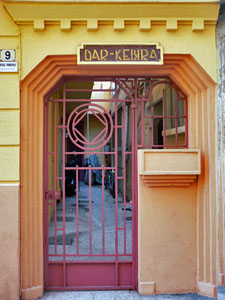 Three Entrances with Wrought Iron Art Déco Designs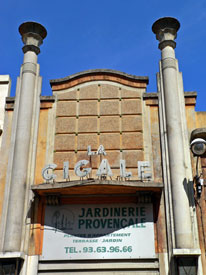 Perhaps even more exotic are these two
Egyptian-looking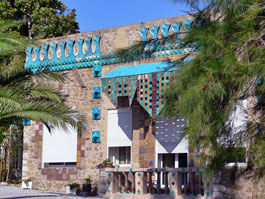 palm tree pillars in photo seven.
The discovery of Tutankhamen's tomb in the early 1920s had a strong influence on Art Déco's stylistic development. In comparison, the eighth photo shows a more recent building perpetuating Déco's predilection for color and sharply-angled lines, as does the last photo, an August 2005 decoration executed in a Golfe Juan shorefront studio by a young artist, who also happens to be this article's photographer!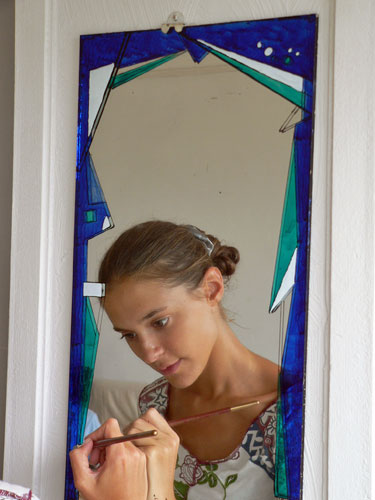 * See "Cannes: A Resort for All Season's", FRANCE On Your Own, Spring 2003.
[Photos ©2005-2006 by Clara Liegeon-Dudezert]
Among the 16 strolls Arthur guides to discover Paris Through the Ages is an Art Déco itinerary.
For more information on this and his other walks, contact him at Armedv@aol.com, mentioning FRANCE On Your Own.


Ici et Là
This column is intended to advise you about cultural events, news and happenings
in France or France-related events taking place in the United States
between now and the publication of our next issue.
o Exhibits in the US

Chicago's wonderful Art Institute hosts a retrospective entitled, Girodet: Romantic Rebel, the work of an artist who was influenced by history and politics following the French Revolution through April 30. More information at http://www.artic.edu.

Omaha, Nebraska is the site of an eight foot-high scale model in an exhibit entitled French Donjons: Castle of Coucy, Medieval Life in Miniature which includes some 2500 figures depicting life in a French castle during the Middle Ages. At the Joslyn Art Museum through May 7. For details visit http://www.joslyn.org.

The Frick Collection (at http://www.frick.org) hosts an exhibit in New York City, through May 14, entitled Goya's Last Works, at a time when Goya fled to Bordeaux to escape persecution in Spain at the hands of King Ferdinand VII. The over 50 works of art include ivories completed when he was 80 years of age.

Facets of Cubism is the title of an exhibit in Boston at the Museum of Fine Arts through April 16. The show features the work of artists such as Braque, Picasso, Léger, Laurens and others.

Washington DC is the location for Degas, Toulouse-Lautrec and Sickert: London and Paris, 1870 - 1910, a presentation of over 90 works of art, some never publicly displayed before, showing the influence of Degas and Toulouse-Lautrec on Great Britain and includes work by Vuillard, Tissot, Bonnat and others. Through May 14 at the Phillips Collection. For details http://www.phillipscollection.org.

New York City's Museum at FIT (http://www.fitnyc.edu) will host Modern Master: Lucien Lelong, Couturier 1918-1948 through April 15. See his designs to enable freedom of movement worn by the rich, famous and royal. He influenced the houses of Givenchy, Balmain and Dior.

The Museum of Florida History (http://www.museumoffloridahistory.com) will present an exhibit entitled, Napoleon: An Intimate Portrait, focusing on the daily life of the emperor with paintings, documents, and furniture. Through April 30.

West Palm Beach, Florida and its Norton Museum of Art is the site for Matisse in Transition: Around Laurette. This is a display of his portrait painting between 1916 and 1919, prior to his later years in Nice. Through April 16.

Cézanne in Provence (before appearing in Aix-en-Provence) will be exhibited in Washington DC through May 7 at the National Gallery of Art (http://www.nga.gov) displaying the works of this founder of modern art with over 120 pieces of his best oil paintings and watercolors.

Finally, in Baltimore at the Walter Art Museum through May 21, visitors can view 40 works by Louise Bourgeios: Femme, The Art of a Living Legend in a Legendary Art Museum ~ this artist installed the exhibit herself. A French native who emigrated to the US in the late 1940s, Bourgeois' art depicts the life experiences of women.
o Performing Arts

A French Film Festival, the largest ever to be held in the United States, will begin on March 31 and run through April 2 at Virginia's Byrd Theatre in Richmond. For further information visit http://www.frenchfilm.vcu.edu.
o French travel

Order your 2006 France Guide, free of charge, from the French Government Tourist office to help you plan your next visit to France. To order your copy visit www.franceguide.com/us or contact the public information hotline "France-on-Call" at 514-288-1904. Allow 3 to 4 weeks for delivery or ask for Priority mail (three days) for a reasonable shipping and handling fee.
o Entertainment, Euro-style

International Film Festival to May 28 in Cannes on the French Riviera. You can Email for details to festival@festival-cannes.fr or visit their web site at http://www.festival-cannes.fr . This is the greatest festival in the world devoted to the cinema. The Festival de Cannes presents a wide range of films and events, and whose awards are as coveted as the Oscars of Hollywood.

International Detective Film Festival to April 9 in Cognac in the region of Poitou-Charentes. Email: sbobe@cognac.fr or visit their web site at http://www.festival.cognac.fr.

Banlieues Bleues ~ Jazz, blues, world music in 16 towns in the département Seine-Saint-Denis (93) in the Île de France (Paris outskirts).
o Exhibits, Fêtes and Festivals in France

Cézanne and Pissarro 1865-1885 at the Musée d'Orsay in Paris through May 28th. For twenty years (1865-1885), these two impressionists, linked by friendship, supported each other. Portraits, still lifes, and landscapes by Cézanne and Pissarro have been brought together to show the converging viewpoints of the two painters around 1875.

Book Show until March 22 at the Porte de Versailles, Paris presented by the Salon du Livre de Paris (http://www.salondulivreparis.com) The most important literary gathering in France, as much for the number and diversity of the exhibitors, as for its great success with the general public. Numerous events are offered including forums, literary cafés, conferences, debates and themed areas.

The Fête du Nautisme until May 14, throughout France. Email : info@fetedunautisme.com or visit their web site at http://www.fetedunautisme.com . Promoted as two thrilling days for the whole of France on coasts, lakes and rivers. The Fête du Nautisme invites everyone, young and old, beginner and expert, to "go with the flow" for a weekend. Everyone can find out all about the different kinds of water sports, try out specific products and packages, and share their passion with the people who experience it every day.

Formula 1 Grand Prix May 25 to 28 in Monaco. Web site: http://www.monaco-tourisme.com The most prestigious Formula 1 Grand Prix, through the streets of the principality.

Museums by Night on May 20th (http://www.nuitdesmusees.culture.fr) During this event, participating museums can be visited free of charge from sunset until one in the morning.
o Art Courses in the Dordogne 2007

Le Prieuré au Château de Biron, under the new proprietorship of Sally Evans, will offer an all inclusive package for aspiring artists. The 2007 dates are end of May/early June, end of September/early October, and Easter (but not Whitsun). The package includes group transport to and from Bergerac airport, seven nights accommodation at Le Prieuré in the absolutely charming village of Biron, breakfast each morning, a light lunch with wine, dinner on six evenings prepared by a professionally-trained chef, and daily full-time art classes with a talented artist/art teacher. Ten persons per class. The only extras are for non-painting partners or friends who want to go on excursions while others are painting. Price is a reasonable € 850 per person/double occupancy.
o Hear's a Journey

Don't drive in Provence without the Hear's a Journey audio tapes in your car! Let the two 'guides' on the Driving Tour Through Provence tape take you along a route that includes the Abbaye de Senanque, L'Isle sur la Sorgue (an antiquer's paradise!), Fontaine de Vaucluse, Roussillon, Gordes, and other not-to-miss places in Provence. Drive with the tape on, stop when you choose, and resume listening when you are again on the road. It couldn't be easier! The tape comes with a handy little guide that includes copious notes about each stop, driving directions, maps, market days, festivals and events ~ all for $15.95 US plus postage and handling. And, the shipping costs don't increase whether you order one tape or several! To learn more, visit their web site at www.HearsAJourney.com or send an email to info@HearsAJourney.com.
o Artists are invited

A château stay and painting excursion to France is scheduled for June 24 to June 30, 2006. The group will be accompanied by Linda Hankin, artist and Director of the School of the Arts in Lewiston, New York. Participants will stay at the beautiful and historic Château de Crazannes on the River Charente in the département of Charente-Maritime, paint on site as well as during day trips to nearby La Rochelle and other appropriate locales. To learn more about the trip, what is included and other details such as costs, please contact Linda by phone at 1.716.471.5379 or send an email to her at schoolofideas@on.aibn.com.
o The Women's Travel Club

This is a travel agency based in New York that organizes trips for women and has been in business since 1992. They have a newsletter and web site, as well as a paid membership, a benefit of which is said to be discounts on travel. Currently, April trips to Provence and Paris are planned. We do not have any personal experience with this group, so we are not endorsing them, but we also have heard nothing negative about them. If you are interested in learning more, you can send an email to womantrip@aol.com or visit their web site at http://www.womenstravelclub.com.
o Historic Strolls in Paris

Discover the hidden treasures of the City of Light with Arthur Gillette on his Paris Through the Ages strolls. Choose from one of more of the following to explore the city with this historian on your next visit:
1 Lutetia: Roman Paris
2 A Medieval Sampler
3 Learning in Paris
4 The Wall Route Right Bank
5 The Wall Route Left Bank
6 Notre Dame Cathedral
7 Cradle of the Capital: Île de la Cité
8 Around rue de la Huchette: Heart of the Latin Quarter
9 The "Grand Century" on the Île St. Louis
10 The Naughty Marais
11 Atmosphère Along The Canal St-Martin
12 The Mouffetard Quarter: "Quaint" PLUS
13 Smiling Architecture: Parisian Art Nouveau
14 Meet the Marne
15 Cool, Clean and Angular – Art Déco Architecture in Paris
16 19 - 25 August 1944: The Liberation of Paris
Contact Arthur at armedv@aol.com to schedule your tour. We've enjoyed numbers 7, 9, 13 and 16, and can't wait for our next visit to experience yet another!




Congratulations to . . . us!
This issue of FRANCE On Your Own marks the beginning of our tenth year of publication!
Starting out as a print quarterly, our newsletter has evolved with technology into an online (and now free)
publication ~ and we sincerely hope that is it informative, interesting, and useful to all you independent travelers to France!
Over the years we have had the pleasure of getting to know many of you through both our
web site and this newsletter. Thank you for your loyalty and continued interest.
We thank our dedicated contributors who have helped make FRANCE On Your Own
unique and who have often given us the opportunity to bring you information before it appears elsewhere.
Our special appreciation goes to Arthur Gillette and Panos Kakaviatos for their
constancy and their insightful and entertaining contributions to FRANCE On Your Own.
And, to all the other writers, expats and experts on France, we can't thank you enough!
Most of all, we thank France and the French for being there to give us
inspiration and the world's best travel destination year after year.
So, here's to our tenth year, to all of you and to France! Bon voyage!
---