by George Medovoy

There is no better way to breathe the spirit of Paris than to do as Parisians do, and visit its lively street markets to find the 'spirit of the village.' Paris has all sorts of street markets: from permanent markets to roving markets served by truck farmers; from organic markets to specialty markets; and, of course, all-purpose flea markets.

I cut my teeth, so to speak, on one of the city's food markets, which enticed me with fresh produce, fish and meats, as well as delicious pastries and breads. But one shouldn't forget the specialty markets, whose products run the gamut: old posters, perfumes, honey, exotic birds, paper products, absinthe glasses, kitchen linens, cheese, wine, and fashion. Goodness, one could build an entire visit around these markets – each of them, to borrow the words of the French writer Honoré de Balzac, "an undiscovered place, an unknown retreat."

I discovered the Paris street market scene on the rue Mouffetard, one of the city's oldest market streets, a narrow lane framed, like a living painting, by architecture dating back to the seventeenth century. Nearby is the Jardin des Plantes, or Plant Gardens, where King Louis XIII's doctors planted a royal medicinal herb garden in 1626 and which today, with its zoo and alpine garden, offer pleasant diversions during an afternoon picnic.

When the Romans inhabited Paris, which they called Lutètia, the rue Mouffetard was a principal thoroughfare. They built the nearby Arènes de Lutèce, a 15,000-seat amphitheater for performances and, as expected, gladiator fights.

On my morning out, the number 27 bus dropped me off at a little square dominated by the fifteenth-century Church of St. Medard. There, fruit and vegetable stalls marked the beginning of the market. But before I jumped into the market, I spied La Flute St. Medard, a quaint little pastry shop with lovely, fresh pastries in the window. What a lucky break! It was morning, and since I hadn't eaten a thing for breakfast yet, I went inside. The bell clanged as I opened the door. It felt nice and warm, a welcome change from winter's cold.

I went right for the almond pastries, but a little hand-written notice in French admonished customers not to touch. The proprietor, an aristocratic, middle-aged woman with crisp, blond hair, approached me.

"Bonjour, Monsieur," she announced in a voice very much in charge.

"Bonjour, Madame," I greeted her and then said, "I'll have one of the almond pastries, please."

The woman selected a pastry for me and placed it in a colorful little bag. I paid the eight and a half francs (about $1.30), issued the polite "Merci, Madame," and then walked outside, buttoning up my coat against the cold.

There were fresh Spanish clementines across the street, but my mind was on the almond pastry. The almond paste had a velvety consistency unlike any I have ever tasted, and the dough, topped with fresh, sliced almonds, was as light as a crêpe! So there I was, now surrounded by fresh products artfully displayed, savoring every morsel of a pastry fit for, well, fit for kings! And while on the subject of French pastries, let us digress for a literary moment…

In the same neighborhood, at 75 rue du Cardinal Lemoine, there stands the Hôtel des Grandes Ecoles, a charming little place that once served as a school. In his Paris days, Ernest Hemingway lived right across the street at number 74 and worked in an apartment around the corner at 39, rue Descartes. Surely, I thought, he must have shopped on the rue Mouffetard! And, of course, he did know of the bakeries.

"You got very hungry," he wrote in A Moveable Feast, "when you did not eat enough in Paris because all the bakery shops had such good things in the windows, and people ate outside at tables on the sidewalks, so that you saw and smelled the food."

With Hemingway on my mind, I continued down the street, stopping at the fish merchant's to admire fresh salmon and sole, large, red-colored shrimp, and textured scallop shells. At La Maison du Fromage (the Cheese House), I saw hundreds of varieties of French cheeses. A few doors down, a fellow was roasting chickens in a broiler on the street, as other merchants sold wonderful chanterelle mushrooms from the countryside, oranges from Malta and Tunisia, and avocados from Malaga. What a lovely kaleidoscope of colors -- like a freshly painted canvas! Michelle Billon, the proprietor of La Fontaine Aux Vins (The Wine Fountain), was stacking wine cases outside her shop, in anticipation of the day's sales. She specializes in more than 400 French wines produced by small vintners. I took her recommendation and purchased a bottle of 1999 red for roughly seven dollars. The wine had pleasant hints of orange and chocolate and was produced on the renewed soil of the Abbey of Valmagne, where a monk had worked the vineyards in the mid sixteenth century.

And, as for the hint of chocolate in the wine, well, it was the perfect transition for a marvelous French specialty - chocolate - at Jeff de Bruges, whose sophisticated white façade and brown lettering stood out from the otherwise rustic look of the marketplace. Inside were all kinds of chocolates, but it was the giant blocks of it on a table that really caught my attention. Yes, it's true, the shopkeeper told me, that in France, chocolate's cocoa content can near 80 percent, compared to maybe 20 or so in America. No wonder the French variety tastes so rich!

As I exited Jeff de Bruges, I chanced upon one of those discoveries that gave everything a new perspective. There, in front of the Café Mouffetard, I met one of those rare types whose life is, as we say, a permanent creative activity. This congenial old fellow - we'll call him rue Mouffetard's resident street philosopher – wore Harlequinesque red and white checkered pants, with a pink scarf around his winter coat, and a distinctive "Cat in the Hat" chapeau festooned with medals. There was also a cap on the ground for some extra change, if one was so inclined. His name, he told me, was what sounded in French like Quack-Quack! He went on about other people with the same name and how he had served in the French army. I didn't quite know what to make of his strange discourse, but I knew that I had discovered an authentic Parisian street character who, despite his wacky outfit, made a lot of sense.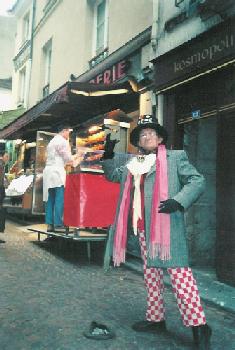 Recalling French singers like Piaf and Brel who "grew up," he said, "on the street," he spoke lovingly of rue Mouffetard as a place "where they welcome artists who come here to sing and bring a certain ambiance - folklore, color."
"I know everyone on the street," he continued, "and when I am not here due to illness, people miss me. People will say to me, 'Why weren't you here last week?' Even the dogs miss me."
"And what is the purpose of your presence here on rue Mouffetard?" I wanted to know.
"To enjoy Parisian life," he said. "To enjoy is to. . . take pleasure in human contact. . .the artists, the musicians, the merchants, and the shoppers. What is so nice here is the conviviality of the street. For example, you can enter the little cafés and find that they have retained their rustic quality from times past. Each table even has its identity of sorts. And, voila, that is part of the warmth of this quarter."
When not at his regular place on the street, near a singing guitarist, the philosopher of the rue Mouffetard occupies a place in Café Mouffetard, a cozy, workers café where the proprietors make their own pastries. So when it came time, unfortunately, to bid my odd new friend good bye, I sought refuge from the winter's cold inside the café. The proprietor was all efficiency, scurrying back and forth between the counter and the tables to serve her customers coffee and perhaps one of her freshly baked hot apple turnovers.
I reviewed my notes over coffee, remembering the street philosopher's own words – that here at the rue Mouffetard street market, one discovers "the spirit of the village" – the very spirit of Paris itself, with all of the warmth and surprises of human contact.
George Medovoy is a widely-published travel writer and contributing editor to the American Wine Society Journal.
He edits and publishes www.PostcardsForYou.com. Contact George at editor@Postcardsforyou.com
[Photo copyrighted property of George Medovoy]


PETER MAYLE IN PARIS
by Marlane O'Neill
It's not often that one gets to meet an author who has published numerous best sellers on life in France. Peter Mayle's book, A Year in Provence, inspired my husband and me to get 'over the pond' from the United States to Europe and eventually to France.
His funny anecdotes on the trials and tribulations of settling in the Luberon region of southeastern France always provided great grist for us while traveling from Toulouse to Paris by boat; it's a good reference for the quirks and nuances of French culture. Mayle's writing exposes the lighter side of living in France and of the French, and it helps us to enjoy life here all the more.
So, it was with great anticipation and excitement that I, the published author of Living the Dream on the Canals of England, went to Peter Mayle's book signing at WHSmith in Paris one wintry Sunday morning. Not unaware of the irony of presenting this distinguished author with my own book on his native England, I nonetheless approached Mr. Mayle to sign both a copy of my book as well as his new novel, A Good Year.
Despite the well-rehearsed words one may have for such an occasion, I was still reduced to the odd babble of, "I'm so excited to meet you!" or something like that. However, Mr Mayle is a true gentleman and bon vivant and was very warm and friendly during our conversation about the French and English lifestyles.
He was a bit surprised, however, when a couple from New Zealand popped into the conversation because they are also boating in France on board their motor yacht. Amused to meet more than one sailor in his array of fans that day, Peter Mayle signed my book along with a note to "Keep on Barging!". Rob and I hope to meet him again, maybe at a wine tasting, so we can all compare notes...on books, of course!
Marlane & Rob O'Neill's adventures on the canals of England can be enjoyed by reading her book,
Living the Dream on the Canals of England, while a taste of their life on the canals of France can be found
on this web site on our Style de Vie page. To order a copy of her book, please visit amazon.com.
To follow their ongoing story on the waterways of mainland Europe visit their web site at http://www.robandmarlane.com
[Photo copyrighted property of Rob and Marlane O'Neill]


---

previous page next page