This column is intended to advise you about cultural events, news and happenings
in France or France-related events taking place in the United States
between now and the publication of our next issue.
o Galleries Lafayette has opened a new store called Lafayette Maison, focusing on items for the home. Located at 35, boulevard Haussmann in the 9th arrondissement of Paris, it is a five-story treasure trove of essentials, gifts and luxury items. There is an upscale snack bar (this is Paris, after all!), and items to purchase range in price from one euro to 'the sky's the limit'.
o Daumier to Lautrec: French Prints and Drawings - an exhibit influenced by the 19th century migration of country folk into the cities. Paintings depicting peasants, the bourgeoisie, entertainers and aristocrats by such artists as Millet, Daumier, Pissarro and Lautrec capture this time in Parisian history. Until October 24 at the Portland Art Museum in Oregon.
o Monet to Matisse, Homer to Hartley: American Masters and their European Muses - this exhibit covers the period between 1870 and 1950 examining the Impressionist influence on American art. From Monet and Renoir to Hassam and Robinson, or Cézanne and Degas to Cassat and Hartley -- there is an 80-painting collection from which to draw comparisons. Through October 17 at the Portland Museum of Art, Maine.
o The Biennale des Antiquaires - is the ultimate gathering of the world's most prestigious antiques dealers, displaying their collections of art, furnishings, jewelry, paintings, and more for the public presented in lavish displays. After the show, most of the items will vanish forever into private collections. From September 15 to 28 at the Carrousel du Louvre, Paris. Visit their web site at biennaledesantiquaires.com.
o Luxury Hotels Accept Dollars! - Due to the strong euro and weak dollar, American tourists are not traveling as much as they might. Some truly luxurious hotels in France are guaranteeing their rates in dollars until the end of the year. To name a few, there is the Hôtel Meurice (meuricehotel.com), the Crillon and Lutetia (Concorde Hotels), and the Bristol, all in Paris, and the Martinez and Palais de la Méditerranée on the Riviera (also Concorde hotels).
o Château de Versailles "Passport" - Avoid waiting on line to obtain your Versailles Passport. It is available at the entrance to the palace, at FNAC stores in France and the Versailles train station. The rates during the summer are € 20 for adults and € 6 for children ages 10 to 17.
o Decorating Publication - If you want to recreate the look of a French country house in your own home, or if you want to bring a little bit of authentic French décor into your house, pick up the magazine Maisons de Campagne. Available at many large newsstands outside of France, see the latest trends and decorating ideas from France, plus resources, pages of items you can purchase and where to buy them. You'll love the table settings and food photos (although don't expect recipes!). From dinner and bakeware to linens and textiles, from flooring and furniture to garden sculpture and wine storage -- it's all there. Published bi-monthly, subscriptions outside of France are € 18.30 for six issues (1 year) or € 36.60 for twelve issues (2 years) plus postage. For information contact Maisons de Campagne, Service Abonnement, 111, avenue Victor Hugo, 75016 Paris France.
o The Three-Hour Lunchtime Seminar, combining culture with gastronomy, is a series of enjoyable and entertaining seminars presented by Barbara Pasquet James, Paris-based cross-cultural trainer, travel editor and co-author of USA TODAY'S Paris City Guide. From noon to 3 at an upscale Parisian restaurant, participants are immersed in such topics as 'eating French', communicating and conducting business effectively in France and with the French, as well as entertaining and decorating with a 'French flair'. Special seminars are also held for women only and living the French lifestyle. Seminars are held year 'round and the cost includes a multi-course gourmet meal with wine. For precise information, please visit the web site www.thefrenchside.com, or email thefrenchside@yahoo.com or call in Paris 33 (0) 1 42.64.12.03.
o BLOOM Where you are Planted - Newcomers to Paris will love and benefit from BLOOM, a lifeline provided by the Women of the American Church in Paris to assist in the adjustment to Parisian life while making new friends. From 9:00 to 16:00 (4 PM) on Tuesday, October 5 and Tuesday, October 12, "How to Live Well in France" will be presented. The location is the American Church and the cost is 50 euros paid in advance. Topics covered and information disseminated will include language groups to join and French language schools, clubs, grocery shopping 101, day trips from Paris, cultural differences, security issues presented by U S Embassy personnel, a copy of the BLOOM BOOK -- all with lunch and a wine social included! For more information contact Kittie Brown at kittie.brown@wanadoo.fr and register at their web site: www.woac.net.
And, for lovers of French wine and the wine regions of France . . .
o Your Personal Chauffeur in Wine Country - If you are looking for someone who knows wine and knows France's wine regions very well, then you might benefit from contacting Pierre Galmes who can take you in your own private limousine to vineyards and wine domaines in the most prestigious growing regions of France. Pierre is a non-smoking, English-speaking guide with expertise and a vast knowledge of wines. His upbeat personality and friendly manner will make your time with him comfortable and enjoyable, and needless to say, informative. Pierre will assist with your itinerary, make reservations at a château bed & breakfast or a recommended restaurant, and will confirm all arrangements, including domaine visits, on your behalf. To learn more, please visit his web site at: http://www.france-chauffeur.com today!
o Free Wine and Food in Paris - Since 2000, an event has taken place in Paris to woo travelers and locals alike: the Wine and Fooding Tour. "Fooding" is a devised word combining food and feeling...expressing the importance that food plays in French life. Free events will take place at various Parisian restaurants, so if you are fortunate enough to be in Paris in the autumn, you might avail yourself of this unique experience. Try the gastronomic creations of some of France's young chefs accompanied by wine tastings -- all at no cost to you. But, there will be crowds, so don't expect to walk right into a restaurant and eat or drink to your heart's content! The organization, Le Fooding, is the sponsor, and it is gaining in popularity and respect as time goes by. For 2004, and always beginning at 7 PM, there are three remaining events -- one on September 13 at Tokyo Eat, located at 13, avenue President Wilson, October 4 at Café Charbon, 109, rue Oberkampf, and the last for this year, November 8 at R'Aliment, 57, rue Charlot. Arrive early!!
o Wine Châteaux and Tours - Visit our sister site, au Château, to fine that perfect getaway in French wine country. There are au Château members in Burgundy, including Château de Chorey, producing their own renowned labels, Château de Villette with 500 acres of beautiful grounds and a wine cellar beyond comparison, or, if you are looking for an entire Burgundian château to call your own for a few weeks, there is Antigny-le-Château. If Bordeaux is your preference, travel to the Médoc and stay at Château du Foulon or, at the edge of the city of Bordeaux, you may choose Château Coulon Laurensac where organized vineyard tours are available. Those who plan to visit the Midi near Toulouse will enjoy time at Château de Séguenville, where the proprietors will introduce guests to the lesser known but much appreciated Madiran, Cahors, Jurançon, and Côtes de Gascogne wines as well as lead an excursion into Armagnac country. Perhaps you are headed for the Périgord where guests can enjoy the exceptional autumn Wine Tour package at Le Prieuré au Château de Biron. And, in Provence is the wine-producing estate of Château Talaud, offering guests lovely accommodations, delicious meals and their very own Côtes de Ventoux wines! Visit au Château today for virtual visits to these and other member properties throughout France.
o French Vintage Wines took center stage at the recent and much-publicized auction of the contents of the Doris Duke Estate wine cellars at Christie's in New York. For example, one bottle of Domaine de la Romanée-Conti Vosne-Romanée Le Gaudichots, 1929, sold for $8,813 and a whole case came in at $88,125! All the wines in the Doris Duke vintage collection were purchased in 1937 and 1938 and hadn't been moved out of the cellars since, giving them a 'pristine provenance' under impeccable storage conditions. Prices came in much higher than expected, such as a case of Château d'Yquem 1929 that brought a price of $72,850, and three bottles of 1921 Moët & Chandon Dom Pérignon that came in at $24,675. The auction proved to be an exciting and record-breaking occasion.

Restaurant Pierre, Mâcon, Burgundy
by Robert Sachs
In 1991, Christian Gaulin and his wife, Isabelle, purchased the Restaurant Pierre, located on the rue Dufour in central Mâcon, a short walk up from the Saône River. Though the restaurant had been well known to locals, it had often changed hands. Just two years after the Gaulin's opening, the celebrated Michelin Travel Guide honored the restaurant with a 2-fork rating. And then in 1997 came the supreme distinction -- a star in the "Michelin", an honor Mâcon hadn't enjoyed for 25 years. Christian Gaulin has been producing superb meals for nearly 25 years now, having learned his craft from the masters at legendary stops on the gastronomic map including Thoissey, Paris and Tournus. He now stands among France's elite group of talented chefs. His style of cuisine can best be summed up by the association of tradition with creation.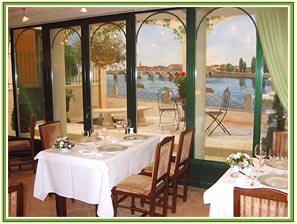 Come discover this pleasant dining spot set against a backdrop of tasteful and elegant decor, and let your hostess, Isabelle Gaulin, graciously lead the way to your table in one of the restaurant's rooms: near the handsome old stone fireplace, or in the Renoir Room before a magnificent fresco of the artist's famous "Déjeuner des Canotiers" painting, or why not in the patio with its superb trompe l'oeil mural of the nearby Saint-Laurent Bridge (this room's seating capacity is limited to 20 and can accommodate large family get-togethers or business gatherings).
Regardless of the season, Christian Gaulin excels when it comes to showcasing local specialties: Bresse poultry, Charolais beef, crayfish caught locally, Saône River fish, to name but a few. He ensures use of only the finest ingredients coupled with precision cooking conditions and has a penchant for lighter sauces, carefully crafted for each dish. He is also a master at enhancing the gustative experience through contrasts: a medley of hot-cold, moist-crunchy.
You wouldn't want to miss out on the assortment of lobster and fresh vegetables served on a bed of salad with truffles, or how about the filet of walleyed pike roasted with potato slivers and accompanied by a tangy almond oil and saffron rice dish? And, then there's the classic pan-fried fillet of Charolais beef specially prepared Burgundy style with fresh foie gras, or the memorable puff pastry of black truffles with foie gras and wild mushrooms served in a Périgord sauce -- a truly delectable moment...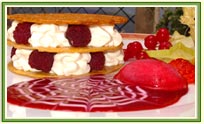 This Mâcon chef turns out to be every bit as talented with desserts. Just eye that seasonal parfait served with an apricot meringue. Whether presented as a syrup or a candied paste, a parfait or a sherbet, fruit abounds in myriad forms.
The wine list, proposed by Isabelle, is a celebration of local production yet does contain some real finds from elsewhere in France. Of the 5,000 bottles in the restaurant's cellars (spanning some 200 top wine references), even though the spotlight is placed on the best Mâcon area labels, all French appellations can be found here.
Restaurant Pierre
7 - 9 rue Dufour 71000 MÂCON
Tel: +33.385.38.14.23 Fax: +33.385.39.84.04
E-mail : contact@restaurant-pierre.com
Closed on Monday and Tuesday
Robert Sachs has been living in France for fifteen years and his work focuses
on promoting tourism in several of France's eastern regions such as
Burgundy, Champagne, Alsace and Provence.
Contact him at robert.sachs@wanadoo.fr.
[Photos copyrighted property of Christian and Isabelle Gaulin]


---

previous page next page