IN THIS ISSUE:
As Luck Would Have It:
Tales of Monaco's Casino
by Arthur Gillette
Paris Enigmas
Ici et Là
Var Black Gold
~ The Truffle
by Anita Rieu-Sicart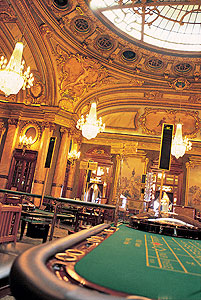 Monaco Casino, Salle Europe
France's Nantucket
~ L'Île d'Yeu
by Arthur Gillette
Money-Saving Travel Tips
FEATURING the Béarn and
Pays Basque
French Wine Report:
~ Discovering the Jura Wine Route
by Wink Lorch

Tales of Monaco's Casino
by Arthur Gillette
'Monaco's Casino' - do those words evoke for you visions of fabulous bets made by the
crème-de-la-crème of the world's wealthy, huge winnings, and perhaps a suicide or two after equally vast losses? Well they might, for the Casino is a centerpiece of the glittering history of that ferociously independent Principality. Arthur Gillette recently visited it for France On Your Own.
According to a tenacious family legend (myth?), my parents happened to be at Monaco's Casino one evening ca. 1932 when somebody broke the bank: pandemonium (from ancient Greek meaning 'Devil's uproar')! I first heard the story as an impressionable six- or seven-year-old; that singular event, and its palatial context, have intrigued some tiny corner of my mind ever since. Not that I'm a gambler – never have been and probably never shall be.

The up-and-down history of that particular Casino might, however, tempt one in that direction. In fact, it all began under a singularly inauspicious star. For centuries the Principality of Monaco reached almost as far as the Italian border. In 1861, however, it had to sell off two-thirds of its
territory to France. The ruling Grimaldi family picked up four million Francs on the deal, but Monaco lost its chief resources: mainly agricultural ~ olives, citrus fruit. At that time, ruler Prince Charles III had already allowed a local casino to take up gambling (then forbidden in France, Italy and England), but the venture failed.
Thereafter, needing a new source of (preferably huge) income, Charles turned to a businessman/adventurer named François Blanc, who had become rich by starting a casino at Bad Homburg, Germany, and who was nicknamed 'The Homburg Sorcerer'. And the wheel of Monaco's fortunes turned! In exchange for $200,000 and a 50-year monopoly, Blanc launched in 1863 what was to become one of the most successful gambling operations in history, half the profits being shared with Charles Grimaldi.
21st century sculpture tips its hat to the Belle Epoque Casino
Photo courtesy of C. Clark
Helping the wheel turn (no pun intended) was the arrival of railways, making Monaco almost a suburb of affluent Nice and putting it little more than overnight by the luxurious Blue Train from Paris ~ at whose Gare de Lyon the Belle Epoque Train Bleu Restaurant still flourishes ~ as does an eatery by the same name at the Casino itself.
In a quarter of the Principality renamed for the Prince, Monte Carlo (Mount Charles*), the Casino and attendant hotels, not to forget a lavish opera, were soon under construction. A primary architect was Charles Garnier whose Paris Opera was already becoming a gem of France's Second Empire. [* 'Monaco' itself may stem from ancient worship, there or nearby and under Greek influence, of Herakles Monoïkos, roughly 'Hercules the Loner'.]
continued on page 2

---