VAR BLACK GOLD ~ The Truffle
by Anita Rieu-Sicart, Editor
Var Village Voice

Way up in the hinterland of the Var stands the village of Aups, on the edge of, in winter, a rather bare plateau that leads on up to the French equivalent of the Grand Canyon ~ the Gorges du Verdon. The plateau in winter is raked by the wind and occasionally traces of snow thread through the thinly forested scrubland, but here, as old treasure maps might put it, lies 'Black Gold', for it is under these same holm oak trees that the local farmers ~ with their dogs ~ hunt for truffles.

Land here is very jealously guarded with warning notices on boundaries indicating that poachers will be shot on sight, and they are not joking ~ a few cases of such shootings, involving deaths, have wound up in the local courthouse, for the Var truffle is the source of a lot of local farmers year 'round income.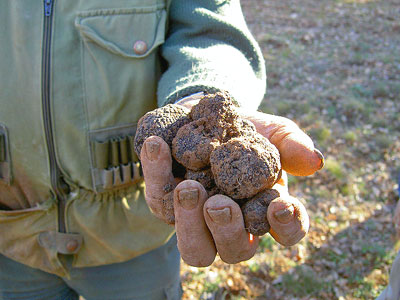 The truffle season starts at the end of November, and then Aups becomes the scene of some rather secretive activity on every Thursday morning, for Aups is the truffle market for the Var. Whereas normal Provençal markets are jolly places to visit with lots of bustle and activity, the truffle market is a far more silent, discreet affair.
The market starts pretty early, as soon as it is light, with customers arriving in the central Place to talk to local farmers all togged up in flat caps and khaki hunting fatigues, often accompanied by their truffle-hunting dogs, usually standing by a battered old farm car, and more than likely all business will have been completed by 10 AM. Buyers might be local restaurateurs, agents for the Paris market, or just individual devoted ''foodies' hoping to buy one or two, possibly more, of these incredibly odiferous fungi. Truffles are found buried at the bottom of holm oak trees, and they have been skillfully disinterred or sniffed out by the farmer's very specially-trained dogs.
The buyers look, ask, trade; the farmers bring out small lumps of what look like clods of earth from a back pocket, wrapped in a grubby handkerchief; small pocket scales are produced, and an incredibly large wad of euros will change hands ~ no credit cards or rubbish like cheques are ever proffered. It goes without saying that the local Tax Inspectors know and cast a blind eye on the whole proceeding.
The merest scrapings from a really good, mature truffle can transform any dish into culinary heaven! Its perfume is nearly impossible to describe with elements of musk so rich and intoxicating it verges on the erotic.
Come mid-January Aups will celebrate with its annual Truffle Fair which can be, in spite of the cold winds, great fun. The idea is to go well wrapped up to enjoy the spectacle of truffle hunting dog or even, on occasion, truffle hunting pig, demonstrations. One year we waited, stamping our feet in the cold, for the appearance of the legendary pig, only to be informed that her appearance had been canceled; sadly, her owner had died.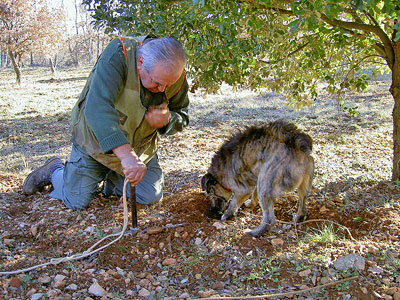 All sorts of dogs are used for truffle hunting ~ large and small ~ they just need to have really good olfactory senses and training. One year a poor little long-haired dachshund, shivering with cold, got half way around the Competition truffle finding course, only to run back to her owner obviously complaining of the wet and cold. But she still got her salami reward. Truffle lore abounds; there are those who forswear dogs but use only a pointed stick and keen eyesight, looking for the special tiny black fly that buzzes 'round the bottom of some oaks indicating the presence of truffles.
Over the past twenty years and more, the regional Chambre d'Agriculture has invested heavily in research into truffles, with the result that one can now buy and grow special ''truffle' oaks, which several years on bear very creditable results. Climatic conditions play a large part in the development of the truffle, and the drought prone summers of the past few years, leaving a hugely diminished water table, mean that one can expect a poor truffle crop this winter. Not only that, truffles, like some magic potion, apparently benefit immensely from the huge electrical storms this region used to experience.
Time was when, ten years ago at least, it was terribly trendy and chic to have a fax machine ~ this may seem like an incredible red herring, but bear with me ~ and it was part of local lore to tell newcomers to the region that when they heard the first rumblings of a storm, they should run around the house immediately disconnecting the TV, phones, other electrical appliances, but above all their fax machine. Storms back then would arrive spring and autumn, rumbling in the distance for ages, and then all round the valley, until finally it arrived crashing, rattling and rolling overhead, with incredible force, bringing with it sheets of rain. The force of the thunder and lightening claps would shoot one up to the ceiling with shock, and it was not unusual the next day to bump into someone who had neglected to disconnect their fax and saw it nearly literally go up in smoke from a lightening clap too near the house.
Now, these same electrical storms are very few and far between, and apparently are no longer exerting their magical alchemy in the development of the 'tuber melanosporum' or truffle. Global warming, changing weather patterns, who knows? So one can expect truffle prices to be high this winter. In 2006, prices ranged from 500 to 1000 euros a kilo, or more. Most truffles range from around 60 grams to a 100, and can go up to 200 grams in weight. Despite this, all the Aups restaurants will feature special truffle Menus (at a price) at the time of Truffle fair. The Aups Truffle market happens Thursday mornings from late November to the end of February.
Never fear, truffles there will be, and one can in fact join specially conducted Truffle Hunts with a local farmer and his dog and maybe even get to buy a specimen.
Anita Rieu-Sicart edits the VAR VILLAGE VOICE, the English language
monthly newsletter circulating throughout the Var. Visit her web site at http://www.varvillagevoice.com and subscribe!
Her truffle tip: The best way to reap the most out of a truffle is to put it into a closed jar with several raw eggs in their shells.
The truffle will permeate through the shell of the eggs imparting its incredible perfume to them all.
For more information on the truffle hunt, contact the Aups Tourist Office. Their email address
is aups83@wanadoo.fr and their web site is http://www.aups-tourisme.com
[Photo credits: Copyright Anita Rieu-Sicart / Var Village Voice. All rights reserved.]


---
SPONSORING THIS ISSUE

La Maison des Arts et Lettres
Your hosts at La Maison des Arts et Lettres (formerly Maison des Remparts) are eagerly awaiting
your visit so you can experience their amazing perched Provençal village of Saignon, to join in their art and
writing classes or to rent one of their self-catering apartments for a relaxing and rejuvenating vacation.
Click on the banner above to read more about this exceptional destination!
---
FRANCE'S NANTUCKET ~ L'Ile d'Yeu
by Arthur Gillette
Take a few square miles of mainly flat sand dunes, dot them with scrub pine and endow them with cooling winds ~ winds that are the enemy of pines during all-too-regular fires! Now, shove the dunes a good ferry distance from the mainland out into the Atlantic and surround your island with quiet small sailing yachts and chugging work boats, not forgetting to people the place with eco-friendly tourists and hardy fisher folk. What have you created ~ Nantucket ?
Nantucket hasn't been entirely forgotten on this island since it boasts a rue Moby Dick. But, this is a French Nantucket, off the Vendée (western) coast of continental France and called l'Ile d'Yeu, just south of Brittany and north of the Basque country. Definitely a place to discover for do-it-yourself travelers!
Despite its geographically eccentric situation l'Ile d'Yeu is not all that hard to reach: 2 hours 12 minutes by high speed TGV train from Paris to Nantes, followed by a 1 hour 20 minute bus trip to the seaport of Fromentine, followed by 30 ferry minutes to cover the eleven sea miles to the Ile's main port, Joinville. So a Friday to Monday Ile d'Yeu weekend is quite feasible from the French capital.
Criss-crossed by many signposted trails, including a 40 kilometer round-island path, l'Ile d'Yeu is a charming place to hike off stress and pounds. Doing so, you quickly discover both harmony and variety. While nearly half its surface is zoned to exclude construction, the other parts are graced with one- to one-and-a-half story (zoning again) white cottages, most with blue trim (shutters, door jambs, etc.), an attractive color scheme traditionally ~ and still ~ found decorating local fishing boats.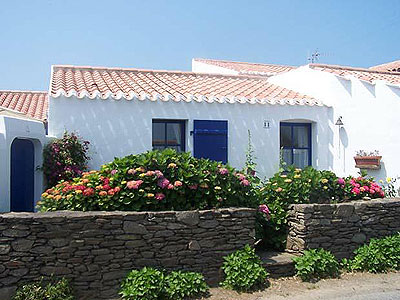 Typical Ile d'Yeu Cottage
If hiking isn't your thing, you can hire a bicycle at one of no less than eight rental shops and not to worry about the few-and-far-between motor vehicles. "On l'Ile d'Yeu the bike is king", points out Marie-Cécile, descendant of a family that has been Islaise for many generations. And indeed, outnumbered as they are, car drivers display rare care and courtesy to bikers.
Contrary to such first impressions of harmony, the Ile also offers considerable diversity. Its north coast boasts over four miles of broad, generally little-frequented sand beaches, bathed by gentle swells. But the south coast, formed mainly of forbiddingly high granite cliffs that surge up from the sea, is smacked even on calm days by seemingly angry surf. Then, too, when the sun shines and the flowers (hortensias are a favorite) seem to glow, the Ile exudes an almost Mediterranean feel. But, when rain pours out of dark gray clouds scudding overhead, you remember that Brittany is not far.
'Running' water
L'Ile d'Yeu was long isolated from mainland France ~ electricity only arrived in 1954 and water, via an undersea pipeline, in 1961.
"When a Parisian or other continental visitor asked my mother if we had running water," remembers Marie-Cécile, "she would answer, 'Why, yes, of course: I pump water into a basin and then dash to the kitchen!' "
No wonder, then, that tradition and an interest in local history run strong among islanders, who number about 5,000 ~ a number increased by about 30,000 visitors each July and August. By the way, this imbalance favors low-season visits; you should know, however, that there are no five-star hotels on l'Ile d'Yeu but that, in addition to two-star inns, chambres d'hôtes in private homes are fairly plentiful year 'round.


Greek and Roman seafarers stopped over on the island for supplies over two millennia ago, but they were preceded by much earlier inhabitants who ~ beginning some four thousand years earlier ~ left numerous megalithic monuments, including many menhir steles and dolmen stone burial chambers that still abound on the Ile today. [Photo: the author emerging from a 6,000-year-old dolmen burial chamber.]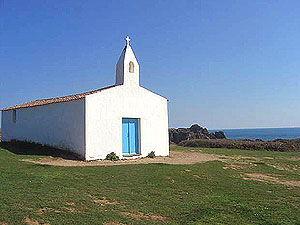 Christianity arrived with the establishment of churches and monasteries probably beginning as early as the 4th century A.D. Although none of the original Christian structures has survived, the town of Saint Sauveur boasts a largely 12th century Holy Savior Church well worth a visit; and the simple white 15th century Notre Dame de Bonne Nouvelle chapel, still used as a sailors' landmark, tops a bluff near the cozy south shore Port de la Meule.
This early and continuing religious presence may at least partly explain why, from the 14th century and until the French Revolution canceled the theological reference, l'Ile d'Yeu was known as l'Ile Dieu ~ "God Island". From the early Middle Ages, invaders included Barbarians, Saracens, Vikings, smugglers (salt, tobacco) of many nationalities and ~ probably most threatening ~ the English.
continued on page 4