Perhaps as early as ca. 1,000 A.D. a wooden fortress is thought to have been erected at a rather improbable site, a rocky islet just off the surf-beaten southern coast of l'Ile d'Yeu. It was rebuilt of stone ~ with walls four meters thick ~ in the 14th century during the Franco-English Hundred Years' War. Virtually impregnable and facing a granite-cliffed shore where a landing from the sea would have been impossible, lurking behind its drawbridge and surrounded by water at each high tide, it served not only as a defensive outpost but also as a refuge for the Islais population in case of invasion. Partly dismantled in 1699 by King Louis XIV for fear of English capture, the Old Castle's vestiges still loom dauntingly above today's groups of visitors. A plan is now afoot to restore some of its fortifications.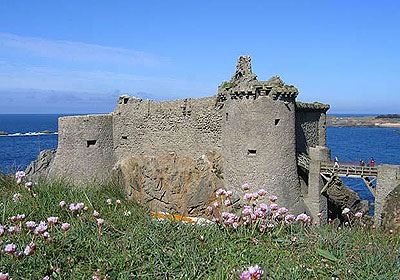 Mainly 14th Century Vieux Château
Like Nantucket, l'Ile d'Yeu was for several centuries a hub for long distance maritime traffic both for fishing (tuna rather than whales, however) and freight. Marie-Cécile is far from alone on the island in having had a great-grandfather who captained a deep-sea merchantman. In the days before refrigeration, sailors' hankering for fruit had to be satisfied with dried variants. And still today, an Islais favorite is a kind of prune tart, although plums don't grow on the island.
A Recent ~ and Dark ~ Facet of L'Ile d'Yeu's History . . .
. . . concerns Marshal Philippe Pétain. Revered as the Victor of Verdun, perhaps the bloodiest battle of World War I, he stood out as chief collaborator with the Nazi occupation forces during WWII, converting the traditional 'Liberty, Equality, Fraternity' national slogan into 'Work, Family, Fatherland'. His Vichy-based regime not only condoned but also actively aided and abetted the Nazis in arresting, deporting and thus murdering thousands of Jews and other 'undesirables'. Given his age (90), Pétain's 1945 high-treason death sentence was commuted to life imprisonment, which he began to serve at the 1800s Citadelle fort on l'Ile d'Yeu. Despite humane treatment (his wife visited daily) and because of failing health, he was transferred to a kind of boarding house on the island until he died in 1951 and was buried in a cemetery near the Citadelle.
The Pétain/Ile d'Yeu saga doesn't end there, however. There are still today people in France who look on 'The Old Marshal' as a kind of savior, who spared their country a worse fate at the hands of the Nazis by collaborating with them. A 1973 caper saw his remains spirited away from the Ile d'Yeu grave, presumably by his partisans to be reburied at Verdun. Whether the official version ~ that the remains were re-captured and are today again in his grave on the island ~ is true or not, I do not know. But, if you visit the Citadelle you will see a sign that warns that visiting Pétain's apartment there is strictly forbidden 'for reasons of security'. Fear of other incidents? Probably. As late as June 2008 a garbage pail was emptied on Pétain's tombstone ~ the third such incident in recent years.
'Oya' means? Take Your pick!
A less grisly enigma is quite simply the origin of l'Ile d'Yeu's name, of which I've heard several possible explanations. It was early documented in Latin as Insula Oya, i.e. 'Oya Island'. But what, then, did 'Oya' mean? For some it was a corruption of ovis, Latin for 'sheep' of which many abound on today's island. Another version is simply oyat, French (since the 15th century) for a kind of sea reed planted to stabilize the sand dunes. (But, did the plant give its name to the island or vice versa?) A recent further suggestion is oy meaning 'island' in Scandinavian languages and possibly imported by 9th century Viking marauders ~ reasonable enough if you consider the origin of 'Guernsey' and 'Jersey', English Channel Islands regularly 'visited' by you-know-whom. Go ahead, take your pick.
Let's end on a much clearer impression: the people of l'Ile d'Yeu care intelligently about their island. One example is the Ile d'Yeu Compagnie des Guides. This Guide Company predictably offers walking and bike tours, diving lessons and sea outings to sail or fish. But it also organizes much less 'touristy' programs to acquaint visitors with the island's economy, bird life, flora, local traditions and habitat. Another eco-friendly clue is the slogan appearing on documents published for visitors: 'La beauté de l'Ile ne tient qu'à votre respect' ~ 'The Island's beauty depends first and foremost on your respecting it'.
For more information on visiting l'Ile d'Yeu and surrounding areas check
http://www.ile-yeu.fr This is the Ile d'Yeu Tourism Office's web site, at least partly in English.
The Office can correspond in English. Also visit http://www.compagniedesguides.fr, the web site
is only in French, but English-language correspondence and guiding are possible.
Finally, there is http://www.vendee-tourisme.com, the Vendée Regional tourism authority's web site with a full English version.
Admittedly Arthur's 18 guided half-day stroll itineraries to discover Paris Through The Ages
don't include a 6,000-year-old dolmen burial chamber. They do, however, range from
vestiges of Gallo-Roman Paris through Medieval and 'Grand Century' remains and anecdotes
up to 19-25 August 1944 ~ The Liberation of Paris.
Ask for more information from Armedv@aol.com
[For complete descriptions, please mouse over photos.
Photos of chapel, house and vieux château courtesy of Office de Tourisme, L'Ile d'Yeu. All rights reserved.
Photo of author courtesy of Evguenii Soloviev. All rights reserved.]


---
Money-Saving Travel Tips . . .
Many of you may be debating whether a trip to France is currently a good idea with the economic woes that have befallen the world in the last several weeks. If you are still eager to go, here are a few money-saving tips for you to consider. And, remember that the euro has declined in value (at least to the US dollar) recently, making France a less expensive destination than this time a year ago.
Renting a car:
Rent from home and lock in the price in your own currency so there will be no surprises once you are in France.
If you must rent in France, it may be less expensive to rent somewhere other than the airport.
Confirm with your credit card company that they will provide complete car insurance for you in France so you don't have to purchase the agency's car insurance.
Don't buy prepaid gas. Fill the car up just before returning it.
Don't upgrade! Rent an economy size. There is a 50/50 chance they won't have it when you arrive, and they'll upgrade you at no additional cost.

Buying airline tickets:
You might want to look into 'consolidators' that focus on specific destinations.
Buy online at 6AM on Tuesdays for the best fare choices.
Look into airfare aggregators as well, such as Kayak and Farechase. [We do not endorse either; we are just providing information.]
If you're a frequent flyer, keep in mind that those seats are limited. You can book up to a year in advance.
Accommodations:
Consider bed and breakfasts in the countryside, and, when available, even in Paris. They almost always include breakfast in their prices (hotels do not), and you will most likely have free parking (except in Paris) and will find the experience quite pleasant.
Rent an apartment for a week in any part of France rather than spending a night here and there. It will be less expensive, you can cook for yourself when you want, and can acclimate yourself to 'your' village or town to experience French life.
Rent a large house or château with friends and family for a week or longer. This, too, is an inexpensive solution when there are many people to accommodate. Once again, you can save on meals, you can take less clothing as you'll be able to do laundry during your stay, and, despite some fending for yourselves, you will still have a restful and enjoyable place to stay.

Credit Cards:
Make sure the bank issuing your card doesn't charge an additional fee (1% to 4%) on each purchase because you are using it in a foreign country. This fee is in addition to the normal fee all cards charge for exchanging your currency into euros.
Take two cards with you in case one is refused for any reason. They can be used in an ATM to obtain cash as long as you have your pin number.
If you are from the US, bring a US direct dial phone number to reach your card issuer that is NOT the 800 number on the back of the card. The 800 numbers from the US will not work from France, and, if you lose your card or if you are having problems with it, you will want to telephone the issuer for resolution.
Bon voyage!
---
FEATURING: the Béarn & the Pays Basque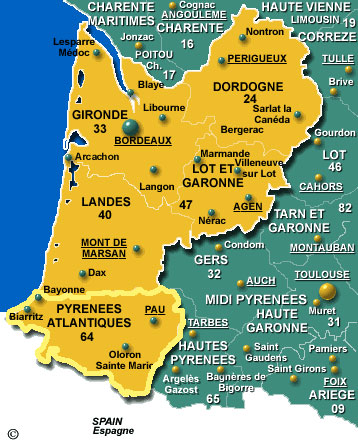 In the far southwestern corner of France is the département known as the Pyrénées-Atlantiques (64), bordering the Atlantic Ocean and the Spanish frontier. When you are there, Paris seems a million miles away, both in geography and culture. Here the rugged countryside blends with a uniquely different people. The Béarn countryside especially welcomed us – rich and green and misty in the mornings – filled with surprises. And, driving westward, we found ourselves amidst the unique architecture of the Basques ~ and totally in awe of their perfectly-tended lawns and gardens framing houses which looked as though they had been freshly painted that morning! Crisp whitewashed homes with brightly-colored doors and shutters, ornate wrought iron gates bearing the family crest or initial, lovely and loved neighborhoods exhibiting a pride of place. This was our first glimpse of the Pays Basque.
The Béarn is perhaps little known to the outside world except for the fact that Béarnaise sauce was named after the region. As the Béarn was the birthplace of Henri IV, mention of him will be frequently noticed during any visit. Henri is given credit for finally uniting the southwest with the French crown ~ in 1589 to be exact ~ many years after the territories were taken from the English with France's victory in the Hundred Years War.
The Béarn has many interesting large towns, among them Orthez, Sauveterre-de-Béarn, Oloron-Sainte-Marie and its capital, Pau. Pau is the most popular western Pyrénées city, boasting grand Belle Epoque architecture, a university and great weather. Pau is famous in fact for its weather, often being cited on weather reports for its mild winter climate, making it the holiday destination of northern Europeans for more than a century. On a typically clear day in Pau, the tallest of the Pyrénées range can be seen. A museum in the château today displays the historical significance of the Béarn as well as housing some amazing Flemish tapestries. The Musée des Beaux Arts possesses paintings by Dégas and El Greco among others. Pau was the original seat of the Parliament of Navarre and is on the banks of the Gave de Pau – 'gave' (pronounced 'gahv') being the Basque word for 'mountain river'. It has a large public garden, Parc National, and the interesting Château de Pau which blends its medieval beginnings with later Renaissance additions.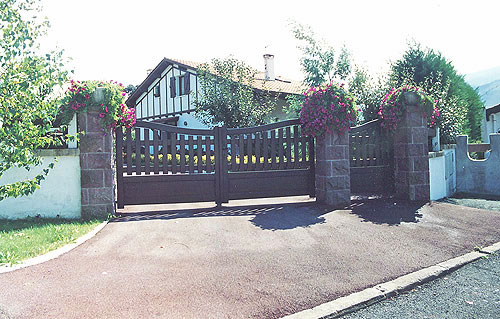 Typical well-tended Basque house and gardens
Henri IV was born in Pau in the Château de Pau in 1553 after his mother Jeanne d'Albret traveled south from Picardie just so he could be born there. His grandmother, Marguerite d'Angoulême, the sister of France's king, was responsible for the city becoming a center of culture and the arts. Henri IV may be familiar to you as the would-be king who had to become a Catholic to ascend to the throne and who said, "Paris is worth a Mass", as he renounced his Protestant roots. He did, however, legalize Protestant worship in many parts of France with his Edict of Nantes. He went on to become one of France's best-loved kings, behaving more like one of the people than royalty. He, unfortunately, was assassinated in 1610.
Orthez's old quarter bears the house of Jeanne d'Albret, Henri's mother. She had strong ties to the Protestants of the day which caused the Béarn to fall victim to the Wars of Religion in the 16th century. Orthez itself has fine architecture and a 13th century bridge worth seeing. Oloron-Ste-Marie at the junction of two rivers joining to form Gave d'Oloron, lays claim to producing the beret, a Basque 'invention'. Distinctively Basque, you will find more men of a certain age wearing berets in this region of France than anywhere else. Near the Spanish border, Oloron's church, Eglise Sainte-Croix, bears Moorish influences and its other church, the Romanesque Eglise Sainte-Marie, is famed for its marble doorway. On the gourmet front, locally produced cow, goat and sheep's cheeses are in abundance and well worth a try. This is, by the way, great picnicking country!
It is well worth mentioning at this point that there is a wide variety of attractions in this part of France. There are the Atlantic beaches stretching from France's southernmost town, Hendaye Plage, along the Côte Basque of the Golfe de Gascogne to such towns and cities as St-Jean-de-Luz, Guéthary, Bidart and Biarritz. There are health spas in the mountains, burgeoning ski resorts, prehistoric caves, grottoes and rugged hiking trails.
Sauveterre-de-Béarn is an active market town on the banks of the Gave d'Oloron. A photographic opportunity at every turn, Sauveterre is built into the 13th century ramparts, and bits of the keep still stand. Visit the church of St-André and the Château de Nays, built in the 16th century. The riverside, bordered in forests, is quite lovely.

Salt
Salies-de-Béarn, along the D933 between Orthez and Sauveterre, is our personal favorite. A medieval market town (Market Day is Thursday) considered the 'Venice of the Béarn' and a member of les Villes et Villages Fleuris, it offers visitors and residents alike almost everything one could want. There is plenty of shopping, restaurants, churches, charming homes to admire and that lovely tiny River Saleys, which flows through the center of town, under a bridge opposite the ancient Romanesque church.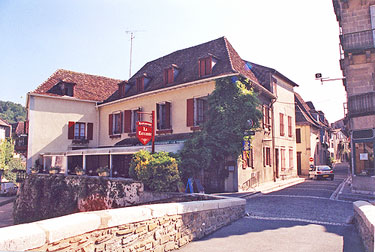 The highlight of the town may just be the tiny but very interesting Salt Museum that we discovered as we wandered the lovely winding cobbled streets of Salies. Salies' name is derived from 'sal', the Béarnaise word for salt, and it sits on a huge underground salt lake whose salt 'spring' has been the source of its prosperity. Since the Bronze Age, the salt found in this region has been used in the thermal waters as well as in the local cuisine.
On the road to la Côte Basque et des Pyrénées, the thermal spas at Salies-de-Béarn make it the destination, both present and past, for those seeking a 'cure' for rheumatism and other ailments. Visitors to the thermal baths will find swimming pools (both indoor and outdoor), Turkish baths (hammam), saunas, mud-treatments, massages, and a gym for fitness classes. The spas have been around since the mid-nineteenth century; today, people come for both health and cosmetic reasons.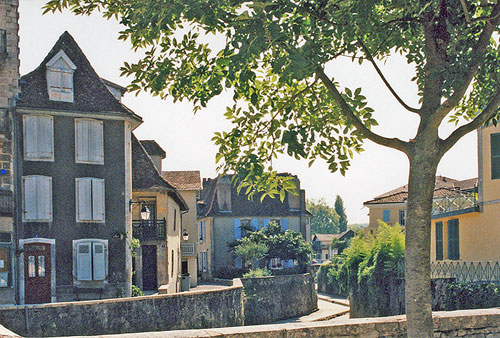 Charming residential area in Salies

continued on page 5