The Pays Basque is delightful, while the people may still seem a bit mysterious to outsiders ~ especially first-time visitors to the region. The Basques are believed to have migrated north to avoid invading tribes and armies. History tells that in the seventh century the 'Bascons' came down from the mountains and mixed with the existing population in the lowlands of Armagnac. Perhaps the true Basques are still those found in the Atlantic coastal plain of the Pyrénées-Atlantiques.

Both the Béarn and Basque regions are beautiful and lush, hilly and unspoiled. The entire region is one département. This rugged region of France is blessed with spectacular scenery and a wonderful temperate climate. It is said that the French side of the Pyrénées is as rich and green as the Spanish side is arid. A separatist minority of Basques on the Spanish side of the frontier expresses dissatisfaction with their inability to be independent of Spain with occasional violent acts, and one reads of raids on both sides of the border by authorities making arrests. We hope this won't discourage a visit to the Basque region of France. What one reads in the newspapers does not depict daily life, especially among tourists in the major towns and cities. But, let us not discuss politics ~ just the joys of the Pyrénées-Atlantiques.

The Basque people had settled centuries earlier in the Pyrénées with their escape from the valleys and the onslaught of Celtic, Roman, Visigoth and Frankish conquerors. The Treaty of the Pyrénées in 1607 made the tie to the King official, but the Basque people maintained their independence and language. The region was given autonomy in 1620 with the formation of the Parliament of Navarre, and it wasn't until the creation of départements during Napoléon's time that the Pyrénées-Atlantiques was formed from the Béarn and Pays Basque territories, while the mountain territories to the east became the Hautes-Pyrénées, Haute-Garonne and Ariège départements.

Amazingly, the Basques of today have retained their language and culture defying anyone to change them. They not only have given the world the beret but the espadrille (rope-soled shoe), and some of the most spicy-hot food to be found in Europe. Their language (Euskara) has only the vaguest similarity to one spoken in Russia's Caucasus and to none other, and their use of a swastika (no Nazi connection whatsoever) connects them somehow to India where the symbol is also used. Fiercely Catholic, their churches are unusual, having large meeting porches for the congregation but segregating male from female inside the church.

Pelota is the Basque national game, and has some resemblance to squash or tennis as they all have the same roots the ancient game of jeu de paume. The extremely hard ball is often hit against a wall (fonton) with a bat or thrown with great force. Most painful of all is when the main nue version is played, and someone hits the ball with his bare palm or knuckles.

A visit to the Pays Basque must include a stop in Bayonne, the capital of the Pays Basque. It is an established port city that blends into nearby Biarritz on most maps, although they are quite dissimilar. Bayonne is famous for its port but also for chocolate brought to the area from Spain in the 16th century by Jewish confectioners expelled by Spain's Catholic church. Originally named Baiona, Bayonne's history is quite interesting, including the fact that it's magnificent port was once the base and haven for French pirates and privateers. Its 13th century Cathedral Sainte Marie with twin spires and Gothic design is surrounded today by pedestrian walks. The Musée Basque on 1, rue Marengo tells the Basque story including displays of their homes and depictions of their lives at sea. Art lovers won't want to miss the splendid collection of 14th to 20th century paintings at Musée Bonnat at 5, rue Jacques Lafitte.
Biarritz's Eglise Sainte-Eugénie
Biarritz oozes prosperity. Primarily a beachfront community with a long and wonderful promenade along the beach, the chic shops, luxury homes and apartments, and two casinos make it the place to be. Long a resort for the rich and famous, Biarritz was brought to fame by Empress Eugénie, wife of Napoleon III, who found its winter climate unbeatable. Her home is now the Hôtel du Palais, one of the most luxurious in all France. Driving is not difficult in this part of France, but we did find ourselves having a problem negotiating the maze of streets in Biarritz, so we recommend you be sure you know where you are going and allow some extra time to get there.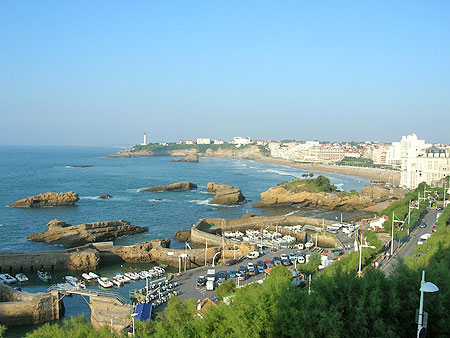 Spending time in Biarritz is very rewarding. Long walks along the boardwalk, enjoying the many streets lined with shops and taking in the amazing coast whether the flat beaches or the dramatic cliffs ~ its simply grand. Pleasure boats line the marinas, and there is a sense of relaxation despite the fact you are in the center of a bustling small city. We were fortunate to stay at Villa le Goëland which overlooks the water and has views of the cathedral and city buildings, too. The rooms all have spectacular views as you can see in the photo left below. Imagine that you awaken to this in the morning! The historic residence itself is unique in architecture and sits alone on a hill from where you can see the Spanish coast in one direction and northerly up the coast of the Bay of Biscay in the other. Once at Goëland, you can walk to everything in Biarritz, so there are no further concerns about parking your car in this very busy town.
Further south along the coast is St-Jean-de-Luz, just below Biarritz on the Côte Basque. A great seaport since the 12th century, the Basques called the town Donibane-Lohizun. Its strategic location on the Bay of Biscay (from the Basque "Vizcaya") and its proximity to Spain has kept it an important port. Today, fishermen bring in tuna and anchovies, and locals and tourists alike bask in the warm sunshine on wide, white sandy beaches. We enjoyed a light lunch on the patio of a little restaurant across the street from the beach and watched surfers in wet suits paddling their boards out to catch just the right wave. Although it was quite warm for our September visit, the beaches were calm and quiet and not at all crowded.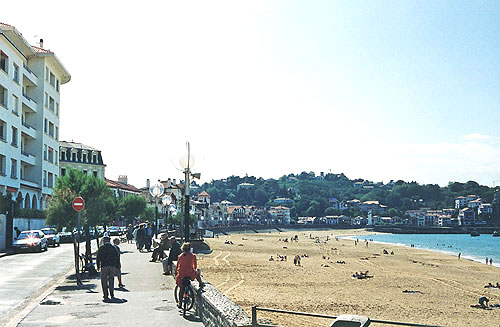 The Beach at St-Jean-de-Luz
We heartily recommend a visit to this southwestern corner of France. It could easily be combined with a trip to Bordeaux, and, due to its pleasant and temperate climate, is perhaps a good destination for those interested in traveling to France in the colder months.
[Photo credits: Cold Spring Press. Copyright 2008. All Rights Reserved.]


---
FRENCH WINE REPORT: Discovering the Jura Wine Route
by Wink Lorch of Wine Travel Guides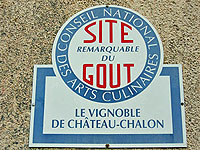 The Jura wine region is the smallest distinct wine region in France, and yet in September 2008 its wine route was awarded a prize from the European Commission in the competition for 'Destinations d'Excellence'.
This little mountainous region in eastern France has made huge strides in just the past five years in providing a welcome for visitors. There are informative leaflets and maps available, signposting is improving, and several restaurants work with the local wine growers to provide an excellent wine list and advice on how to match the wines with the food. You can download the wine route map and brochure – only in French – from my web site (see information at the end of this article).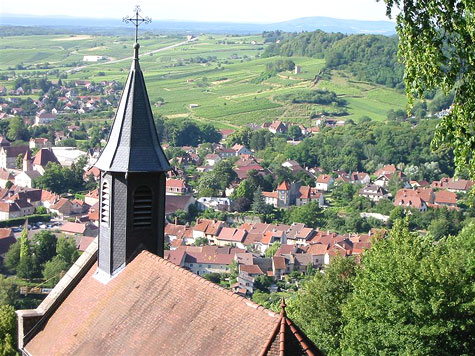 The beautiful town of Arbois
The real heart of the wine region is around the delightful small town of Arbois, associated closely with Louis Pasteur, who spent much of his childhood and early adulthood in the little town. The town has tasting rooms and great food shops and is a pleasure to wander around for a couple of hours. Arbois also gives its name to one of the most important wine appellations in the region, the other being Côtes du Jura. Both of these appellations produce a bewildering range of wines of all colors and styles, but their unusual flavors offer a welcome change from international styles.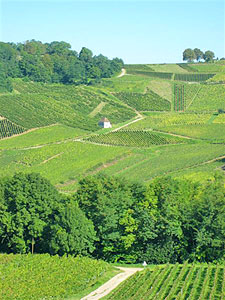 White wines from the Jura are from just two grapes, Chardonnay and Savagnin (very distinct from Sauvignon), or may be a blend of the two. Jura's most famous wine is its Vin Jaune which is from Savagnin only and matured in un-filled oak casks for a minimum of six years and three months before release. A yeast film called the 'voile' or veil forms on the surface of the wine in cask a little like in the production of Fino Sherry - the similarity ends there, for this is not a fortified wine, nor is it matured in the Solera system. The legendary Vin Jaune can last decades, but it is an acquired taste – it is very dry, with flavors that can go from cooked apple to walnuts or curry spices, sometimes giving an aroma of mature Comté cheese. Comté is Jura's most famous cheese and when you taste a Vin Jaune together with a piece of mature farm Comté and a handful of walnuts, the taste begins to make sense. The most famous Vin Jaune has its own appellation, Château-Chalon, which comes exclusively from vineyards on the south-facing slopes below the famous hilltop village of the same name. The village of Château-Chalon is a must-visit when you are touring in the area. Just park the car and wander around, soaking up the stunning views wherever you can.
Some other Jura white wines, often labeled Tradition, will be made in a similar way to Vin Jaune but aged in barrel for a shorter time. They are dry and quite sharp with nutty flavors – another acquired taste - but they match well with the rich cream sauces in dishes such as Poulet au Vin Jaune. However, there are growing numbers of Savagnin wines and Chardonnay in particular that are referred to locally as 'florale'' and made in a more conventional way, giving great fresh flavors – tangy lemons in the case of the Savagnin. The oak fermented Chardonnays can rival good Burgundy often at a much lower price. Red Jura wines are from the obscure Poulsard and Trousseau grapes, with the more familiar Pinot Noir also being grown. They are very light in color but much more powerful than they look in terms of taste. Again these are very much food wines, going supremely well with some of the cured meats that the area is famous for, or in autumn, with full-flavored game dishes.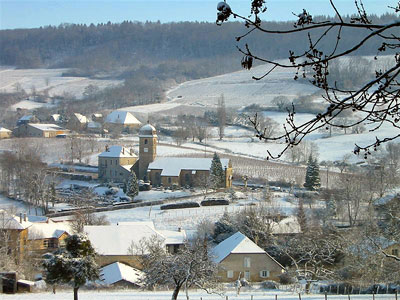 Lovely l'Étoile village under a dusting of snow
Crémant du Jurais the name for the local sparkling wines, made usually from Chardonnay (there is rosé too from Poulsard and/or Pinot Noir). Crémant du Jura offers tremendous value for the money compared to Champagne and is extremely drinkable, with a soft, fruity character. And finally, there are two more Jura oddities: Vin de Paille – literally 'straw wine' which is a medium sweet wine made from grapes that have been dried for several months after harvest and the resultant wine matured for up to three years in oak before releasing. It's a strong wine to have at the start or end of a meal. The other is Macvin a sweet fortified wine served usually as an apéritif or sometimes over ice cream. For a tiny region, the Jura really does have a plethora of wine flavors to explore.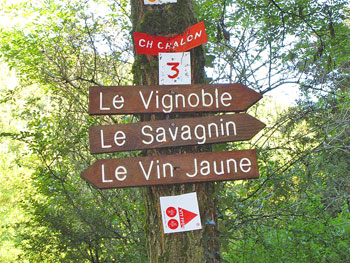 As a small region, with the exception of a couple of companies, most of the Jura wine producers tend to be family-run enterprises, and, except in peak summer months, it pays to make an appointment before you call in to visit. When you do, you will find these growers only too happy to explain the wines during a comprehensive tasting. However, one of the best ways to appreciate Jura wines is over a leisurely meal in one of the growing numbers of good restaurants in the area around Arbois or Château-Chalon. There are plenty of walking opportunities in this beautiful countryside to work off all the hearty dishes.





Wink Lorch is a wine writer whose specialty areas are Jura and Savoie.
She owns the web site www.winetravelguides.com which offers over 45 comprehensive online travel guides
to give you the inside track on wine regions in France and beyond. Ideal for those who want to plan their own wine tours,
the guides give the inside track on each wine region, and they also suggest places to dine, stay, shop and much more.
From a team of top wine and travel writers, the guides are available to download or print, and top gold subscribers
can also access interactive Michelin maps and Green Guides. There is no advertising on the web site.
Annual subscriptions and gift subscriptions are available online and readers of FRANCE On Your Own are eligible
for a discount worth up to 20% off the subscription price using the code D1FOY08 valid until 31st January 2009.
An annual subscription makes a perfect gift for anyone planning travels through wine regions in 2009.
[Photos copyright Wink Lorch 2008. All rights reserved.
Mouse over photos for descriptions.]

---
DISCLAIMER: You have received this newsletter because your email address is on our Opt-In mailing list, i.e., you have requested to receive FRANCE On Your Own ©. If you would like to discontinue receipt of this newsletter, please send an email to publisher@franceonyourown.com with "unsubscribe" on the Subject line.
Unless indicated otherwise, photos, graphics, artwork and text in the FRANCE On Your Own © newsletter are all the property of Cold Spring Press and FRANCE On Your Own © and cannot be copied, duplicated or used in any manner by anyone without the express written permission of Cold Spring Press. FRANCE On Your Own © is published online by Cold Spring Press, P O Box 26098, San Diego, California 92196-0098. This publication is copyrighted and no portions of the text, artwork, graphics or photographs may be reproduced or distributed in any form or by any means or stored in a database or retrieval system without the written permission of the Publisher. For more information about FRANCE On Your Own ©, visit our web site at http://www.franceonyourown.com.
Recommendations made in this newsletter are based upon the personal experiences of the Publishers or contributing writers solely to provide information to subscribers. Cold Spring Press and FRANCE On Your Own © make no endorsements nor are any guarantees or promises of satisfaction given or implied. Any and all information is correct to the best of our knowledge, and the Publishers accept no responsibility for errors and/or omissions. The responsibility lies entirely with the traveler to obtain current information regarding accommodations, availability, schedules, prices, reservations, or any other pertinent details. We do not guarantee the historical accuracy of the contents of articles in this newsletter. Historical accuracy is dependent upon one's sources of information -- and contradictions often exist among those sources. Links to other web sites or email addresses are provided for informational purposes only and do not imply any guarantees of service or endorsement of any organization or their business practices.
FRANCE On Your Own © is electronically transmitted via email. To add your email address to our database for this FREE newsletter, send an email to info@franceonyourown.com, and please put Subscribe in the subject line. We do not share email addresses with any other organization.
BACK ISSUES of the print version of FRANCE On Your Own © are available on our web site at http://www.franceonyourown.com/Archives.htm.
©1998-2008 Cold Spring Press All Rights Reserved

---

previous page