This column is intended to advise you about cultural events, news and happenings
in France or France-related events taking place in the United States
between now and the publication of our next issue.
In France. . .
o French workers . . . although most likely facing the possibility of losing the limit of a 35-hour work week, have more paid vacation days than any people in any industrialized nation. They get a mandated minimum of 30 paid vacation days plus one paid holiday for a total of 31 days each year. An organization in the US called 'Take Back Your Time' (and with 10,000 members) thinks that the working life of Americans is out of balance with the rest of their lives. They are pushing for 3 weeks mandated paid vacation for every American worker. They say that it won't make people lazy but motivate them and prevent burnout while allowing them to pay proper attention to the other aspects of their lives.
o Versailles' Hall of Mirrors reopens after renovation . . . [Press Release from Maison de la France/French Government Tourist Office] The Château de Versailles, one of France's most outstanding architectural masterpieces, reopened its famous Hall of Mirrors after an extensive three-year restoration on June 25, 2007.
Designed in 1681 by Jules Hardouin-Mansart for Louis XIV, the Sun King, the 240-foot hall was a marvel of its time. The king only used it on very important court occasions such as royal weddings or receptions for foreign dignitaries. The original furniture for the Hall of Mirrors was solid silver.
The name comes from the 375 mirrors along the back wall. They are grouped in seventeen arched arcades designed to 'mirror' the French windows on the opposite side that overlook the chateau's garden. The mirrors, the largest that could be produced at the time, cost $6,600 each. They were manufactured in France using a then, state-of-the-art mercury technique, whose fumes caused the death of numerous workers. For the renovation, each mirror was removed and reinforced, or if necessary, replaced by antique mercury mirrors that were stored in the Senate.
Another impressive aspect of the Hall of Mirrors is its 10,800 square-foot ceiling featuring paintings by the king's 'first painter' Charles Le Brun. For the first time, a king would be portrayed in decorative art, instead of mythological subjects. Out of respect, the king would be painted first on a canvas using an easel, then it would be attached to the ceiling and surrounded by painting applied directly to the plaster. These canvases were taken down during earlier renovations and some had been severely damaged or even put back up in the wrong place. Restoring the ceiling paintings was a long and delicate task that required some forty full-time restorers. Much of the work involved repairing the previous restorations.
Other decorative features that were refurbished include marble columns and ornamental elements, molded stucco and plaster, gilded bronze statues and hardware. The old parquet floor dating from the 1950's was entirely replaced and 12% of renovation budget went toward updating the electrical system.
Over 3,000,000 visitors visit the Chateau de Versailles annually and they will now get to enjoy the Hall of Mirrors in its full glorious state. Details of the restoration can be found on the Vinci web site @ www.vinci.com. Contact information in Versailles - Web Site: www.versaillesregion.com / Email: versaillesregion@aol.com
o Rent a French Château for the Rugby World Cup! One week is still available - October 13 to 20, 2007 - at the astounding low rate of 1200 British pounds. Eight bedrooms, a swimming pool and much more! Within easy reach of Nantes or Bordeaux (2 hours to Paris by TGV) to attend the games. Also near La Rochelle, the ocean beaches, a lake and more. Contact us for further details, but don't delay! info@franceonyourown.com. Please put 'Cristallin' in the subject line.
o Paris' Nuit Blanche (Paris' Sleepless Night). . . Once a year, Paris invites visitors to experience a culture-filled nuit blanche, or sleepless night. Museums, libraries, swimming pools, churches, cinemas, parks, gardens and universities open their doors for exploration all night long. At dawn, each district's city hall, local associations and shopkeepers organize breakfast for those who made it through the night. To get exact date and details: http://www.parisinfo.com
o Dog and Cat adoption and pet sitting. . .this always free service can be found on the web site Association France Canine Feline at http://www.francecf.org/index.php. You can find someone to take care of or adopt your pet in France or you can sign up to take care of someone's pet or adopt a dog or cat. This site also includes a Lost and Found section. Free newsletter, too. Site is in French.
o Toulouse les Orgues International Festival. . . This event celebrates organ music with a diverse range of concerts and performances. Every autumn since 1996 the festival has taken place, expanding each year. Today, the program includes about 60 events in Toulouse and the Midi-Pyrénées region. October 1 to 31, 2007. For more information visit: http://www.ot-toulouse.fr
o Paris Banlieue Tango Festival. . . The tango takes over Paris with concerts, dancing, music and singing workshops, cinema and video, art exhibits, photography, theater, debates, lectures, food and cabaret evenings. http://pbta.free.fr October to November, 2007.
o Jazzèbre Perpignan (Languedoc-Roussillon). . . Through the month of October, Perpignan will be the center for all types of jazz, from contemporary, salsa and blues to bossa nova and international. Nearby vineyards will offer jazz and wine-themed itineraries and excursions. http://www.jazzebre.com (French only) or http://www.perpignantourisme.com
o Fête des Vendanges Paris (Grape Harvest Festival) You may have read about this in a past FRANCE On Your Own. Well, now you can experience it for yourself. For the 72nd year, Montmartre will celebrate the arrival of the 'Clos Montmartre' wine. The festival includes displays of regional produce, street musicians and singers, the election of the Harvest queen and a parade dedicated to Bacchus. For dates and details visit http://www.parisinfo.com.
o The Reims Jazz Festival Reims (Champagne). . .The Reims Jazz Festival hosts a variety of innovative jazz concerts throughout the city on the second weekend of October. For information visit http://www.reims-tourisme.com.
o The French Economy. . . French exports rose in June more than they had in the past two years, cutting the nation's trade gap. President Sarkozy's theory that the increased value of the euro makes European goods less competitive abroad doesn't seem to be holding true. Exports increased 6.2% from the prior month, the biggest jump since April of 2005. President Trichet (also French) of the European Central Bank has signaled that the bank will raise rates again next month. Experts in the currency markets expect the euro to reach $1.40 before the end of the year.
o Expats living in Paris... the organization Women of the American Church in Paris has the following events to announce:
Bloom Where You're Planted - Mon/Tue, Oct. 1 & 2, 2007, 9:00 to 4:00 pm. Registration Donation: 50 euros pre-registered, 65 euros at the door (couples-70€, 85€ at the door) and Bloom While You Work - Saturday, Oct. 6, 2007, 9:00 am to 5:00 pm
Registration Donation: 40 euros, 55 euros at the door (couples–60€, 75€ at the door). Both seminars held at the American Church in Paris, 65 Quai d'Orsay, 75007 Paris. Registration donations include lunch and Bloom Book – the definitive English speaker's guidebook to living in France with over 300 pages of helpful information. Details and registration forms at www.woac.net, or at the church reception desk.
o Passings. . . Cardinal Jean-Marie Lustiger (born Aaron Lustiger in Paris in 1926 to Jewish parents) died on August 5 at the age of 80. The Cardinal was a convert to Catholicism at the age of 14 after being sent to live in Orléans with his sister to escape the Nazi occupied Paris. His mother, a Polish-Jewish immigrant was sent to Auschwitz where she died. His father, who survived the war, lived out his life with the Cardinal. Lustiger's life was spent strengthening relations between Christians and Jews, and he is quoted as saying, "Christianity is the fruit of Judaism. For me it was never for an instant a question of denying my Jewish identity. On the contrary." . . . Baron Elie de Rothschild, age 90, died of a heart attack while vacationing at his hunting lodge in Vienna, Austria on August 6. The second Rothschild to die this year (banker Baron Guy de Rothschild passed away in Paris at the age of 98 in June), Elie was best known for his efforts to resurrect the family banking and wine producing dynasty following World War II. He had served as an Allied soldier in the war, was captured near the Belgian border and served time as a prisoner of war in the Luebeck camp where he discovered a fellow prisoner was his brother, Alain. Following the war he worked at the family's Château Lafite-Rothschild winery. Experts credit him with producing the prestigious 1947 and 1949 Bordeaux vintages, considered among the very best, and he founded the Bordeaux Wine Guild in 1950. . . Heinz Barth, age 86, a former SS officer in Nazi-occupied France who was convicted in East Berlin in 1983 of participating in the 1944 massacre of 642 men, women and children in the Haute-Vienne village of Oradour-sur-Glane, died in Gransee, Germany. He was sentenced to life in prison, but was released in 1997 because of poor health.
o The Women of the American Church in Paris invite expats to the following events: Bloom Where You're Planted, on
Mon/Tue, Oct. 1 & 2, 2007, 9:00 to 4:00 pm, Registration Donation: 50 euros pre-registered, 65 euros at the door
(couples-70€, 85€ at the door) and Bloom While You Work, Saturday, Oct. 6, 2007, 9:00 am to 5:00 pm. Registration Donation: 40 euros, 55 euros at the door (couples–60€, 75€ at the door). Both seminars held at the American Church in Paris, 65 Quai d'Orsay, 75007 Paris. Registration donations include lunch and Bloom Book – the definitive English speaker's guidebook to living in France with over 300 pages of helpful information. Details and registration forms at www.woac.net, or at the church reception desk.
In the US. . .
o Well, not in the US but nearby . . . the Caribbean islands of St Barts and St Martin officially gained some financial and political independence from the French overseas département (DOMTOM: Départements d'Outre-Mer and Territoires d'Outre-Mer) of Guadaloupe in July, allowing them to now set their own tax laws, decide tourism and transportation issues for themselves and control their own housing, environmental and energy affairs, among other things. Although they are still official French territories, this change was decided overwhelmingly by a vote of the citizens of the two islands back in 2003.
o The San Diego Museum of Art presents Impressionist Giverny: A Colony of Artists, 1885-1915 through September 30th. One hundred paintings show Giverny landscapes in varying seasons and light, with many reflecting the visiting artists' fascination with recreating paintings that Monet himself had done. We were fortunate enough to see this exhibit last week, and it was a very pleasant experience. A few Monet paintings, one of which belongs to the Museum, were included for good measure. For more details visit www.sdmart.org.
o French Painted Fans. . . are the subject of an exhibit at the Dallas Museum of Art through October 14. On display are fans depicting everything from Biblical scenes to portraits of Louis XIV and Marie Antoinette in A Painting in the Palm of Your Hand: 18th Century Painted Fans from the Wendy and Emery Reves Collection. Visit the Museum's web site at www.dallasmuseumofart.org for more information about this exhibit.
o Representative art. . . is what you will see when you visit the Frick Art and Historical Center exhibit entitled In the Studios of Paris: William Bouguereau and His American Students until October 14th. This 19th century artist bucked the trend of impressionism, which he didn't like at all, and instead created representative paintings both in Europe and America. He was extremely popular and successful and was a teacher of hundreds of successful students. The exhibit presents his work and that of many of those students. For details visit www.frickart.org.
o Current events . . . play a defining role in the subject matter of photographer Luc Delahaye whose huge images of the wars in Lebanon, Afghanistan, Chechnya and other world hot spots have won him awards. The exhibit, Recent History: Photographs by Luc Delahaye, also chronicles demonstrations, natural disasters and events in the world that affected great numbers of people. Until November 25 at the J. Paul Getty Museum. Visit www.getty.edu for further information.





A Franco-American Portrait
Glitter and Gold - the story of Consuelo Vanderbilt Marlborough Balsan
by Arthur Gillette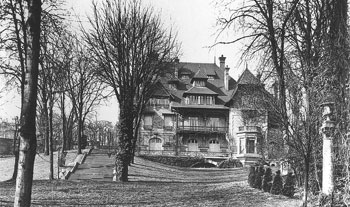 I like surgery even less than hospitals, but recently had to have a dose of both at the Hôpital Foch, in the Parisian suburb of Suresnes. When post-op ambulatory, I wandered into the courtyard of this 900-some bed monster and stumbled on a veritable mansion reminiscent of Anglo-Norman style, worthy I deemed of Beacon Hill Boston. This photo shows what it looked like before being hemmed in, as it is today, by rather faceless 1930s hospital architecture.
I discovered later that it had, in fact, been built in 1872 by neo-Medieval architect Denis Darcy, a pupil of Notre Dame restorer Eugène Viollet LeDuc. Intrigued, I looked closer and saw a plaque announcing the Pavillon Consuelo Balsan. That sounded Catalan to me. Catalan in this rather chic Parisian suburb?
Convalescing at home, I was tickled by curiosity and began to check up on the lady. The result is quite a period portrait! Far from Catalan, the Consuelo in question's first name turned out to have been inherited from her godmother, a 19th century Cuban-American socialite. And her surname at birth? Aha! Vanderbilt - yes, the railway tycoon lineage, originally from Bilt in Holland, but Americanized by squeezing the van der ("from the") together with the town of origin. Born in 1877 in New York City, the daughter of William Kissam Vanderbilt, Consuelo had a high-society upbringing, learning for example not only English but also French and German. This sketch of her, aged 26, helps one understand why English Lord James Barrie (remember Peter Pan?) avowed "I would wait all night in the rain to see Consuelo get into her carriage!"
Mom was Alva Erskine Forbes, whose strict French Protestant background made her something of a curmudgeon. She corrected Consuelo's posture with a shoulder-to-waist steel rod down her spine, and once proclaimed, "I have always had absolute power over my daughter." To "force" (by her own admission) Consuelo to marry into English aristocracy, she feigned terminal illness. At the age of all of 17 or 18, Consuelo found herself the unwilling Duchess of Marlborough, wed to Charles Spencer-Churchill, cousin of a certain Winston with the same double-barreled surname, who later visited Consuelo in France and America on amateur painter outings. Ninth Duke of Marlborough, Charles received from the Vanderbilts something like 75 million of today's $US to clinch the loveless deal.
Somehow, the couple managed to have two children, seen here with Consuelo on the occasion of King George V's Coronation in 1911.
But soon the marriage was, as one source puts it, "in name only" and divorce followed around 1921. Sources disagree on dates here. It seems sure, however, that while still quite young Consuelo displayed a philanthropic bent, helping out (for example) tenants on her husband's English estate. She also organized a trade union conference (yes, you read that right!) on the conditions faced by women workers, particularly in the textile industry, which gave a nudge forward to suffragette efforts to obtain the vote for women in Britain. And when World War I burst upon the scene, she spearheaded action to help the wounded and the families of prisoners of war, later turning to more general philanthropic concerns, some with a decidedly feminist thrust.
Un Mariage d'Amour
At the age of seventeen Consuelo had met French balloon and aviation record-holder Colonel Jacques Balsan at her first Paris ball. At home that evening, he predicted to his mother that the two might marry. It took 27 years, but ~ after her divorce from Marlborough ~ it happened!
The couple seems to have lived quite happily and almost ever after. (They had to flee France in 1940: probably because of her social-political activities, and, in any event, given her wealth she was on a Nazi hostage list.) In the interim, she had continued her philanthropic work and, in 1926, began raising funds to create the Hôpital Foch, to which she herself became a major donor, thus earning the French Légion d'Honneur ~ and her name on its pavilion that intrigued me. The hospital was built on land that previously belonged to the English designer (perfume and clothing) Charles Frederick Worth. Official couturier to such luminaries as Napoleon III's Empress Eugénie, Worth erected in the 1860s and 70s, on a mega plot of land measuring some 15,000 square meters and overlooking the Seine, a kind of historicist Disneyland of buildings and gardens recalling the Middle Ages and Renaissance, including purpose-built ruins shown in this photo.
These were torn down in the 1930s, except for the Pavilion named for Consuelo, to make way for the Hôpital Foch. In 1940, the Balsans escaped occupied France to the USA where Jacques died in 1956 and Consuelo in 1964, at a venerable 87.
Her 1953 autobiography drew on Shakespeare's "All that glitters is not gold" for its title ~ The Glitter and The Gold. As far as I can tell, Consuelo was more gold (genuine heart) than glitter (sham flashiness).
[Photo credits: mouse over each photo, please.]
Arthur Gillette doesn't just tell us about interesting people Consuelo Vanderbilt,,
he also knows the most interesting places in and stories about Paris. Why not arrange to
take one of his sixteen strictly personal walks to help you discover 'Paris Through the Ages'.
For more on the strolls, visit our Marketplace page, and/or contact Arthur directly at Armedv@aol.com