IN THIS ISSUE:
Languedoc-Roussillon:
the other south of France
Paris Enigmas
Ici et Là
Franco-American Portraits:
~ Consuelo Vanderbilt Marlborough Balsan
by Arthur Gillette
Letters from Occupied France
edited by Arthur Gillette
Around & About Paris: Montmartre
by Thirza Vallois
The Bookshelf:
~ A Traveller's Wine Guide To France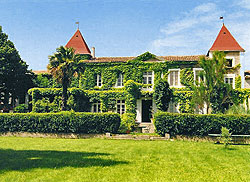 Domaine des Castelles, Aude
FEATURING
Languedoc-Roussillon / Part One
Walking with the Camisards
by Scott Anderson
FRENCH WINE REPORT:
The Loire Valley
by Corina Clemence

Historic events, prolific winemaking, lovely Mediterranean beaches and mountain foothills...all those terms could easily describe Provence, but they also describe Languedoc-Roussillon.

This 'other South of France' survived a tumultuous history rife with religious wars and fierce struggles with both Spain and France in an attempt to maintain its Catalan roots. From the horrors of the Albigensian Wars to the use of the region as a bargaining chip between France and Spain over several centuries, Languedoc and Roussillon have never been quiet. But, today, one finds an astounding peace and tranquility ~ while just below the surface its population is still ready and very willing to protest the next incursion by the government into their rights, traditions and culture.

Romans settled here, the Visigoths invaded, and the centuries passed. This beautiful, rugged region of France is now the perfect destination for visitors, naturists, back country explorers, spelunkers and historians, as well as those who simply want to settle in the south amid endless vineyards and beautiful beaches with the Pyrénées mountains as the backdrop.

This issue will focus on Languedoc-Roussillon ~ a part of France coming into its own both as a tourist destination and a winemaking region in the 21st century. This sunny part of France is and was the source of most of the ordinary table wine served in French homes, but today it is turning out superb wines that have achieved AOC classification and are sold the world over. We will take you to some of the great attractions of Languedoc in this issue, and continue with more plus the very special Roussillon in the next edition of our newsletter.

As a special addition to our feature, we welcome Scott Anderson, a resident of Languedoc, to FRANCE On Your Own with his article Walking with the Camisards. Scott provides insight into a part of Languedoc history with which many of us may not be familiar.

But, this feature on Languedoc-Roussillon will only be Part One of two parts, the second of which will come in December after we have returned from France. Focusing for a few weeks on the region all the way to (and perhaps across) the Spanish border, we hope to be able to give some personal insight into this mysterious land of garrigue, Cathars, cassoulet, and Roquefort cheese.

Also in this issue we will spend some time in Paris: first getting to know Consuelo Balsan, in our Franco-American Portrait...a very unique lady with quite an interesting life. We will also visit Montmartre with Thirza Vallois, author of Romantic Paris, as she illuminates the most interesting aspects of this wonderful hilltop neighborhood overlooking the City of Light.

Finally, our French Wine Report focuses on the Loire Valley from the viewpoint of a château owner, Corina Clemence, whose article intertwines the lovely wines of the region with the many fascinating things to do and see before and after vineyard visits and winetasting! We further provide some information about the wines available throughout the Loire Valley.

We hope you enjoy this issue and the rest of the summer season into autumn. And for those of you traveling to France as we will be, bon voyage!

---