Around and About Paris: Montmartre
by Thirza Vallois

The following is an excerpt from Thirza Vallois' Around and About Paris, a three-volume
collection of the history and attractions to be discovered in the arrondissements of Paris.

The story goes that St Denis came to preach the gospel in Roman Lutetia (now Paris) accompanied by Rustique and Eleuthère. The three men were arrested close to the Val de Grâce in the Latin Quarter, the first of seven stations of martyrdom that took them across the city from south to north. They were ordered to be put to death at the temple of Mercury on top of Montmartre, but the soldiers, tired of climbing the steep slope, beheaded them instead halfway up the hill, on the site of the present 9 rue Yvonne-le-Tac. And there, lo and behold, St Denis picked up his head and continued to ascend the hill till he came to a fountain on the site of what is now the Impasse Girardon, where he stopped to wash his blood-stained head before carrying on north for another 'good league'. Only then did he collapse and die at the feet of the pious widow Catulla, who buried him on the site. No sooner done than corn grew on the grave, concealing it from those who would have otherwise profaned it ~ except for St Geneviève, the patron of Paris, who remarkably located it two centuries later, circa 475AD, and set up an oratory at the site, the nucleus of the famous Basilica of St-Denis where most of the kings of France rest.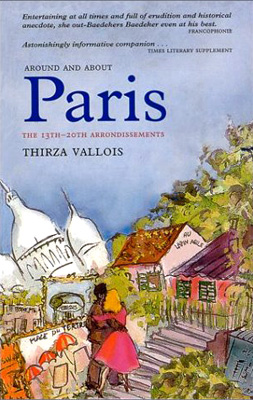 In Hilduin's Chronicles of St Denis, the name is spelled Dionysi, which suggests the original Denis may have been no other than Dionysus, the god of wine, a plausible assumption in an area renowned for its wine. Could the names of the three evangelists, Denis, Rustique and Eleuthère, have been derived from a dedication on his temple — Dionyso rustico eleuthero (Dionysus, rustic and free)? Or maybe Dionysus had simply lost his head from too much heavy drinking, in which case he would have plunged it into the fountain to wash away his sin, or more prosaically, to recover from a hangover (this is, supposedly, the fountain now situated in Square Suzanne-Buisson). The purifying quality of its water was common belief, as attested by the saying: Jeune fille qui a bu l'eau de Saint Denys, sera fidèle à son mari: A damsel who has drunk from the water of St Denys will be faithful to her husband.
Be that as it may, vineyards covered substantial stretches of Montmartre in olden times, although its present little vineyard dates only from 1934. It was planted by the intelligentsia and bohemia to revive old traditions, a merry bunch with little knowledge in viticulture who, against all logic, planted the vineyard on a slope facing the north! Unaware that grapes need four years before they can be pressed for wine, they organized the first vendanges (grape-picking) celebration the following year. The ceremony was honored by the presence of French President Albert Lebrun and Minister of Agriculture Henri Quenille, who were offered the first two bunches of grapes. The vendanges festivities have been repeated every autumn since (always on a Saturday, shifting between September and October according to weather conditions), except during World War II. It is a jolly, colorful procession, accompanied by song and banter, against the picturesque backdrop of the legendary Lapin Agile, the one-time hub of bohemian nightlife, nestling opposite the vineyard, across the rue St-Vincent.
When it opened in 1860, the cabaret was called Au Rendez-Vous des Voleurs, and later le Cabaret des Assassins. However, when the painter André Gill painted the famous sign of the funny-looking rabbit jumping out of the saucepan with a bottle of wine in its hand, the place was renamed le Lapin A. (= André) Gill, eventually corrupted to le Lapin Agile. André Gill was also a poet who composed and sang protest songs bashing the bourgeois, the police and the establishment at large, in good old Montmartre tradition. But the man who stole the show was le patron himself, Frédéric Gérard, better known as le Père Frédé, who leased the place from the celebrated Aristide Bruant, its owner since 1903.
Frédé also used to sing, scraping an accompaniment on an untuned guitar. Originally a fishmonger, he would go down to les Halles every dawn, dressed as a Breton fisherman and accompanied by Lolo, his donkey who would help him carry his fish up the hill. When Frédé turned innkeeper, Lolo was made redundant and became the mascot of the cabaret. Frédé grew a fantastic beard and wore a red scarf around his head in summer and a Trappist fur hat in winter. His Burgundian wife Berthe was a wonderful cook and prepared a two-franc menu, which, though cheap, was well beyond the means of most local clients. The warm-hearted couple never turned away hungry mouths. Frédé was very friendly and said tu to everyone, but kept an eye on both drunkards and thugs ~ he did not want to get into trouble with the police who had already closed down his previous Montmartre cabaret, le Zut, and did not hesitate to throw out Modigliani and Utrillo when he deemed it necessary. Yet even he could not altogether eradicate brawls and fights, often ignited by alcohol. Frédé's own son-in-law, Victor, was shot dead one fateful night, '... shot down at the counter by a bullet right in the head; they [the cops] turned a deaf ear', according to writer Dorgelès. Victor apparently had encroached upon the pimps' territory.
A warm, cosy atmosphere permeated the cabaret on cold winter nights, with the fire glowing in the hearth and the snowflakes falling outside. Pictures lined the walls, masterpieces such as Piccolo's Harlequin side by side with rubbish ~ Frédé was not exactly a discerning connoisseur. When he was a little short of money a few years later, he simply sold the Harlequin for the ridiculous sum of 5,000 francs. The fortunate buyer was Rolf de Marée, the founder of the Ballets suédois.
The chapter cannot be closed without mentioning the greatest of all hoaxes perpetrated in the history of modern art, and the hero of the hoax was none other than Lolo! The writer Dorgelès did not think much of the Cubists and the Fauves and believed that any ass could produce the same results. In order to prove his point, he tied paintbrushes to Lolo's tail and stuck a canvas underneath. Lolo obliged by swishing his tail energetically, probably just to get rid of the uncomfortable burden, but as a result created an impressive abstract work of art, although some unkind witnesses claimed that the art critic André Warnod, who was present, contributed by guiding the donkey's tail. Be that as it may, the painting was certified by a bailiff and dispatched to the 1910 Salon des Indépendants under the title Sunset over the Adriatic with the signature of a fictitious Italian painter named Boronali. It seems that one dictionary of painting, published in 1939, mentions him as a 19th-century artist of the Italian school, born in Genoa, but no date of birth is provided. Lolo's work attracted press reviews that referred to 'un tempérament encore confus de coloriste' and 'un exces de personalité' ('His palette betrays a colorist's temperament that is still confused' and 'an exaggerated personality'). Today the artwork belongs to a private collector, whose name has not been disclosed. It was exhibited at the Grand Palais in 1955, during an international exhibition entitled Le faux dans l'Art et dans l'Histoire.
Thirza Vallois' "in-depth knowledge of the city and her acute attention to detail, delivered with fast-moving style,
will be intriguing for both travelers and scholars." review by A. Stephanie Papa from the Library Journal.
You can take advantage of Thirza's knowledge of Paris and her insight into the hidden gems and little known stories
of the city by ordering her three-volume series 'Around and About Paris' from her web site at http://www.thirzavallois.com.
You might also want her well-received 'Romantic Paris', in which she walks you to all the city's treasured spots and secret corners,
and provides you with a choice of fabulous places – hotels, restaurants, cafés, shops, museums, night life –
that she has carefully selected to suit couples of all ages, all budgets, and as varied a spectrum as possible.
And, be sure to ask Thirza via the link on her site to let you know when her newest book, 'Aveyron, A Bridge to French Arcadia' is available for purchase. This book, scheduled for release in September of 2007, is the captivating story of a once destitute corner of France that is now singled out for its unbeatable, idyllic quality of life.
More than a travel book to a unique and beautiful area, it is also a portrait gallery of the people of the Aveyron who are building bridges to the outside world ~ bridges that will take you on an exciting journey and a mystical quest across the millennia.
Read our review in the December issue of FRANCE On Your Own.





---
SPONSORING THIS ISSUE:

Rent a Cell Phone for your Trip to France
Click on the above banner to find out how easy and convenient it will be to have a cell phone while
traveling through France ~ especially if you are going to the Rugby World Cup matches at many
different venues throughout the country. And, remember that all incoming calls in France
are FREE and you can call the US from France for only $1.29 per minute.
Visit Call-in-Europe today to see all the plans available to you.
---
THE BOOKSHELF:
A Traveller's Wine Guide to France
by Christopher Fielden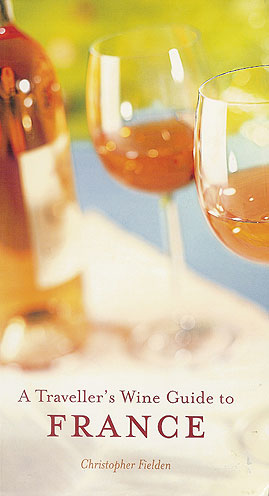 This is the third update to a book that critics acclaim as "A boon to travellers and wine lovers like..." [Decanter Magazine], "Offers invaluable information...clear, colorful maps...descriptions of regions and their wines..." [The New York Times], so we decided we'd see what it has to offer. The author, Christopher Fielden, has an extensive background in wine, including four years in Burgundy as sales director of a major wine producer. He has written for many years for Decanter magazine, and has had many publications including Burgundy Wines and Vines and Is This the Wine You Ordered, Sir?
We first looked at the map on page 'x' of the introduction, and have to say we were surprised and somewhat disappointed that one large region of French wine production was not included: the Southwest which includes the wines of Bergerac, Cahors, Gaillac, Jurançon, Madiran and others gaining prominence in recent years. Yet, despite the absence of this region on the map, the book does cover the wines of the Southwest beginning on page 178 for twelve pages, so we believe that the editors should redesign their map so that this region is shown. Within the sections on various regions, a more detailed local wine growing map is given, but, once again, not in the Southwest region. We believe this is just an oversight and that it could easily be remedied before going to the next printing. Perhaps we particularly noticed this omission as some of the Southwest wines are our absolute favorites!
Beyond that one complaint, we like this guide book very much. It provides a clear picture of French wine regions, the grapes used in the myriad appellations produced in France, several vineyards in each appellation to visit for purchases and dégustation, places to stay and where to eat. Good quality color photographs are disbursed well throughout the book, but do not overwhelm the information for which one would buy this book. And, last but not least, there is definitely a sense that the author knows French wine.
The introduction provides travelers with the basics of French wine touring including the system of classifying wines from Vin de Table to Appellation Controlée (AOC) and the classifications in between. The author also tells you how to read a wine label...which might sound very simple, but he offers some information that may otherwise not be fully understood by those unfamiliar with French wines or who do not read French.
We especially appreciate (although it is quite brief) the mention of Corsica and its wines, and, although brandy is not wine, the author has included both Cognac and Armagnac in this guide ~ and even a five-page section on Calvados and cider! Other wine guides do not include these distilled beverages, so that is definitely a plus for travelers who have an interest in them or might find themselves in a part of France where they are produced. Mr Fielden provides a section nicely devoted to Cognac, the best-known French brandy, but very little to its predecessor, Armagnac, which he mentions only briefly in the Bordeaux section of the guide. Armagnac is from Gascony in Southwestern France, (that same region whose maps were missing) and, like Cognac, it is distilled from white wine grapes, followed by aging in casks made from local black oak. The principal difference between Armagnac and Cognac is that Cognac is distilled twice, and Armagnac is distilled only once allowing more time in the oak for Armagnac which produces a brandy many believe is far superior to Cognac. But, this guide is really about wine, and the information he did provide on distilled beverages is above and beyond what he needed to include, so this is definitely not a criticism of this well-researched guide.
At the end of the book are three pages listing and describing wine grapes and their regions of use. We were surprised not to find listed (under the Reds) Syrah, Malbec or Mourvèdre, important grapes in the wines of the Rhône and Southwest/ Midi. The author does provide a substantial list of wine producers to visit as well as Where to Stay and Eat in all regions, so it is a good travel resource even without visiting wineries along the way.
All in all, A Traveller's Wine Guide to France is a fine companion to pack in one's suitcase for that next trip to French wine country, whether it be the Loire, Alsace, Bordeaux, Burgundy, Provence or in one of the many other districts producing France's incredibly varied appellations. The resources provided are extensive and very useful and the photographs enticing.
A Traveller's Wine Guide to FRANCE by Christopher Fielden, is published in May of 2007 by
Interlink Books, Northampton, Massachusetts, (www.interlinkbooks.com)
and is available in the US for $22 and in Canada for $27. ISBN 1-56656-624-X (paperback)
You can order it today by clicking on the Amazon.com link below: