Can I Get Married in France?
by Corina Clemence

France, the land of over 30,000 castles, is a spectacular country to choose for your wedding ceremony. However, a civil wedding in France requires legal procedures and advance planning, as well as a minimum stay of four weeks and blood tests to complete the necessary documentation prior to the legal ceremony.

As this is usually difficult to arrange, many couples opt to have a legal wedding in their own country, before jetting to France for a religious ceremony held at a spectacular location like a fairy tale château in the Loire Valley or at a location in Paris ~ and they then honeymoon in France. Either type of ceremony in France will offer you a romantic and picturesque setting for that special day.

A civil marriage is mandatory in France and religious ceremonies, which are optional, are not legally binding in any way and can only be performed after the civil ceremony. To be legal, a marriage in France must be performed by a French civil authority. In practice this means that the mayor or his legally authorized replacement performs the marriage ceremony.

The Civil Ceremony

For a civil ceremony there is a requirement of residency with which one of the parties to be married must comply. Either the bride or groom must reside in the town or the arrondissement (if in Paris) for the thirty days prior to the marriage. In addition to these thirty days, French law requires the publication of the marriage banns at City Hall for ten days which makes a total residency requirement of 40 days before the ceremony can be scheduled to take place at City Hall.

Documents needed for a civil ceremony are as follows:
- Birth certificate, not from a hospital but from the official government agency for recording births, like the Bureau of Vital Statistics of the appropriate jurisdiction in America.
- A notarized "Affidavit of Law" (Certificat de Coutume), drawn up by an attorney in law licensed in the State of residence of the party, stating: that this person is free to marry, that the marriage to be performed in France will be recognized as valid in their home country, and that publication of marriage banns is not required in their home country, neither under State nor Federal law.
- In the case of previous marriages, a certified copy of the death certificate of the deceased spouse or a certified copy of the final divorce decree must be produced.
- Prenuptial certificate of health issued not more than two months prior to the date of the marriage by a medical doctor after serological tests for syphilis, serological tests to determine blood types and possibly the presence of irregular anti-bodies, and further for females serological tests for rubella and toxoplasma. It is possible to have these tests done in France.

In all cases, it is recommended that the couple contact the Marriage Bureau of City hall upon arrival in France as extra documents may be required, such as a residence affidavit.

All the documents listed above must be translated into French for presentation to French officials. Translations can be done in the United States, for example, by a translating agency or by a certified translator in France. If the translations are done in the United States, the translations as well as the original of the document must be presented to the French Consulate General for verification.

All foreign documents must be legalized before being presented in the French authorities. American documents can be legalized by obtaining the Apostille provided for by the Hague Convention which was signed by the United States on October 15, 1981. The Apostille is usually obtained through the office of the Secretary of State of whatever state in which the document was issued.

Regarding prenuptial agreements: if no special measures are taken by the parties with a French Notary or an attorney at law in the States, prior to the marriage, they are considered married under the communaute reduite aux acquets. This means that what each party owns personally before the marriage, or whatever comes to them afterwards through inheritance, remains their property. Only what is acquired during the marriage is owned equally by both parties.

American citizens holding ordinary American passports are not required to obtain a visa for a trip to France as long as they do not stay longer than three months. The visa exemption does not apply to students, journalists or to members of airline crews no matter what the length of their stay. American citizens holding diplomatic or official passports must obtain a visa before going to France no matter what the length of their stay. Other foreign nationals must check with the visa section of the Consulate General of France.

As the legal requirements for getting married in France are detailed and may be reviewed or amended at any time, it is recommended that you engage a competent wedding planner if you wish to get married in France. Not only will she advise you on up-to-date legal requirements, she can assist you with every little detail for your special day.

A Religious Ceremony
A fairy tale château in France is a magical location for your wedding vows. If you decide to have your civil ceremony in your home country, you can arrange to have a religious ceremony in France with the help of a wedding planner or perhaps the owner of the château where the ceremony will take place. Arrangements can be made with local vendors to provide catering, flowers, a photographer, music, a marquee, and even the local clergy to perform the ceremony. Château du Guerinet, near Blois, is an exclusive luxury chateau perfect for that romantic wedding.
Corina Clemence, her husband and children share the extraordinary Château du Guerinet in the Loire Valley
with bed and breakfast guests, or offer the entire château for rent for a family get-together. The
Clemences enjoy providing their château for a beautiful French wedding. If that is a dream
of yours, why not contact Madame Clemence at corina@loirechateau.com for more information?


Weddings in Provence
by Anita Rieu-Sicart
As more and more UK nationals and expatriates from all over the northern hemisphere arrive and settle, more often than not to retire in this region of the South of France, so, too, do they bring their children, grandchildren and friends into the region. Naturally enough, now and again the subject of family weddings crop up, and more and more expatriate families are finding it a wonderful solution to hold them, and other family junkets, right here in Provence.
The main attraction is the cost savings to be made, particularly on wine and champagne, the absolutely have-to-have at any wedding, plus cost savings that can be had on accommodation, and, now with the advent of so many budget airlines flying into the region, on transport. The cost of any wedding, low or high, in the UK is likely to give the father of the bride severe fiscal hemorrhages.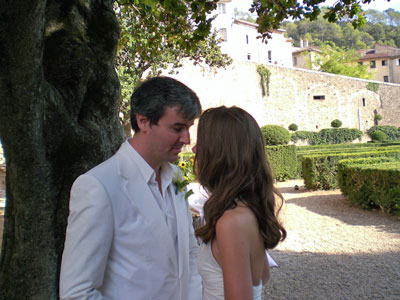 Call it the "Four Weddings & a Funeral" syndrome, which reminded everyone what great fun weddings are, not just for the principal couple, but also for the wedding guests, many of whom troupe along (particularly now after that film) forever the romantic optimists, hoping they too are going to find their 'soul mate' and wind up in the Happily Ever After.
Now when a young couple puts the question to their friends, "Would you come out to the South of France if we got married there?" The reply is nearly always a hysterically emphatic, "Yes, and how!"
As one happy bride told the Var Village Voice, "Our decision to hold the wedding in the Var was based partly on the fact my parents lived in the area, partly due to the glorious weather and heavily due to the financial sense it made. It meant that our wedding could be everything we wanted and more, without breaking the bank. Everyone treated the trip like a holiday which added to the party atmosphere and everyone who came said that it was one of the best weddings they had ever been to. Having the wedding in Provence proved to be the best decision we could have possibly made. It was a wonderful weekend that couldn't have been more perfect. We would do it again in a heartbeat!"
To read the April 2007 Var Village Voice newsletter supplement click 'WEDDINGS IN PROVENCE' (a PDF file).
For more details and to answer any questions you might have, please contact Anita Rieu-Sicart
by email at anita@varvillagevoice.com. Be sure to visit her web site, http://www.varvillagevoice.com
and subscribe to her wonderful newsletter featuring special events, everyday activities, restaurant reviews,
vendor information, real estate offers, and everything else for those living in or visiting Province's Var département.