This column is intended to advise you about cultural events, news and happenings
in France or France-related events taking place in the United States
between now and the publication of our next issue.
In France. . .
o Elections in France . . . Nicolas Sarkozy was sworn in as President of France on May 16th in a ceremony at the Elysées Palace. The 52-year old right-wing politician took the reins from outgoing President Jacques Chirac and is promising great reforms during the 5 years of his presidency. His leadership of France began in tight security following election-night demonstrations by those opposed to his winning. Neither Sarkozy nor his wife have, as she once said of herself, "a drop of French blood" in their veins, making all the more odd his earlier outspoken stance on the immigrants of France. No one can predict what a Sarkozy presidency will bring, but we wish all those in France a very good five years.
o A Passing . . . Three years ago, this newsletter did a feature on French Inventions and Discoveries [see FRANCE On Your Own, June 2004 issue], but neglected to mention this scientist whose most important work plays so much of a part in our daily lives. Pierre-Gilles de Gennes won the Nobel Prize in Physics in 1991 for his pioneering work on liquid crystals ~ used today in computer screens, flat-screen TVs, calculators, thermometers, watches, and other technology. The Nobel Prize committee recognized his work combining chemistry with physics and mathematical formulas resulting in an understanding of the physical chemistry of adhesion. Dubbed by many as 'the Isaac Newton of our time", de Gennes was 74.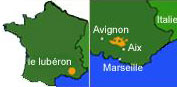 o Wine, Gastronomy, and the Rugby World Cup in Provence . . . The Château de Clapier is offering Wine and Gastronomy classes at their wine-producing estate in the hills of Provence during the 2007 Rugby World Cup matches, some of which will be held in Montpellier, Marseille, and other nearby venues. New to the Château, Caroline Miquel, is a young and dynamic French chef who proposes theme menus, original foods and wine pairing as well as some cooking classes for children. Excellent lodging near the château is offered. For more information please send an email to info@franceonyourown.com with the word 'Clapier' in the subject line.
o Read about Château de Grézan . . . an incredible Languedoc château bed & breakfast, whose nickname is 'La Petite Carcassonne', that will be featured in the July issue of Town & Country magazine. The charming proprietaire, Marie-France Lanson, was interviewed for the article, and no doubt provided the journalist with a tour of the château and grounds surrounded by vineyards whose wines bear the name of the château. To see what Château de Grézan offers travelers, click here to visit its pages on au Château.
o Spend a week in Provence in 2008. . . learning or practicing your French through cooking classes, art lessons, and participating in interesting day trips to markets, olive oil mills and such places as St Rémy de Provence, Arles and Aix-en-Provence. Accommodations will be at a beautiful Provençal mas in Les Alpilles Regional Nature Park. In addition to comfortable and spacious lodging, participants will also enjoy a swimming pool and spectacular vistas. Small group tours are now being planned for the spring and autumn of 2008. To be added to an email list for information as it becomes available, contact Catherine Dignam at cdignam@bigpond.net.au.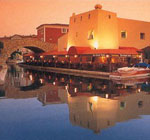 o Sign a Petition to Save a Restaurant's Terrace. . . World-famous chef, Michel Roux, has joined a campaign to save La Table du Mareyeur, one of the most popular fish restaurants on the French Riviera. The restaurant has been facing legal action to evict it from a large part of its waterside terrace in Port Grimaud. Proprietor Ewan Scutcher said, "We've been given the use of our terrace for 18 years, and the previous restaurant for 12 years before that. To lose it now would place our whole business under threat." Monsieur Roux, owner of a 3-star Michelin restaurant in England, Vice-President of Relais & Châteaux, and holder of the Chevalier de la Legion d'Honneur, Meilleur Ouvrier de France 1976 and the Order of the British Empire (OBE), said, "When I learned that the exceptional Ewan and Caroline Scutcher risk losing a part of the concession on their terrace, my blood turned cold!". Over 500 people, many of them residents of the village, have also signed an online petition to save the restaurant's terrace. A first hearing has been held at the Tribune de St Tropez, with a ruling expected at the end of May. If you are interested, you can join the campaign by visiting: www.mareyeur.com and adding your name to the petition.
o The historic Château de Vaulogé . . . in the Sarthe of western France is offering cooking classes with Chef Jean-Marie Barbotin who will take you through the steps to create fine French cuisine. Classes will be taught on certain dates in September, October, November and December, and each focuses on a different theme or specialty. Classes are four hours long and organized for either 5 or 10 participants. For classes of 5 people, the cost is 60 euros per person plus products and room rates from 230 euros to 250 euros per night. For classes of 10 people, the cost is 55 euros per person plus products and room rates as above. To make reservations or inquiries, please contact vauloge@mail.com.

o In the US. . .
o Masterpieces of French Jewelry . . . is the title of the exhibit at San Francisco's Legion of Honor through June 10th. Enjoy viewing some 150 pieces of exquisite jewelry, including a necklace belonging to Elizabeth Taylor, from the late 19th century to the present focusing on Art Nouveau, Edwardian, and Art Déco designs. For details visit http://www.thinker.org.
o Divisionism/Neo-Impressionism: Arcadia and Anarchy. . . a look at the art of Pointillism (France) and Divisionism (Italy) with paintings by Seurat, Signat, Segantini and others through August 6th at the Guggenheim Museum, New York City. This methodical and time-consuming technique blended color into images that were best viewed from afar. Visit http://www.guggenheim.org.
o Heirs to the Singer Sewing Machine fortune. . . Stephen and Sterling Clark built rival collections of the works of some of the worlds most admired artists including Monet, Degas, Hopper, and Renoir. In this first-time blending of the collections, visitors can enjoy Impressionist and Early Modern Paintings: The Clark Brothers Collect, at the Metropolitan Museum of Art through August 5th. For details visit: http://www.metmuseum.org.
o Poiret: King of Fashion. . . is an exhibit through August 5th of pre-World War I Paris fashion. Poiret was best known for his unstructured garments, freeing women from the boned corset. The exhibits present his illustrations and demonstrates his forward thinking approach to women's fashion which, for the first time, was meant to suit their lifestyles. New York's Metropolitan Museum of Art. More information at metmuseum.org.
o Washington DC's National Gallery of Art . . . will be home to an exhibit of the impressionist Eugène Boudin until August 5. Credited with introducing Claude Monet to plein air painting in Normandy, Boudin painted landscapes of his home region, forty of which are on display. For more information visit http://www.nga.gov.
o Los Angeles' Getty Museum. . will present Oudry's Painted Menagerie, the collected works of animal painter Jean-Baptiste Oudry, the 18th century master of the genre. Louis XV commissioned him to paint life-size portraits of some of the exotic animals in his Versailles' menagerie. Through September 2 at the J. Paul Getty Museum. Detail at http://www.getty.edu.
o Louvre Atlanta . . . a wing of the High Museum of Art has been converted to become the US arm of the famed French museum with the first year focusing on the Louvre's royal collections, running through September 2. The Louvre Atlanta exhibit will run through the fall of 2009. For details of the programs offered, visit http://www.louvreatlanta.org.





A Franco-American Portrait
Actor-Director Edwin Gerard ~ from 'The Bald Soprano' to 'Richard II'
by Arthur Gillette
A native of Inglewood, California, 58 year-old Edwin Gerard first visited Paris at the age of seven with his mother.
He was back again to study French literature, on a Junior year abroad from UCLA, twelve years later. Then, after
shuttling between the two countries for a time, he settled in Paris as an actor and theater director in 1990.
On the 300th anniversary of the 17th century author Jean Racine's date in 1999, he staged a critically-acclaimed
version of that tragic playwright's only comedy 'Les Plaideurs' ~ spoofing the legal profession in near-Molière style.
Now, a luminary on the Franco-American theatrical horizon, Edwin was recently interviewed for FRANCE On Your Own by Arthur Gillette.
AG What struck you about France as a child, and why did you come back for a college Junior Year?
EG As a child, my parents often spoke French and Armenian at home. I didn't like hearing French at the time, because my mother only used it when I was misbehaving. It was the language of correction. When I came to Paris with her in 1955, everyone spoke French, so I always felt I was being scolded. On the other hand, hearing everyone speak like my parents made me feel we were 'normal' people after all. The French were always friendly towards us, but I remember feeling at times like we were from Mars.
My cousins were doctoral students in physics from Cairo and had a wonderful sixth-floor walk-up apartment near the Opera.. Everything smelled different there; shelves spilling over in every room with old books giving off a musty scent which I liked. It smelled of ideas, and kept drawing me back to Paris when I got older. During the same visit, one cousin handed me the Tintin book Le Lotus Bleu, by Hergé. I was spellbound by the red cover, the exotic pictures, the colors, the sense of ideas I couldn't really understand because they were in French. I think that book was the main reason I decided to take French in high school, and not Spanish, like most of my Los Angeles classmates.
AG How did you originally get involved in theater as an actor and, later, as a director?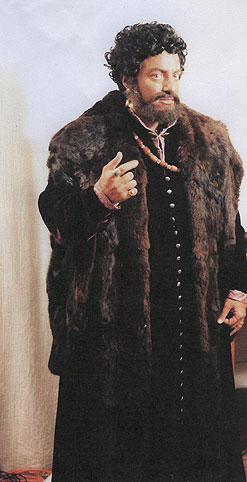 EG My grandparents were actors and performed in amateur Armenian theatre and opera in Egypt and throughout the Middle East in the 1920's. As a young child, I loved hearing about my grandmother's Ophelia, performed in Armenian in Khartoum to sold-out houses. Sometimes, at parties, my grandparents would act out scenes, such as Othello brandishing a handkerchief in a jealous fit, then 'strangling' my grandmother, Desdemona, in our living room. These moments of spontaneous theatrics performed by my otherwise reserved elders left me speechless with wonder. Sometimes, the whole family would go watch grandmother perform Noel Coward and Moss Hart in small Hollywood theatres.
Jumping forward about eight years, at my first theater audition, in high school, I was up against Richard Dreyfus for the lead role in Wilder's Skin of Our Teeth. All I was able to deliver was a rather gingerly interpretation of Brutus' monologue from Julius Caesar. Dreyfus did an impressive comic monologue and looked like such a pro that he was immediately cast, and I never ever dared try acting again till I was a student at UC Berkeley.
Commedia dell'Arte was in its heyday there in the early 1970s, and I auditioned for a company and was accepted. Our teacher was Carlo Mazzone, a former actor with the Piccolo Teatro di Milano. He taught us the rudiments of the techniques of popular theater, starting with juggling and gymnastics and then learning the behaviors of stock characters. We performed Italian comedies from the classical repertoire and toured locally, along with other companies like the San Francisco Mime Troupe, which came out of the Commedia tradition and is still known throughout the world today for its brilliant political satire.
While still at Berkeley I had the pleasure of seeing Rabelais!, a play about the French Renaissance writer, written, directed and performed by Jean-Louis Barrault. There was something about the life force behind that production, the physicality, the zest, the abandon... the actors were all magnificent creatures who could act, sing, dance. Their bodies were free to celebrate life. I said to myself, "that's the kind of theater I want to be part of !" But that was the early 1970s, and Rabelais' famous motto: Fay ce que voudras, parce que gens sont libres!! was emblematic of the spirit of those times. So I moved to Paris the first time in 1973 and stayed six years, taking some acting classes, performing in musicals, and studying Theater Arts at the Sorbonne Nouvelle.
AG I believe you had some other American acting experience?
EG Yes, in L.A. I mainly worked in television and theater. I decided to try working as an actor in Hollywood. It was the beginning of a long process of self-exploration, which, for professional actors, never ends, but must get very boring for people who have to live with them!
After getting an agent in Hollywood, my first job was a tiny, one-day bit part on a TV miniseries which was very 'hot' at the time, called Dynasty II: The Colbys. My very first scene was with Charlton Heston and Ricardo Montalban. I felt intimidated at first, but Ricardo was extremely warm and easy to talk to. After that, I appeared in a dozen TV series and mini-series, including co-starring in The Taking of Flight 847 with Lindsay Wagner, and The Kennedys of Massachusetts, directed by Lamont Johnson. However, most of my work in LA was in theatre, mainly with a young Iranian director, Reza Abdoh, who went on to become internationally recognized as "the Picasso of contemporary theater," until his untimely demise at age 33.
AG But why did you abandon Hollywood for Paris?
EG I was always being told by agents and casting directors that my somewhat swarthy look was definitely 'ethnic', which meant having to play foreign characters and feigning accents. I eventually I got sick of stereotypical roles, e.g. Middle Eastern terrorists in TV miniseries, and just wanted to play ordinary characters in human situations. I was typecast and my opportunities had become very limited.
So I decided to create my own company in the early 1980s. By launching the L.A. Experimental Theater, I wanted to bring more social and political ideas into local performances, along with greater artistic freedom.
AG And?
EG Actually, there was very little response much less public or private financial support. The press compared our company to the San Francisco Mime Troupe, but Los Angeles just doesn't have the same level of consciousness as San Francisco.
Traditionally, the middle class white population of Los Angeles always seemed more interested in the personal, the psychological, the relationships between individuals, rather than social and philosophical questions. Those tastes are not necessarily shared by other communities there, which might explain why they rarely attend theatre performances. It could be that Latinos, Armenians, Vietnamese, Koreans, seek other values than individualized psychological conflicts when they go see a play. Their cultures enjoy hearing ideas being expressed, their myths perpetuated, along with recognition of their history, their religions. Audiences in India may enjoy seeing family dramas at the cinema, but what they want to see at the theatre is spectacle: the Ramayana for instance. Even Elizabethan audiences looked for something beyond plot and structure, they wanted to hear eloquent language, the romance of rhetoric, ideas expressed in the framework of story line, not just the monosyllabic utterances of people with neuroses. (That's why T.S. Eliot called Hamlet a "failed play." Too many monologues that don't move the action along, according to him !) So, much L.A. theater seems to be film acted out on the stage.

continued on page 3