IN THIS ISSUE:
Last minute vacation plans . . .
Paris Enigmas
Ici et Là
Franco-American Portraits:
~ An Interview with Edwin Gerard
by Arthur Gillette
Getting Married in France
~ Can I Get Married in France?
by Corina Clemence
~ Weddings in Provence
by Anita Rieu-Sicart
Petite Pleasures
by Maxine Rose Schur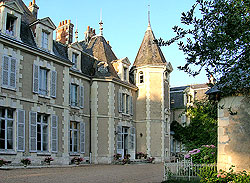 Château du Breuil, Cheverny
The Bookshelf:
~ Dickens on France:
Fiction, Journalism, and Travel Writing
Letters from Occupied France
edited by Arthur Gillette
FEATURING
The Centre / Val-de-Loire
including
~ The Loire Valley Golfing Holiday
~ 2 Last-Minute Offers in the Loire
Spring is here and those who planned in advance for their trip to France, whether a once in a lifetime adventure or an annual visit, have already made all their reservations, secured their E-tickets online, rented their cars, and bought travel insurance. Such tasks have become quite simple these days with the availability of so many services on the Internet.

But, for those who haven't made arrangements or decided exactly what they want to do or where they want to visit, time is running short. The first places to become fully booked are the prime rental properties ~ if you want a week in Provence near the water during the month of August, good luck! Our bet is that the charming little villa with the pool and a view of the Mediterranean is no longer available. In fact, it might be best to avoid visiting France in August if possible, as it is the holiday month for Europeans, and so many vacationers head for France.

For large groups planning to travel together, we always recommend a year in advance to make initial inquiries for suitable accommodations. There is a limited number of comfortable rental properties with 12 or more bedrooms, all en suite! If you wait too long to book, you might not find something in the area you want, or it may offer a little less than you had hoped.

But, don't lose faith! There are still some open weeks out there, and, if you are seeking a few nights in a bed and breakfast summer or autumn, you can probably secure a reservation if you do it very soon. Keep in mind that France is the most visited country in the world year after year. Granted, there also might be more guest accommodations ~ from average to luxury ~ to be found in France than anywhere in the world, but with people coming into the country by the hundreds of thousands, you must plan ahead to get your piece of the vacation pie! [See page six for two available rental châteaux.]

We know that many travelers to France are interested in courses they can take in cooking, painting, or other creative pursuits that being in France inspires. In this issue you will find information about cooking lessons at a fine château in France's magnificent Sarthe region, more cooking at a wine estate in Provence during the Rugby World Cup events, and plans for Provençal tours in 2008 with a French language teacher.

This issue of our newsletter will take you back to the elegant Loire Valley, let you eavesdrop on Arthur Gillette's interview with actor and director Edwin Gerard, offer a literary peek at Paris with 'Petite Pleasures', and look back at the turbulent 1940s in France with another installment of 'Letters from Occupied France'. And, of course, we hope you will enjoy our book review presenting a little-known side of Francophile Charles Dickens.

And, last but not least, for all the prospective brides and grooms the world over whose dream it is to be married in a French château, there are two articles written just for you! Once again, however, we encourage early planning. This is a special day in your lives, and advance planning will ensure that it goes smoothly and that nothing is overlooked ~ and those guests invited from around the world will also need to plan ahead for your romantic French wedding!

As much as we encourage traveling on your own, do take advantage of the many people in France who can help with wedding arrangements, who offer the perfect château for a family gathering, and all those invaluable travel web sites such as Rail Europe (from the US) where you can select and book your train travel online, or France Car which allows you to do the same for a rental car in France. We also encourage you to visit our sister web site for very unique and historic château accommodations and rentals in France at reasonable prices ~ au Château.

No matter what your plans, we always wish you a Bon Voyage!

---