by Maxine Rose Schur

This Paris: A Place for Dreaming

Writing teachers tell you that writing is 99% perspiration and 1% inspiration. When I want that 1% I go to Paris. That's because when I'm in Paris, I think my best thoughts and gain new ideas. I get inspired to write and everywhere I go, I dream a bit. It is here that I feel the most free.

I am not alone in this. For centuries, artists, writers and ordinary tourists have found Paris to be the perfect canvas for sketching their own thoughts. When I was researching my art gift book, Solo Passages, that included excerpts from women's diary entries, I saw how many times Paris not only allowed, but promoted this sensation. In 1961, the American author, Gloria Bowles went to Paris as a young woman and wrote in her diary:

I am having a magnificent time, walking, looking in Paris…
stopping at the Alésia for a café crème, hot and delicious.
Reading… and being dreamy. I like this dreamy, less productive side.

Paris encourages dreaminess. Take the leisurely café life, for example, when you're never rushed to pay the bill, and you are sitting at the very café where de Beauvoir, Hemingway or Camus sat. You feel downright obligated to think a little differently and certainly to linger. After all, it was that illustrious Paris resident, Victor Hugo, who proclaimed, " To err is human; to loaf is Parisian."

The artists in Paris inspire all other artists. Artists have always flocked to Paris because other artists had flocked to Paris. They all knew that Paris is the place of beginning. It is the city to be free, to be authentic and to grow. In 1899, the painter Paula Modersohn Becker left a stifling marriage in Germany and came to Paris to become an artist. She took a small apartment on the rue des Canettes in the 6th. She was depressed and a bit lonely but thirsting to discover herself. Soon after arrival she felt herself beginning to blossom and wrote in her diary:

My life will be like the flight of a young eagle.
I delight in my wings. I exult in my motion.
I rejoice in the blue air of heaven. I am alive.

Inspired by Gauguin and Van Gogh, Paula Modersohn Becker became an important artist.

There's always a feeling I have that Paris, with its extravagant monuments, great, humbling cathedral, yellowed street lamps, glittering tower and slow-moving river, is a dream itself in which I participate. And, I contribute to the dream. I become more imaginative enveloped in a city that so blatantly celebrates imagination whether by the Louvre or by an impromptu puppet show on the métro. The city soars with innovation from the extravagance of the Eiffel Tower to the surreal Stravinsky fountain to the gigantic Grand Arch with its own Teflon clouds. Paris is not a city where things make sense but where things surprise. A place where it is so easy to view life differently. That's why I feel the most free there, and it's why Parisian author and diarist Anaïs Nin observed, "There are many ways to be free. One of them is to transcend reality by imagination."

Maxine Rose Schur is the author of Places in Time which was named
the 2006 Best Travel Book of the Year by the North American Travel Journalists Association.
You can buy this book with its evocative story by clicking on the Amazon.com icon below.
Be sure to visit Maxine's web site at www.maxineroseschur.com.

---
THE BOOKSHELF:
DICKENS on FRANCE
Fiction, Journalism and Travel Writing
edited by John Edmondson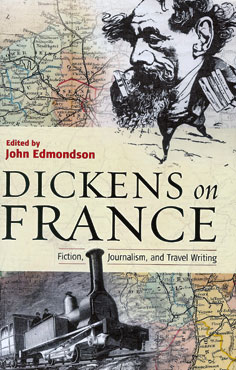 This book only arrived in our mailbox a few days ago. Due to its length of 327 pages (and another 100 + pages of notes and bibliography), there wasn't sufficient time to read it from cover to cover for this review. However, if you will allow us to give an opinion based on a cursory inspection of its contents, it seems that Dickens on France: Fiction, Journalism and Travel Writing is a delightful and entertaining book, filled with the writer's humor and keen observances, and can be especially appealing to those of us who love France as much as Charles Dickens did.
Charles Dickens wrote letters, short stories, kept journals, and put to paper fascinating travelogues such as Pictures from Italy, an account of his journey from Paris to Marseille ~ all influenced by what he found during his travels in France. This book, edited by John Edmondson, author of France: A Traveller's Literary Companion (Interlink, 1997), allows the reader to accompany Dickens through the France of the 1850s and 1860s. Much of his fiction was based upon what he knew of England, of course, but a great deal of it was influenced by his impressions of France. His visits to France were frequent ~ over twenty times ~ some of them lasting for extended periods living in Boulogne and Paris. He once wrote, despite his love for England, that he "'ought to have been born a Frenchman".
Some examples of Dickens' admiration of the French and France are to be found in Chapter Eleven, entitled Slaughterhouses, Railway Catering and Other French Lessons. The editor writes, "Readers of this book will be now be familiar with his frequent comparisons of the traditions and attitudes of the French with those of the British, usually to the detriment of the latter. In 'Railway Dreaming,' for example, he refers to many 'easy and gracious customs' in which Parisians 'are highly deserving of imitation among ourselves.' In 'Our French Watering-Place' he praises the ability of working-class people in Boulogne to make 'common and cheap things uncommon and pretty, by good sense and good taste, that is a practical lesson to any rank of society in a whole island we could mention.' And Mrs Lirriper, having 'formed quite a high opinion of the French nation,' admires the capacity of its people to enjoy life unaffected by the pronouncements of speechifying 'big-wigs' and thinks that this quality 'might be imitated to advantage by another nation which I will not mention.'"
After reading various chapters, one thing stands out among the characteristics of the French that Dickens, and later P.G. Wodehouse, seemed to admire most: how the French don't intrude their tastes or opinions on others. An example Dickens gives relates to someone dressing rather eccentrically who walks down a street in Paris and not one Frenchman would "howl, jeer, or otherwise make himself offensive" to this person. He admired, as we do, how the French related to one another, how pleasant their lifestyle, their politeness, and their ability to make the most of life. He mentioned how a café waiter politely served him and then left him alone to enjoy his drink and his cigar ~ reminding us how French waiters never return to our table every few minutes during a meal to ask how it is! How nice if this were the case in a country, to borrow from Dickens, which I will not mention (and we aren't referring to England!)
As Dickens' time in Paris coincided with the reign of Napoléon III and the transformation of Paris by Baron Georges Haussmann, he was witness to much demolition in the city as well as the introduction of the grand boulevards and many new buildings and parks. The entire process, which was accomplished quite rapidly, fascinated Dickens. But, as his writings tell us, he was most drawn to Paris by its spirit, its underlying character. The editor of this book wrote that Dickens had an "acute understanding of urban life" from his own life experiences and observances in London, so he was quick to see what lay behind the façade of Paris' new avenues, bridges and buildings.
The publisher writes, "Dickens on France makes a terrific resource for the literary traveler and the Dickens' lover alike." We completely agree.
Dickens on France: Fiction, Journalism, and Travel Writing is published by
Interlink Publishing, Northampton MA - April 2007 - ISBN 978-1-56656-688-9 Paperback
US $20 / Canada $24
Order today from Amazon.com for $15.60 in the US!
---
LETTERS FROM OCCUPIED FRANCE ~ 1940 : Some Eyewitness Glimpses
presented by Arthur Gillette
One of the FRANCE On Your Own team, Arthur Gillette, recently stumbled upon All Gaul Is Divided -
Letters From Occupied France. Almost two thousand years after Caesar found Gaul's tribes at each other's throats
(the book's title is from his Gallic War commentaries), on June 15, 1940 Pétain signed an armistice that was really
a surrender to Nazi Germany. France again found herself split down the middle between collaborateurs and those who,
if not yet Résistants, were not happy to be ruled by Fascists. Published by New York's Greystone Press in early 1941,
All Gaul Is Divided contains a series of letters written during 1940 by an anonymous correspondent
in southwest France to an American friend in New Jersey. This was before Pearl Harbor and the United States' entry
into World War II, so the mail still got through. FRANCE On Your Own will publish excerpts in the next several issues;
they illuminate the daily reality of France in what were some of her darkest hours.
The following is the third in our series.
German Ideas
"That the French are rationed on food is known. What is more important, they are rationed on news. The short supply of food is beginning to show in bleached-out features. The meagre supply of information is beginning to show in the bleached-out ideas upon every matter that made the nation we once knew as France. Subtly, skillfully and imperceptibly, like a transfusion of blood, Germany is modifying the stream of thought that circulates through the French mind. . .
"The purpose of the thought-conditioners, as they edit the radio, the press and the periodical literature, is to de-nature and neutralize whatever is peculiarly French, whatever differentiates French culture, traditions and social inheritance from other countries. . . They want to sow the seeds of defeatism and despair. . .
"Here. . .are four subdivisions which even the inexpert can identify:
1) Return to the land. . . Germany has the intention of making France a predominantly agricultural province in the ensemble of Teuton territories which shall succeed the war.
2) 'Trust the Good German Soldier.' This is the title of a life-sized colored lithograph which has been pasted all over France. . . A benevolent German soldier, in uniform but minus his iron hat, holds in his arms a smiling child, who munches a slice of bread and butter.
3). . . The Germans encourage articles which discredit democracy, as a decadent form of government, which insist upon the need, in our realistic age, for a hard-hitting central authority.
4) 'Doesn't France Want a Friend?'. . .Not a day passes but that the isolation of their nation is recalled to the French. . .
"A young woman interpreter has been lodged with my family for three months. Inch by inch she has made herself a member of the household. She has invited my girls to spend the Christmas holidays with her family in Germany, as she is in a position to obtain passes and transportation, and they are crazy to go."