IN THIS ISSUE:
Wine from Paris!
~ A 'Great Vintage from a Small Mountain"
by Arthur Gillette
Paris Enigmas
Ici et Là
Paris Uncovered:
~ The Tower of Fearless John
by Arthur Gillette
Petite Pleasures
by Maxine Schur
The Bookshelf:
~ The Packing Book
a book by Judith Gilford
Letters from Occupied France
~ Our newest series for history buffs
by Arthur Gillette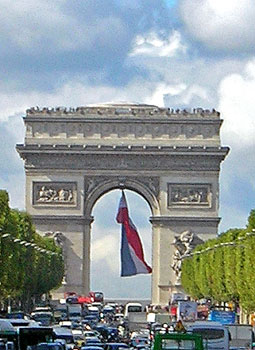 Arc de Triomphe, Paris
FEATURE: The Auvergne
~ The Cantal and Haute-Loire
French Wine Report:
~ Bandol: Surprising delights from
Provence
by Panos Kakaviatos

Every September/October, the vendanges (grape harvests) are possibly France's supreme Bacchic experience. I decided not to miss the 2006 edition and took myself to a friendly little vineyard not too far from my suburban Parisian home. It boasts but a rather modest 1,700 vines strung out over only some 1,500 square yards and producing a mere 450 liters of red (Gamay, Pinot Noir…) and white (Sauvignon, Riesling…) per year.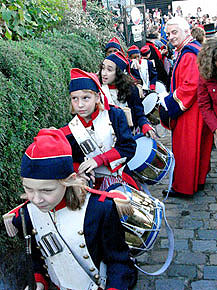 The appointed day arrived and, on the face of it, the harvest looked pretty run of the mill, replicating similar activity wherever French wine is produced. With a stark blue sky above from which shone an autumn-cooled sun, the team of pickers worked their orderly way along the vines, looking like a row of pistons by turns bending to pull and snip some grape bunches, thereafter deposited in wooden buckets, then straightening up to move to and bend over the next vine.
But that was just the 'face of it'. In reality, this was an exceptional vineyard and vendange indeed! First, the hillside, on which the pickers labored, sloped due north, anathema to vintners almost anywhere else in France. Secondly, the harvest was observed from behind the plot's chain link fences by a large crowd of people, some dressed in peasant and/or medieval garb. Thirdly, the vineyard was surrounded by four- and five-story apartment houses; from a window of one (an Art Déco jewel) a diapered baby waved to and gurgled at the pickers.

Was I dreaming? No. This was the annual grape harvest at the Clos Montmartre, a tiny vineyard atop Paris' highest hill! How did such an anomaly come about?

Cheap Housing or Wine?

Around the second century B.C., Roman occupants of Gaul began to convince the native population of the advantages of wine compared with the then locally popular mead.

[Mouse over photos for captions] CONTINUED ON PAGE 2

---