THE PACKING BOOK ~ Secrets of the Carry-on Traveler

a book by Judith Gilford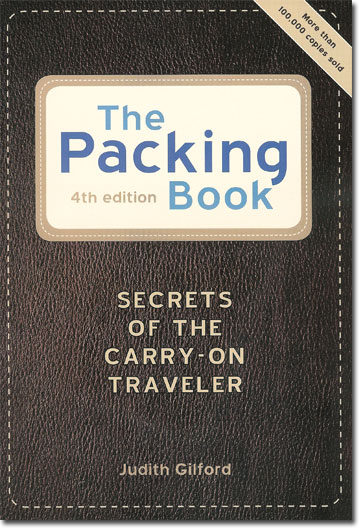 This is probably the first book we've reviewed that isn't new ~ in fact, it is the 4th edition and available since September 30th, having been updated that many times since it was first published in 1994. Perhaps, due to all the new restrictions and rules put upon travelers about what they can and cannot pack in their checked or carry-on baggage, we could all do with a little updating on the subject. The book has chapters on everything from Overpacking to Traveling with Kids, as well as such topics as Business Travel and Adventure Wardrobes. If you are like us, however, you might skip to the chapter on Security to read it first!
The author, Judith Gilford of San Jose, California, is co-founder of the Easy Going Travel Shop & Bookstore, and she is considered a packing expert! She gives demonstrations and seminars throughout the US on the subject of packing. The book, despite the necessity to be a manual of sorts, is really quite pleasant to read. The author writes in the preface to this 2006 version, "This book is meant to be fun. In every odyssey, preparation is part of the hero's journey. Visualize yourself on the road, traveling light...Give yourself time to ponder your options and consider...what you really need in order to have a safe, pleasant, and serendipitous excursion."
For those who have discovered that no matter how many times they've packed for a vacation, they always find themselves straining and groaning with their luggage and dreading anyplace ~ accommodation, train station or métro ~ with stairs (!), this book is for you. Oh, sure, we all say we've learned to pack light, but it just isn't so. Each time we travel to France we take less than the time before, and each time we know halfway through our trip that there are items we've packed that could have and should have been left at home. Actually, my husband and I travel with two quite small rolling suitcases for nearly one month of travel ~ still containing more than we need and still too cumbersome in some situations. What amazes us are all the travelers (are you one of them?) whom we see in France who are there for a week or maybe two weeks at the most and have a 5-piece set of matched luggage ~ lovely, but totally unnecessary. Chapter 2, Smart Luggage, and Chapter 5, the Packing List, might be for those travelers.
We found the many checklists in the book very helpful. Although a few of the miscellaneous items seemed like they could be eliminated, we suppose there are people who would think taking an extension cord, rubber doorstop, or a jump rope absolutely necessary. We don't. But, as we said, Judith Gilford's lists cover many situations, and 99% of her packing tips make sense if packing light and sensibly is really your goal.
Perhaps what makes this book most useful is that Ms Gilford writes for all kinds of travelers: vacationers, business travelers, travelers going it alone, adventure travelers, parents traveling with children and/or teenagers, and everyone in between. Each of those has specific packing needs, and she manages to provide them with great tips and suggestions. The book also provides information for those traveling with backpacks, those checking luggage and the traveler who only has carry-on bags. She goes into great detail about wardrobes for different types of travel, dividing the lists into those for men and women as well as making suggestions for weekend getaways or three-week trips to Europe. There really is something for everyone in The Packing Book.
The Packing Book - Secrets of the Carry-on Traveler
by Judith Gilford
published by Ten Speed Press, P O Box 7123, Berkeley, CA 94707
http://www.tenspeed.com
ISBN 0-89815-821-4 in paperback, $12.95 US
Purchase this book new on Amazon.com for $10.36. Just click below.

LETTERS FROM OCCUPIED FRANCE ~ 1940 : Some Eyewitness Glimpses
presented by Arthur Gillette
One of the FRANCE On Your Own team, Arthur Gillette, recently stumbled upon All Gaul Is Divided -
Letters From Occupied France. Almost two thousand years after Caesar found Gaul's tribes at each other's throats
(the book's title is from his Gallic War commentaries), on June 15, 1940 Pétain signed an armistice that was really
a surrender to Nazi Germany. France again found herself split down the middle between collaborateurs and those who,
if not yet Résistants, were not happy to be ruled by Fascists. Published by New York's Greystone Press in early 1941,
All Gaul Is Divided contains a series of letters written during 1940 by an anonymous correspondent
in southwest France to an American friend in New Jersey. This was before Pearl Harbor
and the United State's entry into World War II, so the mail still got through.
FRANCE On Your Own will publish excerpts in the next several issues; they illuminate the
daily reality of France in what were some of her darkest hours. The following is the second in our series.
Buried Treasure
We have always recognized that the primary fortune of France lies in her rich plowland. At present, however, and in quite a different sense, supplementary wealth is being added to that soil. All sorts of people, panic-stricken or of deliberation, in their orchards or hit-or-miss along the highways, are burying treasure.
It is a veritable mass movement, with no means of placing a figure on the total amount that is being secreted. Family silver, jewelry, precious stones, bars and coins of gold, stocks and bonds of foreign countries, are being tumbled hurriedly into holes in the ground, among the roots of apple trees, in the corner of cellars, at the end of the seventh row of grape vines.
An American widow, (fleeing northern France) with maid and chauffeur, arrived at our farm seeking shelter for the night. By rights, she has no cause for apprehension. She holds an American passport, and her nation is not at war. But the blind epidemic of fear flogs her on. After supper, through the shutter, I heard her asking the advice of our 14-year child as to the safest place to hide jewelry.
No, not in the ground. The Germans are wise to that. They look where the surface of the ground has been stirred, and they pour on water. Where the soil settles . . .they dig. Under the tiles of the roof ? But, wouldn't that make the roof suspiciously bumpy? In a hollow tree? Yes, that is worth considering, unless it blows down before I can get it back. I know a man who has his whole fortune inside his typewriter. He dismounted the machine, rolled the bills into tight cylinders like pencils, and pushed them into the tubular frame.

---
FEATURING ~ AUVERGNE REVISITED / Part Two

As promised in our September issue, we are continuing our visit to the dramatic Auvergne region of central France...a land of past geological activity and present-day beauty and serenity. With the two southernmost départements remaining to be visited, we will begin in the Cantal (15), which holds the distinction of being only one of two départements in France named after a volcano. [This map shows the large area comprising the four départements of the Auvergne.]
Cantal
Cantal is part of the Massif Central, the granite plateau that is considered France's rugged heartland, and the region is home to the highest peaks which promote such activities as hiking, skiing in winter months (some downhill, but primarily cross-country), while in the valleys fishing and boating are popular. The average peak is 710 meters, not very high, while others vary between 210 meters (in the Vallée du Lot) to 1855 meters which is 6,086 feet (Plomb du Cantal). The Cantal volcano is Europe's largest and one of the oldest volcanoes in recorded history. Cantal's logo is a green volcano, a symbol of both its origins and its present tranquility. The National Historic site of Puy Mary (1,787 meters or 5,863 feet) is soon to be officially approved by the State, and plans are being put into place to control tourist activity while still keeping visitors apprised of the history, activities and services offered to them. Guided tours will be offered, and there will be five centers in the Park to assist visitors. For more information, visit http://www.puymary.fr/.
In 1790, at the time France's central government was dividing the country into administrative 'counties' known as départements, Cantal came into being. The town of Aurillac, the seat of Cantal's government, was built around the Abbaye Saint-Géraud, founded by a monk, Gerbert, in the ninth century. Gerbert, born in Aurillac in the year 938, was a shepherd boy who kept his flock close the abbey, and the monks invited him to join them so they could help foster his education. It was this shepherd-boy-turned-monk who in the year 999 became Pope Sylvestre II, a papal term which would last but four years. Sylvestre II became famous for his scholarship, especially in astronomy and mathematics, and it is said he introduced Arabic numerals to Europe ~ taking what he had learned as a student in Fez, Morocco back home with him.