This column is intended to advise you about cultural events, news and happenings
in France or France-related events taking place in the United States
between now and the publication of our next issue.
In France. . .
o Tour de France . . . for the first time in its history, the 2007 Tour de France will begin in...London, England! Le Grand Départ is scheduled for July 6th with an opening ceremony in Trafalgar Square. For the next three weeks, cyclists will ride through France ending in Paris with the winner of the famed yellow jersey!
[Note: the remainder of this section is no longer available.]
In the US. . .
o Works by Corot, Monet, Renoir . . . and Sargent will be on exhibit at Stanford University's Cantor Arts Center. Entitled, A New 19th Century: The Mondavi Gallery Reinstalled, the presentation focuses on acquisitions and loans including works by Caillebotte, Luce and the others emphasizing an era of social, political and artistic flux. For information please contact akoster@stanford.edu.
o The Forbes Galleries. . . in New York host an exhibit of French jewelry entitled Masterpieces of French Jewelry from American Collections through December 31. The exhibit showcases examples of Edwardian, Art Deco, Art Nouveau and other styles, highlighting gold pieces designed by Man Ray and Picasso. For details: www.forbesgalleries.com.
o Cézanne to Picasso: Ambroise Vollard, Patron of the Avant-Garde. . . is the exhibit scheduled to run through January 7 at the Metropolitan Museum of Art, New York City honoring the famous art dealer who promoted the talents of the late 19th and early 20th centuries such as organizing Picasso's first show in France, Matisse's first solo show and a retrospective that established Cézanne as a great talent. Over 100 paintings, sculptures, prints, and ceramics are on display. Contact www.metmuseum.org.
o Impressionists and Modern Masters from the New Orleans Museum of Art. . . offers visitors an opportunity to see some 62 rarely seen paintings and work on paper by such renowned artists as Monet, Picasso and Gauguin. Through January 7th at the Louisiana Art and Science Museum. Details can be obtained at www.lasm.org.
o Courbet and the Modern Landscape . . . shows how one artist's innovative approach changed the course of painting in the century that followed. He created landscapes that were the foundation for modern painting. Through January 7th at the Walters Art Museum, Baltimore. www.thewalters.org.
o Raleigh, North Carolina . . . hosts Monet and Normandy at the North Carolina Museum of Art through January 14. This exhibit focuses on Monet's attraction to and appreciation of the villages, buildings and seascapes that he painted during his many years there. For information www.ncartmuseum.org.
o Joan of Arc . . .is the exhibit in Washington DC at the Corcoran Gallery of Art through January 21, 2007. This presentation is of 15th century objects, clothing, armor, sculptures and more that were representative of the saint's lifetime. Also included are facsimiles of her trial transcripts. Information available at www.corcoran.org.

A "Great Vintage from a Small Mountain" continued . . .
A 994 A.D. chronicle attests to the presence of vineyards on Montmartre, three-quarters of whose then-still-rural slopes were planted with vines by the 12th century. Curiously, this expansion was directly due to nuns, whose convent was established there in the early 1100s. They farmed out some of the convent's land on condition that those renting it made wine, giving the nunnery considerable income and enabling it to present every year about a thousand liters to no less a personage than the King Himself.
Winemaking continued to boom on Montmartre until roughly the middle of the 19th century. Then urban growth began to engulf the area, leaving, however, certain vacant plots here and there. The 1870 Commune uprising, largely based on Montmartre, did nothing to curry official favor for the Montmartrois, and by 1900 there was not a single vine left on the hill. End of story?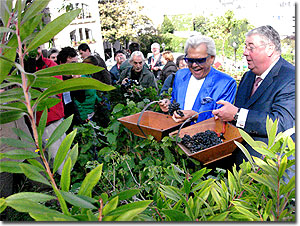 Symbolic snipping by the Mayor of Paris' 18th district
and the 2006 Harvest Godfather, vaudeville star Michou
Not at all. When, in 1921, a plan was mooted to build cheap housing on Montmartre's still-vacant lots, activists managed to open on the site of today's vineyard a large playground for Montmartre's poulbots - mainly ragamuffin children – called the Square de la Liberté. The municipal authorities remained rather indifferent, however, and a new use had to be found for the plot. Unluckily, it faced due north. But luckily, it hadn't been built on and could be replanted with grapevines. The first modern harvest took place in 1934 in the presence of the then President of the Republic, Albert Lebrun.
Today, the annual Montmartre vendanges give rise ~ usually a fortnight or so after the actual grape-picking ~ to a three-day weekend of festivities involving brass bands (one of 2006's was called, in English if you please, 'No Water, Please'), Breton bagpipes, trumpet-and-drum corps, majorette exhibitions, sampling of wines and other local delicacies from different regions of France, parading in costume, and a generally good time had by all ~ some 50,000 visitors a year. Internationalization is planned for the 2007 edition, with the expected arrival of a delegation from another country producing quality wine: Chile.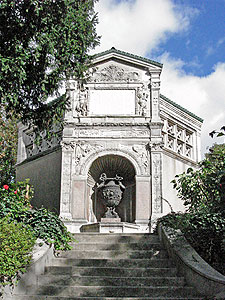 Did I say "quality"? That of Montmartre's wine is still a subject of debate, but one local saying calls it Un grand cru d'une petite montagne ~ 'A great vintage from a small mountain.' Another (authored by a wag with a personal vineyard elsewhere?) claims that it is definitely a diuretic. True enough, the wine does seem a bit diuretic; but a world-class oenologist has been working of late to improve its quality. In any event, sales of the Clos Montmartre product go for two good causes: 1) you get a tax rebate on any you purchase, because 2) proceeds are contributed to the local social affairs fund to help juniors and seniors in difficulty.
A major promoter of and actor in the Montmartre vendanges is the Commanderie du Clos Montmartre with its 'Brotherhood of Winetasters', a bit of a misnomer since it counts many female (not to forget foreign) members. Founded in 1983, the Commanderie has different ranks reminiscent of the Middle Ages, and its members parade in wine-red robes. 'No Water Please'? The Commanderie's headquarters are sited in a large and handsome octagonal kiosk built in 1885 to house a water fountain!
Commanderie du Clos Montmartre
Arthur's 16 two-hour strolls designed to explore "Paris Through The Ages" do not include a
wine-focused walk. But by special prior arrangement he can guide you to a day-long
discovery of wine in the French capital, covering the Clos Montmartre, a second Paris vineyard
(where? that's his surprising secret!) and the city's Wine Museum, located on…
Water Street. For more info, contact him on Armedv@aol.com
[Photo Credits: 2006 Jeff Berner. All Rights Reserved]