Surprising delights from the great, yet little-known Provence appellation
A rosé I tasted in August in Bandol pleased with smooth mineral notes and a full-bodied texture. The color was odd, almost rusty, but when Pascal Pèrier ~ representative of a 27-producer union in this southeastern French harbor town [ed. http://www.maisondesvins-bandol.com] ~ unveiled the bottle, everyone tasting it was thoroughly surprised: a Clos de la Rouvière dating from. . . 1985!
Pèrier kindly offered me and my companion the bottle for a lunch at L'Auberge du Port, a harbor side restaurant known for its freshly caught fish. We shared the wine with the restaurant's waiter and manager, who were both surprised by the staying power and taste of such an old rosé. It went very well with a grilled St. Pierre and oily ratatouille!
Certainly, not all Bandol rosés should be aged, but some can be appreciated after years in your cellar. Indeed, French wine writer Bernard Burtschy told me a few weeks before in Paris: "Rosé is one of the least understood wines."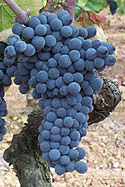 In addition to being a town of some 7,000 inhabitants, Bandol is also one of France's oldest wine appellations ~ recognized in 1941 ~ and also known for its meaty, full-bodied reds, which are made from the slow ripening and thick-skinned Mourvèdre grape. Surrounded by a vast amphitheatre of mountains and enclosed by hills rising up to 1,300 feet, its 1,500 hectares of vines slope to the sea, facing south for maximum sun exposure. They also benefit from the Mistral, the Provence winds from the northwest which temper hot days. Divided into eight communes of 48 producers, almost the entire appellation consists of clay and limestone soil.
Any wine lover visiting Bandol should visit the domains. Visits are pleasantly casual, and the domains I visited insisted on tasting older vintages, to appreciate the aging capacity of their reds.
First stop was the famous Château Pradeaux, whose label includes a crown and the Fleur de Lys: one of owner Cyril Portalis's ancestors was ennobled by King Louis XVIII. His wife Magali welcomed me to the domain with their 19-year-old son Etiènne, who is looking forward to taking over operations of the 20-hectare vineyard in the future. Wine is made traditionally: fermentation includes the stems and the wine is aged three years in large, old oak barrels before bottling.
Very dry climate in 2005
In late August, the Portalis family expressed dismay over extremely arid conditions in 2005. It had not rained since late April, with only half of the normal 600 millimeters of annual rainfall ~ a repetition of 2004. The cumulative effect left even their 60-year-old deep-rooted vines thirsty for moisture. Dried, yellow leaves fell off the vines in August, leaving grape bunches overly exposed to the sun, with a longer than usual Mistral keeping the vineyard too dry. "Makes me wonder about authorizing irrigation," Cyril Portalis remarked ruefully.
But optimism could be in order for this latest vintage now on the market in the United States. Vines have been planted here since 600 B.C. when the Greek founders of Marseille were supposed to have planted the first vines. Much climate change has occurred since, and the vines are still there. The Portalis family is also of Greek origin, from a Greek spice seller who left Athens in 1517 to go to France.
I then visited another top Bandol property, Château Pibarnon. Jovial and energetic, owner Eric de Saint-Victor explained that he ages his wine for 18 months and tends to remove stems ~ at least since 1998. "It depends on the vintage," he said. "If the stems are ripe enough, we may include some in the winemaking," he explained.
Perched on the shoulder of Bandol's 'Telegraph hill', Pibarnon's 50 hectares under vine cover the highest point of the appellation, with much limestone. Some wine writers have already commented that Pibarnon deserves its own appellation. The wine is quite fruit-forward and probably more accessible to contemporary tasters, also with much elegance and sophistication. But it remains a very serious wine with staying power. De Saint-Victor likes to say Le calcaire c'est la libérté [Limestone is freedom], because of its freshening effect. Indeed, he did not seem as concerned with the dryness this year, stressing the moisture-trapping qualities of his limestone terroir.
Where to stay
When visiting Bandol, one can stay behind the Mediterranean's shores or opt for being near the water. I tried both. First, a stay at the Hostellerie Berard, in the small mountain village of La Cadière d'Azur. Some 2,000 inhabitants live here year-round, nestled in charming narrow alleys. The hotel itself looks like a village dwelling and the window of my room offered a great view of some nearby vineyards gleaming under the sun. I also visited the Hostellerie's Bastide, a cottage-like abode and cooking school in one. Its garden includes fresh fruits, vegetables and herbs, such as two kinds of basil, sage, mint, thyme and rosemary: the aromas that one can detect in Provence wines.
Next stop was the luxury hotel Île Rousse, where guests walk about in bathrobes and can enjoy lunch along the beach before taking in a Thalasso-therapy session, such as a quiet oil massage or hydro-massage in a special tub into which seawater is pumped. Île Rousse's gastronomic restaurant, Les Oliviers, is worthy of a Michelin rating. Chef Jean-Paul Lanyou is steeped in the rich cooking traditions of Lyon, but he enjoys talking about the foods of Provence as if he had just discovered them ~ though he has been Les Oliviers' chef since 1999. After allowing me to sample a delicious shellfish entrée of mussels and small clams marinated in beer with macaroni in a delicate cream sauce and girolles mushrooms ~ the lot sprinkled with bits of black truffle from the Haut Var ~ he took me to the Union of Bandol wines, where I met Pascal Pèrier.
Before serving the 20-year-old rosé, Pèrier poured some 20 wines from various producers ~ white, red and rosé ~ to give me an idea of what Bandol is all about. In almost eleven years of visiting vineyards and tasting, Pèrier is among the most enthusiastic and knowledgeable wine promoters I have ever met. He knows Bandol like the palm of his hand, and through him, I learned to appreciate not only aged rosé, but also reds from other properties.
Tasting Notes
Château Pradeaux
Tasted at the domain
Pradeaux 2000: Blueberry and blackberry liqueur, black olive and flowery perfume. Has backbone but essentially soft. A supple palate with noticeable tannin.
Pradeaux 1998: Fine leather aromas with, again, white flower and black olives. A richly contoured palate, with a meaty feel as well. Going back to the 2000, I was struck by the power of the 1998, which was a great vintage in Bandol. Though the 2000 has a more perfumed – more delicate – aroma for now, it may not last as long as the 1998.
Pradeaux 1988: Served first blind. Nose far better than the mouth, which was rustic and … rusty. Nose was rather truffle-like, also peppery, with saddle leather and hints of prune. Edgy and awkward tannins. Needs still more time to smoothen out the angles!
Pradeaux 2001: This wine was tasted last, Portalis said, because of its "big tannins." Bottled in July 2005. August was very hot in Bandol in 2001, but for only three weeks. Nose of black olive, cherry and dark fruits. Intense palate with a fine tannic edge. Also hints of red orange rind, giving it a zing of freshness. After one hour in the glass, developed distinct forest strawberry jam aromas. Smooth and long, with an intense finish. Great vintage for Pradeaux.
Pradeaux 2004: Cask sample. Pradeaux is aged in 7,600-liter and 40 to 80-year-old (!) oak barrels for three years. Three-week fermentation includes stems. Long aging is meant to smoothen tannins from both the stems and the thick grape skins of Mourvèdre. The 2004 sample looked violet, and tasted of primary fruit – very cherry and strawberry on the nose and palate – and very fresh tasting, I wondered whether it would be advantageous to lessen the aging period and not include the stems in the fermentation. Perhaps I am just too used to wines with less time in wood!
Château Pibarnon
Tasted at the domain
The vinification here is different. Since 1999, the stems are not systematically included in the fermentation. Instead the wine undergoes a long post-fermentation maceration for further extraction of tannins and color. Also, time in cask (again large format and no new wood) is limited to 18 months.
Rosé 2004: This wine was fresh and very strawberry on the nose and palate. Nice tannic structure as well, indicating durability.
Rosé 2000: Darker color. Nose of strawberry jam and some licorice with hints of tobacco. An almost sweet palate with raspberry jam and cherry liqueur, though I thought there was some heat on the back end. It settled down with time: very nice rosé and will last even longer.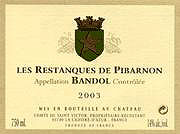 Les Restanques de Pibarnon 2003: Made from younger vines, this wine contains only 70 percent Mourvèdre and 30 percent Grenache. Lovely white flower and licorice aromas. The palate is pleasant, though slightly short on the finish, but a very nice second wine.
Château Pibarnon 2003: This wine has power, fruit and focus. Certainly the tannins are present from the 90 percent Mourvèdre, but there is a nice, pure fruit characteristic on both the nose and palate. Freshness from the limestone terroir: " Limestone is freedom," repeated de Saint-Victor. Despite excessive heat and dryness in recent years, his limestone terroir retains moisture and adds freshness to the wines. 2003 is a good example. Good, long finish with some mineral, almost petrol-like, qualities.
Château Pibarnon 2001: Blueberry nose with some black olive. Palate was linear, somewhat tight and even austere in a tannic sense. The amazing thing about Bandol wines is how they can markedly change over time in glass. At one point, for example, the 2001 smelled and tasted of… yummy roast beef in the fridge: a meaty taste not uncommon with Mourvèdre.
Château Pibarnon 1998: This wine was the last of the "old style" wines, and included about 40 percent of stems in the fermentation. Fine leather aromas, with licorice. Palate was elegant and refined, but also quite corpulent! Later this wine developed tobacco, cinnamon and clove aromas and flavors.
Château Pibarnon 1997: Though 1997 was not a great year in other French regions, like Bordeaux, de Saint-Victor said: "We are far from Bordeaux!" The domain started the harvest in early September, until rain and cooler weather interrupted it. The risk taken to wait out the weather paid off as an Indian Summer came, with the harvest resuming from October 2 to October 12. Truffle-like nose with jus de viande. Good body, it later developed pine forest aromas.
Château Pibarnon 1989: "Here we are much closer to Bordeaux," joked de Saint-Victor. This was a hot and equally successful year for Bandol. Very fine truffle aromas on both the nose and palate, which seemed to stop abruptly. Another bottle was opened, which tasted better, with the same truffle aromas but also a delicious Black Forest Cake flavor. Great freshness on the palate. A balanced, savory wine with a long finish, it proved the aging capacities of wine from this domain in particular and from the appellation in general.
Other recommendations
A meaty and savory Ray Jane 1996 (red), a wonderfully aromatic La Laidière rosé 2004, a deeper, resin-flavored Domaine de Gros Noré 2002 (rosé), a fig, spice and later thyme-like Domaine de Gros Noré 1998 (red), and a laurel, wild blackberry and peppery Château Jean-Pierre Gaussen 2000 (red). Many Bandol whites are less interesting in my opinion, lacking freshness, but I did enjoy the Domaine de la Chretienne 2004, with iodine and anise notes: a nice match for shellfish.
Panos Kakaviatos is an American who lives in both Europe and the United States
and has worked as a congressional reporter, for UPI and the Council of Europe in Strasbourg.
Fluent in four languages and holding both Bachelors and Masters degrees, Panos is now focused on his passion: French wine.
He has written for Wine Citizen, World Wine Report, France Today, as well as FRANCE On Your Own ~ our good fortune.
If you would like to contact Panos, his email address is: panos_kakaviatos@yahoo.com
[Mourvèdre grapes photo ©Pascal Pèrier, maisondesvins-bandol.com. All rights reserved.
Mouse over each for description.]

---
DISCLAIMER: You have received this newsletter because your email address is on our Opt-In mailing list, i.e., you have requested to receive FRANCE On Your Own ©. If you would like to discontinue receipt of this newsletter, please send an email to publisher@franceonyourown.com with "unsubscribe" on the Subject line.
Unless indicated otherwise, photos, graphics, artwork and text in the FRANCE On Your Own © newsletter are all the property of Cold Spring Press and FRANCE On Your Own © and cannot be copied, duplicated or used in any manner by anyone without the express written permission of Cold Spring Press. FRANCE On Your Own © is published online by Cold Spring Press, P O Box 26098, San Diego, California 92196-0098. This publication is copyrighted and no portions of the text, artwork, graphics or photographs may be reproduced or distributed in any form or by any means or stored in a database or retrieval system without the written permission of the Publisher. For more information about FRANCE On Your Own ©, visit our web site at http://www.franceonyourown.com.
Recommendations made in this newsletter are based upon the personal experiences of the Publishers or contributing writers solely to provide information to subscribers. Cold Spring Press and FRANCE On Your Own © make no endorsements nor are any guarantees or promises of satisfaction given or implied. Any and all information is correct to the best of our knowledge, and the Publishers accept no responsibility for errors and/or omissions. The responsibility lies entirely with the traveler to obtain current information regarding accommodations, availability, schedules, prices, reservations, or any other pertinent details. We do not guarantee the historical accuracy of the contents of articles in this newsletter. Historical accuracy is dependent upon one's sources of information -- and contradictions often exist among those sources. Links to other web sites or email addresses are provided for informational purposes only and do not imply any guarantees of service or endorsement of any organization or their business practices.
FRANCE On Your Own © is electronically transmitted via email. To add your email address to our database for this FREE newsletter, send an email to info@franceonyourown.com, and please put Subscribe in the subject line. We do not share email addresses with any other organization.
BACK ISSUES of the print version of FRANCE On Your Own © are available on our web site at http://www.franceonyourown.com/Archives.htm.
©1998-2006 Cold Spring Press All Rights Reserved

---

previous page