The Médoc peninsula of western France is a part of the Gironde département in the region known as Aquitaine.
Invoking romantic recollections of Eleanore of Aquitaine and her famous royal sons, this destination
has lost little of its charm over the centuries. Dotted with magnificent châteaux and their vineyards,
it is also famous for its Atlantic coastal resorts, magnificent sandy beaches, a temperate climate
and easy access to the city of Bordeaux at the source of the Gironde estuary. Come with us to find out more!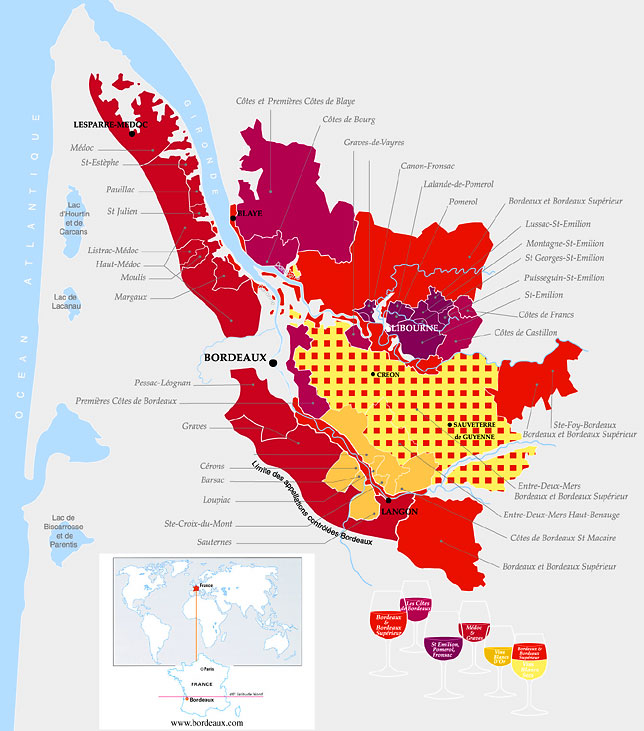 Wine map of the Bordeaux region showing the Médoc peninsula
The left bank of the Gironde estuary in the département of the Gironde (33), is where you will find the area known as the Médoc, famous the world over for its red wines. The vineyards of this and the larger region surrounding it were planted by the Romans in the first century. Monasteries took over the vineyards when the Romans departed and, eventually, in the 13th, 14th, and 15th centuries, the Plantagenets ruled all of Aquitaine.
The region was important to the English for many reasons, not the least of which was to provide abundant red Bordeaux wines for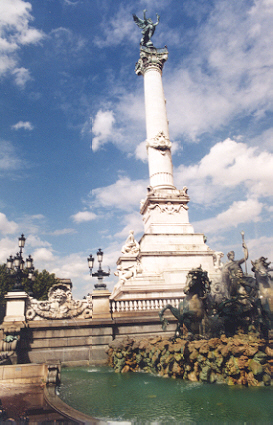 their tables. Known to this day in England as 'claret', the term originated in monastic times when it was call 'clairet'. The wine of today is much improved over that of medieval times, as Médoc wines benefited greatly when aging could take place ~ a process made possible in the 18th century with the introduction of mass-produced bottles and corks. Many of the châteaux in the region are still owned by English and Irish families who have been in the business of winemaking for centuries.
The Médoc is bound by the Gironde estuary on the east and pine forests and the Atlantic Ocean on the west. The eastern portion along the estuary from Blanquefort in the south up the peninsula north to Saint Vivien-de-Médoc is planted in vineyards ~ nearly 260 properties ~ many of which you can visit. The D2 into the Médoc from the east (Bordeaux) is a pleasant drive through vineyards and small Haut-Médoc villages.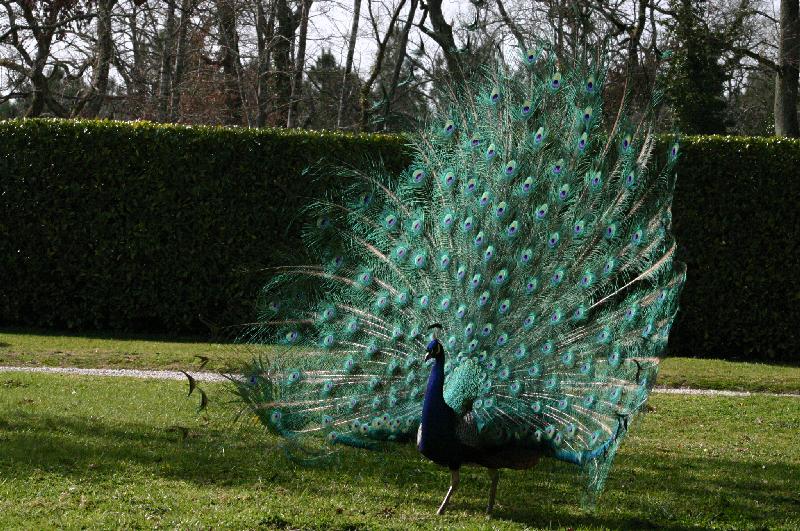 From the sparsely populated Haut-Médoc south, you can cross the peninsula to discover the beautiful sandy beaches of the Atlantic. From Sainte-Hélène, take the D6 as it goes around Lac de Lacanau to the coastal town of Lacanau-Océan. Or, drive the N215 north through St-Laurent-Médoc and Lesparre-Médoc to Pointe de Grave at the northern tip of the peninsula where you can take a ferry across to the bustling resort town of Royan in the Charente-Maritime. At Pointe de Grave is a monument documenting the landing of American troops in 1917. Or, instead of crossing on the ferry, turn your car southward onto the D101 to Soulac-sur-Mer, and enjoy dinner across the road from the beach. As you enter Soulac from the north, you will see a miniature Statue of Liberty. This little town has a long history dating back to Roman times when it was called Noviomagus, and the British used Soulac as a landing spot near the end of the Hundred Years War in an attempt to prevent the French from taking Bordeaux. A former Benedictine abbey, the twelfth century Notre Dame de la Fin des Terres, eventually buried by drifting sands, has been uncovered and restored ~ its name means Our Lady of the Ends of the Earth.
Although winemaking is the primary interest of those living and visiting the Médoc, there are also charming and peaceful villages, small resorts and marshlands. The main wine route is the D2 which takes you past such famous wineries as Château Siran, offering free daily tours, and Château Margaux, offering tours on weekdays except in August and during the harvest. At Château Margaux you will be able to watch coopers building barrels for wine storage, and north of the town of Pauillac is Château Mouton-Rothschild whose chai (above-ground wine cellar) and caves (below-ground cellars) hold over 100,000 bottles in moss-covered, vaulted chambers. At Mouton-Rothschild visits to the Musée du Vin de Mouton are offered by appointment.
The Médoc, with its easy access to vineyards and beaches, is also a pleasure for casual cyclists. Cyclists can rent bicycles for reasonable rates by the day, weekend or week, and they can enjoy the relatively flat landscape and bike trails through the vineyards. The Médoc is also an ideal destination for family vacations, especially due to the growing popularity of the lacs, inland from the ocean, with sandy beaches offering more safety than the seacoast for families with small children. There are waterways connecting lakes together and canal cruises are also available. Abundant sports facilities can be found in this region from Bombannes on the shore of Lac d'Hourtin-Carcans in the south to Lac de Lacanau.
Accommodations are not as abundant, however, but quality replaces quantity, and we can recommend two château bed and breakfasts:
Château du Foulon, 33480 Castelnau-de-Médoc

(Phone: 33.5.56.58.20.18 or Fax: 33.5.56.58.23.43 from outside France), offering en suite guest rooms and apartments at very reasonable prices. Beautiful grounds, peacocks, a pond and swans create a peaceful stay.
Although they do not serve dinner, fine nearby restaurants will be recommended.
Open all year.

Château Meyre, 16, route de Castelnau, 33480 Avensan [please read more below about this château]

(Phone: 33.5.56.58.10.77 or Fax: 33.5.56.58.13.20 from outside France), offering nine en suite rooms, three in the château and six in the annex. There is a large swimming pool as well.
A wine-producing estate, Château Meyre offers wine tastings for its guests and can suggest self-drive area tours.
Dinners not provided, but recommended restaurants are close at hand
The Médoc peninsula is an ideal location for summer vacations if spending time relaxing on great, clean beaches, dining on excellent seafood at beach front restaurants, taking in a few winery tours, and just slowing down are what you would enjoy doing. A short day trip to the nearby city of Bordeaux will inject a little urban excitement into your trip, but the calm Médoc with its elegant château wineries may be just what you are seeking for your next visit to France.





[Photo Credits: Peacock at Château du Foulon property of Kerry Brookshire.
Girondin Fountain, copyrighted Cold Spring Press 1995 - 2005.
This article is a copyrighted reprint from the Spring 1999 edition of FRANCE On Your Own.
Wine Map courtesy of www.bordeaux.com.
All rights reserved.]
---
Where to Stay . . .
Château Meyre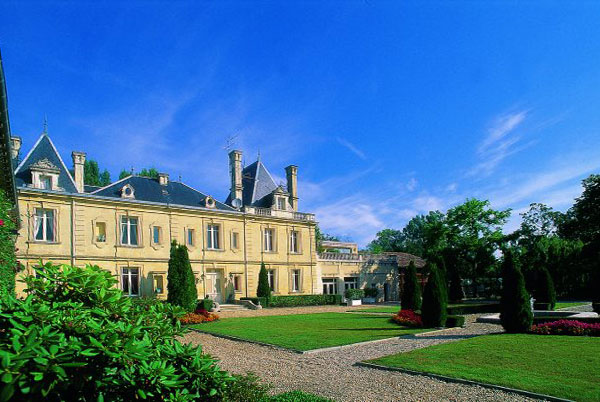 Château Meyre ~ fine accommodations and vast vineyards
The temperate climate of France's Atlantic coast draws visitors from around the world. Many come here because of the area's reputation as the most important wine region of France. The Médoc itself, along with the neighboring Graves district, produces 100 times as much as all the Grand Crus of Burgundy put together! Other visitors come for the seashore, lakes and tranquility.
Certainly never a bustling tourist destination, the Médoc has maintained an elegance and comparative quiet while becoming more and more popular each year. To make a visit here perfect, one must stay in a château! In the past we have told about Château du Foulon, which we of course heartily recommend. But, for another choice, there is Château Meyre. Unlike Foulon, which is a classical family home offering wonderful guest accommodations, Meyre is a wine estate that offers guest accommodations.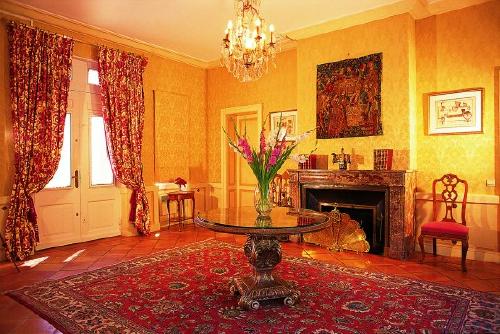 Warm reception room Chambre Luna in the château annex
The owner and vintner, Corinne Bonne, is as enthusiastic about her guests as she is about producing award-winning wines. Wine aficionados will be impressed by the many awards the château has won for its wines including a four stars out of five from La Revue de Vin de France and a Gold Medal in the Japan Wine Challenge 2002 for their L'Enclos Gallen Margaux 1999 vintage among several other wine awards.
Open from March to November, the château hand harvests its grapes and produces wine in the traditional method. A well-timed visit allows guests to observe some of these techniques ~ employed at the château for more than three centuries. The current owner purchased the grand 18th century château and its seventeen hectares of vineyards and parkland from the Lenôtre family of Paris in 1998, and it has prospered under her hands-on guidance. Guests will appreciate its fine location only 30 kilometers north of Bordeaux and offering easy access to both beaches and vineyards, as well as the spacious, comfortable guest accommodations and friendly atmosphere.
[Photo Credits: Madame Bonne and Château Meyre. All rights reserved.]



Dining Out . . .
There are many fine restaurants with seafood specialties. The (UK) Guardian Unlimited gave this recommendation for a place to stay and dine near the ocean:
Hôtel des Pins, l'Amélie-sur-Mer (33 5 56 73 27 27; http:://www.hotel-des-pins.com)
On the outskirts of Soulac, a 'proper little seaside town' on the Médoc peninsula,
this white-fronted Logis de France is well run by the Moulin family, who have
'a fine sense of humour and an excellent staff'. Monsieur presents a demi-pension menu
at breakfast; seafood is the speciality of the busy restaurant (with its huge fish tank);
and a fine selection of Bordeaux wines is available. There is a large garden and a vast
sandy beach is nearby (bring your own deck chair).
The cost Rooms €40-€82, breakfast €6.50-€7.50, D,B&B €59-€68pp.
Others we have found include:
Lion d'Or, Route D2 at the Place de la République, Arcins
Telephone 33-5-56-58-96-79 Open Dinner, Tuesday to Saturday [Closed in July]
Credit cards American Express, MasterCard, Visa - Moderate
Le St-James, 3 place Camille Hostein, Bouliac
Phone: 33 5 57 97 06 00 Open Dinner, daily
Credit cards American Express, MasterCard, Visa, Diners Club - Very expensive




---