Historic tasting and dinner at Château d'Yquem
by Panos Kakaviatos


Fireworks lit the evening sky as privileged guests at Château d'Yquem sipped wine from the château's legendary 1967 vintage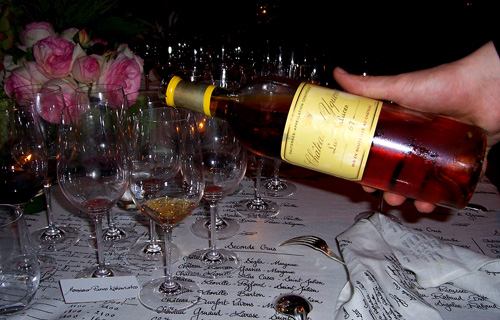 during a dinner for the press.
As the wine served indicated - a 1967 bottle of this famous Sauternes can fetch up to $2000 - the dinner was no ordinary gathering!
On Sunday, June 19, the Conseil des Grands Crus Classés en 1855 launched Vinexpo, the famous biannual wine and spirits trade show in Bordeaux, with an exceptional celebration to mark the 150th anniversary of the classification of wines from the Médoc and Sauternes.
The world's wine press - some 200 journalists from 27 countries - attended the dinner, which was as much a social as it was a wine event, listed in the official list of 2005 "national celebrations" by the French Minister of Culture and Communications.
And what was all the fuss about? The 1855 classification was drafted as part of the presentation of Bordeaux's wines at the Paris Universal Exposition decreed by Napoleon III. The Bordeaux Chamber of Commerce entrusted the organization of the list to a brokers' union attached to the Bordeaux Commodities Market.
As established connoisseurs of Bordeaux's wines, the brokers based their work on a century of statistical information, particularly price, which confirmed the finest terroirs of Bordeaux's Médoc and Sauternes wines to establish a list of properties which continues to be an authoritative reference - even though some properties today do not perform at the same level or have changed their vineyards.
The classification divided the very best wines of the Médoc – at least wines that earned the right to be on the brokers' list – into five classes: from "first growth" at the top end to "fifth growth" at the bottom. The Sauternes that made the list were divided into first and second growths only, with Château d'Yquem above them all as a "superior first growth."
Upon entering the château's hilltop courtyard on that warm Sunday evening, guests wearing tuxedos and gowns were greeted by Philippe Casteja, president of the Conseil des Grands Crus Classés en 1855, as a live orchestra played classical music. Tasty appetizers were served as winemakers and wine writers sipped recent vintages of top Sauternes (and Barsac) of first and second growth caliber such as Climens, Rieussec and La Tour Blanche.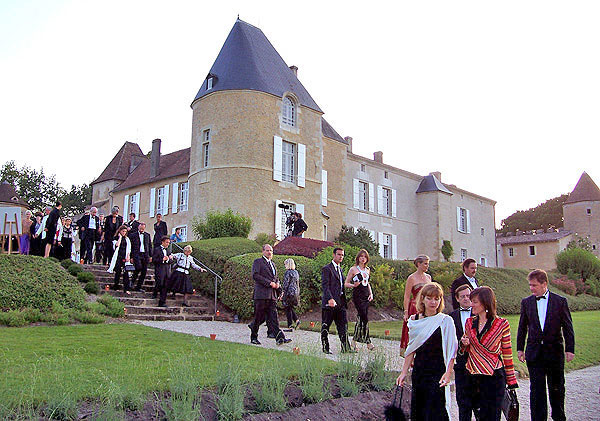 The guests were then directed to an elegant glass enclosed and air-conditioned tent-like structure built just for the dinner! Twelve-person tables were covered with light beige linen tablecloths elegantly listing the wines from the 1855 classification. I sat at a table which included Daniel Cuvelier and his lovely wife, Florence, of Château Léoville Poyferre, a great Médoc wine in Saint Julien, classed "second growth" in 1855.

The food was fabulous, prepared by such well-known chefs as Ken Hom, Michel Guérard, and Michel Trama. But the wine proved unforgettable, with almost a half-century of great vintages served. Owners brought wines from their châteaux, so where I sat, we enjoyed two fine vintages of Léoville Poyferre: 1989 and 2000. But the cream of the crop came in the following order: a sleek and elegant Margaux 1983, an opulent and still youthful Mouton Rothschild 1982, a somewhat tired – alas – Lafite Rothschild 1979, a smoky though somewhat rough Latour 1978 and a very lovely tobacco-perfumed Haut Brion 1975 (in Pessac in what is knows as the Graves region of Bordeaux, Haut Brion was also classed first growth in 1855, the only non-Médoc wine to be included in the classification).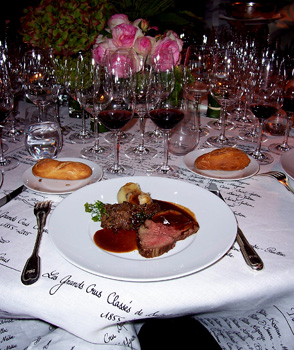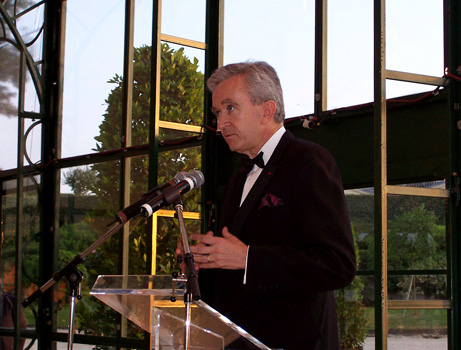 Addresses and Contacts:
Philippe Casteja
President
Conseil des Grands Crus Classés en 1855
1, cours du XXX juillet
33000 Bordeaux, France
Telephone: 33 / (0)5 56 48 47 74
Fax: 33 / (0)5 56 79 11 05
Web site: www.grand-cru-classe.com
Château d'Yquem
Web site: http://www.chateau-yquem.fr
If you plan to visit Château d'Yquem, be sure to write them a message on their Web site at least three weeks in advance.



---
Hidden gems of Bordeaux: Château Guadet-Saint-Julien
Bordeaux does not just represent super famous châteaux from the Médoc and Sauternes! One can also discover domains on the Right Bank (Saint Emilion and Pomerol) with rich histories as well.
I discovered one such château in Saint Emilion: Château Guadet-Saint-Julien. Named after a revolutionary who lost his head in the Terror, the château makes traditional style Saint Emilion – not as big or rich as current fashion dictates, but rather elegant and fruity. Not included in the 1855 Classification, Saint Emilion has its own classification system, with two châteaux – premier grand cru classés A – at the summit (Cheval Blanc and Ausone) and 11 others are premier grand cru classés B.
Château Guadet-Saint-Julien is classed as one of the 55 grand cru classés.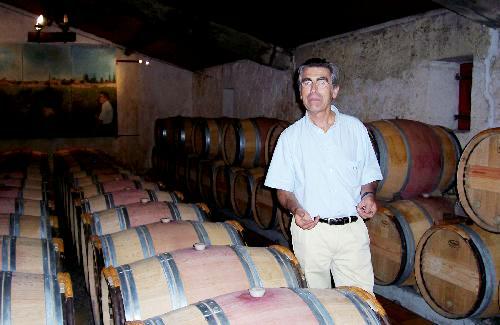 Current owner Guy Pétrus Lignac has 5.5 hectares under vine (about 13.5 acres) and took the time during a break from Vinexpo to show me his property, located at the bottom of the main town of Saint Emilion on the limestone plateau.
A charming garden space greets visitors to the château. To the left are four red concrete fermentation vats and a hydraulic press dating from . . .1919. Some 20 barrels used to age the wine (40 to 60 percent new oak, depending upon the vintage) are found to the right of the garden in a temperature-controlled chai. Lignac's property includes underground limestone cellars to store the château's wines – including wines from his personal collection.
The wines of Château Guadet-Saint-Julien, made of about 75 percent Merlot and 25 percent Cabernet Franc, are generally fresh and fruity. At their best, they represent a fine alternative to the "big" and sometimes overbearing wines in fashion today. In lesser vintages, they can indeed be too light, at least for my taste.
Recent vintages tasted:
2004 (barrel sample): Very violet color with fresh cherry and strawberry aromas and some vanilla coming from the oak. Palate is medium bodied and corpulent, with a nice texture. A bit tight on the finish but this is a barrel sample. Really fine wine.
2003 (just put in bottle two weeks earlier): Color is violet but not dark. Notes of white flower and spice dominate. A bit of a pinched sensation on the palate, due to the recent bottling. Otherwise, pleasant notes of cinnamon, cherry and plum emerge. Needs revisiting after some time in bottle.
2002: This wine had a clear red/violet color and was very fruit forward initially. Fresh strawberry aromas resembling a light Grenache-derived Rhône Valley wine. The palate was light in structure but pleasant.
2001: Initial notes of toast, some vanilla and then underbrush – very earthy and almost animal-like. Time in glass allowed the aromas to evolve – and the palate improved. More substance than the 2002. A fine Saint-Emilion.
1998: Youthful violet color. Cherry aromas and flavors. Fine and elegant on the palate, though a bit tight and somewhat alcoholic on the finish. Needs more time in bottle for its elements to come together.
Addresses and Contacts:
Guy Pétrus Lignac
Château Guadet-Saint-Julien
33330 Saint Emilion, France
Telephone: +33 / (0)5 57 74 40 04
Fax: +33 / (0)5 57 24 63 50
Panos Kakaviatos is an American who lives in both Europe and the United States
and has worked as a congressional reporter, for UPI and the Council of Europe in Strasbourg.
Fluent in four languages and holding both Bachelors and Masters degrees, Panos is now focused on his passion: French wine.
He has written for Wine Citizen, World Wine Report, France Today, as well as FRANCE On Your Own ~ our good fortune.
If you would like to contact Panos, his email address is: panos_kakaviatos@yahoo.com


---
DISCLAIMER: You have received this newsletter because your email address is on our Opt-In mailing list, i.e., you have requested to receive FRANCE On Your Own ©. If you would like to discontinue receipt of this newsletter, please send an email to publisher@franceonyourown.com with "unsubscribe" on the Subject line.
Unless indicated otherwise, photos, graphics and text in the FRANCE On Your Own © newsletter are the property of Cold Spring Press and FRANCE On Your Own © and cannot be copied, duplicated or used in any manner by anyone without the express written permission of Cold Spring Press. FRANCE On Your Own © is published on line by Cold Spring Press, P O Box 26098, San Diego, California 92196-0098. This publication is copyrighted and no portions of the text, artwork, graphics or photographs may be reproduced or distributed in any form or by any means or stored in a database or retrieval system without the written permission of the Publisher. For more information about FRANCE On Your Own ©, visit our web site at http://www.franceonyourown.com.
Recommendations made in this newsletter are based upon the personal experiences of the Publishers or contributing writers solely to provide information to subscribers. Cold Spring Press and FRANCE On Your Own © make no endorsements nor are any guarantees or promises of satisfaction given or implied. Any and all information is correct to the best of our knowledge, and the Publishers accept no responsibility for errors and/or omissions. The responsibility lies entirely with the traveler to obtain current information regarding accommodations, availability, schedules, prices, reservations, or any other pertinent details. We do not guarantee the historical accuracy of the contents of articles in this newsletter. Historical accuracy is dependent upon one's sources of information -- and contradictions often exist among those sources.
FRANCE On Your Own © is electronically transmitted via email. To add your email address to our database for this FREE newsletter, send an email to info@franceonyourown.com, and please put Subscribe in the subject line. We do not share email addresses with any other organization.
BACK ISSUES of the print version of FRANCE On Your Own © are available on our web site at http://www.franceonyourown.com/Archives.htm.
©1998-2005 Cold Spring Press All Rights Reserved
---

previous page