Vernègues ~ a village deep in the heart of Provence
by Arthur Gillette

I've got a secret!

It's peacefully nestled on the Massif des Costes plateau, about 45 kilometers from the Aix-en-Provence TGV station (three high speed train hours from Paris), warmed by almost endless winter sunshine and cooled in summer by the Mistral wind whistling down the nearby Rhone River valley, fragrant depending upon the season with honeysuckle, thyme, lavender and broom, and looks across a pretty valley at the Ventoux hills and, a bit farther, the Alpilles range.

The secret? A totally stress-free Provençal village called Vernègues.

Its just over a thousand inhabitants include some farmers, of course, but also people who work at shops and offices in nearby towns as well as painters, a craft cabinetmaker, at least one potter and a couple who specialize in santons – those typical and colorful little Provençal clay/wood figurines that decorate Christmas crèches in the French Midi.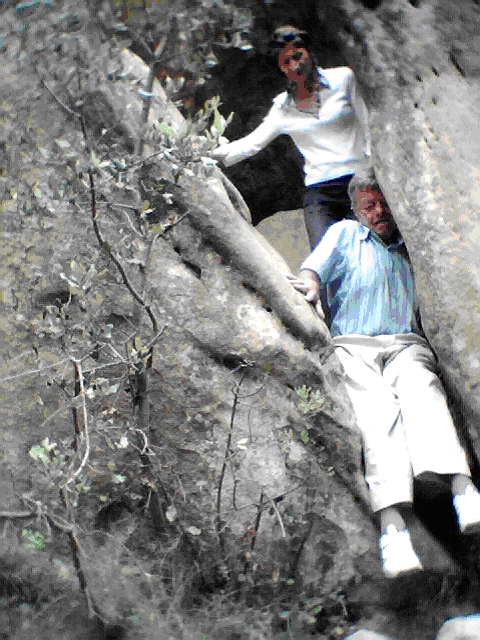 Criss-crossed by hiking trails, the Vernègues' hinterland boasts, in addition to sensational views, easily accessible historical vestiges going way, way back. There are, for instance, hillside caves with traces of human habitation since Neolithic times, a first century BC Roman temple to Diana (its single surviving Corinthian column soars breathtakingly against the azure sky) sited near a spring and later adapted as a Christian chapel and, higher up the hillside, Christian tombs wrested by hand from the limestone substratum nearly two millennia ago.
As early as the third century AD, Vernègues was a staging post on the route linking the Auvergne to Marseilles; over the centuries it evolved from the Roman name for Auvergne progressing through Alvernicum and Alvernegau to its present name. Despite a devastating 1909 earthquake, one can still find the remains of an 11th century castle keep, the 14th century Provençal Romanesque St. Jacques church and the 16th century Château Bas.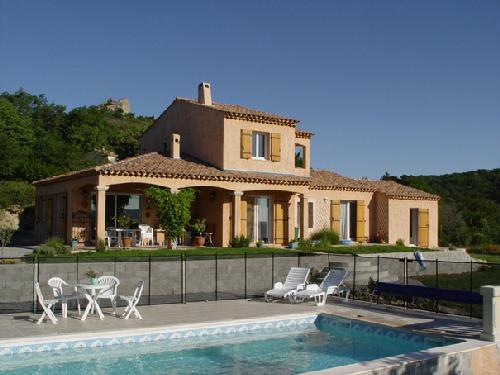 Short car hops from Vernègues take you to:
Salon de Provence: Hometown and final resting place of royal astrologer Michel Nostradamus; the museum to him there is well worth an hour or more.
The hilly domain of Calès where, during the Wars of Religion, Protestants literally holed up in cleverly arranged and furnished caves that you can still explore.
The striking 12th century Cistercian Abbey at Silvacane.
The St. Symphorien church, first built in the 12th century and remodeled in the 1600s, with acoustics that happily lend themselves to concerts still today.
Okay, my secret is out! "No place is totally idyllic," you may be wondering, so "what are the drawbacks of Vernègues?" I can only think of one: I don't get there often enough.

As regular readers know, Arthur's main haunt is Paris, where he
guides personalized two-hour strolls to discover "Paris Through The Ages."
For more information, contact him on Armedv@aol.com

[Photos courtesy of the author. Mouse over each photo
for a description. All rights reserved.]



The Gorges du Tarn ~ France's Grand Canyon
by Thomas Smith-Vaniz
Many travelers are drawn to the great outdoors, eager to explore France's exceptional
countryside which often includes some of the more dramatic sites. In this issue we will
take you to the breathtaking Gorges du Tarn through the eyes of an American living in Aveyron.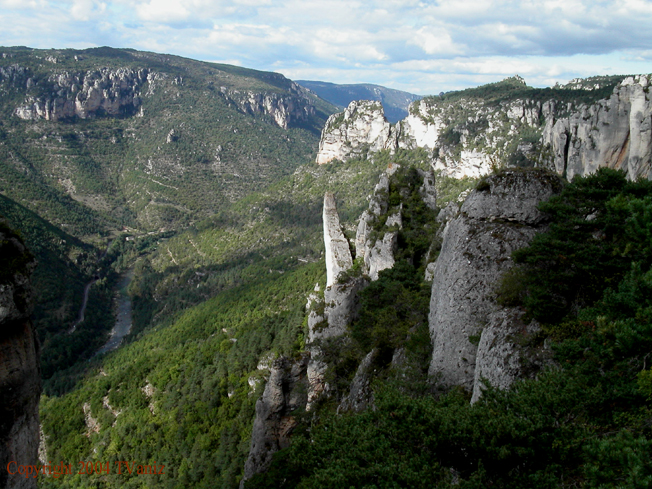 The Gorges du Tarn in Aveyron
There are so many things to love about living in Aveyron (despite the considerable inconveniences) that I am often at a loss when people ask me what they are and why I live here. I usually babble on about the pleasures of having a house in a medieval town center with markets and footpaths, leaving the car in the garage for days at a time, exploring the surrounding countryside, the fabulous cuisine, local produce. . . much of what you might expect to hear from an American living in France. In truth, I do sometimes feel strained while trying to make it all sound fresh.
But, when anyone asks me, "What should I see while visiting there?", I immediately tell them of a place that very few Americans have ever heard of or could even imagine seeing during a visit to France, and that is the Gorges du Tarn. Yes, there is culture here ~ you will find fascinating medieval and troglodyte villages alongside memorable restaurants. But, if I send someone to the Gorges du Tarn, it is above all so they will discover the surprising natural beauty and experience the myriad outdoor activities available in this region of France that most Americans simply do not associate with the French experience. You might also consider this area if you are dragging an energetic, yet possibly reluctant, teenager to France with you. It is a marvelous destination where they can burn off some excess energy.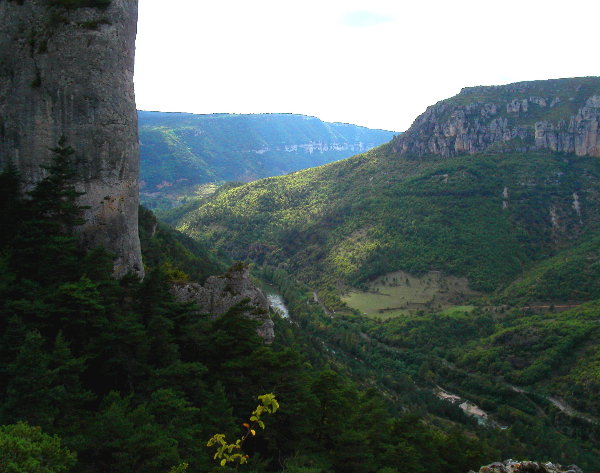 The extraordinarily beautiful canyons of the Tarn River have been dug some 400 meters into the limestone plateaus of the Grands Causses. They are a labyrinth with fantastic, rounded rocky formations along the cliffs.
If you like hiking, this is an absolute paradise for people of all ability levels. You can head off on your own, get free advice from the local tourist boards (see links below), or, if you would like to discover something new, sign up with any of the several highly-experienced outfitters who will take you rock climbing, canyoning, Tyrolean cable and via ferrata climbing or paragliding. For the naturalist in you, there are guides who live here year 'round and enjoy nothing more than sharing their knowledge of the local fauna and flora with their fellow man. Of particular interest here is the majestic Griffin Vulture.
If, on the other hand, you desire to get into the water, you're in luck: the emerald waters of the Tarn have smoothed the light-colored boulders and rocks into a most comfortable place for sunbathing, swimming and picnicking. You don't have to bring any special equipment if you enjoy canoeing ~ there are several very well-established outfitters along the river, all of whom are quite reasonably priced and very efficient. The river is not very wild, and there are stretches for both experienced and inexperienced paddlers.
For practical information I will send you to the site of the Aveyron tourist board, which is truly exhaustive. If the site does not tell you what you are seeking, the team there will be more than happy to communicate with you in English (as best they can) and help you find exactly what you need.
There are quite a number of English and Dutch people in the Gorges in the high season (July and August), and the narrow canyon roads can become congested, so it is always wiser to come in June or September. September is always my choice. The Gorges du Tarn touch primarily upon the Aveyron and Lozère départements, and the two most informative tourist board sites are http://www.aveyron-tourism.com/uk/sommaire.php and http://www.lozere-tourisme.com/index.php3?langue=en.
I also strongly suggest you order up an IGN topo map, or two:
For just the Gorges du Tarn and good ideas about hiking, order the IGN "2640 OT" from the blue, Top 25" series, entitled Gorges du Tarn"
For a better idea of where they are and driving around to visit other areas, you should order the IGN Green series, TOP 100, number 58, entitled "Rodez-Mende".
This French geographical agency's site, http://www.ign.fr, doesn't always work as it should, and I don't want to recommend particular vendors, but if you don't find the maps for sale through an on line search, don't worry. You can simply wait to purchase them at most any newsstand of the area.

I, myself, drive out from Rodez by heading east and following sings for Sévérac le Château. Once arriving in Sévérac, I follow signs for the Gorges du Tarn, and wind my way to the first awesome views as one descends into the gorges. If you do the same, you will arrive just downstream and west of the river town of Les Vignes, which is a perfectly reasonable place to sign up for a canoe trip, among other activities.

But you are quite possibly arriving via the newly completed A75 motorway (don't forget to visit the highest bridge in the world, the Millau Viaduct!) or Millau, from which you should head northeast along the northern bank of the river from Millau. From wherever you come, the signs for Gorges du Tarn will get you there without fail.

I also suggest stopping at the tourist office in the town of Rivière, where you can obtain advice in person about the Gorges and receive free or inexpensive hiking maps. The web site is http://www.ot-gorgesdutarn.com/index-gb.html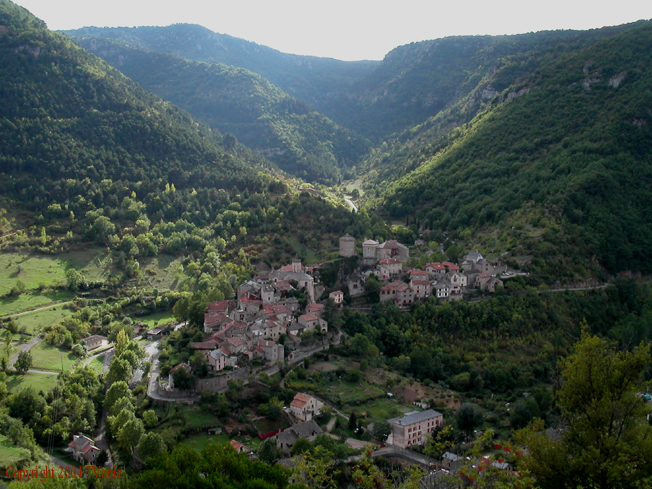 Personally, I am drawn to the water's edge, and, as I say, I still have a lot to learn about the Gorges du Tarn. You will quickly have more to say about it than I do! I do feel comfortable sending you to a few places, notably the town of Peyreleau, well downstream from Les Vignes and at the confluence of the Dourbie river. It is particularly beautiful and a nice place to stay if you can find a B&B there. There is an excellent hiking trail along the cliffs starting from the town of Rozièrs, just across the river from Peyreleau.
The most comfortable hotel I know of near Peyreleau, and possibly the only one of such caliber right on the water, is La Muse. It has nice patios and a pool overlooking the river, and the in house restaurant is quite acceptable. Visit their web site at http://www.hotel-delamuse.com/.
These places are fairly far downstream, close to Millau, and you can drive quite far up into the gorges (leaving the Aveyron and entering the Lozère). One town upstream, which I particularly like, is La Malène. The drive there will take you into some of the narrower, more mystical canyons, and the home made ice cream sold right at the bridge is worth the trip in itself. You can sign up for motorized skiff tours of the straits from the landing at the bridge. I have been aching to spend a romantic weekend with my wife at L'Embarcadère, also right in the burg and facing the bridge. I make no promises here but have eyed this hotel for its location, old stone architecture and obvious charm. Friends have told me that its food is quite good as well. I can't find a specific web site for this hotel, but the Tourist Office in the area will be happy to help you if you don't get too complicated when speaking English. The tourist office site is http://www.otsi-gorgesdutarn@wanadoo.fr. You can also call the hotel directly at: 33 (0) 4 66 48 51 03.
I do wish I could be more precise on where to go and what to see in these Gorges, but what I can say, in closing, is that no matter what you choose to explore, you will have an unforgettable visit.
[Photos used in this feature are property of and copyrighted by Tom Smith-Vaniz. All rights reserved.]
Tom is an American who lives in Rodez with his French wife and 3 children.
If you would like to contact him with questions about Rodez or the Aveyron,
please don't hesitate to write him at: thomas.smithvaniz@free.fr
Please visit his photo gallery of the Aveyron at:
http://www.pbase.com/tomsmithvaniz/postcardsfromaveyron


SPONSORING THIS ISSUE:
Beautiful original pen and ink drawings of a dozen French château chambres d'hôtes
can be yours in the form of note cards with matching envelopes. Simply click on
any butterfly above to see them and see how to order yours.
The holidays are coming and our note cards make excellent, original gifts!

---

previous page next page