This column is intended to advise you about cultural events, news and happenings
in France or France-related events taking place in the United States
between now and the publication of our next issue.
o * * IT'S NOT TOO LATE to join our PREHISTORIC & MEDIEVAL FRANCE TOUR * * - the web site, au Château and Le Prieuré au Château de Biron present this exciting tour from September 26 - October 3, 2005. The Prehistoric & Medieval Southwestern France Tour begins and ends in Bordeaux, and there are still some openings. Guests on the tour will stay at the magnificent Prieuré au Château de Biron in the Dordogne, pay visits to the many sites of early man in southwestern France, and will explore medieval villages such as Rocamadour and Sarlat, the bastide towns of Monpazier and Domme, art museums and historic sites. Accommodations, breakfasts and evening meals will be enjoyed at the priory, and all ground transportation and entry fees are included in the price of € 1225 per person (single surcharge € 175). The tour will have a maximum of ten people, and is organized to allow some free time for participants so as to be enjoyed at a comfortable pace. For other details, current US dollar or other currency cost, or to book your reservation please contact tours@au-chateau.com.
o The Paris Fall Festival runs from September 14 to December 25, celebrating "The Year of Brazil in France." Now in its 34th year, this year's theme, "Brésil, Brésils, l'Anée du Brésil en France" is a program highlighting the energetic contemporary art scene of that beautiful country through works in opera, music, theatre, dance, cinema, literature and more. The Festival will welcome more than 100 Brazilian artists to Paris. The Festival will also pay homage to the samba with a musical show by Claudio Segovia, a conference by Catherine David, and several films on this animated dance. The Paris Festival is supported by the Ministry of Culture and Communication, the city of Paris and the region of Île-de-France, as well as the Ministry of Culture and the Ministry of External Relations in Brazil, among others. For more information please visit http://www.festival-automne.com.
o The photography of Jacques Henri-Lartigue: A Boy, A Camera, An Era, will be the exhibit through September 7 at the Louisiana Art & Science Museum, Baton Rouge, offering a pre-war Belle Epoque look at life in France.
o The Essence of Line: French Drawings from Ingres to Dégas will be a traveling exhibit beginning at the Baltimore Museum of Art in conjunction with the Walters Museum of Art that will have shares of the exhibition until September 11, Baltimore, Maryland, and will then move to the Birmingham Museum of Art, Alabama, running from February 16 through May 14 of 2006. Some 150 drawings from 19th century French artists will be on display.
o Through September 12 visitors can enjoy Pioneering Modern Painting: Cézanne and Pissarro 1865 - 1885 at the Museum of Modern Art, New York City. Portraits, self-portraits, still lifes and landscapes will be shown in an examination of the artists' 20-year relationship with each other, focusing specifically on their time working together in Pontoise and Auvers. For further details visit http://www.moma.org.
o Matisse: The Fabric of Dreams - His Art and His Textiles is a look at Matisse's own textile collection representing a lifetime of collecting and how the textures and colors of textiles influenced his paintings. First exhibition of his private collection since his death in 1954. At the Metropolitan Museum of Art, New York City. For more information visit http://www.metmuseum.org.
o Poster advertising is the focus of Consuming Desires: Turn-of-the-Century Posters and the rise of Modern Marketing at the Delaware Art Museum, Wilmington, through October 2. Examining the role played by art posters in product promotion between 1880 to 1914, posters (created by Frenchman Jules Chéret) appeared on kiosks and city walls to capture public attention. A unique collection from France, Germany, Belgium, England and the United States will be exhibited. For details visit the museum web site at http://www.delart.org.
o The Louvre Museum in Paris has received a donation of $20 million from Saudi Prince Alwaleed bin Talal toward the building of its Islamic art wing ~ the largest gift ever received by the museum. The Prince described his donation as an 'investment' to help explain the Islamic world to Europeans. The Louvre had planned to spend $66 million on the new galleries scheduled to open in 2009, and this donation will augment the balance of the cost which is coming from several French corporations and the government of France. For those who are not familiar with Alwaleed, he is the largest shareholder in New York's Citigroup, and it is said he controls a nearly $24 billion fortune. The Louvre now displays some 1500 Islamic art objects, while storing the remainder of its collection totaling some 10,000 pieces. The new wing will provide 36,000 square feet of display area.
o Opera takes center stage when The Grand Duchess is presented September 15 through October 1 at the Dorothy Chandler Pavilion in Los Angeles. This Jacques Offenbach opera will be performed by the Los Angeles Opera Company and is adapted by Gary Marshall. Starring Frederica von Stade as the Grand Duchess, it is conducted by Emmanuel Villaume. For tickets contact http://www.laopera.com.
o Toulouse Lautrec and Montmartre is the Art Institute of Chicago's feature exhibit through October 10.
o Welcome to France Fair - For newcomers to France or anyone interested in expatriate services, this is the place to be! Scheduled for October 16 from 11AM until 5PM at the Carrousel de Louvre in Paris, representatives from banks, service providers, clubs, investment firms, insurance companies, schools, real estate and tax agents, travel consultants, employment agencies, resident and immigration experts and more will be available with written materials and to answer your questions. People who help to make expat life in France fun, such as sports teams, clubs and associations will be on hand to meet and greet visitors as well. Until September 16th tickets are free through http://www.expatica.com or by calling 33.1.42.44.16.32 from outside France (from inside replace the 33 with 0). After September 16th, tickets are 10 euros per person by phone order or at the door.
o Take advantage of your own personal chauffeur in the various beautiful wine regions of France. Just call Pierre Galmes, an accredited chauffeur who is discreet, fluent in English, professional in every way and drives a sparkling clean, air-conditioned car ~ and Pierre is a non-smoker. With expertise in all important wine regions of France from the Loire Valley to the Rhône, from Champagne, Alsace and Burgundy to Bordeaux, Pierre helps his clients to discover all the famous places they have read about as well as equally wonderful places they may never have known. His inside information and ability to provide insight into the world of wine makes tours with Pierre rewarding experiences ~ you could enjoy private tastings and meet some of the important people behind the production of France's greatest wines!
And now, Pierre has facilities for chauffeuring wheelchair users in the appropriate licensed vehicles (please access his web site http://www.france-chauffeur.com), and he has identified hotels, restaurants, places of interest and rental vehicles for the wheelchair user (please access http://www.france-wine-routes.com). Details of chauffeured tours are available on Pierre's web site at http://www.france-chauffeur.com/.




2007 Tour to 'Meet Lafayette' in France
by Donald Miller
The Man
When I found that most people know only that General Gilbert du Motier, Marquis de Lafayette, fought with George Washington for American independence, I decided to write a book about him. In June-July 2002, I visited five places in France where he lived. Now, I have more than four years of research and am deeply into the manuscript.
A lifelong moderate liberal, Lafayette (1757-1834) became lionized in France as "the hero of two worlds" because of his war service in America. A charming man of great wealth, Lafayette attended school with Louis XVI and his brothers who later became kings. He oversaw the razing of La Bastille prison, symbol of state despotism, created the French National Guard and for three years was man of the hour. He cooled the fury of the Parisian mob that wanting bread marched on the Palace of Versailles and escorted the royal family to Paris. Later, Lafayette also had them returned to Paris when they tried to flee to Austria.
Lafayette, a Catholic nobleman with an adoring wife, Adrienne de Noailles de la Fayette, who was of even higher nobility, always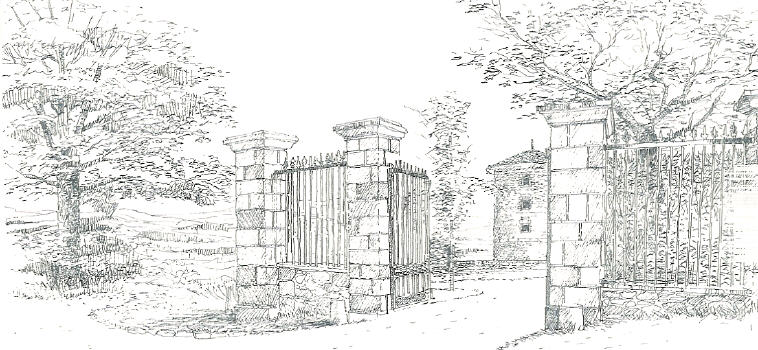 championed the underdog and freely gave up his hereditary title to serve the greater good. He successfully urged Louis XVI to restore political rights to French Protestants, was an early member of the abolitionist Friends of the Blacks, wrote The Rights of Man and Citizen ~ the French Bill of Rights ~ with Thomas Jefferson and designed both the Tricolore flag and the National Guard uniform. He was also a proto-feminist, championing the careers of many women. He even established a plantation in French Guiana where blacks could earn their freedom.
When revolutionaries seized power, Lafayette was charged with treason. He and a few military friends fled France but were captured by Austrians, who regarded Lafayette as a revolutionary. He was imprisoned in a Moravian dungeon for five years. His wife and two daughters shared his privations there the last three years. Their ghastly internment saved them from the Reign of Terror. Ironically, a new French leader, Napoleon, finally freed Lafayette. But two men were hardly more opposed. Lafayette's hero was George Washington (1832-1799), who protected the Lafayettes' son, named George Washington Lafayette, at Mount Vernon. Lafayette despised the tyrant Napoleon. He refused the emperor's offers of high office or being the Legion of Honor's first member.
Lafayette served many years as an elected liberal member of the Chamber of Deputies. After Napoleon's fall, Lafayette defeated re-establishing the emperor. Lafayette's dream was an English-style constitutional monarchy. Later, after Louis XVIII and Charles X were deposed, Lafayette helped bring their Orléans cousin, Louis-Philippe, to the throne. But the "citizen king" forgot his constitutional promises made to Lafayette, who, disappointed and now almost a ghost of the past, soon died. Louis-Philippe, who repressed republicanism, was overthrown in the Revolution of 1848. Lafayette had thought France was not ready to be a republic. He was right. The brief republic of 1848 soon became a second republic. Then came Napoleon III's empire. Three more republics would follow to the present day.
I contacted the Musée Chavaniac-Lafayette, the General's ancestral château and birthplace in the south central French province of Auvergne, a land of forests, farms, cities and extinct volcanoes. The château offers an indoor sound and light program plus a film about the General and his contemporaries. A staff member helped me contact la Fondation Josée et René de Chambrun in Paris. The late Comte de Chambrun was a direct Lafayette descendant and his wife was the daughter of wartime Premier Pierre Laval. The foundation owns Lafayette's home, Château de la Grange, 35 miles southeast of Paris, but it limits visits to scholars and historians. In 1955, the de Chambruns discovered the General's letters and books hidden in an attic. They restored the château, including General's beautiful Louis XVI bedroom and circular study.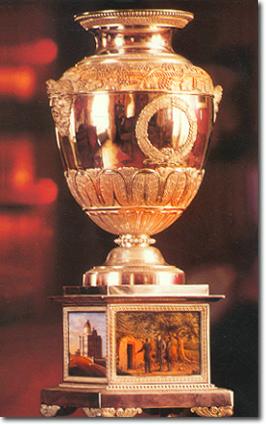 Here Lafayette became a Jeffersonian gentleman farmer, raising fine Merino sheep and welcoming hundreds of the world's most brilliant people. He also penned thousands of letters, now on microfilm in the Library of Congress, Cleveland State University and Sons of the American Revolution in Louisville, Kentucky. Lafayette was active in independence movements in Poland, Greece, Spain and South America. As the last living American Revolutionary general, he made a 14-month triumphal tour with his son through all twenty-four states in 1824-1825. A man of indefatigable gusto and endurance, he was feted everywhere as the hero who had convinced French leaders to help Americans. The victory could not have been won without France.
Lafayette died in his Paris townhouse. He is buried in soil he brought from Bunker Hill, where he dedicated the war monument. He lies beside his wife and descendants in St. Michel de Picpus Cemetery, close to where 1,303 decapitated Terror victims, including his wife's grandmother, mother and sister, are buried in a mass grave. An American flag, changed yearly, has flown over Lafayette's grave since his death, even during the Nazi occupation. In 2002, I attended the stirring ceremony in which the General's flat gravestone is covered with floral tributes each Fourth of July. French and American military bands and the American ambassador were in attendance.
The Tour
If you are curious about this great man, the American Friends of Lafayette (see friendsoflafayette.org) will sponsor a tour to France for the 250th anniversary of Lafayette's birth in 2007. The tour will visit Chavaniac on his birthday, September 6. There will be visits to La Grange and Château de Vollore, owned by Lafayette descendants. Paris sites will include the house where Lafayette died and Picpus Cemetery. A visit to Rochefort, France, to view a replica of Hermione, the ship on which Lafayette crossed the Atlantic, is planned. For information, contact FRANCE On Your Own at info@franceonyourown.com with 'Lafayette' in the subject line. Albert Oberst, an officer of the American Friends of Lafayette, is tour organizer. My wife, Bette, and I will attend.
Donald Miller is art critic of the Naples (Fla.) Daily News.
He is the retired art and architecture critic and a senior editor of the Pittsburgh Post-Gazette.
He has led 153 tours, including several tours to France,
and is author of six books on artists and architects.
[The American Friends of Lafayette was founded in 1930, and met
June 9 through 11, 2005 in Alexandria, Virginia, for its annual conference.
Four authors, currently writing books on the General spoke in a panel discussion.
The French Embassy in Washington, DC, hosted a luncheon for members who also had an
opportunity to visit a portrait of Lafayette in the United States House of Representatives.
Visit the web site of Albert Oberst of American Friends of Lafayette at http://www.theperseus.com/Lafayette/]
[Pass your mouse over the photos above to see the description. Photo credits:
Copyrighted 2002 - 2005 by Cold Spring Press. All rights reserved.]


Women Traveling in France . . . on their own
More and more women are off to France either by themselves or with another one or two ladies. They are taking cooking courses, renting cars and exploring the countryside, spending a week painting with a local artist or just enjoying the lifestyle that France offers. So, for women traveling without a male companion and who might be a bit hesitant to do so, we are offering some tips to ensure more ease of travel and a safer vacation.
Keep a safe distance between yourself and strangers ~ for example, in the Paris métro, be aware of those around you and anyone getting too close. Don't make eye contact as it can often be misconstrued.
Don't become distracted ~ always keep a watchful eye on your purse, luggage and pockets. Beware of people stopping you to ask for directions or for help. Shake your head to indicate 'no', and walk on.
Don't appear like a tourist! Walk confidently like you always know exactly where are you and where you are going. Maintain a confident gait to your walk and grip your belongings firmly. Don't have a camera dangling from around your neck or carry a map in your hands. That's a dead giveaway! Check your map before you step onto the street, and keep your belongings in a zippered bag that is nondescript. Do not wear a fanny pack or backpack!
We suggest you do not carry a purse unless it only contains tissues and a lipstick. Instead, wear a money belt containing all your valuables which include your passport, credit cards, airline and train tickets and any large amount of cash. For convenience, carry a small amount of currency and coins in a pocket.
Remember that France is a relatively safe country for all travelers...we believe perhaps much safer for a woman alone than her homeland (statistically, that's quite likely true). Women are treated very respectfully in France, and French women are very self-assured.
To become unobtrusive, try to blend in.
Speak softly and dress simply. Don't draw unwanted attention to yourself.
Your choice of accommodations is important:
When in the countryside, stay in bed and breakfast inns (chambres d'hôtes) at châteaux, farms and country houses as opposed to hotels. It is in the small, family-run establishments where you will find yourself among friendly fellow travelers and helpful hosts. Both offer information and a congeniality that makes you feel 'at home', as opposed to the isolation you might sense at a large hotel.
If you are staying in a city, choose your accommodation based upon the safety of the neighborhood. In Paris find a small, boutique hotel in a good neighborhood. We don't hesitate to recommend Hôtel Muguet in the 7th arrondissement, a quiet residential area, operated and staffed by women and in a delightful neighborhood where you may safely do as we do and go out for an evening stroll.
Ask your hosts about places to visit and areas to avoid. They will understand your concern and be most helpful.
Pack light! Since you cannot rely on anyone else to help drag your luggage around, take one rolling piece that you can easily manage. Keep in mind that the more charming and historic the accommodation, the more likely a lot of stairs from the front door to your room.
Planning ahead:
In large cities, spend your first full day on a tour bus to get a flavor of what's out there to see ~ it will also provide an overview of the neighborhoods and sights you wish to further explore and those you definitely don't want to see as a pedestrian ~ all from the safety of a tour bus window.
Plan your itinerary so that you arrive at your accommodations by dinner time or earlier. It remains light in France well into the evening, especially during daylight savings time, so darkness may not come until 8:30 or 9 PM. It is best not to arrive on your first night after dark. Even though your hosts will be there to greet you, arriving in the dark will only increase any uneasiness you may already be feeling. Arriving early gives you a chance to acclimate to your new surroundings in the light of day.
Be sure all your plans are finalized before you leave home and take copies of all reservations with you. Carry phone numbers of hotels, contacts, friends, etc., with you. You don't want to find yourself without accommodations in a strange city or town.
Make arrangements in advance for ground transportation. If flying into either of Paris' two airports, purchase Air France bus tickets while still in your home country. The bus will take you into the city from the airport and drop you at the stop nearest your hotel. For more convenient door-to-door service, you can take a taxi. Make car reservations from the home country as well and be sure to find out the office hours of the rental agent. You don't want to arrive after closing time!
Leave your itinerary with all pertinent information including phone numbers, dates of visits, etc. with a trusted friend or family member at home! Keep them apprised of any changes you make to your plans. (Buy a phone card to make phoning long distance easy.)
When
out enjoying the scenery or exploring on your own:
If staying in a château or other bed and breakfast near a small village, don't wander into the village at night ~ even though each might be absolutely safe, small villages tend to shut down early, and you don't necessarily want to be a pedestrian wandering about totally alone.
If the village has restaurants, find out their hours during the day before assuming in the evening that they are open.
Protecting your belongings:
If you stay somewhere offering a safe for your valuables, you may want to take advantage of it. It will allow you to do the tourist things without carrying around items you don't need that day and definitely don't want to lose.
Leave your good jewelry at home! Taking anything of value is a mistake and completely unnecessary. Basic earrings, a wedding band and an inexpensive but reliable watch are all you will need. This advice has nothing in particular to do with France but applies to travel anywhere in the world.
On trains, sit where you can watch your luggage. Larger pieces do not fit overhead on the rack, but they are kept with the luggage of others on racks near the door to that particular car of the train. Sit so you can see your baggage, especially at stops when people are disembarking.
Using common sense:
Last: be wary if approached by any stranger who seems to find you irresistible! Chances are, you're not! Act as though the same situation were occurring in your home country, and react as you would there ~ with suspicion! Don't let the romantic atmosphere of France cloud your good sense!
France is an exceptionally safe country for women on their own, as we have said many times before. In all the years we have visited there, we have yet to see or experience outrageous, threatening or intimidating behavior toward women. But, if you are unwise and wander into areas of a large city where a tourist really doesn't belong or is not welcome, you are taking unnecessary risk. Yet, we don't believe you should only travel with tour groups...we do believe you can see France on your own, opening the way to meet many interesting people during your stay, people who are more likely to want to chat with you if you are not part of a large group of people. Travel to France without fear or trepidation. It is a warm and friendly country, and we know from personal experience that the French are eager to be of assistance whenever the need arises. Bon voyage!





---

previous page next page