IN THIS ISSUE:
Qu'est-ce qui se passe?
~ Is Defeat Looming for the European
Constitution?
~ The Cheese Challenge
Paris Enigmas
by Arthur Gillette
Ici et Là
Three Rooms of Ham
by Marcia Mitchell
FEATURING La Drôme
~ the "five countries"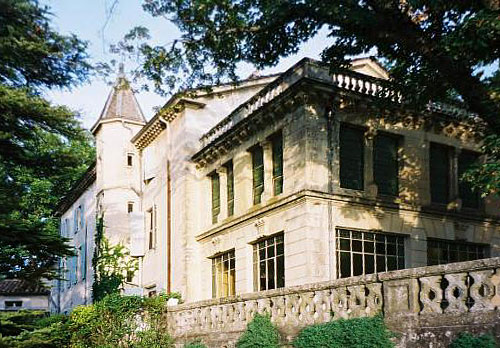 Château le Roure
chambres d'hôtes in the Drôme
The Bookshelf
French Wine Report:
Spotlight on Chateau Dassault
by Panos Kakaviatos

First it was the crisis in the French wine industry, then the nearly evenly-divided opinions on the European Union Constitution up for vote in France on May 29, now the perils facing French cheeses . . . when will it end? So much is in the news in recent weeks about what is not going well in France that many of us who only visit there are selfishly hoping all will be resolved so nothing changes about the France we love!

French cheese and wine, for example, are two important reasons (while certainly just two of many) that we love France. At home we give our patronage to those wine shops carrying the widest selection of French AOCs, and we have French cheese shipped to us across an ocean! Read more about the challenges to the cheesemakers of France in this newsletter. Gratefully, despite what many perceive to be overzealous government regulations, the reality of increased world competition and, until recently, a certain apathy when it came to marketing, it is not all gloom and doom in the French wine business ~ we hope you will enjoy Panos Kakaviatos' interesting article about a recent tasting of some 2004 Bordeaux wines and enjoy along with him his privileged visit to Chateau Dassault.

The March 29th vote on the European Union Constitution is extremely important. It may not be clear to foreigners how a oui or non vote impacts France, but in this newsletter we will try to present some views and opinions from both sides.

Our featured region in this edition is the Drôme département of France's Rhône-Alpes. Not very well known, but deserving of our attention, the Drôme offers something for everyone all wrapped up in a beautiful package. And, we will introduce a marvelous chambres d'hôtes near the Rhône River where guests are treated to absolutely lovely accommodations and the fine cuisine offered in the château's dining room.

Two new books are reviewed in this issue, both written by Americans, telling of their experiences and adventures in France. One, Families of the Vine, is written with great insight in an easy manner about three different wine producing families in France. The other, Chasing Matisse, takes us along on an adventure with a couple who packs up their life in America's south to begin a whole new life in France. The author, an established writer and aspiring painter, peppers the tales with wit, and when sadness invades their lives, with great empathy.

And there is more, including our calendar of cultural events and news, an article by Marcia Mitchell on using French to your advantage when in France, and, of course, we want to say 'bienvenue' to our new subscribers and hope that many of our readers will be visiting France this year on their own.