The Rhône-Alpes region of eastern France is probably best known for the city of Lyon along the Rivers Rhône and
Saône or the region's three départements famous for winter sports and the French Alps. However, its southernmost
département, the Drôme, is not to be ignored, for it is here that a vacationer finds not only the
river valley but ancient villages, parklands, tranquil farms, vineyards and a beauty that encourages a return visit.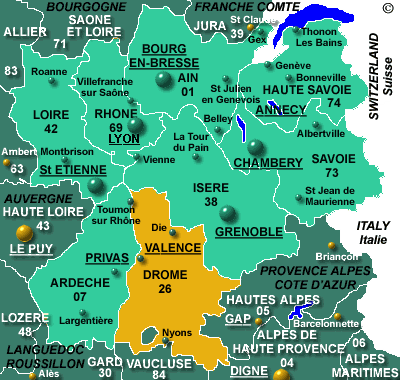 If you are seeking in-depth information in guide books about the Drôme, you are wasting your time. This is not a region that receives much attention, which, for many travelers, makes it perfect!
Find the Rhône-Alpes on your map of France (just above Provence with its eastern edge bordering Switzerland and Italy) and you will see that it is on the route from Paris to Provence. Take the A6 from Paris which becomes the A7 at Lyon [the Autoroute du Soleil], and you will travel right through the Drôme's largest city, Valence. Thus, this département is a convenient place for stopping over to enjoy the gastronomy of the region, the spectacular scenery or to pay visits to the unique villages dotting its landscape. Perhaps once in the Drôme, you might wish to stay put! Maybe we can give you some good reasons to do so.
The département of the Drôme has its share of vineyards and Le Parc Naturel Régional du Vercors Royans. We also counted no less than ten botanical gardens from the herb and aromatic gardens of La Garde-Adhémar and Nyons to the Zen garden of Montvendre and the vineyards at Suze-La-Rousse, operated by the l'Université du Vin et le Syndicat des Vignerons. For anyone who enjoys the outdoors and the horticulture of France, these parks and gardens make wonderful day trips.
The tourist office of the département promotes the 'five countries' of the Drôme: from north to south those divisions within the département are the Drôme des Collines, Plaine de Valence, Royans-Vercors, the Vallée de la Drôme Diois, and the southernmost (and largest by far) the Drôme Provençale. The western border of the département is the River Rhône itself where the land is flat to rolling in the river valley. As one proceeds eastward, the rugged countryside takes over ~ the southern border of the Drôme reaches to Mont Ventoux in Provence!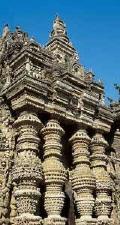 Drôme des Collines
This northernmost part of the Drôme has wide vistas and is famous for Hermitage wines. Hauterives, Saint-Donat, Romans et Tain-l'Hermitage are must-see towns, the latter being the home of the exquisite Valrhona chocolates! But don't miss Albon, looking over the prairie of Valloire to its outlet in the valley of Rhône, and the XII century Tower of Albon, the only vestige remaining of the castle. Hauterives has the distinction of being home to one of the most eccentric follies in France created by one man, Ferdinand Cheval, who erected the castle, Palais Idéal, entirely of stones he collected on his daily postal rounds on horseback. Although he was thought 'crazy' by those who knew him, Cheval's castle became widely admired by many famous artists. He built it between 1879 and 1912 and claimed it took him '10,000 days, 93,000 hours and 33 years of toil'.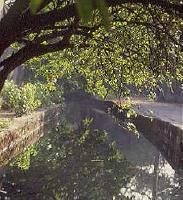 Plaine de Valence
This is the area around the city of Valence. Noted for its large, thriving market atmosphere, the city sits on the banks of the Rhône with views westward at the Ardèche cliffs. It offers a fine Musée des Beaux Arts, a grand Romanesque cathedral ~ St-Apollinaire ~ and two beautiful Renaissance mansions: Maison des Têtes and Maison Dupré-Latour, each with fine sculptures.
Royans-Vercors
Directly east of the Plaine de Valence is the Royans-Vercors where travelers will find the park it shares with the Isère département, Le Parc Naturel Régional du Vercors Royans. The park is considered one of the most magnificent in France, and it is a wilderness of pine forests, waterfalls, caves and deep gorges. Spectacular sights await visitors. The park has a proud history as well, as it is here that the French Resistance had an important base during World War II. Unfortunately, that secret was discovered, and in July of 1944 several of its villages were destroyed in aerial attacks.

Vallée de la Drôme Diois
The River Drôme flows from the mountains in the east until it empties into the Rhône. It isn't a long river, only 100 kilometers, but passes through some astounding country along its short adventure. As it passes Crest it comes upon the highest donjon (keep) in France and meanders through vineyards and the land of shepherds. Outdoors men love this region for its kayaking, canoeing, horseback riding, and hiking on thousands of trails just made for the pedestrian traveler. This photo illustrates the vast vineyards of the region.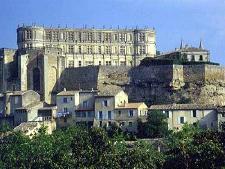 Drôme Provençale
This, the largest 'country' in the département is a land of olive trees, lavender, fields of sunflowers, rolling green hills and some amazing medieval villages and lovely small cities. It is the home of Pagnol, Côtes du Rhône wines, apricots, truffles and nougat. Visit Montélimar, Montbrun-les-Bains, Nyons on market day and don't forget Grignan. The Château de Grignan, which offers one hour and fifteen minute guided visits and is closely associated with Madame de Sévigné who died there in 1696, is well worth every moment. Vast and incredible rooms with Aubusson tapestries and Louis XII furnishings will be in your memory for years to come. Don't miss it! Also in Grignan is the Eglise de St-Saveur which contains the tomb of Madame de Sévigné.


Dining Out: Michelin's Red Guide lists two restaurants in the Drôme which have received stars in their rating system: Pic in Valence has two stars and Les Cèdres in Granges-les-Beaumont has one star. Pic is located at 285 avenue Victor Hugo (phone: 04.75.44.15.32 from within France). The menu is expensive, nearly as expensive as their guest rooms of which there are twelve plus three apartments. Les Cèdres (phone 04.75.71.50.67) specializes in 'queues de langoustines royales poêlées' and 'grecque d'artichaut au basilic'. Their prices are about half that of Pic. Both restaurants serve fine local wines such as l'Hermitage and Saint-Peray. Reservations are most likely a sensible idea.
For those seeking more moderate prices, Michelin lists several to which they have awarded their 'Bib Gourmand'. There are four in the Drôme:
Logis de l'Escalin in La Garde-Adhémar (phone 04.75.04.40.10)
Charette Bleue in Nyons (phone: 04.75.27.72.33)
Auberge de la Clue in Plaisans (phone: 04.75.28.01.17)
Bistrot d'Albert et Hôtel Terminus in Saint-Vallier (phone: 04.75.23.01.12)
We rarely have a bad meal in France, so almost any restaurant is bound to please ~ that's our opinion of course, and we may just be very lucky in our choices. But, Michelin isn't going to list an establishment in its guide that doesn't meet their minimum standards, so we hope you have the opportunity to experience a meal at one of the places we've listed above. Keep in mind that a meal at mid-day is going to be a lot less expensive than the same meal in the evening.
---
Most Beautiful Villages of the Drôme
The Drôme boasts four Most Beautiful Villages of France: Le Poet-Laval, Mirmande, Montbrun-les-Bains and La Garde-Adhémar. These villages are selected for their beauty, their small population, and their remaining true to their history. Each has its own distinctive look and charm.
Honey-colored, medieval Le Poet-Laval is was a 12th century commanderie, now a pleasant village. Mirmande was the center of the silkworm industry until the 19th century and is now a lovely hill town filled with alleyways and stairs. La Garde-Adhémar is a completely restored medieval village ~ the photo shows the Romanesque church of Saint-Michel. And, Montbrun-les-Bains, with its thermal waters and spas, is rife with Roman ruins and villas.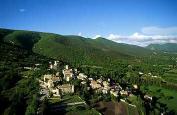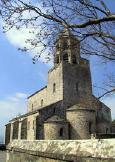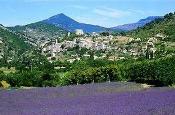 Le Poet-Laval La Garde-Adhémar Montbrun-les-Bains Mirmande
But, there are other towns and villages you won't want to miss while in this truly amazing corner of France such as Montélimar ~ the almond nougat center of this part of France. This confection has been made here since the 17th century when the first almond tree arrived from Asia. You also might find it hard to resist exploring the town's fine medieval quarter. Also, Château de Adhémar, whose construction began in the 12th century, stands on a hill near the town.
Somewhat south of Montélimar is the small town of Châteauneuf-du-Rhône, and it is here that you can establish a base for visiting the entire Drôme département in comfort and style. The Château Le Roure is a fine residence with lovely, spacious rooms (all en suite) and an excellent restaurant. Please read further to learn all about it.
---
Château Le Roure
Composite photo: the many views of Château Le Roure
No hotel, no matter how grand or luxurious, can ever compare to the charm and ambiance of a French château chambres d'hôtes. Yes, we have been encouraging our readers for years to take the leap and make a reservation ~ just one ~ at a château. If anything, we are more convinced than ever that this is the only way to stay in the French countryside. Each of our visits and each château experience further convinces us that a château stay is the ultimate lodging experience in France!
A delightful château in the Drôme is Château Le Roure in Châteauneuf-du-Rhône. This charming family home on ten beautiful acres of parkland offers exceptional accommodations, a truly fine restaurant, and its owners will even play an active part in organizing a wedding or family gathering. In fact, they are so involved in large functions that they have established a special web site just for such occasions: http://www.mariage-seminaire-chateau.com/anglais/accueil.php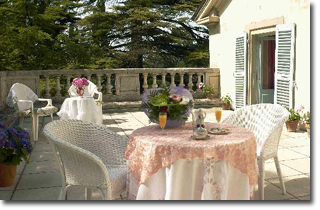 Your host, Philippe Lhopital, is an accomplished chef and prepares exquisite meals for his guests. Entrées and main courses are followed by a selection of mouth-watering French cheeses and then delectable desserts ~ you won't want to dine anywhere else during your stay! Your hostess, Dolores Lhopital, takes great pains to provide every comfort to her guests. Rooms are airy and decorated in light and cheerful colors. Each is spacious, filled with sunlight and has its own en suite bathroom.

If you are so inclined, you can participate in cooking classes at Château Le Roure (minimum four guests), which include market shopping, a visit to a local cheese producer, an excursion to a nearby wine domaine, a tour of a nougat factory, plus the preparation of meals and specialties. See their web pages for pricing and details.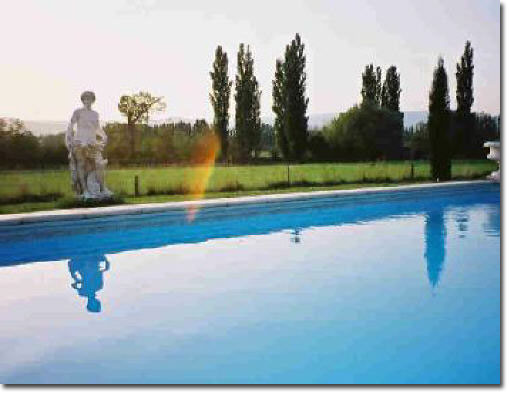 Château Le Roure also is a great place for that summer holiday getaway. The inviting swimming pool will be waiting for you after a day of touring the Drôme ~ a welcome and relaxing diversion after being a tourist! Best of all, the prices at Château Le Roure are incredible! For as little as € 88 per night for a large double room, you and your traveling companion can have a lovely countryside base for all the day trips you wish to enjoy in the region. Aside from the Drôme, the château offers easy access to the beaches of the Mediterranean, the museum in Montélimar, the city of Orange with its Roman arena, lovely Avignon home of the Pope's Palace, and ancient Vaison la Romaine offering winding cobbled streets and stunning views. Visit the Côtes du Rhône wine country or venture off to Nîmes, the Pont du Gard and, perhaps, Marseille!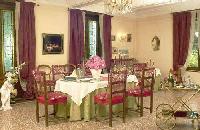 The château is open March 15 through January 5 each year, and it is a wonderful location for Christmas or New Year celebrations in France. Breakfast or dinner in the glassed-in orangerie or dining room will be a memorable experience. Or, if you are there in the spring, summer or autumn, you might enjoy a meal in the garden under century-old trees. There is a peace and soft beauty about Château Le Roure, and its location in the hardly discovered département of the Drôme adds to its appeal. Although there is much to see and do here, the château provides a welcome and luxurious retreat. Any time of year, Château Le Roure is the perfect destination.




[Photo Credits: - Les Plus Beaux Villages de France web site for the photos of La Garde-Adhémar, Mirande, Le Poet-Laval and Montbrun-les-Bains.
- The web site, http://www.drometourisme.com/anglais and the photographers, for photos of the Drôme used in this article.
- M. et Mme Lhopital, proprietors of Château Le Roure for the photos used in this article.
- FranceKeys.com for allowing us to use their map of the Rhône-Alpes region of France. Visit their site for in-depth information about France.
All photographs are the copyrighted property of their owners.]

---

previous page next page