Bordeaux 2004: A mixed bag that needs time to open

by Panos Kakaviatos

Many barrel samples of Bordeaux's latest vintage proved hard and tannic, though some will soften in barrel and result in better wines than now expected.

What a difference a year makes! In 2003, many wines were flavor intensive and concentrated, while others were unripe - particularly on the Right Bank, because the extreme dry heat in the summer blocked phenolic maturity. According to Professor Yves Glories at the Enology Department at the University of Bordeaux, both phenolic maturity and anthocyane, or pigment levels, were slightly higher in 2004 than in 2003, which explains the relatively dark colors encountered in the red wines.

In many ways, the 2004 harvest proved to be the polar opposite of 2003, when heat stress contained the vines' energy and even grilled grapes, resulting in a small harvest that was also very precocious. Many commentators note that 2004 made up for that year with a burst of energy, resulting in one of the largest harvests in Bordeaux history. But, because it was so large, vines not subjected to expensive care in the vineyard, such as multiple green harvests, sometimes produced grapes that were not fully ripe. Indeed, after tasting the wines of 2004, I found that a substantial number of chateaux did not achieve maximum ripeness, despite some picking well into October after mid-month rains. And because the harvest cycle was late, malolactic fermentation – which naturally converts harsh malic acids into smoother lactic acids – also occurred later than usual.

Dominique Bécot of Château Beau Séjour Bécot told me that maturity took more time in 2004 and that the malolactic fermentation for many wines had finished just in the third week of March and was not even done for some others at the time of the press barrel tastings: some of the wines proposed to taste from April 4 to 8 were labeled "malolactic not yet done."

Fragile Samples

For that reason, the main organizer of the week-long tastings, the Union des Grands Crus de Bordeaux (UGC), decided to postpone its celebrated barrel tastings by one week – one week too early, most observers agreed, because the wine harvest/wine making cycle was two weeks later than usual.

The result: fragile samples that were best tasted when pulled from barrel on the day of the tasting. Some samples tasted were already several days old and thus not as stable as others, so tasters had to take this fragility into account more than ever when noting down their appraisals, many of which turned out to be at best a mixed bag.

As ever, there was much fanfare for the 80 odd journalists who came to Bordeaux from the four corners of the world to taste the wine – and to profit from free stays and lavish lunches and dinners at the châteaux – in the dégustations very well organized by the UGC. But there were long faces as well. While smoking cigars at midnight at the elaborate Hotel La Source de Caudalie, next to Château Smith Haut Lafitte in Leognan, import sales manager Jim Smith of Southern Wine and Spirits – one of the largest wine importers in the world – remarked, "We plan to buy only 10% of our normal Bordeaux purchases in 2004."

A German journalist wrote that with few exceptions, Bordeaux in 2004 was "hard and tannic." "A symphony of tannin," was the joke employed by another journalist when I told him that I would be tasting cru bourgeois wines in Bordeaux in a tasting organized by Bordeaux negociant and harvest writer Bill Blatch. To cap things off, the most influential Bordeaux wine critic, Robert Parker, raised eyebrows when he published only the 75 best Bordeaux in his April report (as opposed to his normally listing all the wines).

The wines not in that listing will have a hard time selling en primeur, noted UGC president Patrick Maroteaux, who is also owner of Château Branaire Ducru in Saint Julien.

Meanwhile, other observers, like veteran wine writer Jancis Robinson, gave the vintage a positive spin, praising a return to classicism, in her article "Bordeaux 2004: falling in love with tannin," in the Financial Times of April 16/17. She may have a point…

Spotlight on Château Dassault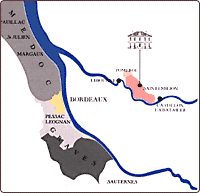 One of the best wines in 2004, which also represents a great price/quality ratio is Château Dassault, in Saint Emilion. One of just 55 "grand cru classés" (there are hundreds of "grand crus," a designation which has lost much meaning, in my opinion), the wine is an affordable and rich Merlot-dominated (65% Merlot, 30% Cabernet Franc and 5% Cabernet Sauvignon) blend, made from grapes grown on the northern slope of Saint Emilion's ancient siliceous and chalky sands.
The very gracious Laurence Brun has been winemaking director since 1995, and her work has led to increasing critical acclaim for this wine, which costs between $25 and $45 a bottle, depending on the vintage.
Indeed during a blind tasting of 2004 Saint Emilion wines in April, I found her wine to be among the best from this appellation in its class, with the following notes: "Very dark color. Black cherry aromas and flavors in the mouth. At first thought that it was a bit over extracted, but with some time in glass (20 minutes), it settled down. Very nice! 90-93."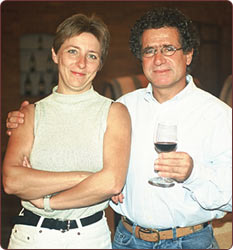 Brun aims for "extreme ripeness" and uses 100% new oak for the 15 to 18 months of aging (though she only employs 75% for the 2004 vintage).
"Château Dassault produces wines characteristic of its terroir," she said. "Fruit with just ripe pulp is not enough for me; I'm looking for extreme ripeness, from the grape skin to the seed," she said.
Some may think that her wine would then taste too modern, but I believe she has succeeded in making a very rich, savory and, yes, balanced Saint Emilion without going overboard on the ripeness or extraction. This wine can be enjoyed young, but also after several years in the cellar – as I found out after tasting several older vintages at the château!
Careful sorting of the grapes after the harvest – following the initial grape selection in the vineyard, not one but two sorting tables are employed, before and after de-stemming – ensures that only the best grapes are picked from the 24 hectares of vines.
Château Dassault
33330 Saint Emilion
France
Tel. +33 / (0)5 57 55 10 00
Fax +33 / (0)5 57 55 10 01
http://www.chateaudassault.com
[Editor's note: You may recognize the name Dassault as an aviation pioneer in France,
manufacturers of the Mirage line of military jet planes, and also a leading name in
communication, finance and multimedia enterprises.
You can read more on their web site: http://www.dassault-aviation.com]

Panos Kakaviatos is an American who lives in both Europe and the United States
and has worked as a congressional reporter, for UPI and the Council of Europe in Strasbourg.
Fluent in four languages and holding both Bachelors and Masters degrees, Panos is now focused on his passion: French wine.
He has written for Wine Citizen, World Wine Report, France Today, as well as FRANCE On Your Own ~ our good fortune.
If you would like to contact Panos, his email address is: panos_kakaviatos@yahoo.com


---
DISCLAIMER: You have received this newsletter because your email address is on our Opt-In mailing list, i.e., you have requested to receive FRANCE On Your Own ©. If you would like to discontinue receipt of this newsletter, please send an email to publisher@franceonyourown.com with "unsubscribe" on the Subject line.
Unless indicated otherwise, photos, graphics and text in the FRANCE On Your Own © newsletter are the property of Cold Spring Press and FRANCE On Your Own © and cannot be copied, duplicated or used in any manner by anyone without the express written permission of Cold Spring Press. FRANCE On Your Own © is published on line by Cold Spring Press, P O Box 26098, San Diego, California 92196-0098. This publication is copyrighted and no portions of the text, artwork, graphics or photographs may be reproduced or distributed in any form or by any means or stored in a database or retrieval system without the written permission of the Publisher. For more information about FRANCE On Your Own ©, visit our web site at http://www.franceonyourown.com.
Recommendations made in this newsletter are based upon the personal experiences of the Publishers or contributing writers solely to provide information to subscribers. Cold Spring Press and FRANCE On Your Own © make no endorsements nor are any guarantees or promises of satisfaction given or implied. Any and all information is correct to the best of our knowledge, and the Publishers accept no responsibility for errors and/or omissions. The responsibility lies entirely with the traveler to obtain current information regarding accommodations, availability, schedules, prices, reservations, or any other pertinent details. We do not guarantee the historical accuracy of the contents of articles in this newsletter. Historical accuracy is dependent upon one's sources of information -- and contradictions often exist among those sources.
FRANCE On Your Own © is electronically transmitted via email. To add your email address to our database for this FREE newsletter, send an email to info@franceonyourown.com, and please put Subscribe in the subject line. We do not share email addresses with any other organization.
BACK ISSUES of the print version of FRANCE On Your Own © are available on our web site at http://www.franceonyourown.com/Archives.htm.
©1998-2005 Cold Spring Press All Rights Reserved
---

previous page