This newsletter is best viewed with a Firefox browser with a full screen. It is not formatted for printing.

" The Gothic cathedral is a blossoming in stone subdued by the insatiable demand of harmony in man."

- Ralph Waldo Emerson



Le Cathédrale de Notre Dame de Paris





Witnessing the horrific fire consuming

le Cathédrale de Notre Dame de Paris

against the black nighttime sky was one of our saddest moments as it was for France, the Church and people around the world. We wouldn't know until daylight what, if anything, had survived.
To many it was a personal loss. We could only think how fortunate we were to have visited it on several occasions, the last time attending Mass surrounded by interested tourists lining the side aisles. The vast interior space achieved what Gothic design intended: verticality as if reaching to the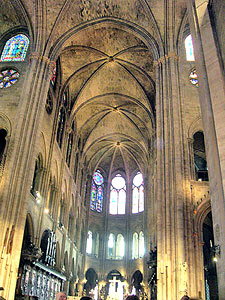 heavens, abundant light pouring in through pointed arch stained glass windows, and the strength of the rib vaulted ceilings.

Our late good friend, Arthur Gillette, contributed an article to this newsletter six years ago about the archeological crypt beneath the parvis ~ the large pedestrian space in front of the cathedral. Because of its location, we believe the crypt is still intact.

Over the years we have seen the cathedral from all angles, one of the most well-known being the back showing the flying buttresses which are, fortunately, still standing. The Seine River taxi, Batobus, offers this view before stopping there to let off passengers.

This photo shows the south façade of the cathedral in 2009 with two of its magnificent rose windows. (Some restoration was being done on the roof at that time.) In the days following the fire, people were relieved to learn that, although the glass is gone, the lattice work of the two rose windows shown here has not been destroyed. However, workers have shored up much of the remaining cathedral walls as they are quite fragile now that the roof has been destroyed.

Due

to the high amount of lead in the spire and elsewhere in the 850 year-old cathedral that was reduced to dust in the fire, the owners and occupants of nearby buildings are being told to use wet wipes to remove any dust that may have settled inside. The area is cordoned off to visitors.
Love

for this Medieval early Gothic structure will not fade away. It was and will remain the heart of Paris. We can only hope that reconstruction will not take decades, but with the help of 21st century technology and ample funds it will be completed as President Macron hopes ~ in five years time.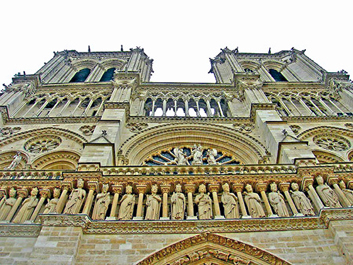 The fire
Bell towers of Notre Dame Cathedral are still standing
style="width: 200px; height: 161px;" align="left" hspace="5" vspace="5">


The
region of
continued on page three