This column is intended to advise you about cultural events, news and happenings
in France or France-related events taking place in the United States & elsewhere
between now and the publication of our next issue.

In France. . .

o The Louvre museum in Paris has announced it will open its doors for free one Saturday night each month to attract younger, less wealthy visitors. The world's most visited museum was previously opened for six free Sundays a year but was unsuccessful in bringing in visitors from a broad spectrum of French society. The new openings will begin January 5, will includes a board game area and a reading corner to attract families, and the hours will be 6 to 8:45 PM. The Louvre had a sharp rise in visitors in 2017 to 8.1 million, making it the most visited art gallery in the world, from 2016 following that year's wave of deadly jihadist attacks in Paris. [source: AFP]

o President Macron

said,

"

I will never accept violence.

No cause justifies that authorities are attacked, that businesses are plundered, that passersby or journalists are threatened or that the Arc de Triomphe is defiled."

He made his statement

from the G20 meeting in Argentina

addressing the violence in Paris in the third weekend of protests against a gas tax hike. He also added that those guilty of this violence don't want change or improvements - they want chaos and they betray the cause they pretend to serve. Following up on the President's comments, thirteen people were charged on Wednesday over looting and destruction at the Arc de Triomphe during the violent protests. Three, including a minor, were held pending trial and the others were released on bail. Demonstrators had spray painted the monument to France's war dead, and they smashed sculptures and display cases in the underground gallery as well as stealing commemorative medals, some of which were later found among the 412 people arrested.

[source: AFP]



o In response

to the "yellow vest" protests (all French motorists are required to carry yellow vests in their cars for roadside safety reasons), the government has backed down on planned fuel tax hikes following a 500-million-euro relief package for poorer household, marking the first time President Macron has given ground in the face of public opinion. Prime Minister Edouard Philippe said, "No tax merits putting the unity of the nation in danger." The fuel tax increases are suspended for 6 months, while hikes in regulated electricity and gas prices will be frozen over the winter. In addition to these concessions, the government will consider bringing back a tax on high earners that the President abolished early in his presidency. This was seen as a key part of his pro-business plan to encourage people to invest and hire in France, but critics said it favored the rich while raising taxes on pensioners and others. [source: AFP]

o Paris Mayor Anne Hidalgo will strip Myanmar's Aung San Suu Kyi of her honorary freedom of the French capital over her failure to speak out against a crackdown on Myanmar's Rohingya minority by the country's security forces. Similar decisions were made by Glasgow, Edinburgh and Oxford. Although it is a purely symbolic award, it speaks to the disappointment in the Nobel Peace laureate once thought to be a democracy icon in the mold of Nelson Mandela. She has fallen out of favor in the West for her inaction regarding the crackdown on the mostly Muslim minority people.

[source: AFP]



o FRANCE TODAY magazine

. published by France Media in the UK, will publish the first magazine devoted to French gastronomy. The premier issue (Winter 2018/2019) will include a free 32-page supplement with recipes by Michel Roux, David Lebovitz, Béatrice Peltre and many others, and a lucky subscriber will win two gift vouchers worth €340 for the course of your choice at the École de Cuisine Alain Ducasse. You can subscribe online at www.francetoday.com/taste.

o Paris' Grand Palais is offering a retrospective of the work of Spanish artist Joan Miró until February 4, 2019. Included in the 150 works of art are rarely seen masterpieces on loan from private collections ~ examples of his exploration into Fauvism, Cubism and Surrealism. More details at www.grandpalais.fr.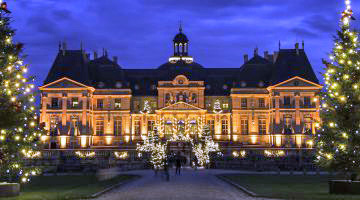 o
Château de Vaux-le-Vicomte
will open its doors to the public for its Christmas extravaganza and
sapins de Noël
enthralling the children.
It will be open every day from the 22 of December to January 6, except Christmas and New Year's day. For information, visit
www.vaux-le-vicomte.com
.
o Picasso Blue and Pink
is the title of the collaboration between the Musée d'Orsay and the Musée National Picasso, exploring the artist's blue and pink periods with some never before seen works. Through January 6 at the Musée d'Orsay in Paris. Detail at
musee
-orsay.fr
.
o Louis Philippe and Versailles -
an exhibition following the actions taken by King Louis Philippe when he ascended to the throne in 1830 to convert a portion of the Palace of Versailles to a museum dedicated to France's history. Louis Philippe did not live at Versailles, but he did have the museum created in the south wing of the Palace where some members of the royal family had resided.
The museum was begun in 1833 and dedicated at the end of June 1837. Be sure to visit the Galerie de Batailles which takes up most of the second floor. Until February 3. Information at www.chateauversailles.fr.


o The Musée Camille Claudel
in Nogent-sur-Seine will open its first exhibition to look into the relationship between the sculptress and muse of August Rodin and her brother, Paul, a poet. Some light is shed on their family and creativity, including her internment in 1913 after being committed for 30 years to a mental institution by her brother and mother against the recommendation of her doctors. Until January 13. For more information visit
www.museecamilleclaudel.fr
.
o Love at the Louvre-Lens.
The exhibition,
Amour
, reveals masterpieces of ancient statuary, precious objects from the Middle Ages, paintings by Memling, Fragonard and Delacroix and sculptures by Rodin, Claudel and Niki de Saint Phalle. Now through January 21, 2019. Details at
www.louvrelens.fr
.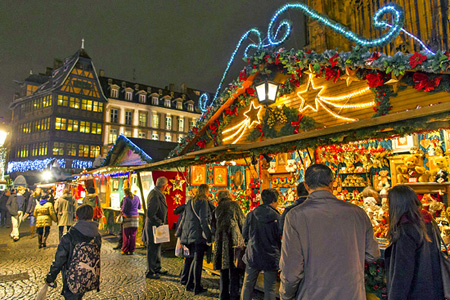 o Spend part of the holiday season in Strasbourg
to enjoy its 450-year old Christmas market making it the oldest and most festive in France. Over 300 stalls selling holiday gifts fill the streets and the joyous atmosphere can't be matched. From now through December 30. Visit
noel.strasbourg.eu
. [photo right >]
And
, Strasbourg is a wonderful destination at any other time of the year with pedestrian areas, fine hotels, a grand cathedral, Alsatian restaurants along the canal, and hosted cruises to La Petite France to sail past the European Parliament. Also in Strasbourg are the European Court of Human Rights and the Council of Europe.
o Fête des Lumières
is not to be missed in Lyon between December 6 and 9. This light show of epic proportions dates back to 1852. This 3-day light and sound spectacular lights up every city structure in the city center to the soundtrack of festive music in honor of the Virgin Mary. [< photo left] For more photos and details visit www.fetedeslumieres.lyon.fr.

o Visit
Maison de Chateaubriand in Châtenay-Malabry south of Paris for an exhibition hosted by the

Fondation la Napoléon
now through the 10th of March, 2019.
It will not be about Napoléon's battles but will focus on the sumptuous lifestyle of the imperial court, his exile in St Helena, and offer guided tours of the exhibition by a speaker of the Maison de Chateaubriand on January 27, February 10 and March 10 at 3PM and February 16 at 4 PM. There will be conferences, readings and workshops. It will be possible to play historical wooden games, see textiles in 'Fashion Under the Empire', and there will be some arts workshops for children. Get all the details at http://vallee-aux-loups.hauts-de-seine.fr/chateaubriand-et-napoleon.



Elsewhere:


o Police
are searching for three men following the theft of a Renoir painting from an auction house in Vienna, Austria on November 26th.
They have security camera footage showing the men, and said they were most likely professionals, entering around 5:15 PM but leaving through different exits.
The painting was a landscape entitled 'Bay, Sea, Green Cliffs' dated 1895 and is valued between € 120,000 and € 160,000.
In the U.S.


o Screening :
Montparnasse Bienvenüe
As part of the international film series "Films Across Borders: Stories of Women", the Cultural Services of the French Embassy present the screening Tuesday, December 11 from 7 to 9 PM (Eastern time) at La Maison Française, 4101 Reservoir Road NW, Washington D.C. Free admission but registration is required at Eventbrite. Attendees must be registered under their own names and have a valid ID. No parking inside the Embassy.
o
Screening :
Theo's Choice
Theo's Choice
is a documentary about French language in Louisiana, and the struggle to preserve an endangered heritage in the United States
.
Click on movie title link for more information. At the same location as above movie, Free admission, etc.

January 17, 2019 from 7 to 9 PM

(Eastern time) A debate in the presence of the film-maker, Thomas Cauvin, will follow.
o Alexandria, Virginia -
Listen to jazz along with a contemporary spin on French cuisine set at the restaurant Bastille. The French saxophonist and clarinetist Nathalie Braux will be present. More information at
https://www.bastillerestaurant.com

Moments in Saint-Malo continued from page one. . .

THE ISLANDS

Opposite the Intra Muros, the old town, [photo below left] are two islands, each of which can be reached on foot at low tide from the town's main beach. (Just keep in mind the high tide as we mentioned earlier.) One is Fort National [photo below center], built in 1689 by the engineer Siméon Garangeau, according to plans drawn up by famed military architect Sébastien Vauban, to protect Saint-Malo's port. According to the Brittany tourism web site, in 1817 the fort was the setting for a duel between the aforementioned corsair, Robert Surcouf, and 12 Prussian officers. As the tale goes, he defeated each of eleven men on by one and left the twelfth alive to "tell the tale". In 1944, 380 locals were imprisoned there for six days without food.

The island of Grand Bé [photo below right] is near the mouth of the River Rance and has the remains of an ancient fort. It was the chosen location by François-René Chateaubriand for his tomb. The island of Petit Bé is another tidal island off Saint-Malo and can be reached on foot at low tide from the beach Bon Secours. Farther from the coast are Fort de la Conchée, currently being restored, on the island of Quincé, and the long, low uninhabited Ile de Cézembre which has sandy beaches on one end and rugged, steep cliffs on the other. It is a popular destination for boaters.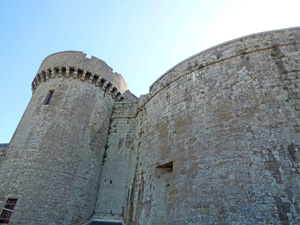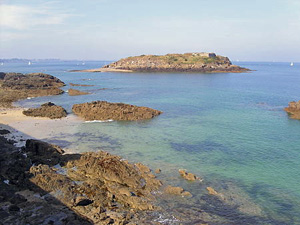 The Walls Fort National Grand Bé as seen from Petit Bé

INTRA MUROS
Intra Muros

,
'inside the walls' has many granite buildings, but those today are restorations done in the early 1950s following the destruction of the town by Allied bombings in World War II. It is a pretty district of Saint-Malo with shops, restaurants and hotels. Walking around the ramparts is the perfect way to experience the medieval atmosphere. You may want to visit the Mus
é
e de Ville to learn about the town's history in more detail.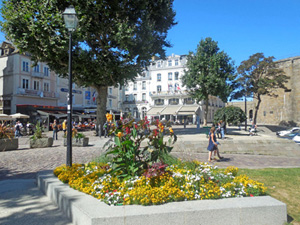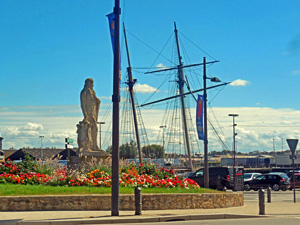 Just
outside the entrance to Intra Muros is a marina on Quai
Duguay-Trouin
and a statue of Chateaubriand. There is a little train in the town that will take you on a tour.
One
of Saint-Malo's most famous sons is
Jacques Cartier
who discovered Canada. It was in 1634 that King François I commissioned Cartier, an experienced navigator, to travel to the 'northern lands', and he sailed with two ships and arrived in 20 days. He made three voyages up the Saint Lawrence River and is credited with exploring Newfoundland and discovering Prince Edward Island. He may have also been responsible for naming Canada, which historians believe was his misunderstanding of the Iroquois word 'kanata' meaning village or settlement.
Also in Saint-Malo
is the
Musée Jacques Cartier
dedicated to explorer, and it is housed in the 15th century
Manoir de Limoëlou
in Saint-Malo.
[We want to acknowledge

Brittany Tourism

as a source of information about Saint-Malo,
and

History.com

for details about the North American expedition of Jacques Cartier.]


A Hidden Gem in the French Countryside: Combourg




Some of the best places
are discovered by chance. Travelers frequently head for the well-known monuments, cities and sites, but, more often than not, the most memorable and best-liked places are those one may not have been aware of before traveling.
One
such discovery was the Breton town of
Combourg
and the beautiful
Lac Tranquille
. The village, in the
département
of Ille-et-Vilaine,
is classified as one of
Les Petite Cités de Caractère
of France and often called the "cradle of Romanticism" in French literature as it is the childhood home of the famous French author, François-René de Chateaubriand. His life at Château de Combourg and village life is described in his
Mémoirs from Beyond the Grave
.
(Read more about Chateaubriand beginning on page three of this newsletter.)
Dinner

at the elegant restaurant in

Hôtel du Château

[photo below left] was relaxing and delicious. Our hosts at Château de la Ballue, not far from Combourg, had suggested the restaurant but neglected to mention how pleasant the village was.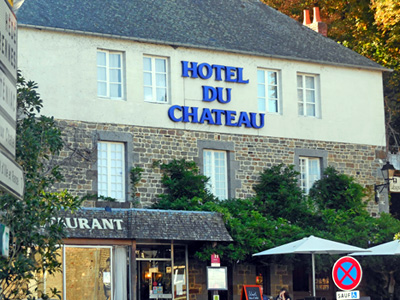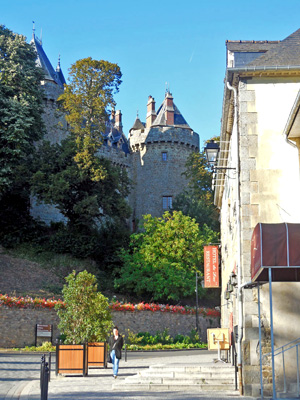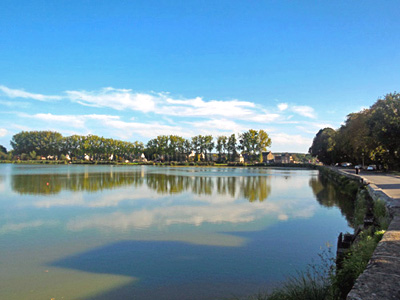 Château de Combourg is barely visible from the bottom of the hill in the village, and it was too late in the day for us to take the guided tour. Privately owned, the castle, restored in 1876 under the direction of French architect Eugène Viollet le Duc (who also restored Notre Dame de Paris, the abbey of le Mont St-Michel, Carcassonne and the châteaux of Pierrefonds and Vincennes), is listed as a

Monument Historique

by the French Ministry of Culture. If you ever have the opportunity to visit Combourg, or to stay at the amazing Château de la Ballue, please do!