Traveling to and in France:
Planes, Trains and Automobiles
France

is the most visited country in the world: 89 million visitors in 2017. Its own population that year was approximately 65,233,000. As those of you who have visited France, some many, many times, the reasons are obvious. Great food, great scenery, carefully preserved and honored monuments, cultural activities everywhere and amazing cities.


Planes -
We

all know that major airlines from the world over can fly you to France. After several visits, we found the route that worked best for us as most people do. But, there is a 'new' airline on the scene ~ actually established in some form in 1966, but that eventually became part of KLM, the Dutch airline. This low-cost and wholly-owned subsidiary of KLM, and therefore part of the Air France-KLM group, has its main base at Amsterdam's Schiphol Airport as well as bases in Rotterdam's The Hague Airport and Einhoven Airport.

Transavia France

is its French subsidiary, and that is what we want to tell you about so you can inexpensively fly to other nearby locations or within France.
Transavia France

is based at Paris' Orly Airport, Nantes and Lyon and began operations in May of 2007. It operates scheduled and charter flights to 14 African destinations, 5 destinations in Israel, Turkey and Lebanon, and 17 European countries as well as several cities in France. An example of the low cost of flights on Transavia France, one could fly from Nantes, France to Agadir, Morocco for € 49 or from Paris Orly to Athens, Greece for as low as € 57. Visit their web site for all the options.



Trains

-
We

believe that the best way to cover a lot of distance in France in the shortest amount of time is to take the train. It can be the TGV (

Train à Grande Vitesse

), the high speed train, or the regular intercity trains.
Either way, don't let anyone tell you that French trains aren't punctual. Our experience over decades of travel on trains in France is that they leave precisely on time and have always arrived exactly on time. Of course, there can always be problems on the tracks or something else unexpected that can cause a delay, but it has never happened to us.



The

trains are operated by SNCF, the national rail service, Over the years since its inception, the TGV network has expanded to connect major cities across France, and to neighboring countries through derivative networks. About 110 million passengers each year are carried on the TGV trains. As for the speed, the fastest recorded speed was 574.8 km/h (357.2 mph) on April 3, 2007, the world record, but the conventional services operate at about 320 km/h (200 mph), and the TGV has never had a fatal accident in its history ~ the on board security systems are among the world's most advanced. Also, if a driver does not react to a necessary reduction in speed, the system overrides the controls and reduces the train's speed automatically.



As

we prefer to rent our cars outside of Paris with its heavy traffic, we take the train to another location, usually in the countryside in a small city or town, and rent our car there. Returning to Paris, we take a train from the rental car drop-off location back to the city. Our only complaint with the trains is that there never seem to be enough luggage racks for pieces that cannot fit on the racks over the seats, but we do manage by trying to get to our rail car early. Buy your tickets from home through the Rail Europe web site where you can check schedules and prices, buy the tickets with a credit card, and then print them ~ all in a matter of minutes. You can also get Eurail Passes for travel throughout Europe.



Automobiles
-
Unless

you never plan to leave Paris after landing in France, or if you are fortunate enough to live in Europe and can drive your own car to France, you really must rent a car in order to see more of France ~ the beautiful countryside, the picturesque villages, the remarkable historic sites and everything else this unparalleled country has to offer. As with your train tickets, you can reserve your rental car online from home, which, in fact, is the best way as you will lock in a guaranteed rate. You visit a rental car web site, choose the pick up and drop off locations (there should not be any extra charge for picking up the car at one location and returning it to another), select the car and price you want, and complete the booking.



Keep

in mind that the car you receive and the one you chose may not be exactly the same. Often you will receive one the same size but not necessarily the exact same car. The cost, however, remains guaranteed. Here is where some little problems may occur as you are usually given keys to a car whose features are a complete mystery to you. It is rare these days to have a rental agent accompany you to your car to show you how things work. Our most recent experience involved not being able to open the trunk of our Volkswagen. We couldn't find a latch on the trunk, couldn't find anything in the manual to help us, and couldn't identify a button in the car that would pop the trunk. Fortunately, as happens frequently when we are in France, two lovely French couples having a picnic nearby sensed our frustration and came to help. They were as mystified as we were, until one man found something in the manual telling us that we only had to lift the VW insignia on the trunk ~

et voila!

There was also an issue with a nail in the front tire that after three days of driving finally became a flat tire, luckily while we were still parked at our B&B in Brittany. The rental agency sent someone to change the tire which we took to a repair place a day later. They repaired it, (without our having an appointment),
placed it back on our car
and refused payment! Another instance of the kindness of the French.


The best part of driving in France is the infrastructure: the roads are perfect, always in excellent repair; highway signage is clear and abundant; and once you master the

rond points

('roundabouts' in the UK and 'traffic circles' in the US) you'll wonder why they aren't everywhere back home. Do remain aware of speed limits ~ in recent years the French government has been enforcing them very strictly, and they will track you down through the car rental company or through your own car's license plate. Speed cameras [one type shown at right] are on highways throughout France. We received a ticket and had to pay the fine for going

3 kilometers

(it's true) over the speed limit. Enjoy the scenery by slowing down. Speed limits are posted OR you can find out on this web page what the speed limits are for various types of roadways. More and more police have radar now, so even if there are no speed cameras, be vigilant.



An

important rule to remember is that after passing in the left lane, you must return to your lane. You cannot drive in the left lane ~ it is a passing lane only. This becomes second nature after a day on the road. One last piece of information: don't request to pick up or drop off your car on a Sunday!!! We don't even think of filling the tank on a Sunday (except on the autoroute) as local gas stations may not be open that day.


Driving

in France is truly a pleasure. French drivers seem, for the most part, to obey the rules. We never saw anyone on a cell phone, eating in the car while driving or putting on makeup in their rearview mirrors. They are really good drivers despite a tendency to tailgate, which can be irritating, but we accept it because so much more about driving in France is great!


[We do not have any business connection with the above-mentioned enterprises. These are simply suggestions for your travel in France.]

Send us your best photo(s) ~ up to 3 ~ taken in France for our Third Photo Contest.
We will award a prize to the winner, and publish the photo in our March 2019 newsletter.
Requirements:
photographer's name (no professionals, please)

exact subject and location of the photo
highest resolution possible (i.e., 300 psi)

date photo was taken
photos must be the sole property of the photographer

send to us by email with the photo attached as a

.jpg

only

please

do not

send photos in a Word document
submission deadline January 15, 2019


We are looking forward to seeing your great photos and sharing them with our other readers.
Until then, Happy Holidays to you all!

FRANÇOIS-RENÉ DE Chateaubriand ~ the Father of Romanticism in French Literature





Chateaubriand's

name appears throughout this newsletter, and that was not planned. We knew little about him when we first saw a statue of him in Saint-Malo, but when we saw another statue of him in the little village of Combourg, also in Brittany, the time had come to learn more. It is surprising that we didn't know more about him; so many people associate Chateaubriand with a thick cut of tenderloin beef, often served with Bernaise sauce. No. This is about the man, and quite an interesting man he was.



First

, he was a French writer, often credited with founding romanticism in French literature. Next he was a politician serving in many diplomatic posts, and last he was an historian. It is written that he saw himself as a great lover, the greatest writer, and the greatest philosopher of his age. Apparently, being humble and modest were not characteristics assigned to him. But, he truly did dominate the literary scene in France in the first half of the nineteenth century.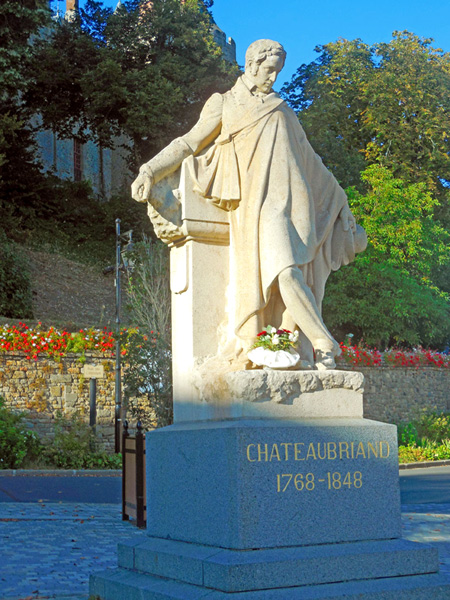 He was born September 4, 1768 in Saint-Malo into an aristocratic French family in Brittany and the youngest of ten children, growing up in the Château de Combourg. His father, a former sea captain, was difficult at best, and the young man grew up in a gloomy atmosphere, close only to his sister Lucile. He even attempted suicide at one time with a rifle, although the weapon didn't discharge. He had a good education but couldn't settle on a career, and seriously considered the priesthood. But, at the age of 17 he enlisted in the army, became a second lieutenant, and in two years was promoted to the rank of captain. He tired of the military, and eventually went to Paris making the acquaintance of many well-respected writers of the time. When in 1789 the Revolution was under way, the violence was too much for him to bear and he decided it was time to make the journey to North America which he did in 1791.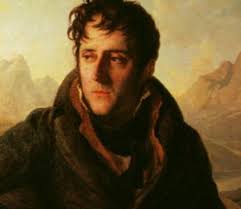 Chateaubriand wrote in

Voyage en Amérique

that after arriving in Philadelphia he went to New York, Boston and Lexington, Massachusetts, before taking a boat up the Hudson River to Albany, New York. He followed the Mohawk Trail to Niagara Falls where he broke his arm. An American tribe helped him recover for a month in their care, which was followed by treks along the Ohio River, to
Mississippi, Louisiana and Florida before returning to Philadelphia for the trip home to France.



His

time in America gave him material for his novels

Les Natchez, Atala

, and

René

providing fascinating descriptions of nature in the sparsely-settled deep south. Later, scholars wrote of their doubts that he actually did all the things he described including living with Native Americans and his travels in the south.



He

returned to France in 1792 to find himself embroiled in the Revolution. Soon after, he married Céleste du Buisson de la Vigne, an heiress and friend of his sister. He barely knew her, but the marriage was at the insistence of his family. He
joined the Royalist army of

émigrés

under the Prince of Condé, to fight the nascent Republic. In Thionville he was wounded and, b
arely alive, he was taken to the Channel island of Jersey and exiled to England leaving his wife behind.



The

author, politician and philosopher found himself poverty-stricken in London making ends meet by giving French lessons and translating. He eventually relocated to Suffolk where he met and fell in love with an English woman who soon ended the relationship when she discovered that he had a wife back in France. He did benefit from the experience, however, as English literature had a strong influence on his writing, particularly Milton's Paradise Lost.


continued on page four

Flowers are left at the statue of Chateaubriand in the village of Combourg
Château de Combourg dominates the village