This newsletter is best viewed with a Firefox browser with a full screen. It is not formatted for printing.

" The sea, once it casts its spell, holds one in its net of wonder forever."

- Jacques Yves Cousteau

Brittany is one of our favorite regions of France ~ from the peaceful countryside and fairytale villages to the 1780 miles of rugged shoreline that represents one third of France's coast.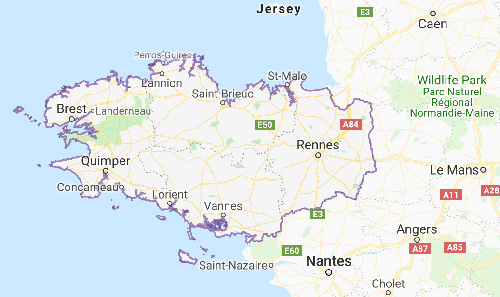 Located on the shores of the English Channel on Brittany's northeast coast, Saint-Malo is an extraordinary town and a perfect vacation spot. We had briefly visited many years ago, but during our September trip we decided to stay in Saint-Malo to really see what it is all about.
Fortunately, we had a room in the Hôtel le Nouveau Monde with a balcony overlooking the beach; unfortunately, it was such a great location with amazing views that we didn't want to venture too far away. Nor did we have to. The hotel restaurant and others just a short distance away offered excellent fare and were so convenient. Strolling along the Chaussée de Sillon to enjoy the sun and sea air was equally as pleasing, and we walked all the way to Intra Muros, the old walled city of Saint-Malo.

From our balcony we could watch brave people venture out into the cold water, some with wet suits but most with shorts and T-shirts and a few in bathing suits. None seemed eager to get out of the water and come back to dry land. We could also see many people walking out on a sand bar during low tide to the Fort National, a few hundred meters from shore. Warnings are posted to pay attention to the tidal schedule because when high tide arrives, adventurers could be trapped on the island or, if in the water at the time, worse.

Speaking of the tides, we are accustomed to the ebbing and flowing of ocean tides, but we naïvely thought that La Manche was more calm and quiet than it is ~ what a surprise we had in store for ourselves! Our hotel is five stories high, if you include the ground floor, and our room was on the second floor ~ three floors above the ground. The first evening we saw a photo on the wall in the bar [left] taken in January of this year. and the tide was up to the third floor on the face of the hotel. Thinking back to all we've read and heard about Operation Overlord in World War II and the Channel storms that delayed invasion plans by more than a day, we perhaps should have expected the tides we saw. But, there were no storms the first week of September of which we were aware ~ just incredibly high tides. It was only later that we learned that Saint-Malo has the highest tides in Europe ~ another claim to fame for France which already boasts the highest sand dune, the highest mountain, the largest forest and more.

Saint-Malo is famous as the home base for corsairs, also known as pirates and privateers, authorized by the French crown beginning in the Middle Ages to raid the ships of their enemies in time of war. The ships and contents were then sold at auction, and the corsair captains received a share of the profits. The corsairs were licensed combatants and were to be treated as prisoners of war if they were ever captured. Bishop Jean Châtillon gave the town of Saint-Malo the status of 'rights of asylum' in 1144. This encouraged thieves and rogues to move to Saint-Malo. "Neither Breton nor French, but from Saint-Malo am I" became their motto.

There were notable heroes of Saint-Malo due to corsair activities: one was René Duguay-Trouin, born in the city in 1673, and the son of a wealthy shipbuilder. He had a fleet of 64 ships and subsequently captured more than 300 merchant ships and 20 warships. His privateering and naval career were both brilliant, and he became the equivalent of admiral and a Commander in the Order of Saint-Louis. He died in 1736.

Also born in Saint-Malo, Robert Surcouf was the son of a ship owner and the last and best-known of the corsairs. A corsair at the age of 22, he attacked ships belonging to the French East India Company. Later, during the French Revolution, he continued to operate without government approval against British shipping to India. His popularity in France increased, he eventually became a ship owner but died in Saint-Malo in 1827 at the age of only 54. A statue and a small museum pay tribute to him there.

continued on page 2
style="width: 200px; height: 161px;" align="left" hspace="5" vspace="5">


The
region of
continued on page three