IN THIS ISSUE:
Languedoc-Roussillon:
the other south of France - Part 2
Paris Enigmas
Ici et Là
Paris' Parc de Bagatelle
~ A Folly
by Arthur Gillette
The Bookshelf:
~ Aveyron - A Bridge to Arcadia
French "Bread"
by Arthur Gillette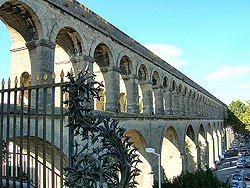 Aqueduc St-Clément, Montpellier
FEATURING
Languedoc-Roussillon - Part Two
Walking French History:
the Régordane Way
by Scott Anderson
Not the Andes of Peru ~
but Llamas in Poitou-Charente
by Brian and Margaret Venables
FRENCH WINE REPORT:
Does Technology Pay?
by Rayson Knowles

Visiting the city of Montpellier again was an incredible treat. Often, when one likes a place after an initial visit but doesn't return for many years, the changes that occurred during that interval can be disappointing ~ it never seems quite as it was before.

But vibrant Montpellier was certainly not a disappointment. Instead, it was just as we wanted it to be ~ easy to navigate, its architecture still inspiring awe, and as lively as ever as college students make up about 30% of the population. Impressive is the 17th century Aqueduc Saint-Clément built in the Roman style spanning some 800 meters over les Arceaux district (the Arches) and the extraoridinary Antigone in stunning neo-Classical style on the River Lez. Read more about this Languedoc capital on page four.

We had the opportunity to spend several hours with a friend not far from Montpellier to enjoy lunch at her château and to become enthused by her future plans for the estate. Château de Grézan ~ le Petit Carcassonne ~ was our destination ten years ago when we spent a few nights, toured the wine-making operation and become enchanted by its owner, Marie-France. Today, she has changed little and is still filled with energy and a bright outlook for the future of her château. And, lunch was wonderful!

Once again, Languedoc trekking expert, Scott Anderson, will take us along an historic route to discover historic landmarks, grand vistas and ancient dolmens. This issue will also visit Roussillon ~ that little département on the Spanish border where life, food and the language is influenced by the Catalan culture.

en plein air

You may notice that this issue focuses a great deal on outdoor activities, from walking the Régordane Way in Languedoc to trekking with llamas in the Poitou to a simple stroll through Paris' Parc de Bagatelle. Nature lovers both in the cities and countryside will find many new places to explore.

Quite appropriate to our outdoor theme is Aveyron ~ A Bridge to Arcadia, Thirza Vallois' most recent book and one that takes the reader on a glorious tour of a beautiful and less-visited part of France ~ although, perhaps, it is somewhat better known in the past two years for the remarkable engineering feat of le Viaduc de Millau (bridge) spanning the River Tarn valley. Ms Vallois eloquent narrative of the Aveyron landscape, people and history will certainly entice you to find out more ~ perhaps by a visit very soon.

Finally, our French Wine Report tells of one man's personal experiences in the vineyards of the Charente and gives insight into the technological changes for the harvesting of grapes, questioning the merits of this newer method and reminding us of the camaraderie and traditions that might be lost to machines.

We hope you enjoy this edition, and we ask you to let your friends know about FRANCE On Your Own. It remains free to subscribers with minimal advertising ~ although we do hope you will find the services of our sponsors useful. Please remember that we'd love to hear from you with your comments, ideas for future articles or, perhaps, some of your own experiences traveling in France. And, if you are visiting France in 2008, we wish you un bon voyage!

NOTE: Beginning in 2008 the quarterly publishing schedule for this newsletter will change.
Future editions will be in February / May / August / November.
---